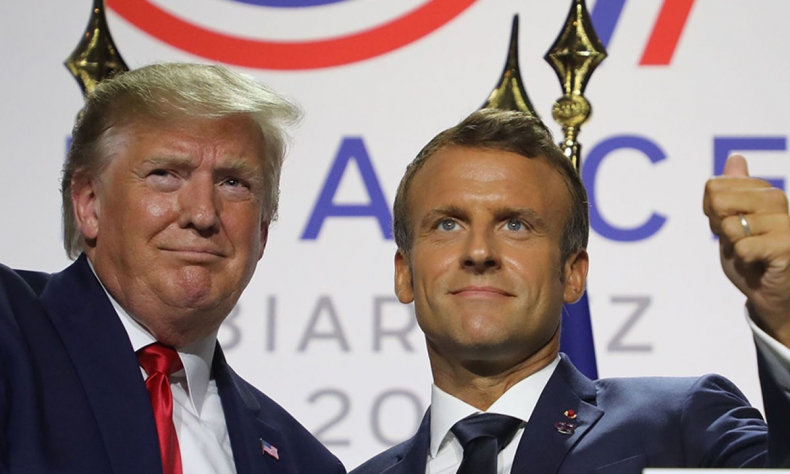 Macron Takes Bold Step to Bring Iran Back Into the Fold
Trump presumably thought re-imposing sanctions would cause economic pain for Iran and force it back to the table to deal with all these outstanding issues.
French President Emmanuel Macron sprang a surprise on his fellow G7 leaders during last weekend's summit in the coastal town of Biarritz when Iran's foreign minister, Mohammed Javad Zarif, jetted in.
Zarif's visit caught the Americans by surprise, including President Donald Trump. His administration has recently imposed personal sanctions against Zarif, making a meeting between them highly unlikely. Instead, Zarif met with French officials, including Macron himself.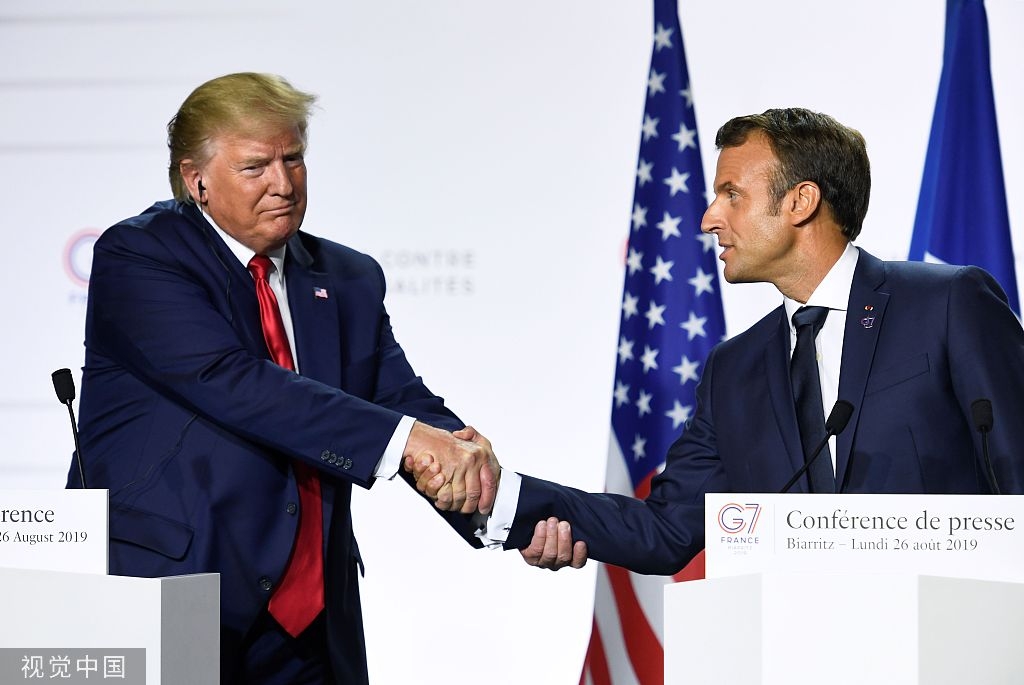 Zarif's visit highlights Macron's close interest in resolving the international crisis between the U.S. and Iran. Last year the Americans withdrew from the Joint Comprehensive Plan of Action (JCPOA), which was agreed between the P5+1 (the five permanent members of the UN Security Council – Russia, China, the U.S., Britain and France – along with Germany) with Iran back in 2015. Iran agreed to freeze its nuclear program in exchange for the lifting of international sanctions imposed by a coalition of nations.
When the U.S. withdrew from the JCPOA, it re-imposed sanctions and warned other countries that they and companies under their jurisdiction risked falling foul of them by continuing to trade with Iran.
Trump's reason for withdrawing was because he saw the JCPOA as a bad deal. For him, the JCPOA's scope was too narrow, focusing solely on Iran's nuclear program and paid no attention to trying to curb Iran's alleged involvement in regional instability, whether through its support for the Assad regime's prosecution of the civil war in Syria or for the Hezbollah militant group in Lebanon and the Houthis in Yemen.
Trump presumably thought re-imposing sanctions would cause economic pain for Iran and force it back to the table to deal with all these outstanding issues.
If that was the goal, it hasn't worked. In response to Trump's "maximum pressure" strategy, Iran and its allies have responded in kind. First, they may have been behind several attacks, some against tankers in the Gulf, others against pipelines in U.S. allies like Saudi Arabia.
Iran has also detained shipping in the Gulf, including a British-flagged tanker. In response, firms are redirecting their shipping along safer routes while both Trump and the Europeans have separately proposed naval escorts in the Gulf to protect ships. Third parties like India, have also joined the effort, while making it clear its warships would operate on an independent basis.
Second, Iran has tried to persuade the other JCPOA signatories to defend the deal. Russia, China and the European states involved have signaled their support. Among them, Iran's priority is Europe, whose businesses and investment could make a significant difference in revitalizing its weakened economy.
Earlier this year the EU established a mechanism known as INSTEX that would allow European companies to trade and operate in Iran without falling foul of the international financial system and American sanctions. However, the process has been slow and is hedged with conditions on what forms of trade are allowed.
In response, Iran has warned it would restart production of nuclear material. While it would take some time for it to breach the terms set out in the JCPOA, it was really focused on pressuring the Europeans to act independent of the U.S.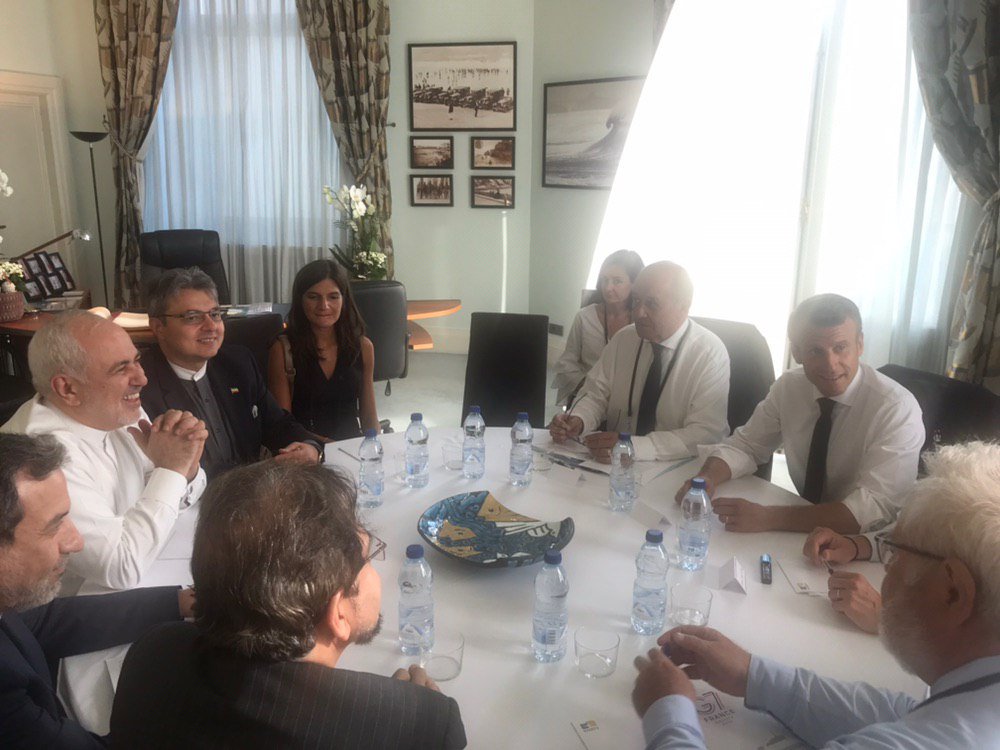 Judging by Zarif's visit to Biarritz at the weekend, that effort seems to have paid off. Zarif's tweet of the meetings mentioned that France's finance and foreign ministers were present, along with wider discussions with EU officials. Reports suggest that, as well as urging the U.S. to pull back on sanctions, the French may be looking to establish an economic compensation mechanism should Iran return to the provisions set out in the JCPOA.
It's not clear what the economic compensation mechanism is; whether it is INSTEX or something else. Private European firms have so far not taken to INSTEX in a meaningful way. Not only must they consider profitability, but they need strong assurances from their governments that they will be protected from any penalties America might impose.
So, might the mechanism that was discussed in Biarritz be different? Might it be a financial aid package backed by European states and the EU instead?
As for easing U.S. sanctions, that may be difficult for the French to achieve for at least two reasons. One is the widespread sentiment against making any concessions to Iran. Although Trump's decision to withdraw from the JCPOA was a unilateral one, it was well received by parts of the American political establishment.
Another is Trump himself: His tendency to personalize his exchanges with other world leaders has resulted in increasingly bellicose language against the Iranian leadership in recent months.
At the same time, Trump is a temperamental character with an incredibly high self-regard. In 2017 he used similarly inflammatory language against the Democratic People's Republic of Korea (DPRK) as it developed its own nuclear program. However, over the past year he has met its leader, Kim Jong-un, three times. Upon learning of Zarif's presence in Biarritz, he indicated he would be willing to talk.
Trump's offer to talk is tied to his belief in himself as an excellent negotiator. Part of his election strategy in 2016 was to highlight his effectiveness as a business tycoon to get a good deal.
If that is the case this may explain Macron's strategy at Biarritz. He pulled Trump into a private lunch before the start of the summit and away from his entourage. There, he could have played on Trump's vanities, flattering him on his pretensions as the author of "The Art of the Deal." He may have used that moment to tell him the price for such a meeting.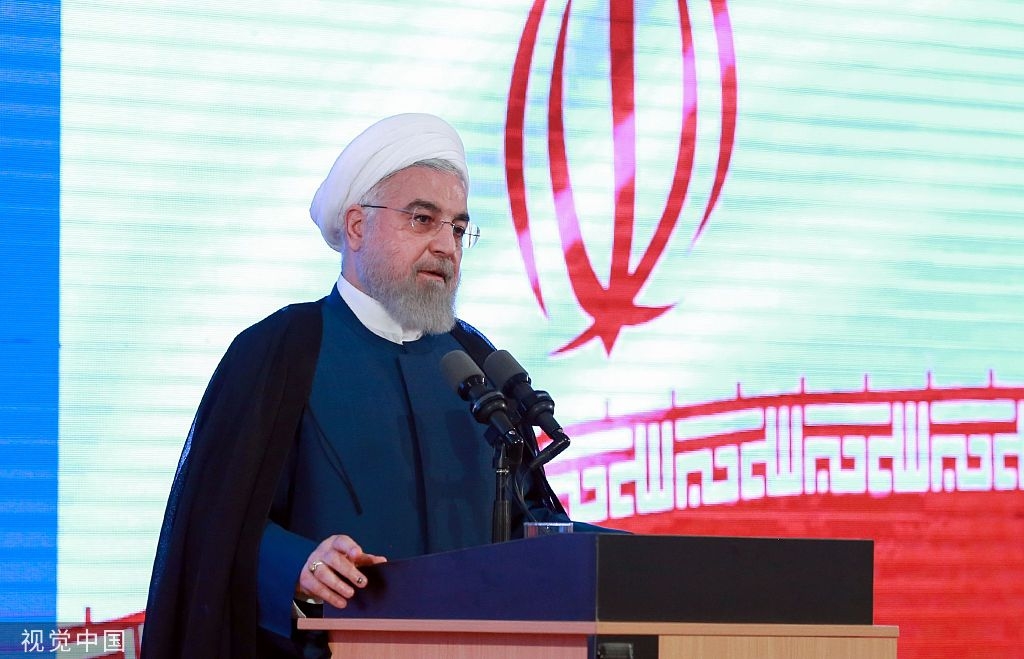 On Monday, the price for that meeting became clearer. Iran's President Hassan Rouhani said that he would be prepared to talk to Trump if the U.S. first lifts the sanctions. The question is whether Trump will do so – and which will determine if Macron's gamble was a successful one or not.
Guy Burton is Visiting Fellow at the London School of Economics Middle East Centre and an Adjunct Professor at Vesalius College in Brussels.
Opinion articles reflect the views of their authors only, not necessarily those of China Focus.