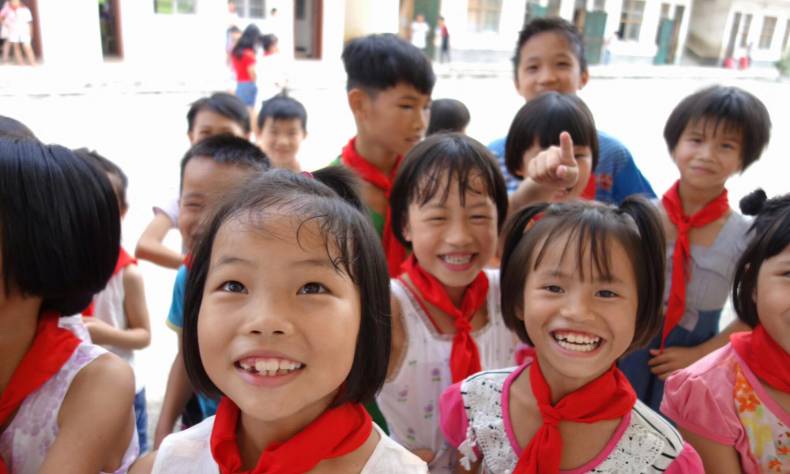 Moving Into a New and Happy Life
Before the family moved, their home was in a remote location with poor access to transportation. They could not farm because of the barren land. With no skills, Luo had no choice but to support his family by working odd jobs as a laborer.
Wumeng Mountain is one of the main mountain chains along the Yunnan–Guizhou Plateau located in southwestern China. Due to its typical karst landforms, people describe the place as rugged and bumpy.
The Wumeng Mountain region, a multi-ethnic settlement dominated by the Yi ethnic group and an especially poor and inaccessible area of China, covers 38 counties, county-level cities and districts in Guizhou, Yunnan and Sichuan provinces. It's extremely difficult to reduce poverty rates here because of the widespread severe poverty, as well as its complexity and diversification. 
Local People Cannot Make Ends Meet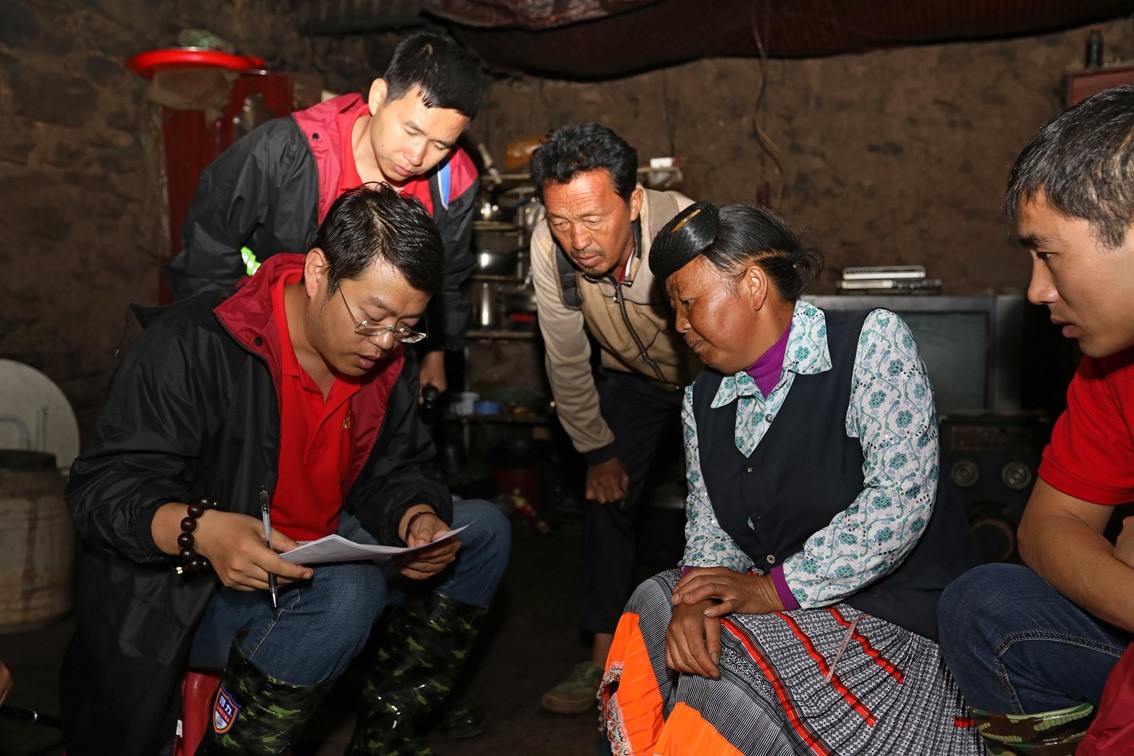 Δ Poverty alleviation team members inquiring about the situation of local villagers in Dafang County during a home visit.
Dafang County of Bijie City in Guizhou Province is one of 38 extremely poor counties in the Wumeng Mountain region. Peering at the nearby landscape in Dafang County, we see sharp and sheer white rock faces stretching into the sky. The mountain road twists and turns. Yuanbao Village of Duijiang Town is located on the other side of the white rock face.
Twenty-nine year old Luo Xuefeng and his four family members were the first poor villagers from Yuanbao to move to Shexiang Ancient Town in Dafang County in October 2017. Upon entering their new house, the presence of several old black and white photographs immediately catch one's eye. In the photographs, we can see a short and dark stone house with weather-beaten walls, a vivid explainer of how Luo's family lived before.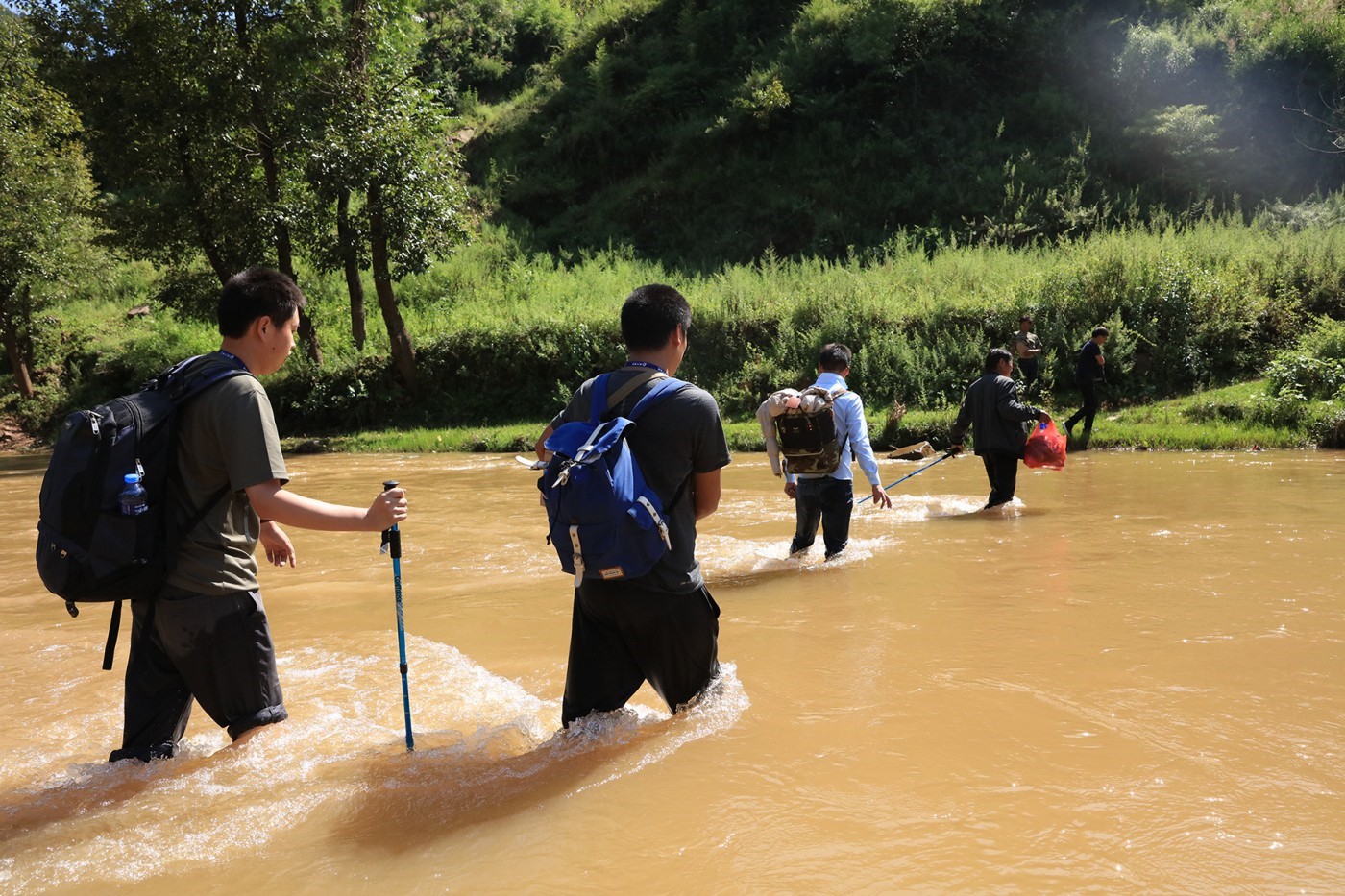 Δ Poverty alleviation team members of Evergrande Group investigating in Dafang County, Guizhou.
Before the family moved, their home was in a remote location with poor access to transportation. They could not farm because of the barren land. With no skills, Luo had no choice but to support his family by working odd jobs as a laborer. Time passed and his elder daughter reached primary school age. Therefore, sending her to school became a top priority for the family.
 "When we lived in Yuanbao Village, it took me 1.5 hours to take my elder daughter to school each way, meaning it cost me more than 3 hours to make the round trip," Luo said. "The mountain road is muddy and crooked, and becomes even more dangerous when rainy and snowy weather occurs."
At that time, Luo and his wife took turns sending their eldest daughter to school and bringing her home, while also taking turns to care for their other two children. Therefore, neither of the parents had time to make money to support their family financially. Shortly after their elder daughter entered elementary school, the family had to move out of the mountain area and live with relatives for a while.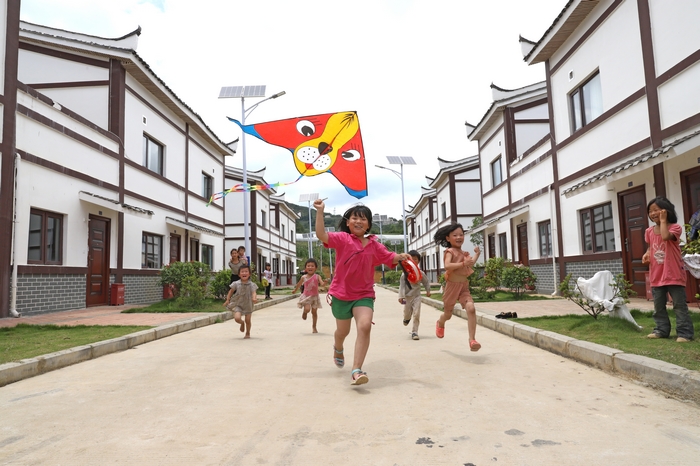 Moving Into a New and Happy Life
Shexiang Ancient Town, 4 kilometers north of Dafang Couty, is located along the national highway and offers convenient access to transportation. In this town, there are commercial districts, residences built as part of poverty alleviation through relocation projects and unique terrace parks. Combined with special culture and history, folk landscapes and the beautiful scenery of the Wumeng fields, cultural tourism in Shexiang Ancient Town has emerged a golden key unlocking prosperity for relocated residents. At the same time, the culture of the Yi ethnic group has been carried forward.
In 2017, the Luo family were given a house with a floor space of more than 100 square meters, including three bedrooms and one living room in Shexiang Ancient Town of Dafang County. They were offered the home because their annual per capita net income fell below the poverty line, which stands at 3,335 yuan, according to poverty alleviation through relocation policies.
"Here we have all the essential furniture and appliances we need including beds, closets, a sofa, a TV cabinet, curtains, an induction stove and rice cooker, and we moved in carrying only several bags," Luo's wife said, grinning.
Entering the bedroom of Luo's two daughters, we can see awards hanging on the wall that Luo's elder daughter has won for her excellent performance at school. Luo's younger daughter is studying at a kindergarten funded by Evergrande Group this year, and his youngest son will attend kindergarten soon. Luo's wife found a job in the commercial street of Shexiang Ancient Town, with an income of about 2,000 yuan per month.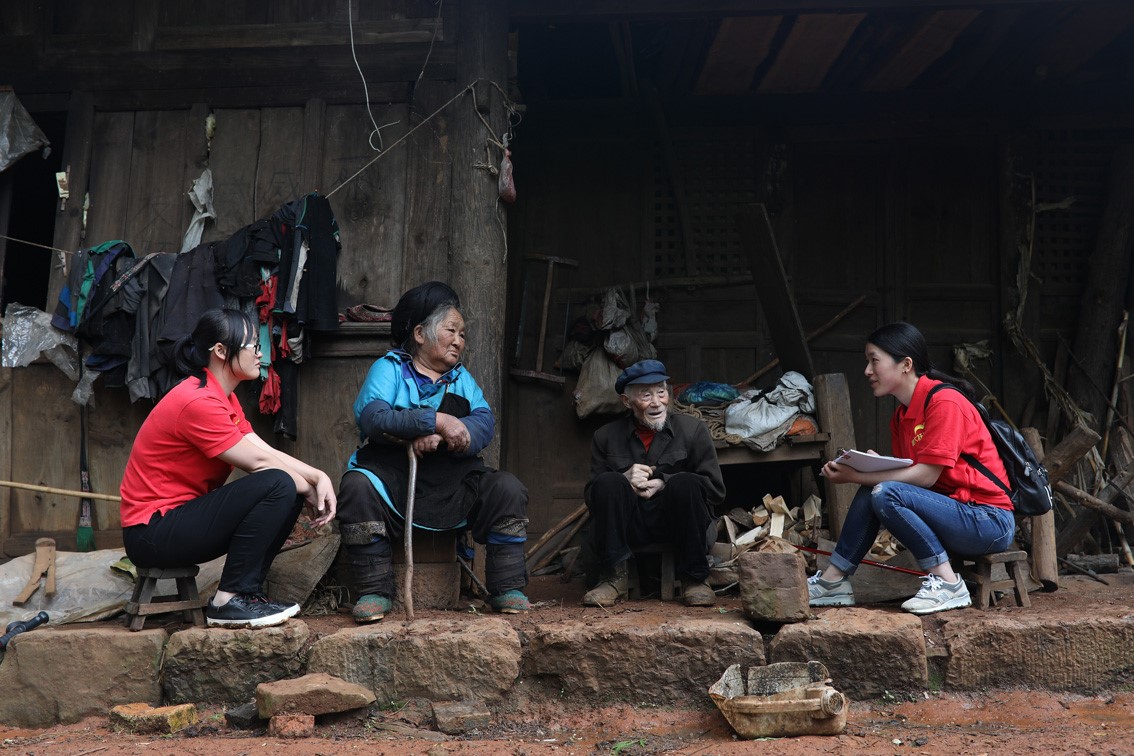 Δ Poverty alleviation team members interviewing villagers in Dafang County during a home visit.
Wang Changyu, a member of the generation born after 1990 as well as an Evergrande Group volunteer working to reduce poverty in Dafang County, told this correspondent: "The changes that the Luo family has benefited from the government as well as corporations that help on poverty alleviation projects. They help by integrating relocation settlement, employment, related industries and infrastructure in poverty alleviation relocation efforts. As part of the relocation settlements, there are healthcare service institutions, educational institutions and at least one member of any family with zero employed family members will be provided with a stable job."
Every morning, Luo goes to work at a construction site in Dafang County after sending his two daughters to school, which guarantees a basic living standard for Luo's family following relocation.
 "In the past, I went to bed as soon as the sun set," Luo said. "Now, I can watch TV with my kids and participate in the Torch Festival in the square in the evening, which is really lively and a lot of fun."
The life of the Luo family has become more colorful since moving out of the mountain area.
Reconstruction
Things are not easy for the Miao ethnic group, who have lived in the mountain area for years but have begun to leave their homes and begin the process of poverty alleviation through relocation.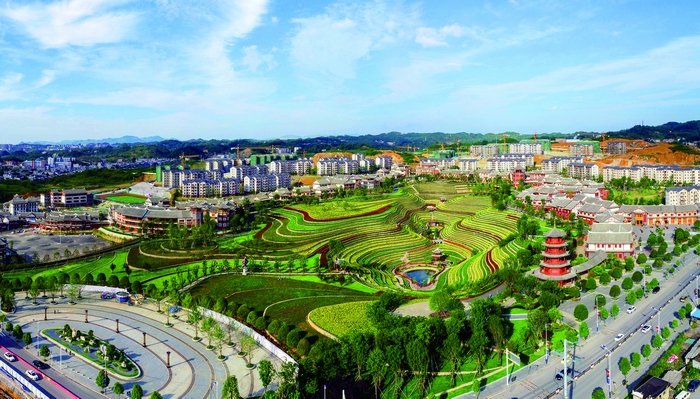 Qianxi County, a with one-hour drive from Dafang County, is one of the other extremely poor areas in the Wumeng Mountain Region. In 2017, 16,852 people were relocated to Jinxiuhuadu Settlement, of which more than 700 people are members of the Miao ethnic group.
In order to help relocated poor families support themselves, the Qianxi County Human Resources and Social Security Bureau has cooperated with the Guizhou Dazheng Home Service Vocational School to provide training services for relocated poor residents in Jinxiuhuadu. The training mostly focuses on domestic service, providing more than 20 special courses such as laws and regulations, communication etiquette, personal image, home appliance usage, nurseries and cleaning, elderly care and maternal care. The 91 relocated poor families can enroll in the courses for free and are provided with daily living subsidies, and can immediately find work following the conclusion of their training.
Throughout the process of creating job opportunities for the relocated residents, the settlement government maintains respect for their customs.
"In their original hometowns, members of the Miao ethnic group kill an ox if an elderly member of their family dies," explained Tian Peng, party branch secretary of the Jinxiuhuadu Settlement Spot. "However, the community here had no place suitable for such a practice. So we built a place for them to have funeral ceremonies to show our respect to their ethnic culture and customs. We want them to feel a sense of ownership brought by the relocation process through meeting their funeral ceremony needs."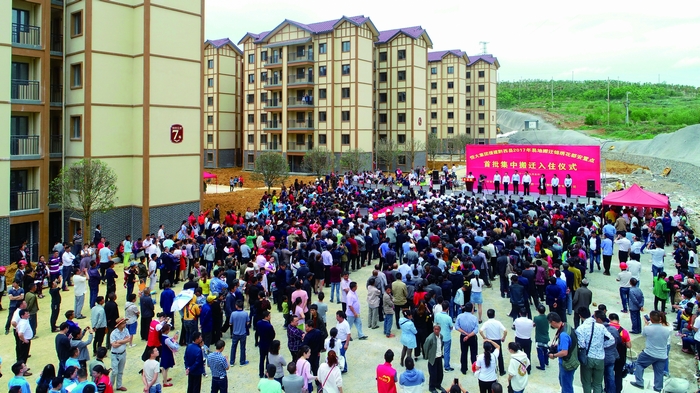 Relocation for poverty alleviation is not only a project for community reconstruction, but also a systematic program for the readjustment and improvement of population distribution, resources and the environment, in addition to the economy and overall society. It concerns the relocation of residents, infrastructure, public services, employment and self-employment, community administration and cultural inheritance.
Poverty alleviation through relocation projects in Dafang County and Qianxi County in Guizhou Province are manifestations of China's overall poverty alleviation practices. According to official statistics, 22 provinces, autonomous region and municipalities that have worked on poverty alleviation through relocation projects have made great headway in meeting their poverty reduction goals. As a result, almost 5.89 million people in poverty were relocated in 2016 and 2017 and another 2.8 million impoverished people will be relocated in 2018.
By Zhou Lin
Source: China Today