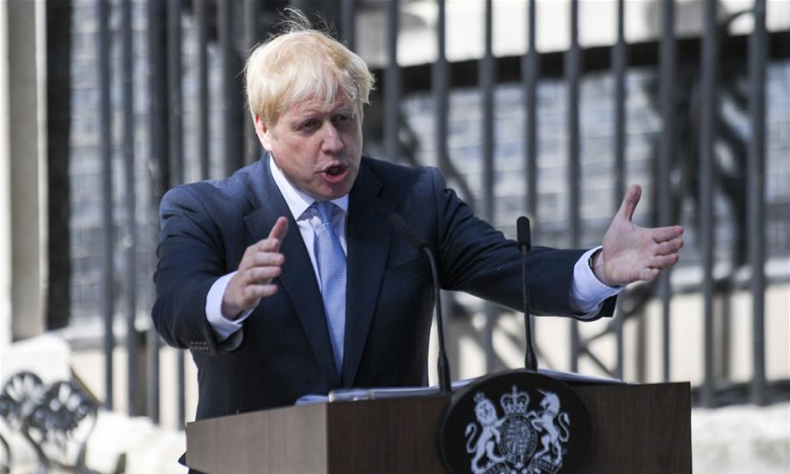 ​New UK Government – Brexit or Bust?
Why might Prime Minister Johnson take this line?
The election of Boris Johnson as Conservative Party leader and – by royal permission – his elevation to the post of Prime Minister marks a new stage in Britain's Brexit-created political crisis.
As a leading light in the 2016 referendum campaign that produced a majority for the Brexit option, Johnson is pledged to implement the "Leave" result by midnight on October 31, with or without former Prime Minister Theresa May's EU (Withdrawal Agreement) Bill passing parliament and into law.
Her "semi-Brexit" plan agreed with the EU would have maintained Britain's alignment with the European Single Market and its pro-business "freedoms." This would have been an acceptable compromise for most of Britain's corporate world that funded the pro-EU "Remain" campaign in the referendum and have bankrolled the campaign for a second referendum to reverse the 2016 decision ever since.
However, uncompromising pro- and anti-EU MPs rejected the Bill three times in the House of Commons, postponing "Brexit Day" by agreement with the EU on three occasions. Without the Bill becoming law, Britain's membership will automatically lapse at midnight on October 31 unless a further extension is negotiated, which seems unlikely.
Such a "No Deal" Brexit would take Britain fully out of the EU, yet would cause some economic disruption – even a full-scale "catastrophe" as envisaged by pro-EU politicians and media pundits – and pull the plug on the pound in the currency markets.
What this means is that, for the first time in more than a century, a government formed by the Conservative Party would have refused to abide by the wishes of Britain's ruling capitalist class to which it has always seemed so closely aligned.
Why might Prime Minister Johnson take this line? Firstly, it should be borne in mind that although he is a staunch advocate of capitalism, its banks and monopolized "free markets," he has few fixed policies or political principles beyond that.
He will play the British nationalist card or sing the praises of London's multiracialism – and do both simultaneously – if, as and when it suits him.
Undecided which side to back only months before the June 2016 EU referendum, finally coming down infavor of leaving the EU has propelled him into the Tory leadership and Number Ten Downing Street.
Now there, he is just as likely to abandon a full or "No Deal" Brexit if he thinks a revamped version of May's Withdrawal Bill could get through Parliament in October, retain corporate backing for himself and his party and help him win a snap General Election.
Although EU leaders oppose amending the Withdrawal Agreement itself, which includes a number of features opposed by Johnson (notably the single-market Irish "backstop" to prevent a "hard" border between Northern Ireland and the Irish Republic, and a £39 billion British "divorce" payment), they would be prepared to adjust the accompanying Political Declaration. They might even add some honeyed phrases about a future "free trade" agreement.
However, if the new Prime Minister cannot win over enough MPs for a new or amended Bill, he threatens to suspend (or "prorogue") parliament to prevent MPs in the House of Commons or peers in the House of Lords blocking Brexit in the run-up to October 31. Former Prime Minister John Major and others say they will seek a judicial review in Britain's Supreme Court to stop any prorogation.
Ironically, these pro-EU elements would then claim to be defending the largely mythical "sovereignty of parliament," while resisting the very real repatriation of sovereign powers from the EU and rejecting the "sovereignty of the people" as expressed in the 2016 EU referendum.
Win or lose on prorogation, the reaction from the pro-EU majority of MPs, business organizations and much of the media would almost certainly bring down a Johnson regime in a matter of months if not weeks.
With or without a full or semi-Brexit, Johnson could appeal to the electors as the leader genuinely respecting the "will of the people"(a term now mocked by British liberals). To promote this route, his Cabinet is already preparing a range of potential vote-winning policies on welfare spending, higher wages and social care for the elderly.
The result of a snap election could well depend on which party loses most seats as the result of losing votes to the Brexit Party formed by Nigel Farage, a major architect of the 2016 Leave vote, which is currently running close behind the main opposition Labour Party and the Tories in opinion polls, just ahead of the pro-EU Liberal Democrats.
Certainly, a divided and thoroughly pro-EU Labour Party will not capture the many Tory-held pro-Brexit marginal seats it needs in order to form a government. It may even lose some of its own heartland seats.
Yet, ironically again, only a full Brexit would enable a future left-led Labour government to enact policies on public investment, re-nationalization of key sectors, capital investment controls, tax reform and labor market regulation unhampered by EU Single Market rules, which would be the worst nightmare scenario for British big business.
Robert Griffiths is a former Senior Lecturer in Political Economy and History at the University of Wales and currently the General Secretary of the Communist Party of Britain.
Opinion articles reflect the views of their authors only, not necessarily those of China Focus