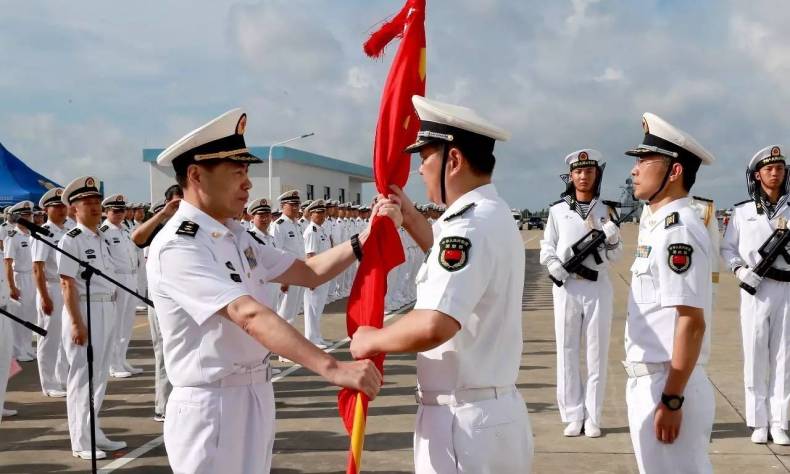 No Need to Sensationalize the "Threat" of China's Overseas Garrison
On 11th July, commander of the PLA Navy Shen Jinlong announced the central military commission's official order to establish a security base in Djibouti. This will be the first time that the Chinese people's liberation army has set up an overseas military base. As a result, the decision has attracted worldwide attention and comment.
By Qian Liyan
On 11th July, commander of the PLA Navy Shen Jinlong announced the central military commission's official order to establish a security base in Djibouti, and conferred the flag on the CNS Jinggangshan, Type 071 landing platform dock (LPD), and the CNS Donghaidao, a semi-submersible support ship, at Zhanjiang Naval Port, Guangdong Province. Shortly afterwards, the vessels set sail for Djibouti, carrying troops of the Chinese people's liberation army and construction equipment.
The first commander of the base will be the former navy spokesman Liang Yang. This will be the first time that the Chinese people's liberation army has set up an overseas military base. As a result, the decision has attracted worldwide attention and comment.
Rationale
Many countries have engaged in conjecture and comment on the event. This has included sensational speculation about whether China is now engaging in military expansion in the manner of the West, or whether this represents the opening of China's military deployment in the Indian Ocean. Towards such speculation I can only shake my head with a wry smile.
China has always been explicit that its foreign policy is based on the principle of peaceful co-existence. The strategy has been subject to some adjustment, but the fundamental principle has remained firm. Any adjustments that have occurred have been made in response to the changing requirements of global economic integration, in order to pursue cooperation and development which will bring mutual benefit and reciprocity. 
Clearly, China today is different from the past, and our busy economic and trade links with foreign countries have borne fruit and created core overseas interests. It is therefore perfectly reasonable to take some protective measures to protect our interests. However, one thing that should be made clear is that the world today is no longer in an era in which lands can be conquered and colonized through "gunboat diplomacy". What is the likely outcome, if some still insist on following "the old ways"? The history of bloodshed and regression caused by the old powers during their two World Wars should be convincing enough to sound as a warning bell. 
However, this does not mean that China's armed forces can be excused from protecting our overseas interests. Since China first sent military observers to the UN in 1992, we have always favored a reasonable right of self-defense under the framework of the collective security of the UN, on condition that this is exercised strictly in accordance with international law. Therefore, after first providing military engineering, transport and medical troops to participate in UN peacekeeping operations, China gradually began to send troops on combat missions to theaters such as Mali and South Sudan.
Taking part in UN peacekeeping operations and stabilizing turbulent regions is one way to protect China's overseas interests, but to be honest it often results in a certain delay in responding to emergencies. In contrast, the escort activity in the Gulf of Aden conducted by the Chinese navy in recent years, which is carried out under a UN resolution and with the consent of the countries involved, is more direct in its efficiency and broader in its impact compared with other peacekeeping operations.  
Safeguard
In recent years, in addition to securing the waters around the Red Sea and the Gulf of Aden, the Chinese navy has also conducted several other missions, such as evacuating overseas Chinese from Libya when its civil war broke out, evacuating overseas Chinese from Yemen, and escorting chemical weapons handed over by Syria. It goes without saying that these actions were effective.
Given the importance of the escort mission, it is self-evident that keeping the fleet and the troops in tip-top condition is equally important. Human beings are not made of stone; they need food and rest; they need recreation and leisure activities; they will get tired and sick. In addition, special combat troops also need to train and drill to keep up their strength and skills, while the space on board ship is limited. 
Until now, the model we have applied is to use supply ships to provide fuel and daily and medical necessities to the combat fleet. This material is all purchased overseas, and has to go through complex pooling and transshipment processes to reach the supply ships. This is not only inefficient; it is also costly and wasteful.
We all know through common sense that every machine will eventually go wrong under constant use. Therefore, no matter how carefully we maintain our ships, in the present unfavorable conditions, problems are more than likely to arise. This is why we have a genuine need of a proper logistics support base.
Purpose
So why is China's first overseas garrison being sensationalized by western countries as a "threat"?
Let us first take a look at this base. It occupies only 40 hectares, and has only just enough room for a weapons arsenal, a warehouse for food and bedding and clothing, a helipad, a dock for medical and supply ships, and limited maintenance facilities.
As we can see from the scale of the base, the number of troops stationed in Djibouti in the future will be very limited. In addition to the personnel who take care of maintenance, only a small standing garrison and a number of rotation troops will occupy the base. Therefore its core function will be logistics support.
Let us make a comparison.
About 10 kilometers from the Chinese base is the biggest American military base in Africa — Lemonnier. This base is run by AfriCom as a "regional anti-terrorism command center". It has a garrison of around 4000, including special combat troops who target terrorist groups on the Arabian Peninsula and in East Africa.
In addition, there is a large UAV (drone) takeoff and landing field in the base, busily dispatching UAVs every day for missions including reconnaissance, surveillance and targeted elimination. There is too much traffic for the air traffic control department of Djibouti to coordinate, and as a result there have been several incidents that have threatened the safety of civil aircraft.
In addition to the US army, countries like France, Germany, Italy, and Spain have also set up military bases in Djibouti. Even Japan's "Self-defense Agency" has set up a base there. Is it not rather odd that the Japanese should have to travel all the way to Africa to "defend themselves"?
The territory of Djibouti is no more than 23,000 square kilometers, with an armed force less than 5000 people, but it is so crowded with foreign bases that you could almost say that it forms a "military base market". It should be obvious that China's goals in setting up their base in Djibouti will not go beyond the scope of all the other bases that are already there.
We know, however, that no matter how clearly the issue is explained, there will always be someone seeking to question it. The US army, for example, has already started to make statements that they don't want to see Chinese military aircraft flying near their UAV airport. This is obviously part of a tactic to try to shut China out.    
Perhaps the reason why Western countries are directing so much attention onto our small logistics support base is that they cannot put aside the "olden days" when gunboats enforced their foreign policy around the world. They see today's China, now the second strongest country in terms of comprehensive national power, and they assume that China will follow their own past path. 
However, those who sensationalize the "China threat" should understand that the world today is a big place. Even a power such as the US – which has more than a hundred military bases in over 40 countries and which constantly interferes in other counties and their issues through military force – has not succeeded in making itself "safer". Learning from this lesson, why on earth would China want to repeat the mistake? 
Therefore, in our future development, with the exception of rare instances where China is obliged to adopt military measures – as in the case of our escort work in the Gulf of Aden – our overseas security measures will accord with our peaceful and friendly foreign policies.
Source: People's Daily, Overseas