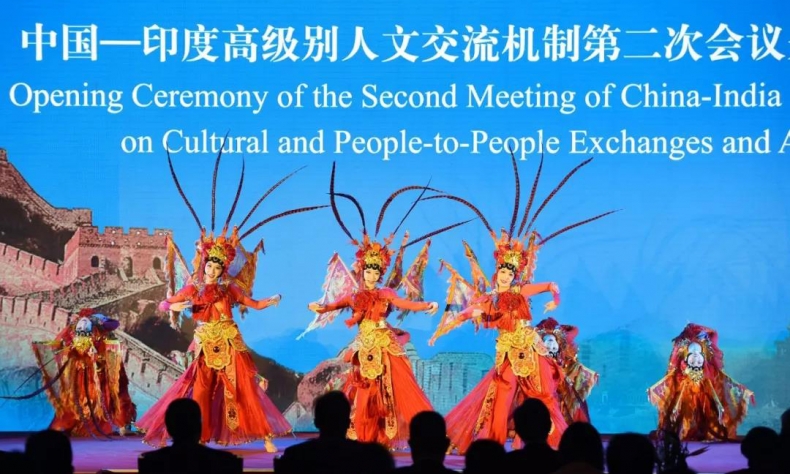 Opening Up and Cooperation Make the Future
The simultaneous rejuvenation of China and India provides an important opportunity for the realization of the Asian century and injects more vitality into the world economic recovery.
As the world's only two emerging economies that boast a population of more than one billion each, China and India play important roles in global economic patterns. Although China and India have taken different development paths, they have achieved stability, development and prosperity. China has become the world's second-largest economy, and India is expected to surpass Britain and France to become the world's fifth-largest economy in 2019. The simultaneous rejuvenation of China and India provides an important opportunity for the realization of the Asian century and injects more vitality into the world economic recovery.
Coexisting challenges and opportunities
After the international financial crisis, the world economy recovered slowly. Trade protectionism and unilateralism began to spread, severely eroding the system based on free trade and multilateralism, and adding twists and turns to economic globalization. Especially, the trade wars and technological restrictions triggered by the United States undermine the security, stability and predictability of the global trade and investment environment, and exacerbate the downside risks for the global economy, which is not a good thing for both China and India, whose economic reform and development are at a critical stage.
According to Chinese Customs statistics, in the first half of 2019, China- India trade volume was 44.73 billion US dollars, down 4.5 percent from the same period last year. In the same period, the Indian Ministry of Commerce and Industry statistics also showed that China-India trade volume was 42.08 billion US dollars, down 7.1 percent from the same period last year.
However, from another point of view, the increasingly uncertain world economic situation exerting external pressure on China and India's domestic reforms, encourage the two countries to further stimulate domestic economic potential, actively strengthen cooperation with neighboring countries, as well as accelerate bilateral and regional cooperation and opening up to seek more economic growth points.
For example, China has continuously promoted the construction of pilot free trade zones (FTZ), and actively expanded opening up to dock with international rules. Comparably, India has also made great efforts to deepen reform, strengthen infrastructure construction, improve the business environment and attract foreign investment, which provides good opportunities for China- India trade and investment cooperation. Facing US trade hegemony, China and India have also taken measures to fight back, and coordinated their stances under BRICS and SCO cooperation mechanisms to safeguard the multilateralism and free trade systems.
Understanding trade imbalance
As two emerging powers, China and India inevitably encountered some frictions in economic and trade cooperation, but the key point is how to deal with them properly.
India is a net importer of goods. According to the statistics of the Indian Ministry of Commerce and Industry, India's total goods trade deficit in the first half of 2019 was 81.65 billion US dollars. The trade deficit with China alone reached 25.32 billion US dollars, accounting for 31 percent of the total, which has become a "heart pain" for India, and turned into a major obstacle to the development of trade development between the two countries.
Objectively speaking, this deficit is mainly caused by the differences in industrial structures between the two countries and their division of work in the global industrial chain. On the one hand, India owns a large population, and its production and manufacturing capacity can't meet the huge domestic production and living needs, so it has a large demand for cheap and high-quality Chinese products. On the other hand, China has a strong manufacturing industry and many foreign enterprises have chosen to set up factories in China. The products they produced and processed are exported to India and other countries, which also increases India's trade deficit with China.
From the trade structure of the two countries, India's exports to China are mainly primary products such as resource products and raw materials, which are replaceable. With the adjustment of China's economic structure, the growth space of primary products exported to China is limited. However, China's exports to India have mainly manufactured goods such as machinery and electronics with high quality and low prices, which are less replaceable for price-sensitive Indian businessmen.
Other important evidence is that India's free trade agreements with the ASEAN, Japan and Korea have come into force. The products of these countries enjoy preferential tariff treatment in the Indian market. But besides the Asia-Pacific Trade Agreement (APTA), which has a smaller coverage and less trade liberalization, there is no more high-level free trade agreement between China and India. Nevertheless, India's trade deficit with China continues to expand year by year, which shows that Chinese products have strong competitiveness in the Indian market.
What's more, the Modi government actively promotes the "Make in India" project and vigorously develops the local manufacturing of electronic products. Chinese enterprises are important supporters for India's electronics manufacturing industry, since a large number of parts and components are imported from China, and that further boosts India's demand for Chinese products. With India's rapid population growth and economic development, its trade deficit with China is difficult to reverse in the short term, and with the expansion of bilateral trade scale, it's possible to expand further.
Feasible ways to improve cooperation
At present, the anti-globalization trend and the complex world economic situation have posed a huge test for China and India. The two countries should properly handle the friction and differences, gather more consensus, tap potential in-depth, and jointly promote positive, pragmatic, mutually beneficial and win-win economic and trade cooperation.
The two sides should strengthen communication, coordinate stances and jointly safeguard economic globalization. The economic development of China and India are both at the critical stage, which needs a stable and open external environment. Therefore, the two sides should continue to strengthen high-level meetings, make good use of the platforms of China-India Strategic Economic Dialogue, BRICS Summit and G20 Summit, to actively carry out dialogue, communication and policy docking. Besides, they should jointly safeguard the free trade system and multilateralism, creating a free, fair, non-discriminatory, transparent, predictable and stable environment for trade and investment, and promoting the recovery of the world economy.
China and India should actively carry out bilateral consultations, conduct in-depth studies and discussions on bilateral goods trade and related service trade and investment, strive to formulate mutually beneficial solutions to provide an institutional framework for China-India economic and trade cooperation.
India should correctly understand the fundamental reasons for its trade deficit with China, and learn from China's experience of reform and opening up, upgrade the level of trade liberalization, promote reform and development by expanding opening up. China should give India more flexibility in market access, and make good use of the China International Import Expo and China-South Asia Expo platforms to increase import from India to improve its market attraction.
We should strengthen investment cooperation and promote the integration of industrial chains between the two countries. India's fundamental way to change its trade deficit is to vigorously develop its manufacturing industry and improve its production capacity. The Modi government actively promotes the "Make in India" project to attract foreign direct investment, hoping to turn India into a world factory, which will also be a good opportunity for China to expand investment in India and accelerate the integration of industrial chains between the two countries.
India should further deepen domestic reforms, optimize the business environment, train skilled industrial workers, and create better conditions for foreign investment. And China can increase industrial investment and park cooperation in India, give full play to India's population advantages and transfer labor-intensive industries such as textiles and clothing, or labor-intensive parts of high-tech industries such as electronic information division to India, to help the development of Indian manufacturing industries.
We should expand the opening up of service industries and promote the development of the China-India service trade. India's service industry accounts for more than 60 percent of the national economy and is an important driving force for its economic growth. Compared with the goods trade, its service trade has greater advantages. Therefore, in its foreign economic and trade cooperation, India hopes to further expand its service exports in order to make up for its deficit in the field of goods trade.
In an active and orderly way, China is expanding the opening up of service industry and trade, comprehensively implementing the pre-establishment national treatment and negative list management, and greatly easing market access, which provides an important opportunity for India's advantage services such as software and information to enter the Chinese market.
In addition, India also has great advantages in providing service personnel. The two sides can explore labor cooperation in yoga, catering, music, dancing and other service areas to further tap the potential of China-India service trade.
We should promote infrastructure cooperation and improve interconnectivity between the two countries. Lagging infrastructure construction is one of the important factors restricting India's economic development. Indian Prime Minister Modi has pledged to invest more financial funds to improve infrastructure conditions and actively utilize external fund sources such as the Asian Infrastructure Investment Bank to carry out project construction.
China has a rich practical experience and mature technology in infrastructure construction including transportation, energy, communications and other fields. India's vigorous promotion of infrastructure construction provides a good opportunity for Chinese engineering construction corporations to enter the Indian market.
At the same time, China and India should also strengthen the construction of economic corridors. The first is to accelerate the construction of the Bangladesh, China, India and Myanmar economic corridor (BCIMEC), and establish a long-term mechanism, compile a planning outline, and select and promote a number of early harvest projects. The second is to jointly study the China- Nepal-India economic corridor (CNIEC), build a three-dimensional interconnectivity network across the Himalayas, and promote better integration of the South Asian Subcontinent with the Asia- Pacific region.
Wang Rui is deputy director and associate fellow of the Asian Institute of Chinese Academy of International Trade and Economic Cooperation.
(If you want to contribute and have specific expertise, please contact us at chinafocus@cnfocus.com)