Pakistani Foreign Minister's Visit to China Consolidates the Ironclad Friendship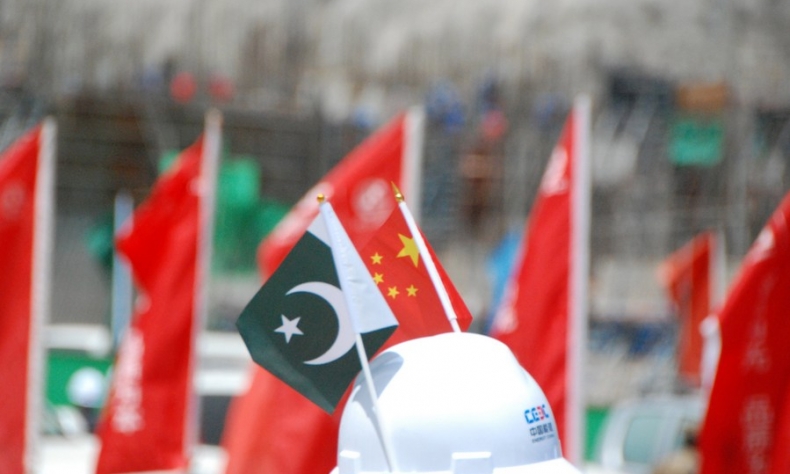 Over the past 71 years, Pakistan and China have always been standing together towards building an inclusive regional and global cooperation framework.
Foreign Minister of Pakistan Bilawal Bhutto Zardari paid his maiden visit to China on May 22 at the invitation of Wang Yi, State Councilor and Foreign Minister of China. The visit coincides with the celebration of the 71st anniversary of the all-weather strategic cooperative partnership and the "ironclad" friendship between the two countries.
Both ministers met in Guangzhou and vowed to push the bilateral relations to new heights and build a closer China-Pakistan community for a shared future in a significant and prosperous era. The two sides discussed and consolidated the consensus on deepening strong economic engagement, trade, investment and industrialization, as well as advancing the construction of China-Pakistan Economic Corridor (CPEC) in the ever-changing regional and global political and strategic milieu.
China and Pakistan enjoy the all-weather strategic cooperative partnership that withstood the test of times based on close strategic communications between the countries. Bilawal Bhutto, the incumbent foreign minister of Pakistan, has his own personal and political inclination due to his glorious historic family traditions tied with Pakistan's long-term relations with China. Before this visit, Prime Minister Shahbaz Sharif had a telephone conversation with Premier Li Keqiang. These exchanges show that both sides always keep close communication and cooperation no matter how domestic political situation changes.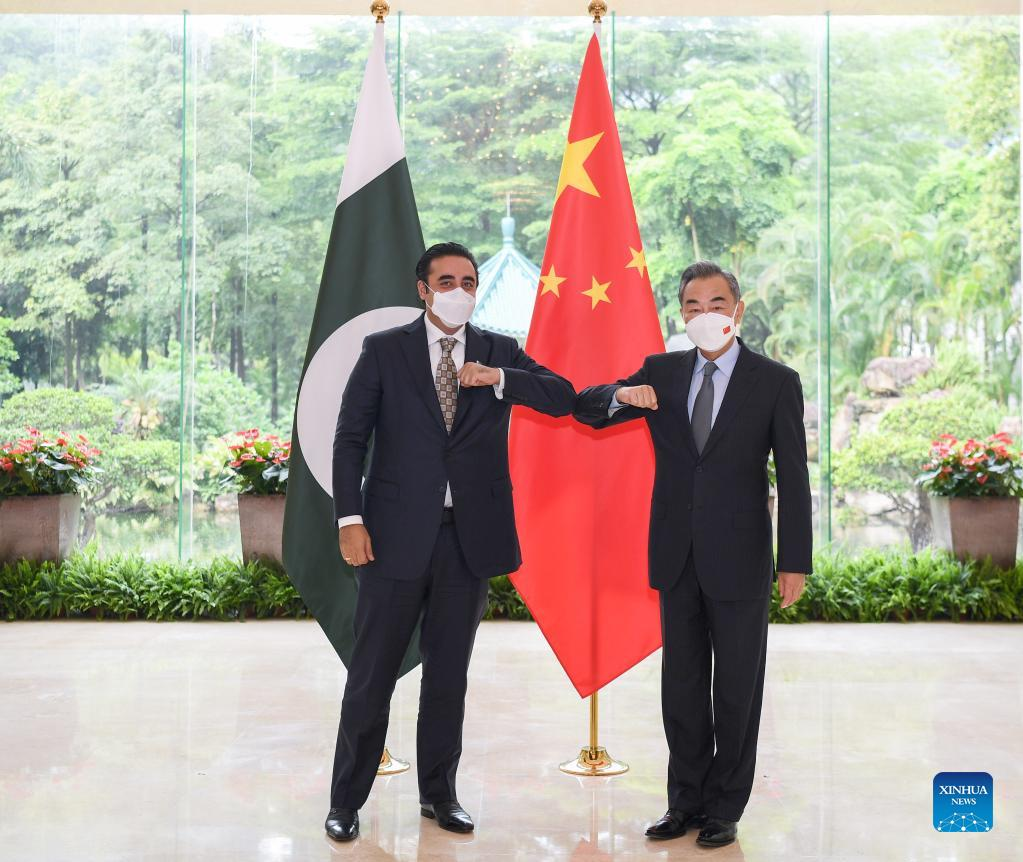 The significance of this visit lies in the context of the meeting. Islamabad has a new government, looking forward to closely working with China. CPEC comes into the second most crucial phase where further industrialization is being implemented. Meanwhile, global political and strategic situation is changing. For example, terrorists have launched new attacks in Pakistan, the Ukraine conflict continues, traditional and non-traditional threats are rising amid the growing global friction of big powers.
Both sides reach consensus on developing a closer partnership in various areas. This reflects a strong sense of solidarity and collaboration between China and Pakistan, which is an essential factor for regional stability in the turbulent and changing world. Both sides will support each other's core interests and major global and regional concerns. China and Pakistan have always upheld the values of UN charter and an international order based on international laws, as well as always support the practice of multilateralism.
On counterterrorism, Pakistan and China have kept long-standing cooperation which is not only at the bilateral level but also at the multilateral level as well. There is clarity in understanding that no power on this earth can undermine the Pakistan-China friendship. Pakistan has reiterated its full commitment to protect Chinese personnel, institutions and projects in Pakistan from terror attacks and will enhance security measures against terrorism threat. Pakistan is in fact facing the challenge of rising terrorism and attacks in western border areas.
Afghanistan is an important topic discussed during the visit. The humanitarian crisis in the war-torn country requires international community to make coordinated and sincere efforts to give help in its domestic reconstruction. It is also aspired to implement the Tunxi Initiative of the Neighboring Countries of Afghanistan on Supporting Economic and Reconstruction in Practical Cooperation with Afghanistan. The possibility for engagement and extension of CPEC into Afghanistan are also echoed from both sides.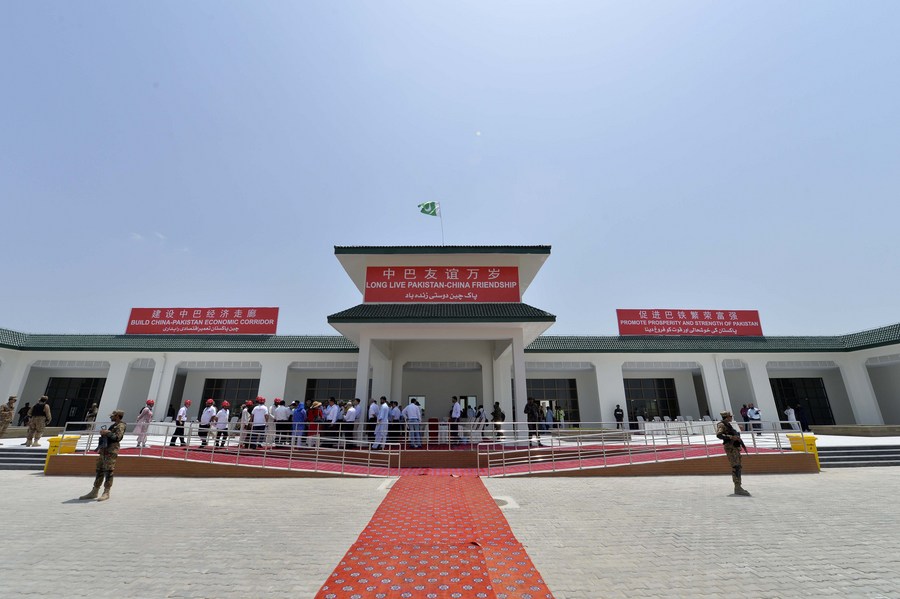 As the main corner stone in the discussion, CPEC is currently put into the second important phase of industrial and agriculture development, including socio-economic transformation across Pakistan. The two countries are carrying out cooperation on IT, industrialization, transportation infrastructure, and improvement of economic development. China and Pakistan are together pushing forward to synergize the development strategy in all sectors hence contributing towards the overall wellbeing of the local communities.
CPEC has paved the way for supporting Pakistan to maintain its economic stability. The transformation of economic landscape is promoting bilateral trade with China. The optimum use of Phase II of China-Pakistan Free Trade Agreement (CPFTA) is helping diversify the trade links. Pakistan and China have also agreed to build collaboration in services sector and in new technologies, education, tourism and financial sectors.
It is important to note that Pakistan gives full support for the Global Development Initiative (GDI) and the Global Security Initiative (GSI) put forward by Chinese President Xi Jinping. Pakistan is willing to work with other countries on the initiatives to help implement the UN2030 Agenda for Sustainable Development. This is the way to growth and togetherness. In this troubling and challenging time, Chinese leadership takes a timely and wise step to cope with global change.
Over the past 71 years, Pakistan and China have always been standing together towards building an inclusive regional and global cooperation framework. The Pakistan-China friendship has evolved into a new golden era of togetherness that will last long and create opportunities for humanity in the region to enjoy prosperity and live in peace.
The article reflects the author's opinions, and not necessarily the views of China Focus.