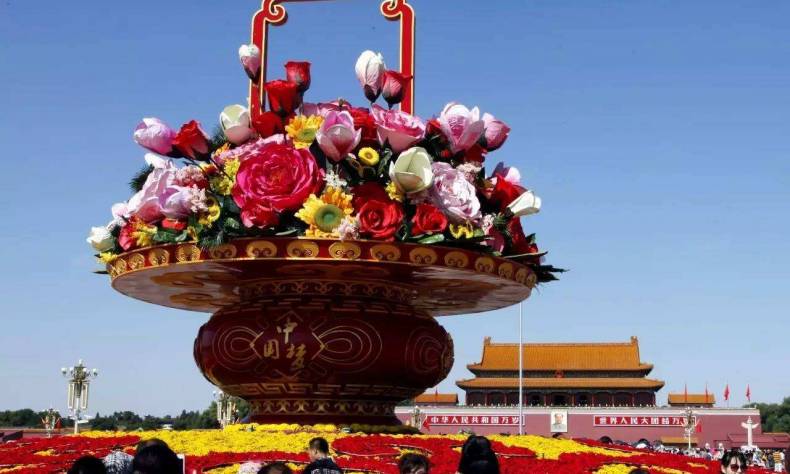 Party Congress Charts Road to Chinese Dream
Xi Jinping delivered a keynote address to the 19th National Congress of the CPC that quickly won many plaudits as a panoramic blueprint for national development in the next five years and beyond.
By Rabi Sankar Bosu
The 19th National Congress of the Communist Party of China (CPC) opened Wednesday morning at the Great Hall of the People in Beijing. Xi Jinping, general secretary of the CPC Central Committee, delivered a keynote address that quickly won many plaudits as a panoramic blueprint for national development in the next five years and beyond.
In his visionary report, Xi pledged: "We will unite the Chinese people of all ethnic groups and lead them to a decisive victory in building a moderately prosperous society in all aspects and in the drive to secure the success of socialism with Chinese characteristics for a new era."
It will surely exert profound influence on China's growth, as well as world peace and development. It shows the world that the Chinese people, and their leaders, have the genius to create a new growth model, taking the socialist road with Chinese characteristics and ensuring development is based on improved quality of economic development and social governance.
In the first five years in office, Xi has guided the Party and the people at large to take giant steps towards achieving the "two centenary goals," summed up by him as: "the original aspiration and the mission of Chinese communists to seek happiness for the Chinese people and rejuvenation for the Chinese nation."
The Chinese Dream is an end to the worst kinds of poverty, and the rejuvenation of a nation that has already made astonishing progress, lifting more than 60 million rural people out of poverty since 2012, starting a green revolution in China and leading the country towards modernity.
During this period, some 13 million new urban jobs have been created each year on an average. Surely, there is much here for the rest of the world to learn.
The past five years have seen a fast-rising China making remarkable strides not only in poverty reduction, but also in reform of the healthcare system, construction of a high-speed rail network spanning the country, and various other programs enhancing people's daily life through supply-side reform, technological innovation and pollution management, for example.
Xi rightly attributed these historic successes to correct guidance provided by the Party's basic theory, line, program and experience, adding that, without CPC leadership, national rejuvenation would be little more than "wishful thinking."
It can be said that the concept of "Three Stricts and Three Earnests" he put forward in 2014 has strengthened ties between Party and the masses. Xi nourishes an unflinching faith in regeneration of a "great modern socialist country" that is prosperous, strong, democratic, culturally advanced, harmonious and beautiful by the middle of this century.
The report firmly grasped the nettle of corruption. In warning those corrupt elements within, the CPC chief was more strident in his criticisms than in the past. Calling corruption "the greatest threat" the Party faces, he said the fight against it remained grave and complex. However, he foresaw a "sweeping victory" in the anti-corruption that has gained "crushing momentum" in the past five years.
He also highlighted China's own economic growth record, saying it was built on the back of national industriousness under the CPC leadership. National GDP rose from 54 trillion yuan to 80 trillion yuan (about US$12.1 trillion) over the past five years, surely creating great confidence in China's leadership role to global growth.
As far as the world is concerned, China's technological and infrastructural development, as well as economic development during the past five years, has been amazing. Despite the global economic crisis, China has still managed to do remarkably well and has become better integrated into the world economy.
It was encouraging to hear Xi say China would not change its basic policy, and would continue to be committed to providing better services to foreign investors. "China will significantly ease market access, further open service sectors, and protect the legitimate rights and interests of foreign investors. All businesses registered in China will be treated equally," he pledged.
The Chinese leader's speech firmly signaled that China will push forward reform and play a responsible role in world affairs, summed up by the words: "All countries should work together for a clean and beautiful world and tackle climate change through cooperation."
Countries have the right to development, but they need to view their own interests within a broader context. Xi got a round of applause for calling on the people of all countries to work together to build a community with a shared future — an open, inclusive, clean, and beautiful world that enjoys lasting peace, universal security, and common prosperity.
Undoubtedly, the ongoing Congress will be an epoch-making event in the history of China as it will focus on how to make the last phase of the "Chinese Dream" come true. It is hoped that the deliberations of the 19th CPC National Congress will be a milestone in China's future development and progress and also benefits China's friends all around the world.
Rabi Sankar Bosu, Secretary of New Horizon Radio Listeners' Club, West Bengal, India
Opinion articles reflect the views of their authors only.
Source: China.org.cn