Preparing for Takeoff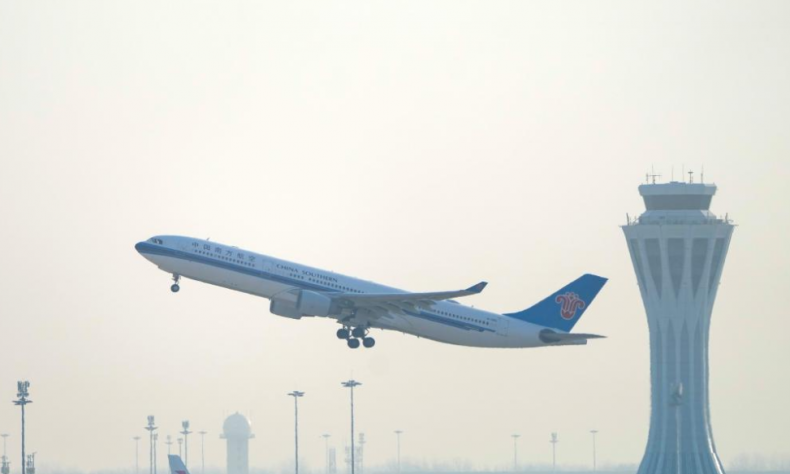 Cross-border travel is expected to fully recover this year. Investment promotions and cross-border tourism negotiations will also be conducted during the Spring Festival holiday.
Warm hugs, joyful tears, flowers… these are all common sights during family reunions at Chinese New Year, or Spring Festival, which will fall on January 22 this year. Nevertheless, rather than being confined to celebrations at home, hugs, tears and flowers will be common sights at airports around the nation during the upcoming holiday, with an influx of inbound travelers arriving after China lifted its three-year-long COVID-19 travel restrictions on January 8.
At around 10:30 a.m. on that day, Beijing Capital International Airport welcomed the first group of cross-border travelers from Hong Kong Special Administrative Region–291 passengers on board Cathy Pacific flight CX334. Song Jiarong, a 23-year-old Beijing native working in Hong Kong, said she was happy to be one of the first inbound passengers set to arrive after the requirement to quarantine was dropped. Last year, Song had to transfer in Shenzhen in Guangdong Province and spent 21 days in quarantine before flying to Beijing, where she was required to quarantine again for several days.
The easing of restrictions was part of China's latest policy adjustment to manage COVID-19 with measures designed for combating Category B, instead of the most severe Category A, infectious diseases. Chinese authorities have removed all quarantine requirements for inbound passengers, introduced policies to facilitate the resumption of international flights and resumed accepting applications from Chinese nationals for passports to travel overseas for tourism or to visit friends and family.
The country recorded 251,045 inbound passenger trips on January 8. It received 396 inbound ships, 325 flights, 6,323 trucks and 83 trains that day, according to the General Administration of Customs of China.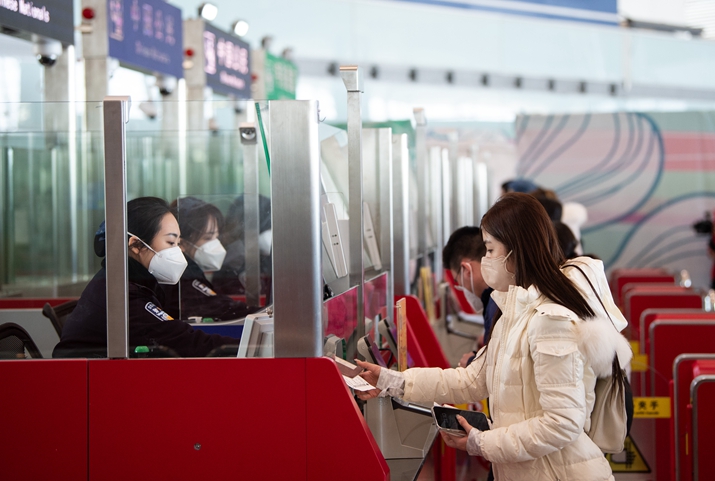 Resumption
The first working day following the downgrading of COVID-19 management also saw a significant jump in the number of applicants for inbound and outbound travel documents nationwide.
"We're optimizing the services we offer to foreigners in Beijing. For example, we're increasing the number of venues where foreigners can apply for work or residence permits," Ji Xiaowen, a staff member at the Exit-Entry Reception Hall of the Beijing Municipal Public Security Bureau (BMPSB) in Dongcheng District of the capital city, told the media on January 9. Another representative of the BMPSB Exit-Entry Administration Bureau said the agency will handle all applications in line with regular procedures.
Derek Holste, a U.S. student studying at the Central University of Finance and Economics in Beijing, came to the reception hall to apply for a residence permit. "It's amazing. I'm glad that students from all over the world can come back to China and finally start studying again," he told Beijing Review.
"We have streamlined procedures and opened all 150 reception counters across Shanghai to offer services in response to the high demand for visas," Shen Qiang, a staff member with the Exit-Entry Administration Bureau of Shanghai Municipal Public Security Bureau, said.
Shen told China Daily the bureau has maximized its capacity for reservations and will add new reservation quotas on a daily basis.
China has also resumed issuing permits for mainland residents to visit Hong Kong and Macao special administrative regions for tourism and business purposes. Leo Ren, a mainland student completing his Ph.D. program at Hong Kong University, was unable to return home last year due to quarantine restrictions. "This year, it will be more convenient for me to go home and my parents will also be able to visit me in Hong Kong," Ren told Beijing Review.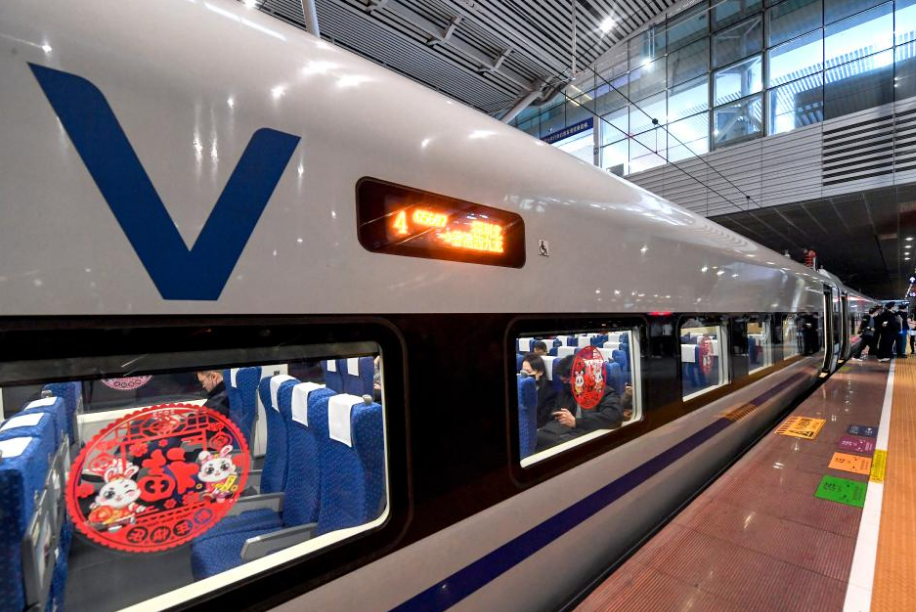 Recovery
At the beginning of this year, China's inbound and outbound tourism market saw a steady and gradual recovery. Dai Bin, President of the China Tourism Academy, told Xinhua News Agency that indicators such as air ticket searches and travel intentions have shown that neighboring countries like Thailand are likely to be the first outbound tourist destinations to recover, followed by medium- and long-distance markets in West Asia and Europe.
Data from Tongcheng Travel, an online travel service provider, showed that on January 8, the number of international flight bookings rose 628 percent year on year, hitting a peak since March 2020. Popular destinations for inbound flights include Shanghai, Nanjing, Jiangsu Province, and Guangzhou, Guangdong, while outbound tourists are showing interest in more than 100 cities in 53 countries and regions.
Xiamen Airlines flight MF833, carrying 269 Chinese tourists from Xiamen, Fujian Province, landed in Thailand's capital of Bangkok on January 9. Anutin Charnvirakul, Thai Deputy Prime Minister and Minister of Public Health, led a group of greeters to welcome the travelers with flowers and gift bags upon their arrival.
Before the COVID-19 pandemic, the Chinese accounted for one fourth of Thailand's total international inbound tourists, according to the Tourism Authority of Thailand. In 2019, the number of Chinese visits reached 11 million, generating $14.95 billion in tourism revenue.
The authority also estimated that the number of international inbound tourists in 2023 is likely to reach 25 million, with 5 million from China.
The Chinese New Year grand parade returned to Dubai on January 14, after a two-year hiatus due to COVID-19. The event attracted 2,500 performers, featuring traditional lion and dragon dances, marching bands, performers and acrobats in bright costumes, as well as showcasing new-energy vehicles and Chinese hi-tech products.
This is also an announcement and invitation to Chinese tourists to "come back to Dubai and celebrate Chinese New Year here," Li Xuhang, Chinese Consul General in Dubai, said.
"As a regional economic hub, Dubai is one of the most popular destinations for Chinese companies. It is safe to say that the strong momentum of China's economic recovery will soon be felt by the world, which will be followed by a boom in Chinese people traveling abroad, and Dubai, as a famous tourist destination, will soon see the spectacular return of Chinese tourists," he added.
"For Pakistan, the opening for Chinese tourism is a very positive sign," Aftab ur-Rehman Rana, Managing Director of Pakistan Tourism Development Corp., told Xinhua.
This year marks the China-Pakistan Year of Tourism Exchanges. Pakistan is not just inviting Chinese tourists to visit the country, but is encouraging its own people to travel to China, Rana said, adding it will help improve people-to-people exchanges and especially promote tourism cooperation.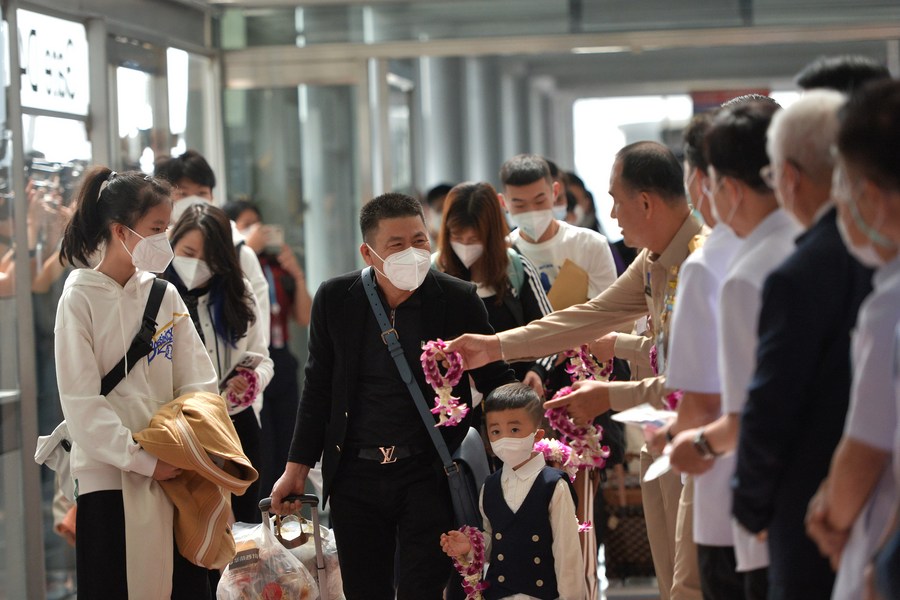 Renewal
Border cities are also regaining their vitality. Hekou Port in Yunnan Province resumed services on January 8, with people from the two countries walking across the China-Viet Nam Nanxi River Bridge and exchanging flowers in celebration.
Both pedestrian and vehicle channels have opened up again in Hekou Port, which is connected to Lao Cai of Viet Nam by land and water. Prior to the pandemic, sightseeing and cross-border tourism were booming. In 2019, about 6.61 million inbound and outbound trips were made though Hekou Port.
Cross-border travel is expected to fully recover this year, Yu Yang, a local official, said during a ceremony for the reopening. As Spring Festival is celebrated by both the Chinese and Vietnamese, a gala will take place to strengthen bonds between people on both sides of the border, according to him. Investment promotions and cross-border tourism negotiations will also be conducted during the holiday, Yu added.
Border ports in Xinjiang Uygur Autonomous Region have also resumed passenger customs clearance. At Khorgas Port, Belik Zhanuzakov, a visitor from Kazakhstan, told Xinhua the reopening of the border makes it convenient to travel from Kazakhstan to China by bus.
While most countries have welcomed China's new travel rules and are looking forward to the recovery of the tourism sector and people-to-people exchanges, some countries have imposed restrictions targeting arrivals from China, including mandatory testing upon arrival.
"If these travel restrictions apply only to Chinese visitors, then it is more a question of political prejudice rather than a science-based effort to prevent the spread of the virus," Wang Peiyu, deputy head of Peking University's School of Public Health, told the Global Times.
COVID-19 testing requirements and other measures for travelers from China have proved ineffective, Willie Walsh, Director General of the International Air Transport Association, said in a statement. He also called on governments to base their decisions on "science facts" rather than "science politics."
(Tao Xing contributed to this story)