President Xi's Nepal Visit is a New Milestone to Expand Strategic Partnership
Xi's visit opens new chapter on not only Nepal-China productive development but also to the qualitative change of the entire region.
With Chinese President Xi Jinping's state visit to Nepal on October 12-13, the two countries have decided to elevate Nepal-China comprehensive partnership to strategic partnership of cooperation. The two oldest countries in the planet have many common values to enhance cooperation.
As President Xi said Nepal wouldn't be landlocked country in the future, trans-Himalaya connectivity ultimately will support for sustainable development and stability of the entire South Asia region. Now the things are to transform words into the action and focus on implementation of signed agreements and acknowledged policies.
Enriching bilateral cooperation
Both Nepal and China have long civilizations and connected by mountains and rivers geographically. Long cultural exchanges and people to people contacts are also symbol of our extensive friendship. Eminent Chinese monks Fa Xian in Eastern Jin Dynasty (A.D. 317-420) and Xuan Zang in Tang Dynasty (A.D. 618-907) had visited ancient Nepal and learnt Buddhism. Similarly, Nepali princess Bhrikuti married to the then Tibetan King Songtsen Gampo. Around 700 years ago Nepali architect Arniko went to China and built some stupas. This shows the history of long cultural and people-to-people exchanges and friendship.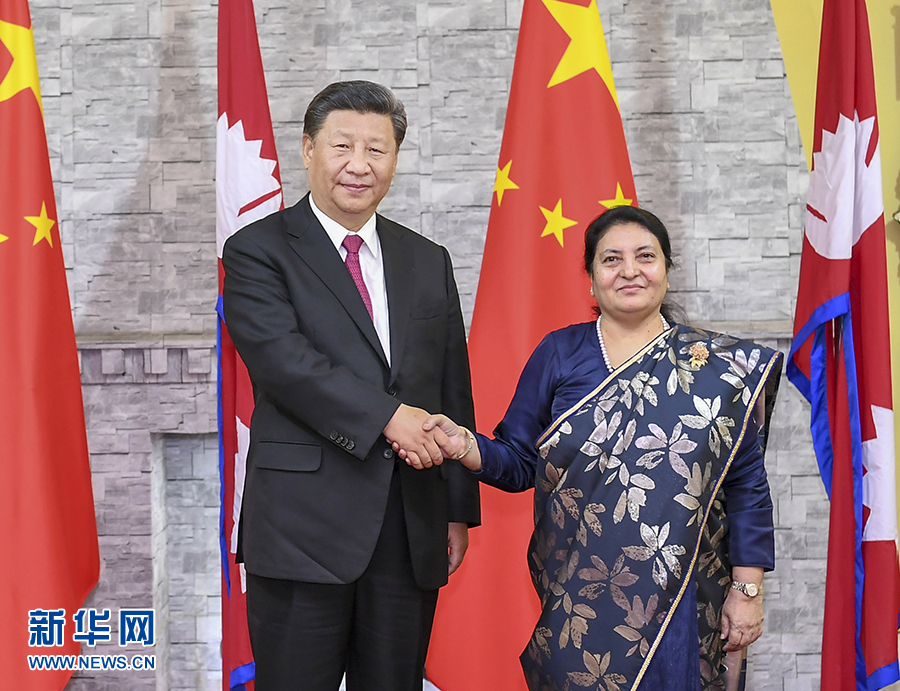 During Xi's visit, Nepal and China signed 18 memorandums of understanding and two letters of exchange, also issued a 14 points joint statement. Both countries recognized that the bilateral relationship between the two countries is characterized by equality, harmonious coexistence, ever-lasting friendship and comprehensive cooperation. In May 2017, Nepal signed under the framework of the Belt and Road Initiative (BRI). Nepal assumes that the BRI is an important platform to enhance multi-layered cooperation in various fields. For this time both countries also reaffirmed their commitment to broaden the level of cooperation under the BRI spirit.
In his speech, President Xi congratulated Nepal on the historic and epoch-making political transformation and its rapid social and economic development. He also reiterated the interest of China to continue interacting with Nepal on the experience of domestic governance. Nepali leaders also congratulated China on the 70th anniversary of the founding of People's Republic of China (PRC) and voiced its veneration to China's marvelous accomplishment in development over the past 70 years and honestly wished that under the guidance of Xi Jinping Thought on Socialism with Chinese Characteristics for a New Era, the Chinese people would retain endeavoring to fulfill the two centenary goals and build China a great modern socialist country that is prosperous, strong, democratic, culturally advanced, harmonious and beautiful.
Nepal and China agreed to enhance connectivity through ports, railways, roads, aviation and communications within the broad framework of BRI and trans-Himalaya Multi-Dimensional Connectivity Network. The two sides, while reminding the MoU between the two countries on June 21, 2018 on cooperation in railways project, agreed to launch the feasibility study as delineated in the MoU signed on October 13, 2019, which will lay a significant foundation to beginning the construction of the cross-border railway and also agreed to extend cooperation on Kathmandu-Pokhara-Lumbini railway project. The two sides also agreed to foster cooperation and exchanges in culture, education, media, tourism, thinks tanks, traditional medicine and youth at various levels.
No way to use Nepali soil to split China
Nepal is always stick on One-China policy. With the founding of the PRC in 1949 and political changes in Nepal in 1950, the two countries established formal diplomatic relations in 1955. Since then, based on mutual trust and understanding, both countries have been enhancing cooperation and friendship in an excellent manner. This friendship now constructively culminates into the strategic partnership between two countries. As President Xi said, it is also Nepali aspiration to become land-linked country and open easy access to rest of the world. The main aim of it is to reduce dependence on India in transit and achieve the goal of vibrant economic development and prosperity.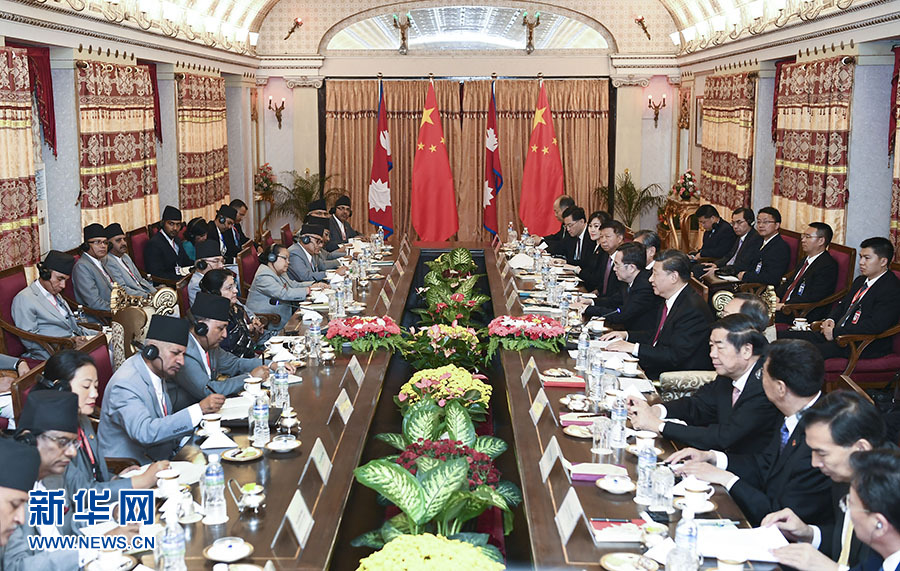 Nepal is situated geo-strategically and geo-politically important location. So its regional significance and implication is very high. Major powers of the world want to enhance their presence in Nepal. Nepali leadership like as before should always need to maintain balance relations with major powers. Nepali soil should not be given to hatch or play game against any neighbor countries. With firmly stick on non-alignment policy, spirit of Panchasheela and norms of United Nations, Nepal can handle and manage relations with power countries very outstandingly and with right balance. China also wants that particularly the West should not get environment to go against China using Nepali soil. Till now, Nepali establishment have succeeded to assure Chinese side that Nepali soil will not be given to use against China or to run any types of anti-China activities.
Since some years, Nepal has been enjoying strong political stability, high economic growth and fascinating political willingness to manage development. Institutionally, Nepal is working hard to realize her goal of "Prosperous Nepal, Happy Nepali". China has showed its willingness to share its development experiences, practices and inclusive economic governance approaches. Surely, Nepal and China have been practicing different political, economic and social models, however through sharing and exchanges of their experiences help them to find out more common understanding and consensus to extend the partnership and friendship. Last year, around 150,000 Chinese tourists visited Nepal. There are around 5500 Nepali students studying in China in various major subjects. It seems to increase in the coming years.
Mutual benefits will go beyond mountains
President Xi's great interest to expand the Trans-Himalayan Multi-Dimensional Connectivity Network has raised positive hopes in Nepal. Furthermore, Xi also assures to Nepali people that it is a working culture of China to make a plan and implement it meticulously. Through multiple connectivity, we can establish vibrant economic corridor and build a community of shared future. If plans and signed agreements are implemented properly. We will see in the future that big mountains will not be obstacles and Nepal could be the dynamic bridge between China and India, China and South Asia and also South Asia and East and Southeast Asia.
As President Xi said on many occasions of international meetings and forums, major challenges of present world faces could only resolve through comprehensive dialogue, strategic communication and exchanges. Zero-sum game or any types of geo-political or geo-strategic games will only destroy harmony, peace and stability of the entire world. History shows that Nepal and China are trusted friends and always supportive to each other in all circumstances.
In conclusion, President Xi's historical Nepal visit is a new milestone to Nepal-China bilateral relations. President's Xi's neighbor diplomacy is becoming very successful to build a neighborhood harmonizing, establishing and enriching the neighbors. As an active party of BRI, Nepal is working seriously to garner cooperation and connectivity. Nepali people also feel that with building close partnership with China and rest of the world through BRI, they could resolve many structural problems, flourish prosperity and contribute to the international community. Xi's visit opens new chapter on not only Nepal-China productive development but also to the qualitative change of the entire region.
Buddhi Prasad Sharma is an Associate Professor at Leshan Normal University and Senior Research Fellow at Centre for Trans-Himalaya Studies (CTHS)
Editor: Bai Shi