Pursuing Happy Twilight Years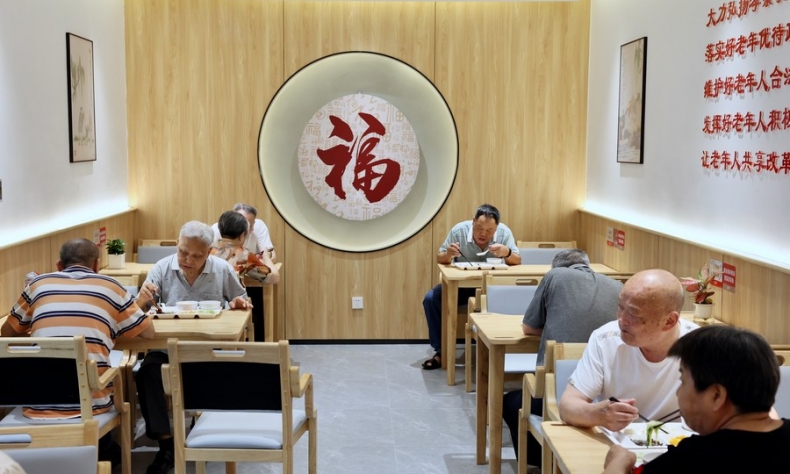 Governments at all levels have been exploring and providing a variety of elderly care services to ensure senior people's happy life.
With the development of the economy, the people's quality of life has improved. The concept of what life is among the elderly has also been evolving as well. In order to meet the diversified and multi-level needs of senior citizens, governments at all levels have been actively optimizing the elderly care system, helping more aged people to enjoy better services.
Smart community ensures basic elderly care
"Tmall Genie (a smart speaker developed by Chinese e-commerce giant, Alibaba Group), please draw the curtains and turn on the television," called out a senior woman surnamed Zhang, who has finished therapy at the Vollsun Za Nursing Home of a smart community in Yuci District, Jinzhong City, Shanxi Province. Just as she spoke the words, the curtains slowly closed, and the television automatically switched on to the opera channel that she often watches.
"I am very satisfied that I can enjoy the services in the community. I am not alone as my old neighbors are also nearby. It is also convenient for my children to visit me. The technology here is also accessible for our senior people. I am very well-taken care of," said Zhang.
In Zhang's room, the TV, windows, curtains, and lights are all controlled by smart technology devices. An automatic alarm door magnet and intelligent sleep monitor are also installed, providing a security guarantee as Zhang is monitored for cardiovascular disease.
More intelligent elderly-friendly facilities are also installed at the service center, such as the electric swivel bed that helps bedridden seniors to move and care for themselves, the dishes equipped with suction cups to prevent them from sliding, and the ubiquitous emergency buttons that the elderly people can press to call for help when in need.
The nursing home where Zhang visits provides 15 rooms and 34 beds. Elderly who do not live in the community can also come and enjoy physical therapy, health care, dining, and entertainment services. The Vollsun Za Nursing Home brand developed by the Huacheng Group now has five such centers in Yuci District. The sixth one is under construction, and will provide 24-hour long-term care and day care for more than 60,000 senior people living in the 36 communities nearby.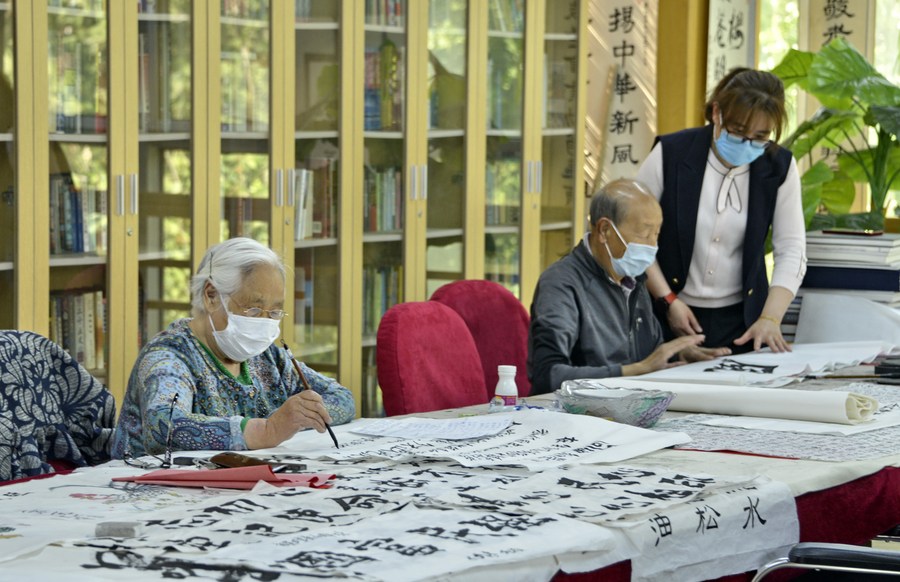 Since its establishment in 2014, Vollsun Za Nursing Home has integrated families, communities, property management companies, and medical care providers through an online platform, forming a comprehensive elderly care service system including community clinics and family doctors. By visiting the online platform or calling the nursing home, the seniors can enjoy services in a timely manner from their homes. According to Chen Liyuan who is in charge of the center, the nursing home is able to provide a variety of services for the elderly in the whole city, such as assistance in dining, medical care, cleaning, walking, and bathing as well as rehabilitation training. It has served more than 960,000 seniors so far.
According to the seventh China Population Census, as of the end of 2021, there were 267 million people aged 60 and above in the country, accounting for 18.9 percent of the total population. This number is expected to exceed 400 million by 2035, or more than 30 percent of the total population. The elderly care centers in communities like Vollsun Za are just a microcosm of China's inclusive elderly care services in the future.
The demand for services has dramatically increased as the elderly population grows. Government departments at all levels have launched many effective initiatives to expand elderly care facilities in communities by means of new construction, renovation, and integration of resources, providing services close to the seniors' homes.
Meeting multi-level needs for elderly care
Every Wednesday morning, 63-year-old Li comes to the cultural center at Yongding Road in Beijing's Haidian District to teach calligraphy in the community. "The stable society has ensured an improved happy life of the citizens. I have been engaged in the cultural career all my life. Although I am retired now, I still want to have social connections and play my role," said Li.
According to Li Di, who is in charge of the center, there are 25 communities in the area with 20,000 residents over 60 years of age, accounting for 26.7 percent of their total population. The senior people in these communities who have retired in recent years are still in good health and have spiritual pursuits. In addition to providing elderly care services, the subdistrict's administrative office has also established a salon to offer regular classes in calligraphy, Tai Chi, Kunqu Opera, psychology, traditional Chinese medicine, and massage therapy.
The community has also distributed volunteer work cards to each senior citizen. By participating in public services such as garbage sorting, mediating in neighbors' disputes, and volunteering for pandemic prevention and control, they can earn points to take courses in the salon. "The salon is very popular among them. Last month, it attracted more than 1,000 'younger seniors' to ask for courses," Li Di said.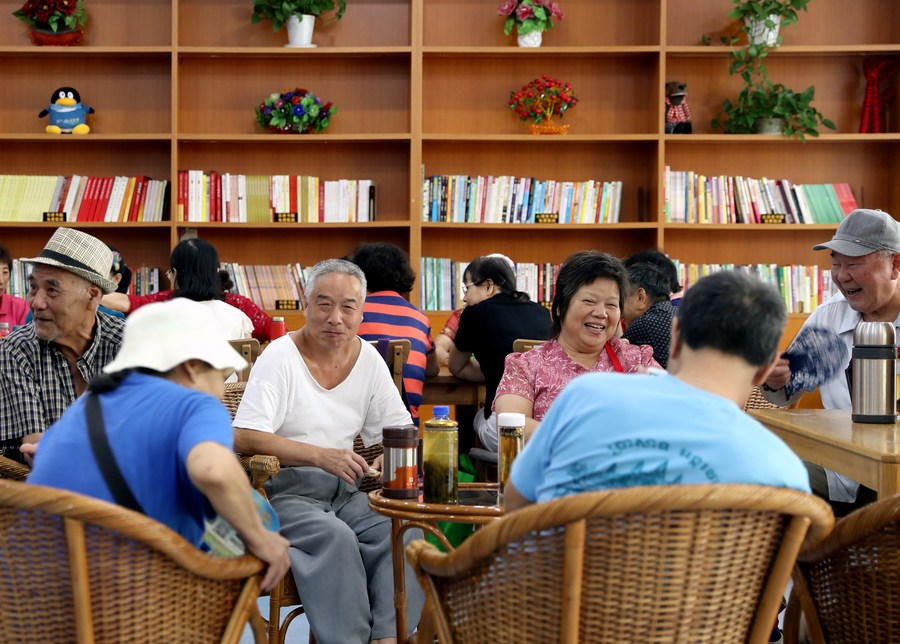 People who were born in the 1960s are now referred to as "younger, or new seniors." They are generally better educated, and more capable of learning and adapting. They also have higher levels of income and consumption as well as higher demands for quality of life. Their hobbies and entertainment pursuits in leisure time have also changed from that of older generations.
These people can have fun through online platforms and offline activities. They have given rise to a new model of senior care that raises higher requirements and injects new impetus to the growth of the industry.
Li said that he likes to buy new things. He recently bought a new phone and a new phone holder with a light. In his spare time, he takes to livestreaming on Douyin — the Chinese version of TikTok — to discuss calligraphy with other netizens. Li also said that in this era of the Internet, some of his senior friends find difficulties in using the Internet, but they are actively learning about smart phones and Internet-related knowledge in colleges for seniors and community courses. They hope that relevant institutions should organize more training programs, so as to create more opportunities for them to integrate into society better.
In February 2022, the State Council issued a plan on the development of the elderly care industry during the 14th Five-Year Plan period (2021-2025), which proposes to coordinate the development of elderly care programs with industries, basic public services, and diversified services, in order to meet the multi-level and varied needs of seniors. For this purpose, the Ministry of Industry and Information Technology has overseen the renovation and evaluation of 452 websites and apps to improve their accessibility for seniors and people with special needs in the first half of 2022.
Some experts suggest that in response to the characteristics and needs of the new seniors, it should further deepen and subdivide the elderly industries, and develop new types of elderly business such as self-driving tourism, trending sports, online education, and intelligent entertainment, in a bid to create more possibilities for their happy senior life.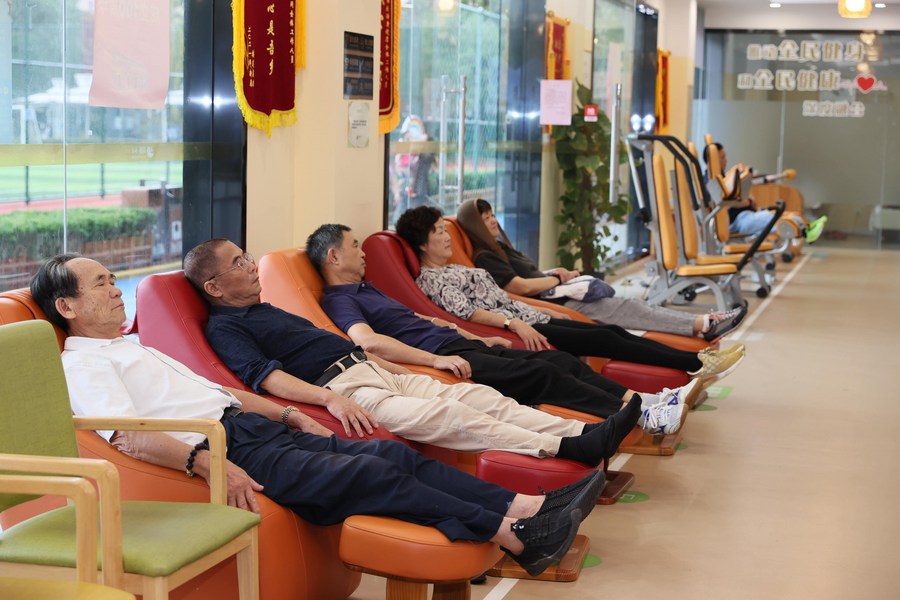 Exploring senior talents
The number of younger senior population, aged at 69 and below, accounts for 55.83 percent in the total population of the senior people above 60 years old. In the next decade, the number of senior people will increase by more than 10 million each year. The accelerated pace of aging brings rapid changes in the structure of the workforce, resulting in fast growth in public expenditures such as health insurance and pensions. This poses many challenges to the operation of society, but also creates a new talent bonus.
Many members of the younger age group of senior people have an advanced level of knowledge, experience, and skills, and are also in good health. They are highly motivated to be re-employed and continue to participate in social and economic development. A study shows that 68 percent of the seniors have a strong desire to continue working after their retirement.
Dr. Wang, who was born in 1955, is a specialist of denture implants at a private dental hospital. The hospital has three clinics in different districts, and Dr. Wang works from place to place with a fully booked schedule. Before she retired, she was the director of a state-run hospital's dental department. She has been working at the private hospital since her retirement. Her daughter recently had a second child. When she was asked why she didn't stay at home to enjoy family time, she said: "There are always many patients who come specifically to see me for dental care. It is my duty to help them relieve their pain." She also confessed that some of her friends also have the desire to be re-employed, but there is a lack of job application channels.
In August 2022, the China Senior Talent Network was launched, aiming to build a platform for the re-employment of senior people. Relevant government departments in Guangdong, Sichuan, Yunnan, and other provinces have issued a recruitment announcement for seniors. For example, Jiangsu Province's Wuxi City holds special job fairs for this group annually, each attracting 200 to 300 retired people. Scientific and technical personnel, teachers, and doctors are the most popular positions. Employers said that the high stability of senior employees is especially appealing to them.
A document on senior people programs released by the central authorities in November 2021 said that China will integrate elderly care with elderly re-employment, exploring flexible employment models that are suitable for the seniors and giving full play to the role of the younger-age senior people. It will be a new avenue to deal with the pressure of an aging society by reusing the seniors' human resource value and tapping the seniors' talents.