Rural Areas Embrace Low-Carbon Living and Production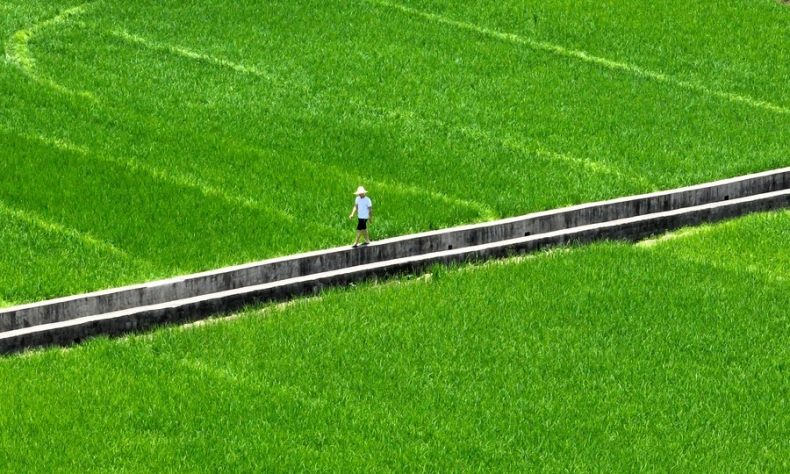 China has lowered its carbon emission intensity in agriculture while still ensuring the effective supply of important agricultural products.
In Longhua Village in Sichuan Province, photovoltaic trees are being "planted" as part of the village's green transformation. These tree-shaped photovoltaic power generation units, with their branches and leaves made of solar panels, provide a continuous supply of green electricity for households, offices and public areas. In charging stations, it only takes about 40 minutes to fully charge a new-energy vehicle with electricity from these solar trees.
Longhua is one of the two villages in Panzhihua City of Sichuan Province to pilot a zero-carbon village initiative that was launched in April 2022. In addition to utilizing solar power, villages under the initiative also adopt other green measures, including improving the treatment of garbage and adopting intelligent farming technologies.
Although it will take time for all villagers to adopt completely green and low-carbon lifestyles, the village is determined and confident in achieving the carbon neutrality goal in the near future.
In September 2020, China announced its objectives to peak carbon emissions before 2030 and achieve carbon neutrality before 2060. With more villages taking actions toward these goals, green and low-carbon development in agriculture and rural areas at large has made strong progress. This is demonstrated by a report on China's low-carbon development, released by the Chinese Academy of Agricultural Sciences (CAAS) in late March.
Titled the 2023 China Agriculture and Rural Village Low-Carbon Development Report, the document said China has lowered its carbon emission intensity in agriculture while still ensuring the effective supply of important agricultural products.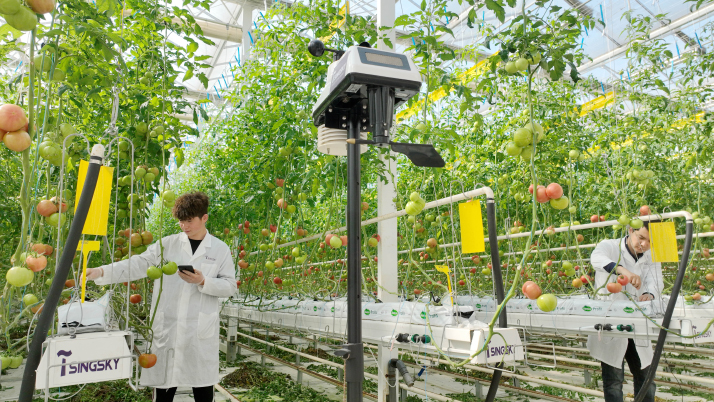 "Indexes such as carbon emissions per unit of agricultural GDP, overall per-capita carbon emissions and per-capita carbon emissions of the agricultural population in China are far lower than those of many major Western agricultural countries, such as the U.S.," Mei Xurong, Vice President of the CAAS, said at the China Forum on Agricultural and Rural Low-Carbon Development, where the report was released. He added China has made contributions to addressing global climate change, but challenges remain ahead as the country continues to pursue low-emission rural development.
Taking actions
Agriculture is both a victim of and a contributor to climate change. According to the International Energy Agency, agricultural activities contribute approximately 30 percent of total greenhouse gas emissions, mainly due to the use of chemical fertilizers and pesticides as well as animal husbandry. Climate change and global warming, in turn, have a profound impact on the sustainability of agricultural production systems.
The major sources of China's agricultural emissions are nitrous oxide from fertilizers, and methane from rice farming and animal digestion, which account for 30, 23 and 25 percent of total agricultural greenhouse gas emissions, respectively.
China has taken a series of measures to reduce agricultural carbon intensity, including investing over 100 billion yuan ($14.5 billion) annually to support the creation of high-standard farmland in 2021 and 2022.
This type of farmland is defined as cultivated fields that are flat, concentrated and contiguous, with complete facilities and strong disaster resistance, and that are suitable for modern agricultural production and management methods. It's easier to improve the efficiency of fertilizer use in these fields and reduce carbon emissions.
Unlike in many other countries with a large agricultural industry such as the U.S., China's rural land is usually divided into small patches and contracted to individual households across its vast rural areas. In mountainous areas, farmland is particularly scattered.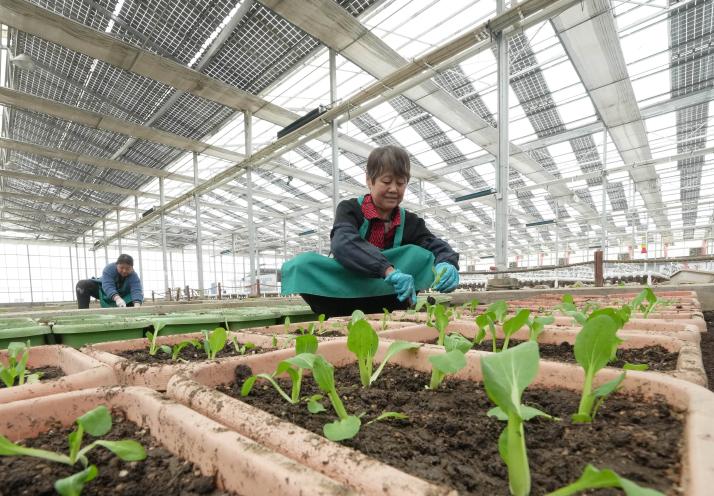 In the past decades, on the Qianjin Farm in Ningxia Hui Autonomous Region, each household grew grain, vegetable and fruit trees on a small plot contracted to them by Ningxia State Farm, a state-owned enterprise. Given the operation's small scale and lack of coordination, it produced low profits.
In 2019, the farmers agreed to give the building of high-standard farmland a try, despite it requiring changes to the way they had traditionally farmed. Since then, their lands have been managed to the same standards and with the same system and facilities. They later adopted hi-tech cultivation, irrigation and fertilizer application systems, a move that has saved labor and improved both farming efficiency and soil quality, all the while reducing fertilizer use and carbon emissions.
The CAAS report said that after 2003, China entered a period of rapid growth in grain production and a steady decrease in total agricultural carbon emissions. The carbon emission intensity per unit of grain production has continued to decline. More broadly, the amount of carbon dioxide emitted in the production of every kg of food in China dropped from an average of 1.5 kg in 2004 to 1 kg in 2019.
"The agricultural sector is creating about one 10th of China's GDP with one 16th of its carbon emissions," the report said, adding that China's per-capita carbon footprint from agriculture was just 0.96 tons of carbon dioxide equivalent per year, compared with more than 170 tons in the U.S.
Science and technology are playing an important role in low-carbon agriculture. China has used technology to convert more than 500 million tons of organic waste from agriculture and rural areas into renewable energy such as biogas.
Challenges
The challenges involved in promoting low-carbon development should not be ignored. According to Yan Dongquan, Director of the Rural Energy and Environment Agency of the Ministry of Agriculture and Rural Affairs, China's agricultural emissions are closely related to the cultivation of its major crops such as rice, corn and wheat, and the raising of pigs, cattle and sheep, the demand for which will continue to grow in the coming years. Mei also emphasized the lack of key technologies for further increasing production and reducing emissions from growing crops.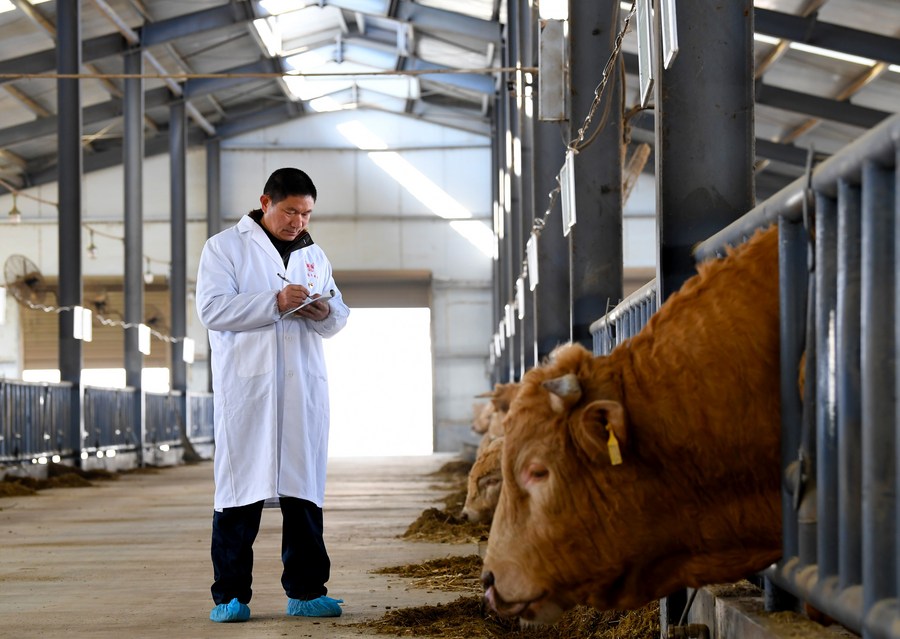 The report suggested further upgrading the management of animal husbandry. Adjusting the nutritional composition of the diet of ruminants, animals with multiple stomachs such as sheep and cattle, in combination with the use of specific food additives has the potential to reduce the amount of methane they release during digestion. The report highlighted the need to promote the use of these practices among the nation's farmers.
Yan believes the agriculture industry requires a long-term mechanism to facilitate the application of new carbon-reducing technologies, with the government playing a guiding role and market entities and farmers actively participating. The promotion and application of technologies are by no means less important than their research and development, he said.
"Green agricultural machinery, fertilizers, pesticides and other products not only need to be developed, but more importantly, they should be promoted to and used by farmers," Yan said.
China must step up the popularization of low-carbon agricultural technologies, Zhao Lixin, head of the CAAS Institute of Environment and Sustainable Development in Agriculture, said.
"After farmers have succeeded in identifying convenient ways to apply these technologies, they could then become examples for other farmers to follow, and ultimately make the application of advanced technologies universal," she told Beijing Review.