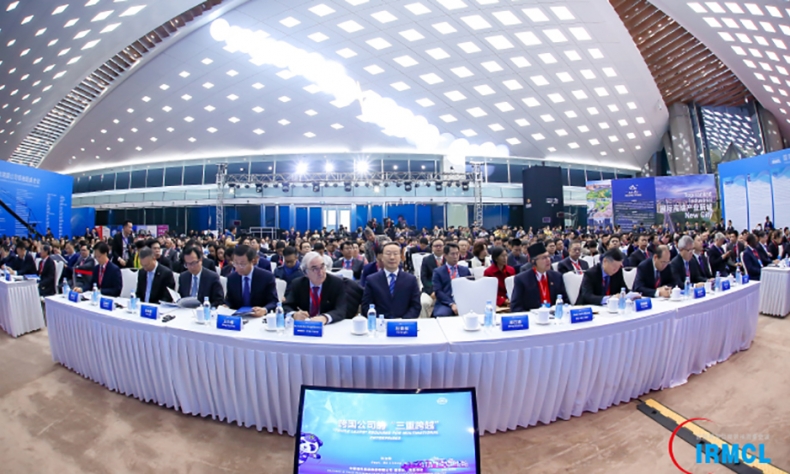 Shared Growth
New measures shore up collaboration between Chinese companies and multinationals
At the 12th International Roundtable of Multinational Corporations' Leaders in Beijing on November 21-22, global industry leaders with a base in China or that have yet to set foot in the country exuded optimism about its huge market.
"SAP defines China as our second home and regards the Chinese market as the crown jewel," Xie Yanqi, Vice President of SAP Greater China, said. "We prioritize the Chinese market for global investment and strategic development."
SAP, a German company that entered the Chinese market in 1992, has offices in more than 10 Chinese cities and more than 15,000 clients including Huawei, Lenovo and Inspur.
Cerebri AI of the United States, a pioneer in artificial intelligence and machine learning, has yet to start business in China, but Jean Belanger, its co-founder and CEO, said he has communicated with many financial institutions and enterprises in China as the scale of Chinese consumers is unparalleled.
Multinationals are important participants and beneficiaries of China's reform and opening up. They also help link China with the rest of the world. President Xi Jinping said the door of China's opening up will get wider and wider, and the business environment better and better, with more and more opportunities for global multinationals. He welcomes global entrepreneurs to invest in China and jointly create a better future.
According to the World Bank, China ranks 31st in its 2020 ease of doing business index out of 190 economies, up 15 places from last year's ranking. The rise is due to several measures.
Paving the way
On March 15, the Foreign Investment Law was adopted, facilitating investment and providing a strong institutional guarantee for multinationals' future operations in China starting on January 1, 2020, when it goes into effect.
Two revised negative lists for foreign investment market access were released on June 30. One is for pilot free trade zones (FTZs) and the other for the rest of the country. Pilot FTZs now have 37 listed items for foreign investors, down from 45, while non-FTZ areas have 40 items instead of 48. Industries not on the lists are open to foreign investors where they will be treated on an equal footing with their domestic peers.
Six new pilot FTZs were set up in August, bringing the total number to 18. They serve as pioneers of reform and opening up as they test new reforms on foreign investment management, trade facilitation and transformation of government functions to better integrate the economy with international practices.
The continued efforts to optimize the business environment and promote high-level opening up have increased China's attractiveness as a foreign investment destination, making it the first choice for many multinationals. "The ever-improving business environment and ever-expanding opening-up pattern are attracting foreign investment and multinationals to settle in China," Su Wei, Deputy Secretary General of the National Development and Reform Commission, said.
Attracting foreign investment and supporting the development of foreign-funded enterprises is an important part of the basic policy of opening up. "China has become one of the major destinations for foreign investment by opening wider and optimizing its business environment, which has promoted the integration of its economy with the world's," Su added.
Despite three consecutive years of decline in global foreign direct investment, over 33,400 new foreign-invested enterprises were set up in China from January to October. The paid-in investment reached 752.41 billion yuan ($107.49 billion), up 6.6 percent year on year. Foreign-invested enterprises, while accounting for less than 3 percent of the total number of companies in China, contribute 45 percent of the import and export volume and 20 percent of tax revenue.
Today, 490 of the world's top 500 companies have investments in China. According to a survey conducted by the U.S.-China Business Council, 97 percent of U.S.-funded enterprises in China made profits in 2018, the highest in the past decade. The profit margin of 78 percent was higher than or equivalent to the global average, 7 percentage points higher than the previous year.
Royal Dutch Shell has been in China for 125 years. With more than 30 wholly-owned or joint ventures, it is the largest supplier of liquefied natural gas (LNG) of the country. "Over the past 40 years of reform and opening up, the Chinese market has continued to attract companies and entrepreneurs from all over the world. It still has huge room for development. As an important contributor to globalization, multinationals will continue to work for an open Chinese economy," Zhang Xinsheng, Executive Chairman of Shell Companies in China, said at the roundtable.
"In 2017, President Xi and Italian President Sergio Mattarella witnessed the signing of an agreement on manufacturing six vessels for China. We also signed an agreement last year to build an industrial park in Shanghai to facilitate the construction of the vessels," Fabrizio Ferri, CEO of shipbuilder Fincantieri China, told Beijing Review.
Belt and Road effect
Many Chinese enterprises are cooperating with the multinationals to expand their presence, especially in overseas markets under the aegis of the Belt and Road Initiative. Many of them have grown into players with international competitiveness.
China National Offshore Oil Corp.(CNOOC) is China's largest offshore oil and gas producer, with its businesses expanding to 45 countries and regions. The Belt and Road Initiative has offered the company new opportunities.
According to Lu Bo, Vice President of CNOOC, the company provides services for more than 100 projects in countries participating in the Belt and Road Initiative and has carried out LNG projects with more than 20 countries. "Our company has invested 260 billion yuan ($37.14 billion) and holds stakes in 10 oil and gas projects in other Belt and Road participants, contributing our experience to the energy cooperation. For example, we have rehabilitated oilfields in Iraq's Maysan Province by developing innovative technologies and introducing refined management models," Lu said.
Not only state-owned enterprises like CNOOC, but also many private firms have become important forces in Belt and Road cooperation.
Jiang Chengzhi, Director of the Far East Holding Group, said the company operates in more than 100 countries and regions in railways, ports, civil aviation, energy and other fields. "The Belt and Road Initiative is a guarantee for Chinese companies to go global and foreign companies to develop in China. It is also a new platform for participating countries to work and share with each other and achieve win-win results," he added.
Since its proposal six years ago, the Belt and Road Initiative has been recognized for promoting international cooperation and common development. By the end of October, 137 countries and 30 international organizations had joined the initiative.
Source: Beijing Review