Shenzhou-15 Crew Adds Final Touches to China's Space Station Construction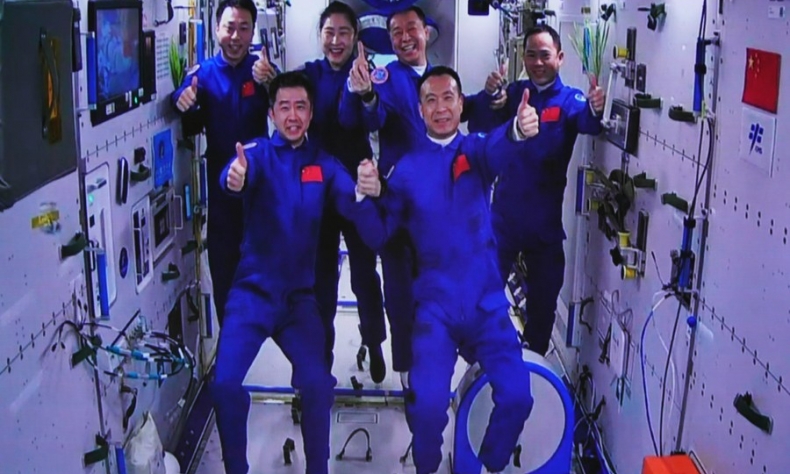 China officially kicked off the in-orbit construction of its Tiangong space station in April 2021. The Shenzhou-15 crew will wrap up the last stage of Tiangong's construction and kick off the first stage of its application and development.
After being a backup for 24 years, 56-year-old taikonaut Deng Qingming finally saw his long-cherished space dream come true.
He embarked on his first foray into space on November 29 aboard the Shenzhou-15 manned spacecraft. The next day, the spacecraft docked with the front port of Tianhe, the core module of China's Tiangong space station.
Along with astronauts Fei Junlong and Zhang Lu, he will wrap up the last stage of Tiangong's construction and kick off the first stage of its application and development, according to the China Manned Space Agency (CMSA).
A historic moment
Shenzhou-15 is the sixth flight mission this year to build China's space station and the last one in the station's construction phase, according to the CMSA.
At the space station, the three new arrivals were greeted with warm hugs by the three occupants, the crew of Shenzhou-14, who had already worked there for nearly six months.
The meeting of the two crews was a historic gathering that brought actual in-orbit manpower to six for the first time ever for China.
The two crews will live together in orbit for five to 10 days. The Shenzhou-15 trio will then stay in orbit for another six months and return to Earth next May, according to the CMSA.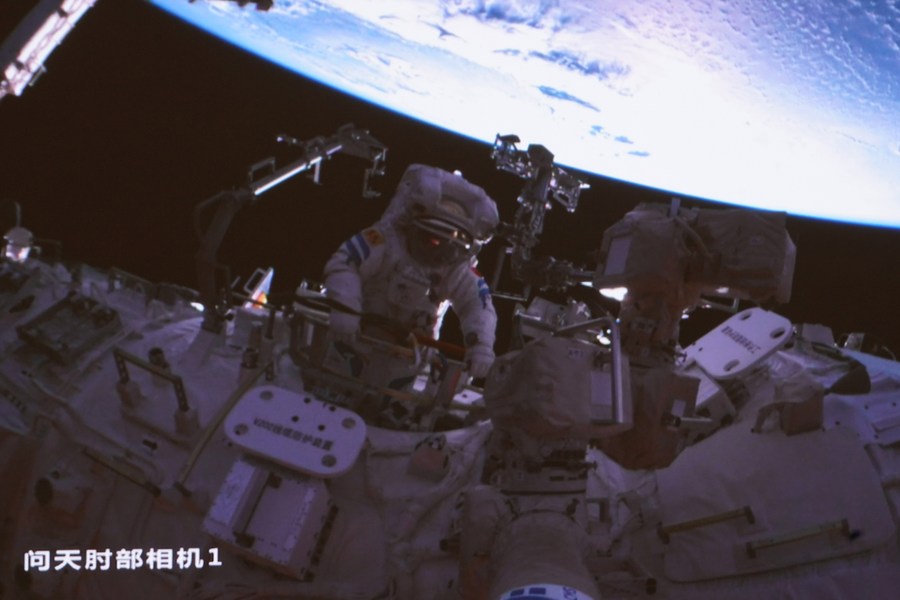 During the mission, they will carry out verification of long-term residence in China's space station at its three-module configuration—referring to Tianhe and the two lab modules Wentian and Mengtian. They will conduct extravehicular activities three to four times and complete the installation of Mengtian's extended pump sets and the exposure payload platform, Ji Qiming, assistant to the CMSA director, said.
With the latest crew entering outer space included, 12 astronauts on four missions have worked on Tiangong's in-orbit construction.
Dream team
The Shenzhou-15 taikonaut trio comes with many stories.
Since becoming one of China's first 14 trainee taikonauts 24 years ago, Deng has been known to the public for being the backup taikonaut.
"I'm the only one among those first 14 taikonauts who has never partaken in an actual space mission; my feet have always remained on the ground," Deng once jokingly remarked.
Born into a farming family in Jiangxi Province, Deng still remembers that one day on January 5, 1998, when he, then an elite fighter pilot, was selected to become part of the first batch of Chinese taikonaut trainees.
His peers included Yang Liwei, the country's first space traveler, Nie Haisheng, a three-time space traveler, and Zhai Zhigang, the first Chinese spacewalker.
Since 1998, Deng had dedicated almost all his time to training and spared no efforts to strive for an opportunity to go into space in the Shenzhou spacecraft. Shenzhou has been developed and operated by China to support its crewed spaceflight program. The first Shenzhou launch occurred in November 1999, and the first crewed launch blasted off in October 2003.
Deng was a backup crew member for four Shenzhou missions. "Sometimes I ask myself, isn't it my duty to go into space? If I can't fly, how can I call myself a taikonaut?" Deng told Xinhua News Agency in a 2018 interview.
But being a backup doesn't mean you don't have to work. "I need to be inside the control center, keep a close eye on what's going on up there and be ready to offer my knowledge about the mission and the spacecraft in case of an emergency," Deng said during an interview with China Central Television in 2018. "Only when the crew returns to Earth has my mission been completed."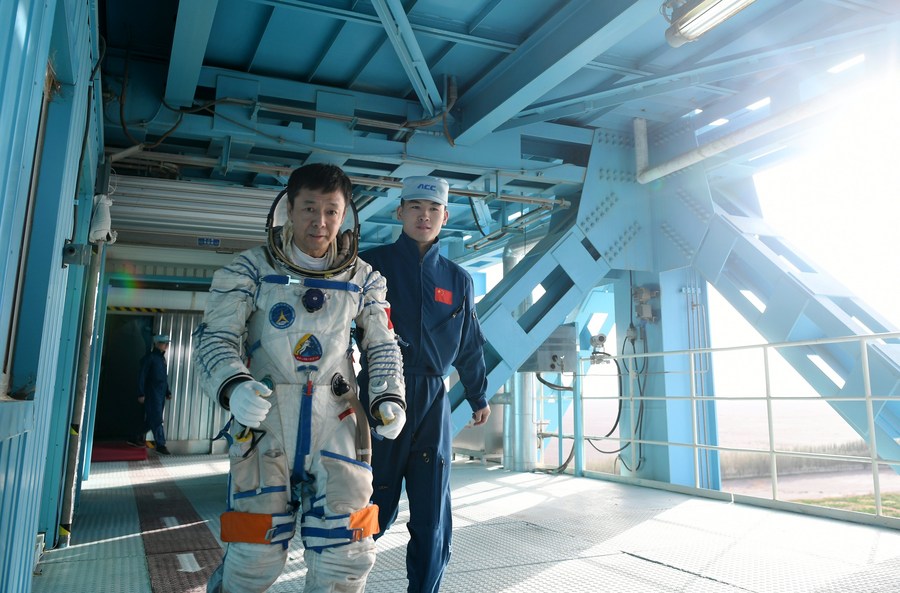 When training for the 2016 Shenzhou-11 mission, Deng was confined in a spacecraft simulator no bigger than 10 square meters for 33 days. They had no shower and endured loud noises and piercing lights as they tried to sleep.
However, he failed to make the final cut by a narrow margin and became the backup for the mission's commander, Jing Haipeng.
The silence in the meeting room the day after the announcement was deafening. Deng admitted to feeling disappointed, but he refused to allow the negative thoughts to rule his head. And so, after every disappointment, time and time again, he'd dispel the pessimism and start preparing for the next mission with a positive attitude.
As he himself once said, "I'm always ready for a mission." And that persistence paid off.
The CMSA announced on November 28 that Deng would be part of the Shenzhou-15 crew. Upon learning the news, the public, too, was excited for him, with many netizens congratulating him on Weibo, China's Twitter.
"I was so moved to learn he (Deng) had been selected. I've heard of him for quite some time and I'm so very happy he can finally realize his dream," Zhang Jingyi, a 27-year-old rocket launch photographer, told Beijing Review.
While the mission is Deng's debut in space, it is the second for 57-year-old Fei, the Shenzhou-15 mission commander.
In October 2005, then 40-year-old Fei revealed to the world just how high and how far he could go: touring outer space for almost five days during China's second crewed space mission, Shenzhou-6.
Then there's Zhang Lu who, just like Deng, is a newcomer to space. Zhang was selected for China's second batch of taikonaut trainees 12 years ago. "I'm ready for my first spaceflight," he told a press conference on November 28.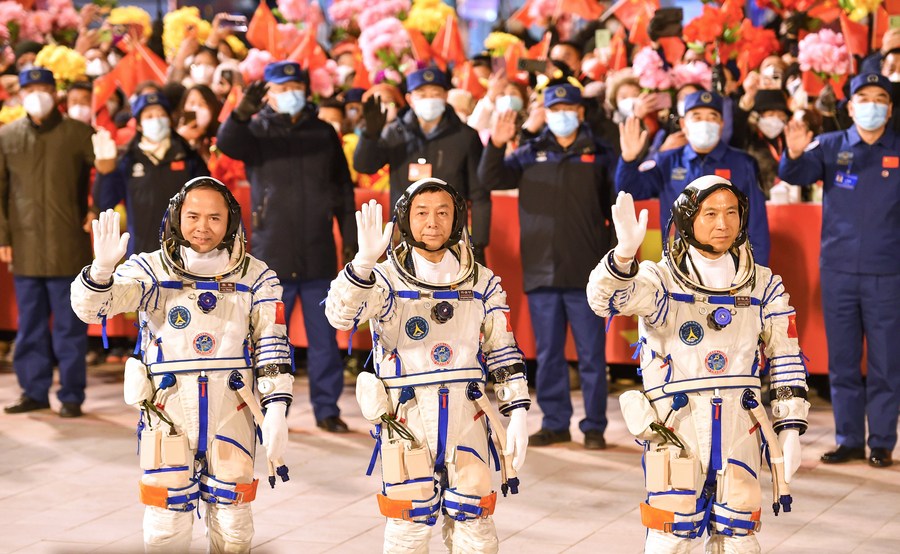 Stellar goals
China's journey into outer space has been a long one. In 1992, when constructing a manned orbiting laboratory was still a flight of fancy for the Chinese people, China decided to carry out a three-step space program, with aims including launching manned space flights and building a space station. So the construction of Tiangong has been a goal of China's space industry over the past three decades.
Seven years after the three-step space program was initiated, China launched its first experimental spacecraft Shenzhou-1 on November 19, 1999. Three more spacecraft were sent into space between 2001 and 2002, before astronaut Yang Liwei entered space aboard Shenzhou-5 on October 15, 2003, becoming the country's first taikonaut in orbit.
The country's first spacewalk was completed by Shenzhou-7 astronaut Zhai Zhigang in September 2008. The first two female taikonauts to enter outer space were Liu Yang on the Shenzhou-9 mission in 2012, and Wang Yaping on the Shenzhou-10 mission in June 2013. Wang became the first Chinese female astronaut to conduct an extravehicular spacewalk during the Shenzhou-13 mission that ran from October 2021 to April 2022.
The country officially kicked off the in-orbit construction of its space station by launching the core module Tianhe in April 2021. More than a year later, it launched the space station's first lab module Wentian in July, and then the second lab module Mengtian in October, putting into place the three-piece jigsaw puzzle for the country's interstellar home.