Sino-India Internal Security Cooperation: Can the Two Nations Walk Hand-In-Hand?
On October 22, 2018, China and India signed a comprehensive internal security cooperation agreement. This scenario was inconceivable only a year ago when troops from both sides were locked at the India-Bhutan-China border tri-junction in a stand-off for more than two months.
However, both nations realized the importance of cordial relations and thus many steps have been taken since to defuse the tense situation, and to improve relations as part of confidence-building measures. There has been a strong willingness to go beyond defense exchange and cooperation, and to take a step further to include other transnational counter-crimes in the agreement.
To achieve this objective, the October 22 agreement was signed by the Union Home Minister of India Rajnath Singh and China's State Councilor and Minister of Public Security Zhao Kezhi. This cooperation includes areas such as counter-terrorism, organized crime, human trafficking, drug control and the exchange of security-related information.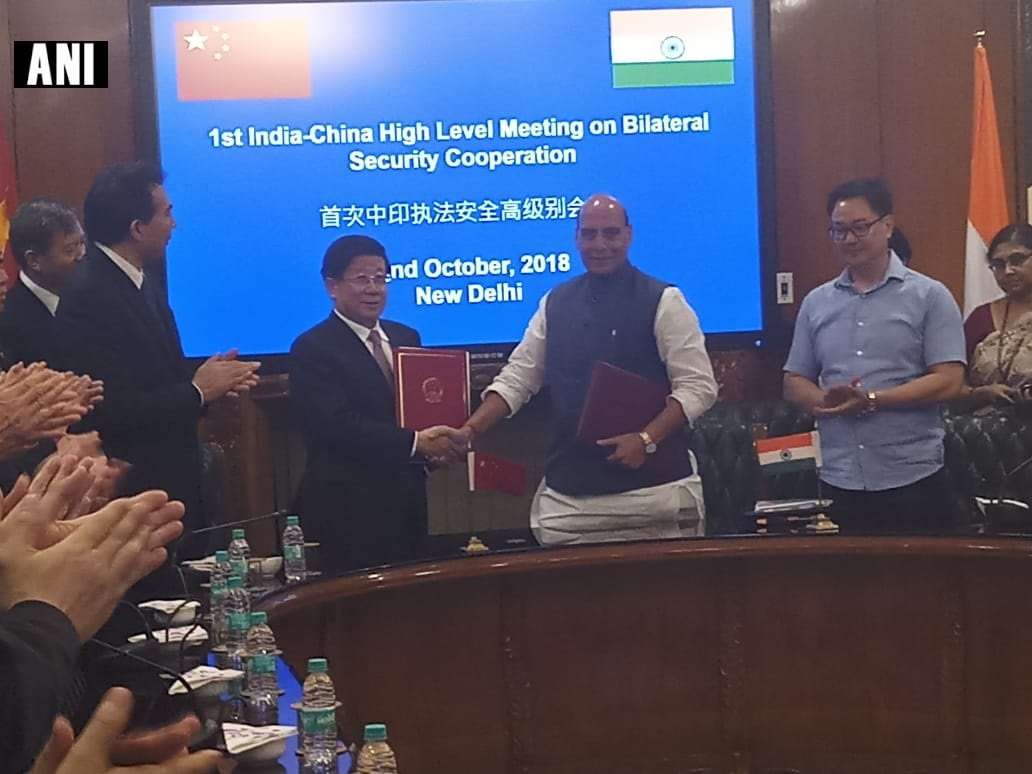 Notably, New Delhi and Beijing signed a Memorandum of Understanding back in 2005 to broaden and deepen defense exchanges between the two countries. The current internal security cooperation agreement is said to be the revised version of the previous MoU, which was valid only until 2015. It is expected that the consummation of this security cooperation may lead to a future Sino-India agreement on the exchange of sentenced persons. Currently, the two nations do not share any extradition treaty, which makes it harder for the respective countries to repatriate an individual for the purposes of criminal trial or punishment.
The Reasons for Initial Frictions and Progress Towards Peaceful Future Relations
In order to better understand current bilateral relations between the neighboring nations, let's once again go back and take a closer look at the sequence of events starting from the Doklam stand-off. Last year, the Doklam stand-off began with China's road construction in the disputed region with Bhutan, close to a strategically important section of the India-China border.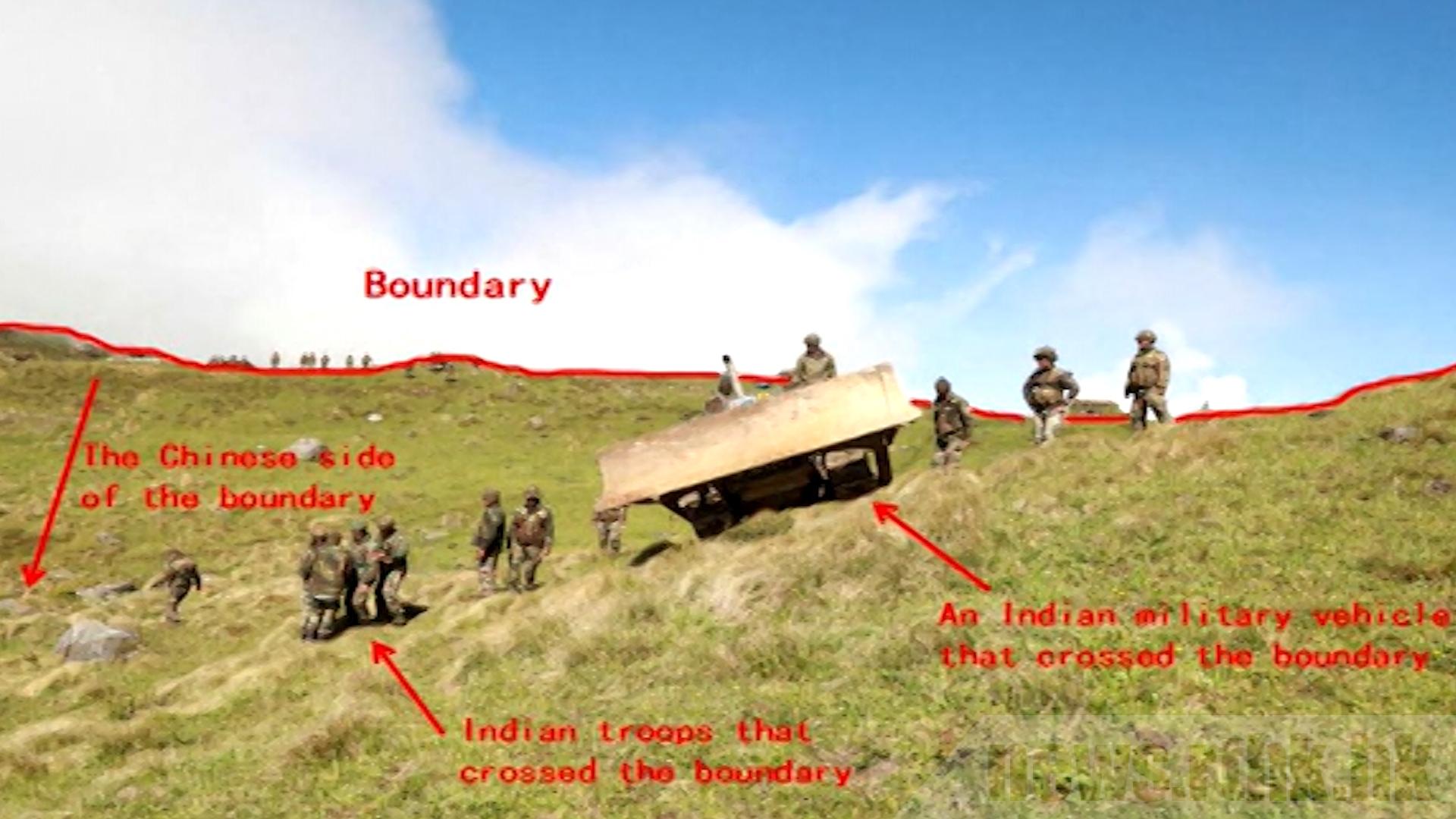 The stand-off worsened because of two specific reasons: the unresolved border dispute over the de-facto line of actual control, which was marred by frequent standoffs in 2013 and 2014, and the increased competition for influence between the two neighbors over South Asia including Bhutan.
Moreover, the development of infrastructure along the China-Pakistan Economic Corridor under China's Belt and Road Initiative invoked fear in New Delhi that this might legitimize Pakistan's claims of the disputed region of Kashmir, which according to India has been illegally occupied by Pakistan. Further, the rift between two nations had been deepened by India's decision to join the Quadrilateral Security Dialogue along with the US, Japan and Australia in 2017. Although New Delhi claims to have no intention of challenging China on the security front, Beijing sees Quad as an anti-Chinese alliance to contain China's maritime rise in the Indo-Pacific region. All of these issues together underlined the security dilemma between China and India.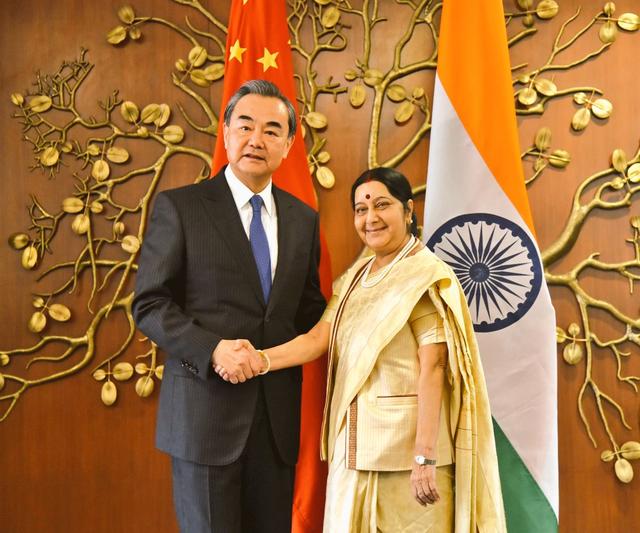 Δ Chinese foreign minsiter Wang Yi held talks with Indian External Affairs Minister Sushma Swaraj in New Delhi, Dec 11, 2017.
In spite of the above differences and two acrimonious months of stand-off, the year 2017 ended on a positive note for the neighboring nations when China's foreign minister Wang Yi traveled to New Delhi late last year. The bilateral relations between the two nations have continued to improve since.
Following the event, National Security Adviser Ajit Doval and Chinese State Councilor Yang Jiechi met for the 20th round of border talks. During the event, both sides emphasized stronger India-China relations, ensuring peace at the border and setting a joint mechanism to work on important security issues. This positive momentum in relations continued in 2018 when both countries — despite their geo-political concerns — showed strong commitment towards maintaining peace at the border and improving bilateral trade.
Also, both countries explored various ways to advance economic cooperation and reduce investment barriers and trade imbalance at the 11th session of the India-China Joint Group on Economic Relations, Trade, Science and Technology this year.
Moreover, India's Prime Minister Narendra Modi and Chinese President Xi Jinping held an informal summit in Wuhan in April this year to repair and bring vitality to bilateral relations. During the summit, the two leaders recognized the roles of both nations in maintaining peace in continental Asia, pledged to improve military communication, stressed creating a comprehensive strategy to strengthen cooperation on important issues and emphasized further bilateral trade and investment.
The Future of Sino-India Bilateral Relations
After improvement began in 2017, Sino-India bilateral relations are currently on a high note. Bilateral trade between the two nations has increased from US$38.2 billion to a staggering US$84.44 billion in just a decade. It is worth noting that China is currently India's largest trading partner, while the US is its second largest trading partner with total trade of US$74.3 billion. As recently as a few years ago, the US was India's largest trading partner. Increasing trade and improving mutual trust are bringing China and India closer.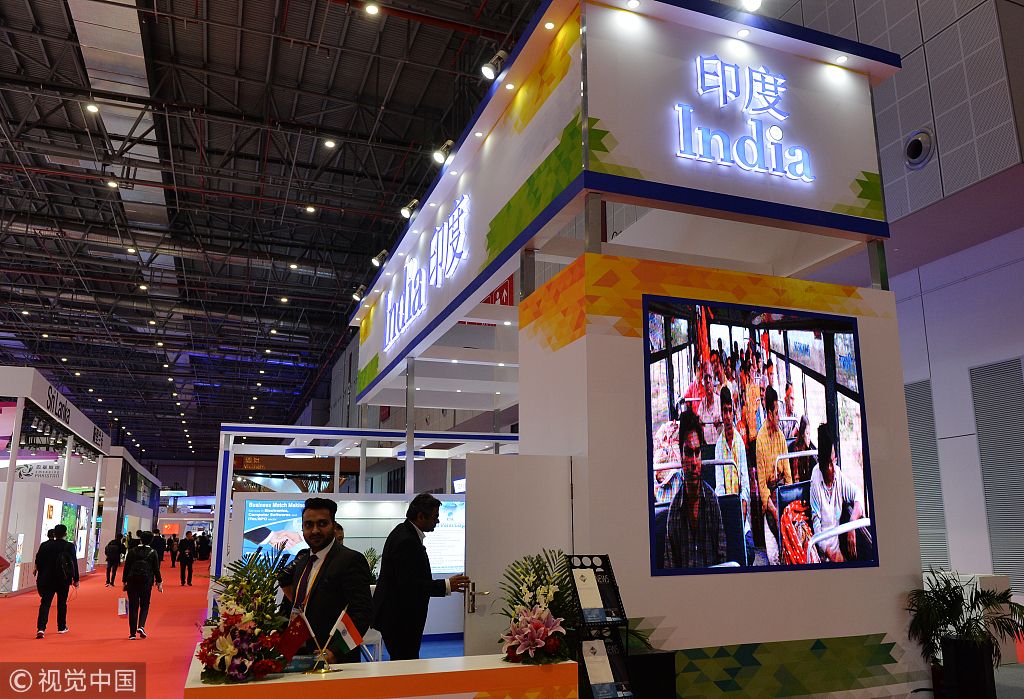 Δ The India Country Pavilion at the CIIE. [Photo/VCG] 
Additionally, China's first International Import Expo can also be seen as a major step towards deepening bilateral ties not just with India, but also with its other trading partners across the globe and especially in countries along the Belt and Road. The event clearly reveals China's willingness to open up its market, thus facilitating win-win trade relations. Alongside the businesses of several other nations, many Indian export companies also participate in this mega-event in Shanghai on November 5-10, which can be seen as a potential breakthrough in reducing India's huge trade deficit of US$51.11 billion China, thus addressing New Delhi's other major concern.
The increasing number of joint mechanisms to deal with security issues, trade cooperation and the FDI of Chinese companies in India clearly reveal the brighter side of the story and the commitment of the two neighboring nations towards improving their bilateral relations. It is hard to say whether or not India and China can walk hand-in-hand in the future, but in the face of prolonged trade tensions with the US and the ongoing climate of protectionism, it seems that increased cooperation — in terms of both security and trade — is currently in the best interest of the two Asian countries.
BY Rachana Gupta
The author is a China Focus Columnist, an Expert Author of Ezine articles and an active blogger and poetry writer.
Opinion articles reflect the views of their authors, not necessarily those of China Focus