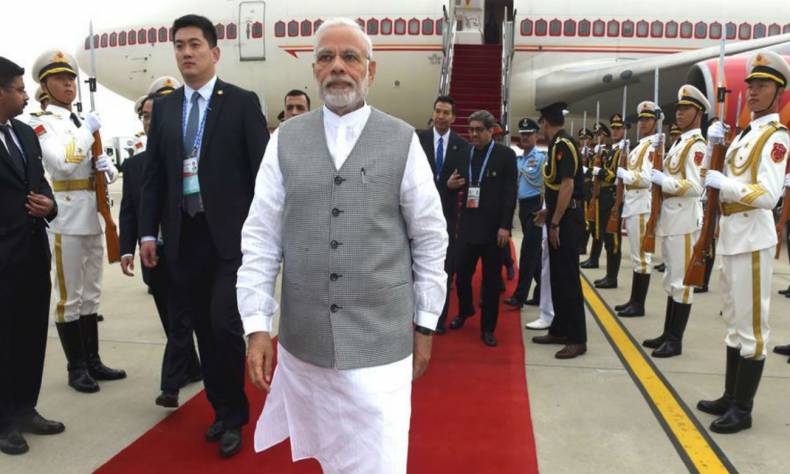 Sino-India Relations: The Past Blocks and the Road Ahead
Although China and India are both members of the SCO, the year 2017 saw a deterioration in the relationship between the two countries after years of stability.
By Rachana Gupta
The Shanghai Cooperation Organization (SCO) summit is scheduled to take place in Qingdao this Saturday.  The SCO was initiated in 2001 in Shanghai as a Eurasian political, economic and security organization. It deals with security concerns such as terrorism, separatism, and extremism, and engages in related intelligence-sharing & counter-terrorism operations. The original member countries were China, Kazakhstan, Kyrgyzstan, Russia, Tajikistan, and Uzbekistan. However, on June 2017 at the Astana summit, India and Pakistan were added as full members. Currently, Afghanistan, Belarus, and Mongolia are among the observer states.
2017 – A difficult year for Sino-India relations
Although China and India are both members of the SCO, the year 2017 saw a deterioration in the relationship between the two countries after years of stability. The most significant event was the Doklam military standoff, which started with China doing construction work in the disputed region of Bhutan, close to a strategically important section of the Indo-China border. The prolonged military standoff invoked a strong Chinese response, amounting to a threat of military action against India. The situation arose for two main reasons. The first is the competition between the neighbors concerning their influence over South Asia, including Bhutan. China's position is strengthening, and India fears it is in decline and wants to protect its sphere of influence. The second reason is the unresolved border dispute and increased competition to build infrastructure around the de facto border. This led to frequent standoffs in 2013 and 2014.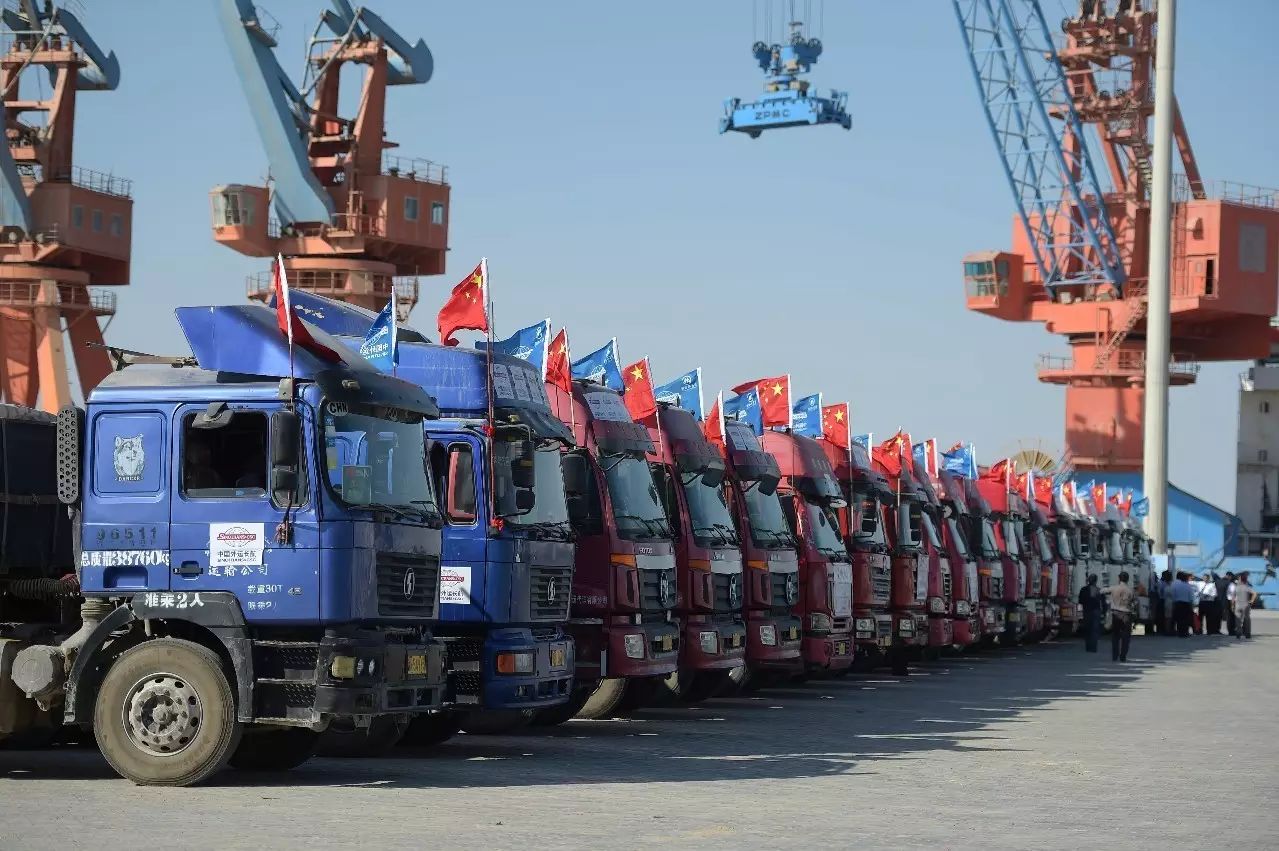 Δ Freight convoys arrive at Gwadar port
Additionally, China's flagship project, the Belt and Road initiative, involves building infrastructure along the China-Pakistan Economic Corridor in the disputed Kashmir region – which India claims is illegally occupied by Pakistan. This further heightened India's fear of legitimizing Pakistan territorial claims in the region.
India's decision to join the Quadrilateral Security Dialogue (Quad) in 2017 also widened the rift between the two nations. Quad is a strategic dialogue with a naval component between the United States, Japan, India, and Australia. Beijing sees Quad as an anti-Chinese alliance of democratic nations, designed to undermine China's maritime rise in the Indo-Pacific region
2018 – Confidence restored in Sino-India relationship
These three events made 2017 a particularly tough year for China-India relations and created suspicion between them. However, none of them did irreversible harm. High-level initiatives on both sides were undertaken to minimize damage, including a one-on-one meeting between President Xi Jinping and India's Prime Minister Narendra Modi. These initiatives were taken as part of confidence-building measures and to create a positive environment for further improvement. As a result, the year 2018 has seen an improvement in relations between the two countries. The Wuhan Informal Summit in April this year between President Xi Jinping and India's Prime Minister Mr. Narendra Modi, can be seen as a milestone in this process.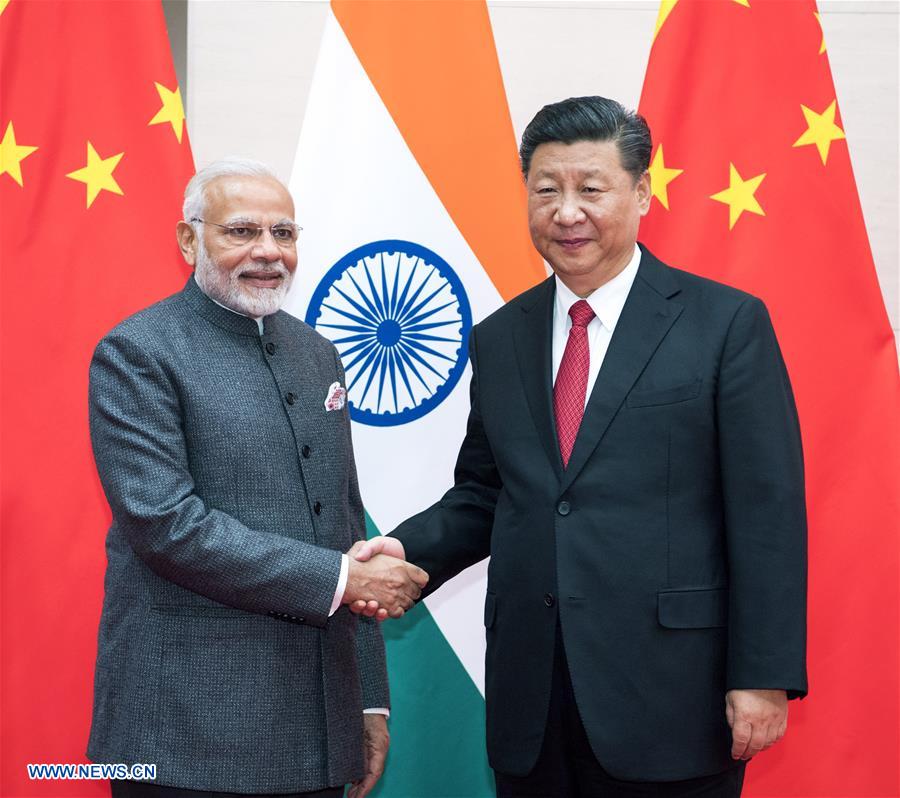 Δ Chinese President Xi Jinping (R) meets with Indian Prime Minister Narendra Modi in Qingdao, east China's Shandong Province, June 9, 2018. 
During the Wuhan Summit, the two leaders pledged an improvement in military communications that clearly reflects a strong desire to improve bilateral ties. Furthermore, President Xi emphasized that the two countries should produce a comprehensive strategy to strengthen cooperation and improve communication on important issues. He also emphasized that the life-blood of the Sino-India relationship is bilateral trade and investment, and any conflict between the two could damage their mutual interests. Therefore, a peaceful and conducive environment is important for strong economic cooperation.
How the SCO Summit can benefit both China and India:
Let us take a closer look at how China and India can benefit from the summit.
Provide a common platform to India and Pakistan for resolving outstanding issues: The prolonged hostility between India and Pakistan is creating a hurdle in establishing mutual cooperation in South-Asia. The SCO can provide a common platform for both countries to discuss regional security concerns, by setting aside their differences and working together to resolve the menace of terrorism in the region. President Xi echoed this view, shared with other SCO members, during his speech to the Astana Summit last year. He encouraged New Delhi and Islamabad to resume bilateral dialogue on all outstanding issues, including Kashmir and counter-terrorism, without any pre-conditions, and to work towards establishing mutual trust. This will be a considerable help in establishing regional stability, and also address India's concerns about infrastructure development in Kashmir.
India can leverage Chinese expertise in building gas pipelines in challenging mountainous areas to secure its energy needs: India, Pakistan, Turkmenistan, and Afghanistan want to complete a 1,840-km long natural gas pipeline and begin pumping natural gas from Turkmenistan's Galkynysh gas fields by the beginning of 2020. This will help India to secure its energy needs from Eurasia's rich gas fields. In this area, India can leverage China's expertise in building gas pipelines in challenging mountainous areas.
Improved cultural exchanges and cooperation across a wide spectrum: tourism, education, science, music, yoga etc.: China supports wider cultural and educational exchanges amongst the SCO member countries. As a result of its commitment and investment in this direction, China has attracted many international students including Indian students and has become an increasingly popular destination for further studies.  According to figures from the Chinese Education Ministry, there are approximately 18,000 Indian students currently studying in China in comparison to only 765 a decade ago.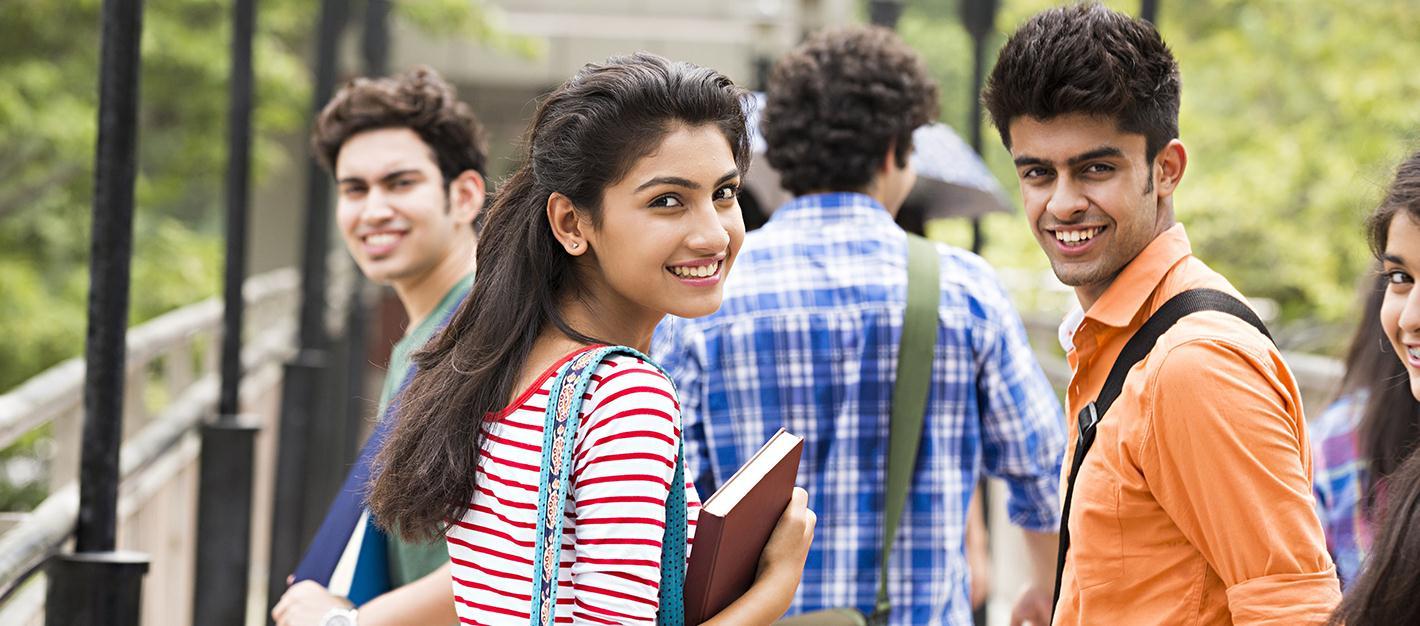 Δ India students studying in China
Collective efforts to stabilize and bring peace in Afghanistan: Since its inception, fighting the menace of terrorism, separatism, and extremism has been one of the most important goals of the SCO. In the last 17 years, many people have died in Afghanistan during the US-led war on terrorism, but in spite of huge efforts by NATO there is no sign of peace and stability. By working together, India and China can help to rebuild this war-torn country. In order to keep the SCO commitment to regional cooperation, President Xi and Prime Minister Modi proposed at the Wuhan Summit a joint project to develop Afghanistan's infrastructure and the country's vast mineral resources. India and China could discuss further joint actions in Qingdao.
Enhanced economic, political and cultural exchange opportunities in wider regions through the Belt and Road Initiative: The B&R initiative will benefit the world by opening the door to new opportunities and outcomes. It will also provide India & Pakistan with an opportunity to achieve shared prosperity through bilateral and regional cooperation. In this regard, China has proposed to rename the China-Pakistan Economic Corridor (CPEC) and also enhance its geographical coverage to connect India, Afghanistan, and Iran. It can be noted that during the Wuhan Summit President Xi and Mr. Modi have jointly proposed the construction of the Bangladesh-China-India-Myanmar (BCIM) economic corridor. Looking at the success of the Wuhan Summit and the prospects of opportunities provided by B&R initiative, Beijing hopes that India will abandon any pre-conceptions and agree to the B&R initiative during the Qingdao Summit.
The SCO accounts for roughly 50% of the world's population and a quarter of world's GDP, and can therefore play an important and more constructive role in the world economy and international affairs.  SCO member countries share a mutual responsibility to manage their bilateral problems related to the economy, political and security through mutual trust, peace and cooperation. India and China are the two biggest countries in terms of population and economy, and they therefore have an additional duty to provide leadership in SCO operations. In this regard, The Qingdao SCO summit could be a major milestone in establishing a stable bilateral relationship and increasing mutual trust and cooperation between the two neighbors. Perhaps it could also act as an icebreaker on important matters such as outstanding Indo-Pakistan issues.
Rachana Gupta is a China Focus Columnist, an Expert Author of Ezine articles and an active blogger and poetry writer.
(The article represents the author's personal opinion which does not represent the China Focus' stance.)