Sino-US Trade Friction Creates New Opportunities between China and Latin America
By Yue Yunxia
The US has used frequent unilateral trade actions to exert pressure on China since 2017. In April 2018, the trade friction between China and the US exacerbated. Following the two rounds of import tariff measures this year, the US government announced on April 4th that it would impose a tariff of 25% on 1333 export items from China, worth 50 billion US dollars. China immediately hit back and imposed tariffs as high as 25% on 106 American items. On April 5th, President Trump said that he would impose additional tariffs on imports from China worth 100 billion US dollars.
As the Sino-US battle gears up, Latin America is quickly becoming one of the affected areas due to its geographic location and trade structure. There are two possible consequences. One is trade replacement, as Latin American countries have the potential to replace products in the Sino-US market, while the other is the future impact of Sino-US trade friction on the international trading environment.
In response to the new international environment, Latin America must adapt its long-term passive approach in the US-Latin America relationship and look to follow a favorable development path. This adjustment will create new opportunities for Sino-Latin American trade.
Possible Replacement by Latin American Trade
China and the US are the two largest trading partners with Latin America, accounting for 39.1% and 13.7% of Latin American foreign trade, and taking 46.1% and 9.0% of the total exports from Latin America in 2016. Therefore, as China-US trade friction continues to escalate, Latin America will inevitably be affected. It can act as a replacement and change the existing market configuration in this region.
The lists of higher tariffs announced by China and US are still at the stage of public comments, but they provide a clear indication of the main areas of friction between the two sides. The focus of the US tax increase is on medium and high-skill and technology-intensive manufactured goods, while China focuses on non-fuel primary products and medium, high-skill and technology-intensive manufactured goods.
Looking at the current make-up of Latin American exports to China and the US, it has limited capacity, either short-term or long-term, to expand technology-intensive exports to the US (see for Table 1). It does not have the right configuration of competitive strengths and global value chains, and it wants to avoid the risk of over-reliance on a single market. Similarly, in the short term, its capacity to increase exports of non-fuel primary products to China is also limited. However, in the long term China can provide a relatively stable primary product market, as well as the possibility of expanding the market for technology-intensive products, especially high-skill and technology-intensive manufactured goods.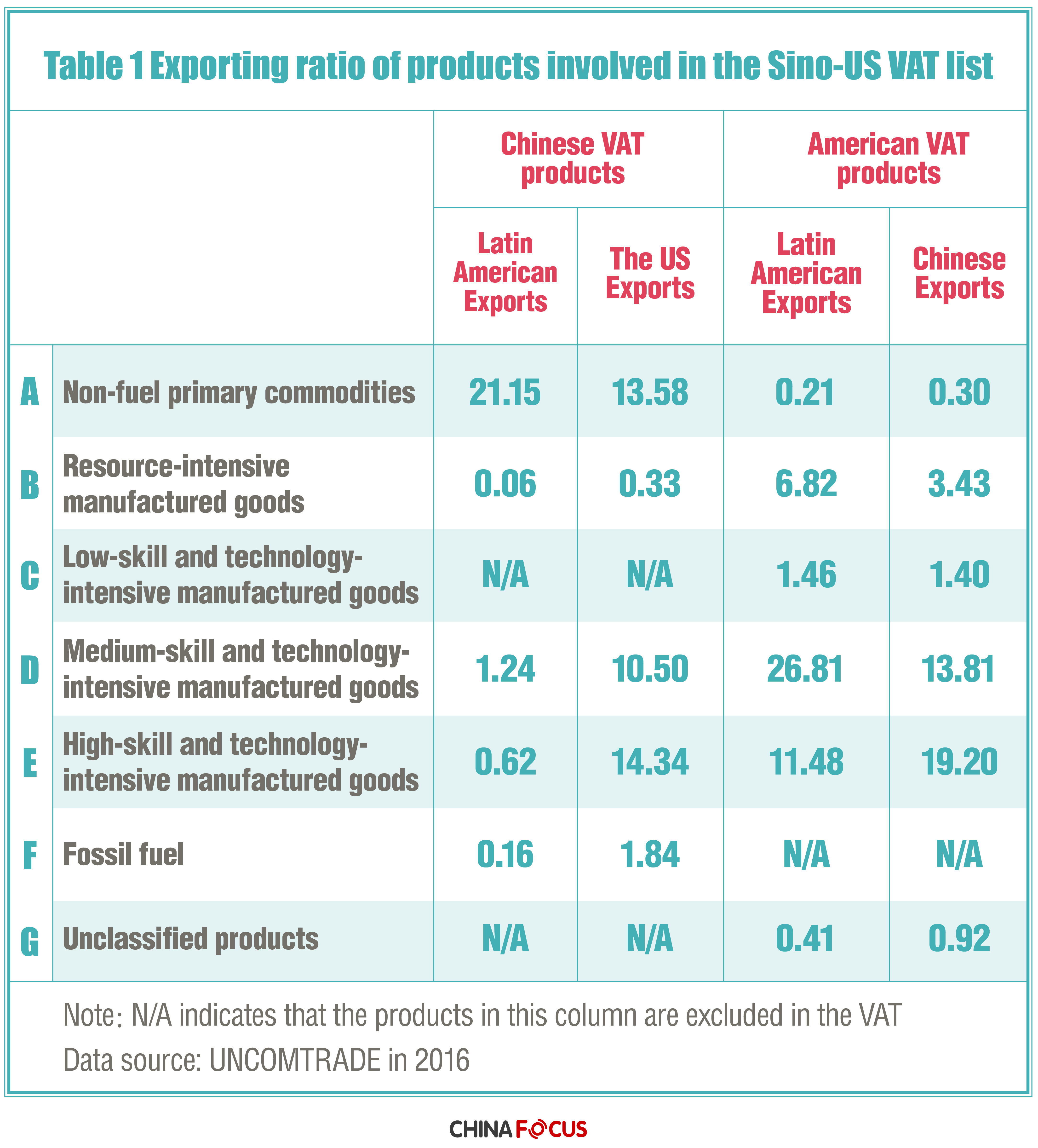 It can be seen that the direction of Sino-Latin American trade has gradually become clear when there are still many uncertainties in Sino-US trade. For China, Latin America has become one of the optional sources of imported technology-intensive products. Sino-US trade friction might result in trade upgrading between China and Latin America, and push Latin America to accelerate the upgrading and adjustment of its economic structure.
The Cost to Latin America of the Chaotic Rules
Sino-US trade friction is one of the results of "America First" trade protectionism, and is having an obvious negative impact on international trade rules. It adds uncertainty to the global trade environment, and Latin America is suffering as a result.
Latin America is a direct victim of US trade protectionism. According to statistics from the Global Trade Alert website, the US has been the world's largest initiator of damaging trade measures since September 2008, and by the end of April 2018, it had initiated 1437 damage measures affecting 215 economies around the world. Following the advent of the current trade friction, China is the second largest victim after Canada, and 33 Latin American countries have suffered more harm from the US measures than the world average. 12 Latin American countries, including Mexico, Brazil, Argentina, Chile and Venezuela, are suffering much more harm than the world average (see for Figure 1). The US has become the primary source of damage to the trade interests of Latin America.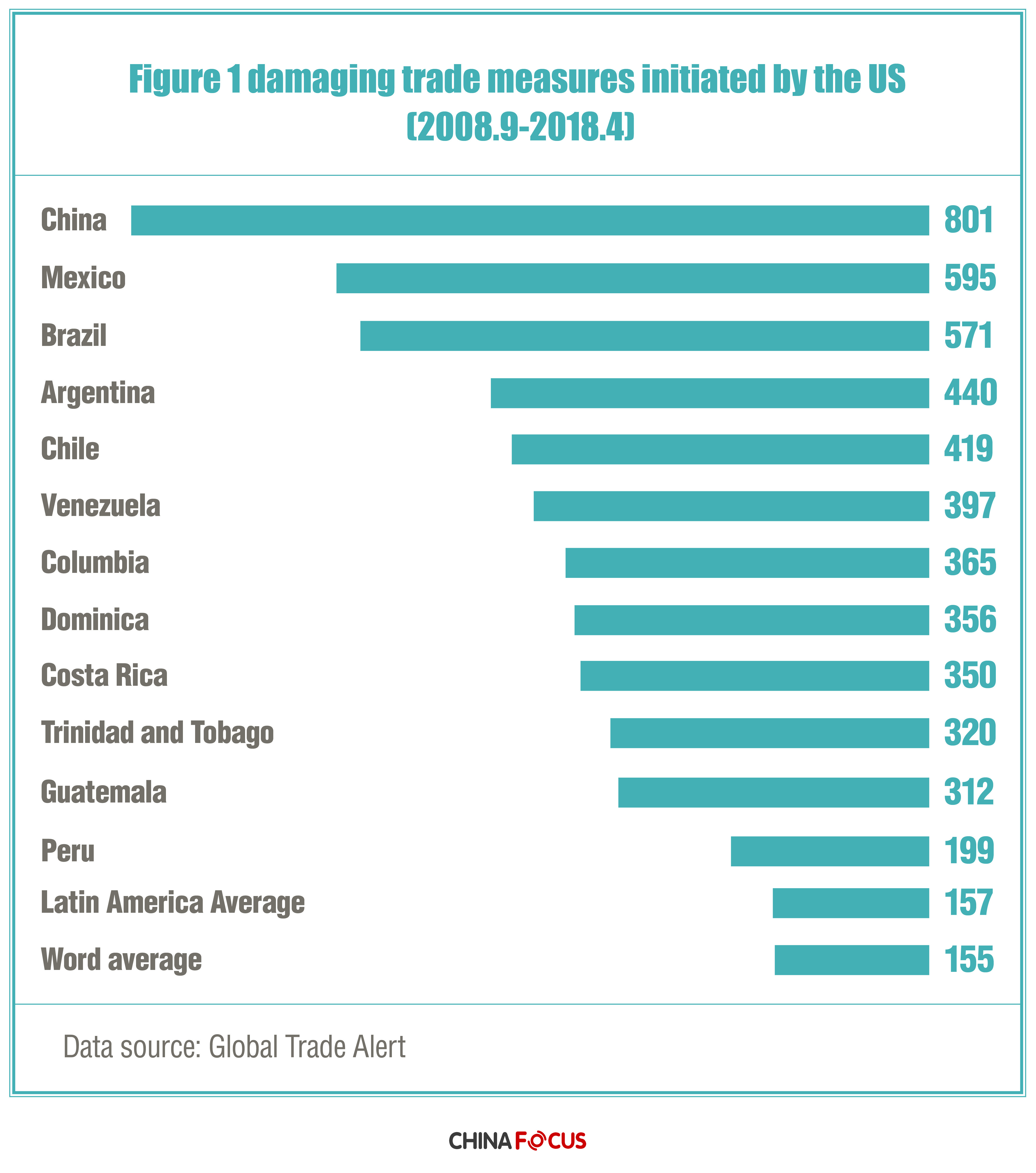 Latin America is also coming under direct pressure from America. Before his visit to five Latin American countries in February, US Secretary of State Rex Tillerson warned Latin America to support the US and distance itself from China in economic and trade relations. In April, US Secretary of Commerce Wilbur Ross asserted at the Americas Business Summit that Latin American economies benefited considerably from trade with the US, and he wanted Latin America to choose a side.
The New Direction for Trade between China and Latin America
Examining the proportions of China's imports of manufactured goods from different sources shows that China has the potential to increase imports from Latin America in labor-intensive manufactured goods and high technology intensive manufactured goods. The conditions exist to allow China and Latin America to actively expand their trade in manufactured products and offset the uncertainty arising from Sino-US trade friction.
Free trade and multilateralism are in line with the common interests of both China and Latin America. It is in the interests of both sides to increase trade through gradual lowering of trade barriers and costs. To this end, future trade cooperation between China and Latin America should increase in scale and improve in quality.  This should be encouraged through consolidated institutional cooperation between both sides, and transparency and stability should be strengthened through reducing tariffs and non-tariff barriers. With a common voice in the global trade governance system, the balance and sustainability of the multilateral trading system can be maintained.
Though Sino-US trade friction represents a threat, it also provides an opportunity for China and Latin America to further each other's interests. China and Latin America can each offer alternatives to the other in the crisis, and eliminate its adverse effects through structural improvement and promotion and optimization of trade rules.
Yue Yunxia, the researcher of Institute of Latin American Studies, Chinese Academy of Social Sciences
Editor: Cai Hairuo
Opinion articles reflect the views of their authors, not necessarily those of China Focus