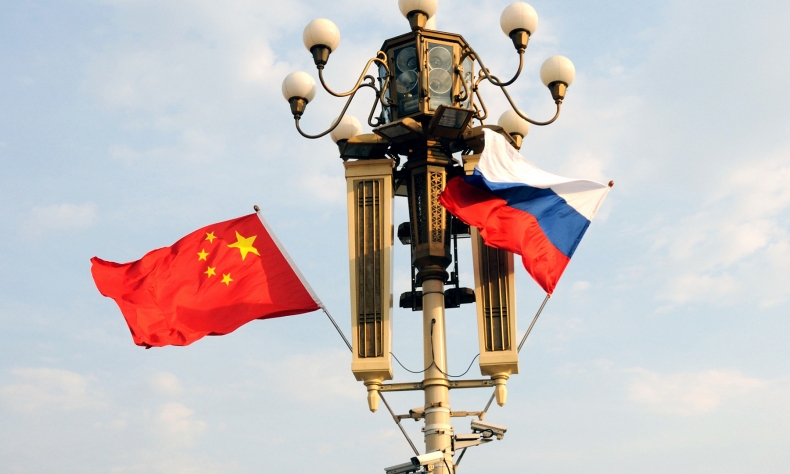 Taking China-Russia Comprehensive Strategic Partnership of Coordination to the Next Level
The best choice for them is to develop a new type of international relations featuring non-alliance, non-confrontation and not targeting any third party. And their bilateral relations, on the basis of the Five Principles of Peaceful Co-existence, should be characterized by equality, win-win cooperation, and good neighborliness.
This year marks the 70th anniversary of the founding of the People's Republic of China (PRC), as well as the 70th anniversary of the establishment of diplomatic ties between PRC and the Russian Federation (the successor of the former Soviet Union). The Soviet Union was the first country to establish diplomatic relations with PRC. On October 1, 1949, when the PRC was officially founded, Zhou Enlai, then foreign minister of China, wrote a letter to Sergey Tikhvinsky, then chargé d'affaires of the Embassy of the Soviet Union in China, expressing China's willingness to establish bilateral diplomatic ties. The following day, Andrei Gromyko, then vice foreign minister of the Soviet Union, confirmed the immediate establishment of diplomatic relations between the two countries in his reply letter to Zhou. This shows that the development of China-Russia relations is natural and logical.
Over the past seven decades, China-Russia relations have gone through many ups and downs. They were once allies, and they also once fell into confrontation, resulting in doubts and anxieties about each other. After the Cold War, both sides realized that as two neighboring major countries, neither alliance nor confrontation as they did in the past is conducive to long-term stability and development of bilateral ties, which would only severely damage their relationship. The best choice for them is to develop a new type of international relations featuring non-alliance, non-confrontation and not targeting any third party. And their bilateral relations, on the basis of the Five Principles of Peaceful Co-existence, should be characterized by equality, win-win cooperation, and good neighborliness.
China-Russia Relations for New Era
We can say with confidence that the relationship between China and Russia has withstood various kinds of tests by changes in domestic and international conditions over decades, and has developed into a major-country relationship featuring the highest degree of mutual trust, the highest level of coordination and the highest strategic value and set a paradigm for major-country relations characterized by good neighborliness, win-win cooperation and shared responsibility. The China-Russia comprehensive strategic partnership of coordination is firmly rooted in mutual political trust and mutual support between the two countries, which neither targets any third party nor will be weakened by discord sowed by any third party.
Also, both countries believe that their non-alignment policy will not hinder them from carrying out in-depth cooperation in areas where they have shared goals and interests, consolidating interest connection and developing strategic partnership. Both countries have long regarded each other as important development opportunities, supported each other and drawn on each other's strength to achieve revitalization together. In general, China and Russia need to unwaveringly deepen their cooperation in an all-round way, promote their comprehensive strategic partnership of coordination, and reinforce friendship of their peoples from generation to generation.
To celebrate the 70th anniversary of the establishment of their diplomatic relations, both China and Russia have planned and implemented many activities at state, ministerial and local levels or between think tanks of the two countries. For instance, the China Intercontinental Communication Center under the State Council Information Office published the book Forever Friendship: Collection of Essays in Commemoration of the 70th Anniversary of the Establishment of China-Russia Diplomatic Relations. Not long ago, Russian Ambassador to China Andrey Denisov chaired the release ceremony of the book at the Russian embassy in Beijing.
The book is published in both Chinese and Russian. Dai Bingguo, former state councilor of China, attended the release ceremony and wrote inscriptions for the book. Authors of essays in the book are senior diplomats who have been engaged in promoting the development China-Russia relations for many years, as well as people dedicated to China-Russia friendship. I am a contributor to the book. In a co-authored essay, my Russian colleague Sergey Goncharov and I recalled the process of the formulation, negotiation and signing of the Treaty of Good-Neighborliness and Friendly Cooperation Between the People's Republic of China and the Russian Federation. We have also delightfully found that the unique political advantages of China-Russia relations are turning into pragmatic cooperation results that benefit the two peoples. In 2018, bilateral trade volume between China and Russia reached a historical high of US$108 billion.
Currently, the two countries are jointly carrying out strategic investment projects worth of US$120 billion. Their cooperation in emerging sectors is developing rapidly. The two sides have made fruitful achievements in military cooperation, while interactions at local level continue to expand and cultural exchange is constantly enhanced. Moreover, both sides collaborate closely with each other in the fight against terrorism, drug trafficking, organized crime, etc. In terms of international cooperation, China supports the Russia-proposed Greater Eurasian Partnership. Both the Belt and Road Initiative proposed by China and Greater Eurasian Partnership aim to promote regional cooperation and emphasize openness and inclusiveness. The two initiatives have shared interests in a wide array of fields, and can progress side by side while supporting and complementing each other.
In this regard, both countries are expected to make joint efforts in the following two aspects:
First, they can continue synergizing the Belt and Road Initiative and the  Eurasian Economic Union to enhance regional trade facilitation;
Second, they can push forward comprehensive, pragmatic cooperation under the framework of the Shanghai Cooperation Organization to inject impetus into the long-term development of the organization.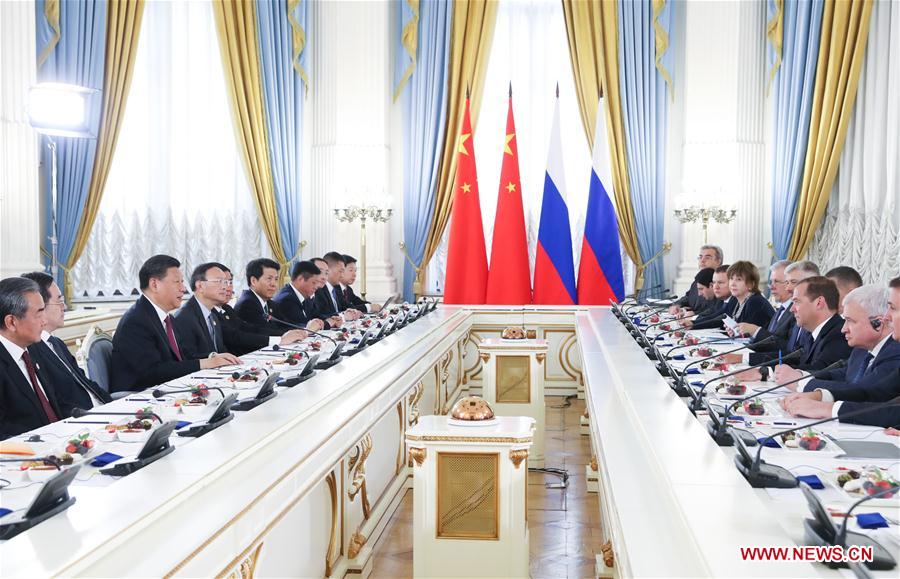 On June 5, 2019, Chinese President Xi Jinping arrived in Russia for a state visit. He held talks with his Russian counterpart Vladimir Putin, and the two leaders exchanged views on major issues of common concern. Xi's visit achieved a series of practical results, marking that China-Russia relations have entered a new era with great opportunities.
Upholding Multilateralism Together
Amid the increasingly complicated international situation, the world is facing a period of major changes that has rarely seen in a century.
Since U.S. President Donald Trump took office and adopted an "America First" policy, the United States has withdrawn from several international organizations and conventions. It has also strengthened sanctions on Russia, waged a trade war against China, and taken restrictive measures targeting countries like Mexico, Cuba and Venezuela. It even imposed additional conditions on some cooperation agreements with its allies such as the European Union, Japan and Canada. Such behaviors trample upon and violate the international order that was gradually formed and has been observed since the end of World War II and the international rules that have been proven effective in practices.
In this context, many countries feel helpless, anxious and confused. All the signs indicate that by doing so the Trump administration intends to demonstrate the United States' absolute superiority in various fields—whether in economy, technology, military or nuclear weaponry. Trump once announced that "the race to 5G is a race America must win." For this goal, he has done all he could to force other countries to make disadvantageous and even transgressive compromises with the United States, thus sustaining America's hegemony and power politics. However, this represents a countercurrent against the historic trend of human society and against the trend of globalization and multi-polarity.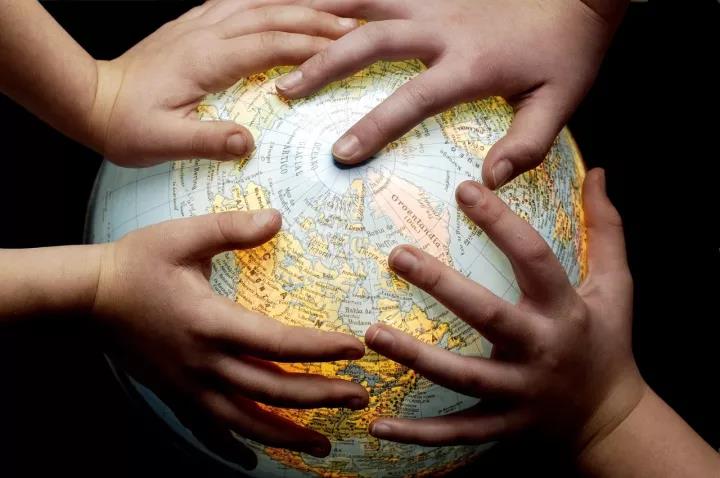 We believe that peace and development remain the main themes of our times, and win-win cooperation should be a common goal of all countries. Unilateralism is doomed to be unpopular and will not last long. A country may enjoy a momentary superiority by breaking rules and resorting to blackmail and sanctions, but it will eventually fail.
As some Western countries such as the United States openly challenge the international order and deliberately trample upon international law, China and Russia—both being permanent members of the United Nations (UN) Security Council—need to further strengthen coordination in international affairs and unite all peace-loving forces to jointly defend the authority of the UN and the UN Security Council, safeguard the international law and universally recognized norms governing international relations, firmly promote multi-polarity and democracy of international relations, and uphold multilateralism.
Both countries should continue promoting conceptual and institutional innovation, gaining more say in the formulation of international rules and contributing more Chinese and Russian solutions to improving global governance and addressing global challenges. They need to take the 70th anniversary of the establishment of bilateral diplomatic relations as an opportunity to draw lessons from the past and map out a long-term plan for future development of their relationship.
The author is a member of the National Committee of the Chinese People's Political Consultative Conference (CPPCC) and former vice minister of the International Department of the Communist Party of China (CPC) Central Committee.