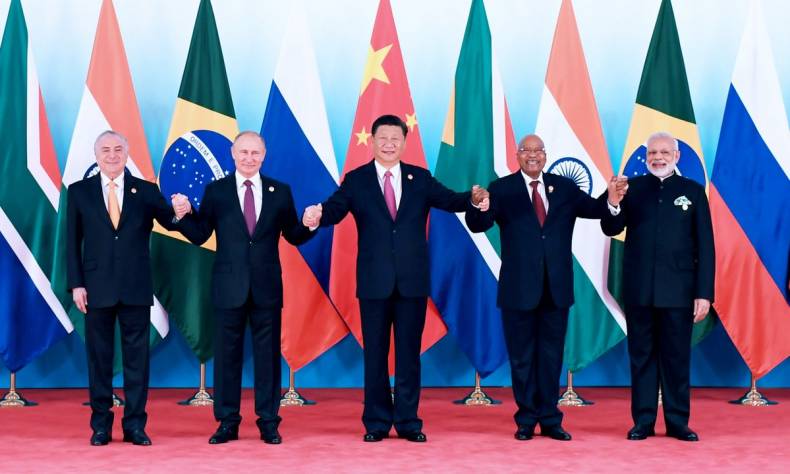 The BRICS Leaders Xiamen Declaration
The Xiamen BRICS summit closed at 5th, Sept. The official document BRICS Leaders Xiamen Declaration summarized the successful experience of BRICS cooperation in ten years, planning a new blueprint for pragmatic cooperation to strengthen BRICS partnership and deepen in various fields.
The Xiamen BRICS summit closed at 5th, Sept. The official document BRICS Leaders Xiamen Declaration summarized the successful experience of BRICS cooperation in ten years, planning a new blueprint for pragmatic cooperation to strengthen BRICS partnership and deepen in various fields.
So, What is the BRICS Leaders Xiamen Declaration all about?
Strengthening trade and investment cooperation
Stressing the role of enhanced trade and investment cooperation in unleashing the potential of BRICS economies, we agree to improve and broaden trade and investment cooperation mechanism and scope, with a view to enhancing BRICS economic complementarity and diversification in BRICS countries.
We welcome the setting up of the BRICS E-Port Network that will operate on a voluntary basis and the establishment of the BRICS E-commerce Working Group.
We agree to promote the development of BRICS Local Currency Bond Markets and jointly establish a BRICS Local Currency Bond Fund, as a means of contribution to the capital sustainability of financing in BRICS countries, boosting the development of BRICS domestic and regional bond markets, including by increasing foreign private sector participation, and enhancing financial resilience of BRICS countries.
We commit to promote cooperation on science, technology and innovation (STI) to forge synergy in tapping new growth momentum for our five economies and continue to address the development challenges we face.
We agree to continue to work on a cooperation platform for innovation and entrepreneurship and support the implementation of the BRICS Innovation Cooperation Action Plan 2017-2020.
We will enhance joint BRICS research, development and innovation in ICT including the Internet of Things, Cloud computing, Big Data, Data Analytics, Nanotechnology, Artificial Intelligence and 5G and their innovative applications to elevate the level of ICT infrastructure and connectivity in our countries.
We reaffirm our commitment to fully implementing the 2030 Agenda for Sustainable Development.
We call upon all countries to fully implement the Paris Agreement adopted under the principles of the United Nations Framework Convention on Climate Change (UNFCCC) including the principles of common but differentiated responsibilities and respective capabilities, and urge developed countries to provide financial, technological and capacity-building support to developing countries to enhance their capability in mitigation and adaptation.
Brazil, Russia, India and South Africa appreciate and support China's hosting of the meeting of the Conference of the Parties to the Convention on Biological Diversity in 2020.
We reaffirm our strong support for African Union's implementation of its various programs under Agenda 2063 in pursuit of its continental agenda for peace and socio-economic development.
In order to strengthen mutual cooperation in customs matters, we reaffirm our commitment to finalize BRICS Customs Mutual Assistance Agreement at the earliest.
Global Economic Governance
conclude the IMF's 15th General Review of Quotas
We reaffirm our commitment to conclude the IMF's 15th General Review of Quotas, including a new quota formula, by the 2019 Spring Meetings and no later than the 2019 Annual Meetings. We will continue to promote the implementation of the World Bank Group Shareholding Review.
The BRICS CRA represents a milestone of BRICS financial cooperation and development, which also contributes to global financial stability. We welcome the establishment of the CRA System of Exchange in Macroeconomic Information (SEMI), and the agreement to further strengthen the research capability of the CRA, and to promote closer cooperation between the IMF and the CRA.
We encourage the New Development Bank (NDB) to fully leverage its role and enhance cooperation with multilateral development institutions including the World Bank and the Asian Infrastructure Investment Bank as well as with the BRICS Business Council, to forge synergy in mobilizing resources and promote infrastructure construction and sustainable development of BRICS countries.
We remain firmly committed to a rules-based, transparent, non-discriminatory, open and inclusive multilateral trading system as embodied in the WTO. We reaffirm our commitments to ensure full implementation and enforcement of existing WTO rules and are determined to work together to further strengthen the WTO.
We call upon the G20 to further enhance macroeconomic policy coordination to minimize negative spillovers and external shocks to EMDEs.
We will strengthen BRICS tax cooperation to increase BRICS contribution to setting international tax rules and provide, according to each country's priorities, effective and sustainable technical assistance to other developing countries.
 International Peace and Security
upholding the basic norms of the international law
We reiterate our commitment to safeguarding world peace and security and to upholding the basic norms of the international law, and the purposes and principles of the Charter of the United Nations including sovereign equality and non-interference in other countries' internal affairs.
We reiterate that the only lasting solution to the crisis in Syria is through an inclusive "Syrian-led, Syrian-owned" political process which safeguards the sovereignty, independence and territorial integrity of Syria, in pursuance of the United Nations Security Council Resolution 2254(2015), and promotes the legitimate aspirations of the Syrian people.
We oppose the use of chemical weapons by anyone, for any purpose and under any circumstance.
We strongly deplore the nuclear test conducted by the DPRK. We express deep concern over the ongoing tension and prolonged nuclear issue on the Korean Peninsula, and emphasize that it should only be settled through peaceful means and direct dialogue of all the parties concerned.
We deplore all terrorist attacks worldwide, including attacks in BRICS countries, and condemn terrorism in all its forms and manifestations wherever committed and by whomsoever and stress that there can be no justification whatsoever for any act of terrorism.
We call upon the international community to establish a genuinely broad international counter-terrorism coalition and support the UN's central coordinating role in this regard.
We reiterate our commitment to address the world drug problem based on the United Nations drug control conventions, through an integrated, comprehensive and balanced approach to drug supply and demand reduction strategies.
We note with deep concern the increasing links in some regions of the world between drug trafficking, money laundering and organized crime and terrorism.
We reiterate that outer space shall be free for peaceful exploration and used by all States on the basis of equality in accordance with international law.
Priority should be accorded to ensuring the long-term sustainability of outer space activities, as well as ways and means of preserving outer space for future generations.
People-to-People Exchanges
We value cultural diversity as a precious asset of BRICS cooperation. We stress the role of culture and cultural diversity in promoting sustainable development, and encourage BRICS countries to engage in cultural exchanges and mutual learning to cultivate common values on the basis of diversity and sharing.
We reiterate our support for BRICS University League and BRICS Network University in conducting education and research cooperation, welcome efforts to promote cooperation among educational think tanks, and exchanges among youth including by organizing youth summer camps and offering more scholarship opportunities to BRICS students.
 We agree to enhance BRICS role in global health governance, especially in the context of the World Health Organization and UN agencies, and foster the development and improve the availability of innovative medical products through promotion of research and development and access to affordable, quality, effective and safe drugs, vaccines, diagnostics and other medical products and technologies as well as to medical services through enhanced health systems and health financing.
We commit to strengthening the coordination and cooperation among BRICS in the areas of mutual and common interests within the UN and other multilateral institutions, including through regular meetings among our permanent representatives in New York, Geneva and Vienna, and further enhance the voice of BRICS in international fora.
South Africa, Brazil, Russia and India commend China's Chairmanship in 2017 and express sincere gratitude to the Government and people of China for hosting the Ninth BRICS Summit in Xiamen.