The India-China Ties Shouldn't Be Dominated by Wrong Emotion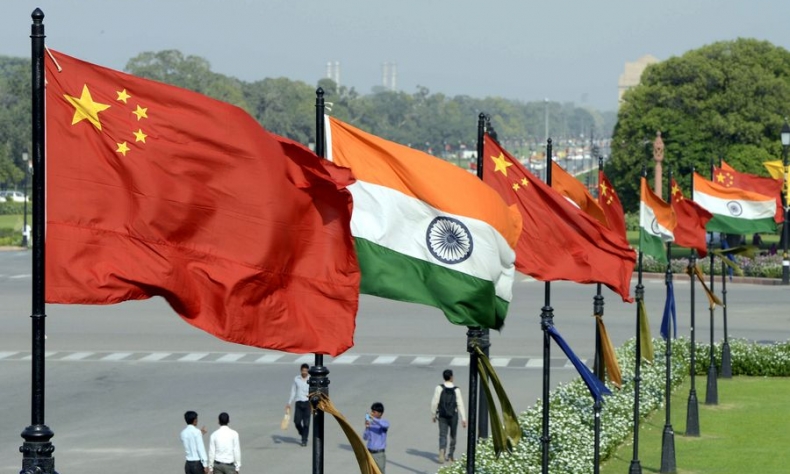 Being the two largest developing countries and emerging economies, the two countries need to find a fair and reasonable solution to the boundary question by clarifying the LAC which is mutually acceptable.
With soaring tensions at the Line of Actual Control (LAC) in eastern Ladakh between the Indian and Chinese armies, a famous line from an eminent Bangladeshi poet, Nirmalendu Goon comes to mind: "War means playing game of enemy, war means your negligence towards me." Despite multiple border agreements, confidence building measures and many bilateral meetings between the two Asian giants, India and China, the four-month-long border standoff has put the Sino-India relationship in a precarious situation since early April this year.
Needless to say, what has happened on the India-China border will be reflected in bilateral relations, impacting the strong friendship of 2.7 billion people of the two countries. As such, the exceedingly tense situation in the India-China frontier demands for urgent parleys between Prime Minister Narendra Modi and President Xi Jinping to bring India-China relationship back on the right track since the ongoing military and diplomatic talks are not making any significant progress to put an end to the border tensions due to different interpretations on the non-demarcated LAC that separates the world's two most populous nations.
India's anti-China sentiment: A misguided nationalism
Following the 15 June Galwan Valley clash in which 20 Indians soldiers and unverified number of Chinese troops were killed(as per media reports), the tensions erupted once again when the two armies were locked in heated stand-off along the China frontier near the southern bank of the Pangong Lake on the night of 29-30 August. But the way Indian diplomats, media analysts and military experts have been penning lurid Op-Eds in between the two face-offs , painting the Chinese People's Liberation Army's (PLA) normal patrol activities as "aggressive misadventures" in the Galwan valley, the Pangong Tso Lake, the Reqin Mountain and Sikkim sectors on the border. Those allegations are not true.
It's really unfortunate that many Indian media outlets have offered a platform to these 'experts' to smear China by arguing that China has been launching a war against India. Sad but true, some Indian intellectuals and defence experts are now trying to provoke confrontation instead of looking at creating solid economic partnership with China, but those actions neither serve any good to the two countries nor the world also.
India-China border bristles afresh
It's not surprising that two close neighbors – India and China blamed each other for the confrontation on the undefined border accusing of "violating sovereignty and territorial integrity" by "trespassing" in the other's land. China demanded that India should immediately withdraw its frontline troops who illegally crossed the LAC at the southern bank of the Pangong Tso Lake and near the Reqin Mountain. The Chinese Foreign Ministry and the Chinese embassy in India called India's move "flagrant provocation" which damaged peace and tranquility along the China-India border situation.
On the other hand, India rejected China's position by saying that the two rounds of face-off on the India-China border was done on the part of PLA. On August 31, Indian defense ministry and foreign ministry issued statements saying that: "Indian troops pre-empted this PLA activity on the southern bank of Pangong Tso Lake, undertook measures to strengthen our positions and thwart Chinese intentions to unilaterally change facts on ground." While Indian army boasted of giving a fitting reply to Chinese troop movement by extending its strategic position from the south of Pangong Tso to Spanggur Tso, the "self-justifying" statements of India proves that the Indian troops first illegally crossed the LAC, made provocations and unilaterally changed the status quo in the border areas, violating bilateral agreements and important consensus. As such, on September 1, Chinese embassy spokesperson Ji Rong claimed that "what India has done" is counter to efforts to bring down tension on the ground – "and China is resolutely opposed to this".
India is heading for a proxy war on China
Since becoming the 16th Prime Minister of India in May 2014, Narendra Modi has been pursuing an aggressive policy to effectively contain China in India's neighbouring countries. China funding infrastructure projects under the Belt and Road Initiative (BRI) in India's backyard has worried Modi, and he has been relentlessly trying to minimize China's infrastructure funding in smaller countries in the region. As such, his government framed a "Neighbourhood First" policy to woo India's neighbouring countries- Bangladesh, Sri Lanka, Nepal, Bhutan, Maldives and Myanmar by strengthening economic ties with them. But the hard reality is that most of India's neighbouring countries grow doubtful about Modi's neighbourhood first policy, rather they are already beneficiaries or supporters of BRI projects partnering with the world's second largest economy. Most importantly, these smaller countries have seen Modi's proactive regional activism as a challenge to their economic and security interests. As such, when the border clashes along the India-China frontier continue to remain tense, India is left alone by her allies and friends in the neighborhood.
And now when an anti-China feeling emerges in the United States and in Eurasia due to COVID-19 crisis, Modi wants to capitalize this feeling to counter a prosperous and militarily powerful China with the help of the US President Donald Trump as well as Japan and Australia. But this is just deluding efforts on the part of the Modi government of distracting Indian people's attention from the real issues like the COVID-19 pandemic and the downfall of the economy.
Following the Galwan Valley clash, the Narendra Modi government has taken a firmer line against China for what India says that its sovereignty and territorial integrity has been threatened by the PLA's encroachments upon Indian territory at the Galwan Valley along the disputed LAC.
On August 15 in his Independence Day speech at the Red Fort, Prime Minister Modi underscored India's resolve to stand up against China's so-called military aggression by saying that Indian armed forces have given a befitting reply to those challenging the country's sovereignty "from LOC to LAC" without referring to China and Pakistan explicitly.
Although there is no substantial evidence of Chinese military's so-called transgression into the Galwan Valley, the ruling Bharatiya Janata Party (BJP) regime at the Centre and some right-wing organizations have expressed their patriotic emotional outbursts in order to completely exclude "Made in China" products at a time when most Indian states are in high need of substantial Chinese investment in order to transform their economic conditions by partnering with China through trade and investment in post-COVID period.
Over the past three months, Modi and his administration officials have been continuously attacking China which included restricting Chinese investment in Indian market by introducing new rules on foreign investment, blaming China for the COVID-19 outbreak in the country, canceling orders for Chinese COVID test kits, exaggerating border frictions with China as well as the restrictions on Chinese mobile apps. All those have significantly worsened the Sino-India relationship.
A Global Times editorial on September 1 rightly noted: "From the Doklam crisis in 2017 to the serious clash in the Galwan Valley in June this year, India has been taking a radical and hardline approach in dealing with the China-India border dispute. The system that has managed the border situation for decades is now crumbling. Regular border frictions will exhaust both countries."
India's ban on Chinese apps: Biting the hand that feeds
Right after the stand-off at Pangong Tso south bank, the oligarch at the Centre has banned another collection of 118 Chinese mobile apps including Baidu, AliPay, WeChat Work and popular gaming app PUBG. Earlier in July, the Modi government imposed a ban on 59 popular Chinese apps and their clones including TikTok, Weibo, Camscanner, ShareIt, UC Browser. The number of Chinese apps banned in India has now gone up to 224. The Indian government has describing Chinese apps as "prejudicial to sovereignty and integrity of India, defence of India, security of state and public order." It is now clear that the Indian government wants to kill two birds with one stone by blocking Chinese apps: punish China after the border confrontation, and assuage Indian citizens looking for a strong government response. But the Modi government shoots itself in the foot with blocking Chinese apps on the so-called grounds of safeguarding Indian citizens' enormously valuable data.
It should be noted here that the video-sharing social networking company TikTok has over 600 million users in India. But the restrictive actions on Chinese apps, in particular, TikTok and WeChat do not serve any good to the Indian users, consumers and enterprises rather these actions have brought disruptions to their earnings and business as well. As an Indian maid rightly said: "With the TikTok ban, government has pushed the poor family to the gallows. As if lockdown wasn't enough!"
More worrying is the fact that the Indian government seems to have no real plan by way of diplomacy to deal with China over the border dispute. And now suddenly with a ban of Chinese apps is not a solution to the border unrest in Ladakh.
Boycotting Chinese goods will damage both people
Against the backdrop of the India-China border clash, Modi is now promoting "Aatmanirbhar Bharat", or a self-reliant India campaign under his much-touted "Make in India" programme with a target to replace 30% of Chinese imports. And, as part of this mission, the Indian government has asked all states and public sector companies to desist from making new contracts with Chinese companies. Stepping up further attacks on China, the Indian government has also ordered e-commerce companies, including Amazon.com Inc. and Walmart Inc.'s Flipkart, to display the "country of origin" on goods in order to prevent purchases of Chinese-made goods. The Modi government has also systematically delayed clearing goods imported from Alibaba Group Holding Ltd. to Tencent Holdings Ltd.
Now responding to Modi's appeal for "vocal for local" to boost the country's march towards self-reliance, hawkish right-wing activists have been drumming up the boycott China campaign across the country in order to teach a lesson to its largest neighbor regarding as "enemy" and "strategic threat". Traders body the Confederation of All India Traders (CAIT) launched the boycott China crusade under the slogan "Indian Goods – Our Pride" aiming for a reduction of imports of Chinese goods by USD 13 billion by December 2021.
Although the self-reliant India campaign is laudable, boycotting Chinese products will be a tough challenge for India since its manufacturing sectors, such as, automobile, electronics, mobile phones, household appliances, pharmaceutical and cost-effective consumer goods have been heavily dependent on products imported from China. The consequences of the current patriotic campaign to avoid Chinese products and Chinese apps can be devastating for India which is now facing economic recession, increasing layoffs and burgeoning unemployment due to the COVID-19 pandemic. It should be noted here that the Indian economy has shrunk by 23.9 percent since the outbreak of the COVID-19.
Hence, many Indian analysts have raised the question how can India with its weaker economy afford to boycott Chinese products when no domestic alternatives are available to its business and manufacturing sectors as well as its consumers. It needs to be acknowledged that the Chinese investment matters a lot to India's "Make in India" programme. In the last six years, over 1000 Chinese companies including Alibaba, Tencent, Xindia Steel Ltd, Huawei, Sinopharm, Xinxing Cathay International Group, China Electronics Technology Group Corporation (CETC) and SAIC Motor Corporation Limited have been participating in different projects of the "Made in India" initiative with total investment of U.S. $ 8 billion as of December 2019, creating more than 200,000 local jobs.
Meeting between the Indian and Chinese defense ministers: High hopes with positive signal
On September 4, Indian defense minister Rajnath Singh met his Chinese counterpart General Wei Fenghe on the sidelines of the Shanghai Cooperation Organization (SCO) meeting in Moscow, Russia. During their first face-to-face bilateral contact at the political level since the bloodshed in the Galwan Valley on June 15, each side blamed the other for the aggressive moves in the border region. Wei laid the entire blame at India's door by stating that "India bears full responsibility for the current China-India border tensions and China's military is fully determined, capable and confident to safeguard China's sovereignty and territorial integrity, and not an inch of Chinese territory can be lost." On the other hand, Rajnath Singh said China's actions, including its "amassing of large number of troops… aggressive behaviour and attempts to unilaterally alter the status quo", violated bilateral agreements.
However, the meeting between the two defense ministers has provided a good opportunity for both sides to try to iron out their differences amid a complicated border issue. Both sides reiterated to "earnestly implement the important consensus reached by President Xi Jinping and Prime Minister Modi and stay committed to resolving the issue through dialogue and consultation."
The Sino-Indian ties should not be strained by the frequent military stand-off. If both sides don't work more to mend fences, the bilateral relationship will be affected. This is why minister-level meeting is so important to achieve a breakthrough. It is hoped that, during the annual SCO Foreign Ministers Meet on September 10 in Russia, Indian Foreign Minister S Jaishankar and Chinese Foreign Minister Wang Yi will try to defuse the intense atmosphere in the border areas, allowing the overall bilateral relationship to get back on a healthy track.
What needs to be done
China is not India's enemy. China has proven its sincere intention to solidify its relationship with India by investing heavily in the arena of trade and manufacturing sectors over years while improving Indian ordinary people's livelihood also. Being the two largest developing countries and emerging economies, the two countries need to find a fair and reasonable solution to the border issue by clarifying the LAC which is mutually acceptable. At the same time, it is better for the Indian government to give up provocative military action and focus on maintaining border stability and actively solve domestic problems that are plaguing the country.
It is hoped that the highest leadership of the two countries should sit together and talk to each other in order to realize the goal of "Dragon-Elephant Tango" abandoning "zero-sum game". Don't let emotion dominate the bilateral ties: No anti-China, no anti-India slogan is right now. If not, the third country (the United States) will take all profit from the India-China duel.