The Reasons Behind Turkey's Military Offensive in Syria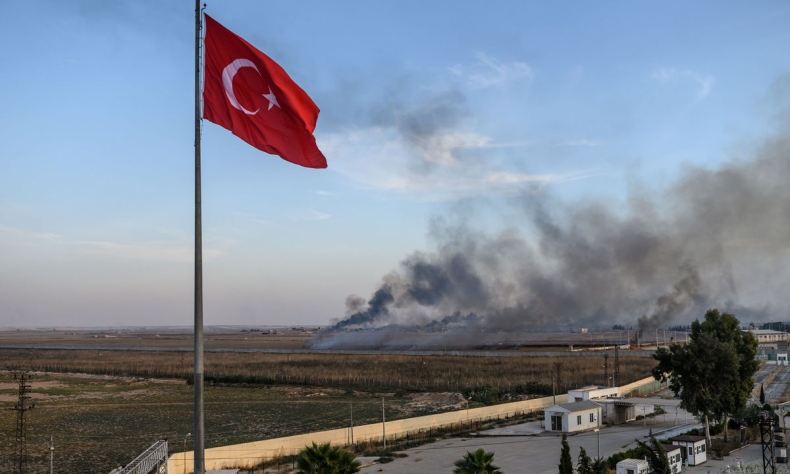 The best way for Turkey to achieve its ambitions to be a regional actor is to halt its military activities in Syria, and begin dialogue and diplomacy efforts with President Assad.
Turkey has begun a military offensive – "Operation Peace Spring" – in the northeastern territory of Syria. However, the move has largely provoked condemnation and objection from the international community.
Chinese Foreign Ministry spokesperson Geng Shuang urged Turkey on Tuesday to stop military action in Syria and "come back to the right track".
The primary basis for the objections is due to the concern over the status of Islamic State (IS) prisoners currently held by the US-backed People's Protection Unit (YPG). It is feared that the Turkish military offensive against Kurdish forces could jeopardize the security of the prisons housing some of the most dangerous IS militants.
Turkey, however, disputes this claim. Turkey instead claims that the YPG has released IS prisoners in order to pressure the US into remaining in Syria.
People of Turkey worried about the prospects of war
"Operation Peace Spring" has raised concerns amongst many Turkish people who rightly ask: "Are we going into a war?"
Turkey has claimed that the sole purpose of its operation is destroying the US-backed YPG – whom Turkey considers to be a threat to its national security? But, is there more?
Some believe there is more to it than being publicly stated, as a result of the increasingly alarming discourse. Rather than using proportionate language relevant to national the stated national security threats, there is much talk of "conquest".
What are the reasons for Turkey's military offensive?
It is important to view "Operation Peace Spring" in its full context as Erdoğan's government has multiple aims motivations for its military operation.
First, and at the top of its concerns, is the worry that an increasingly powerful Kurdish army on its border could strengthen the Kurdistan Workers Party (PKK) whom Turkey has fought an armed conflict with for more than 30 years.
Another concern is the role of the US in the region. Turkey's President Recep Tayyip Erdoğan has begun to criticize the US since the failed coup attempt in 2016. The Turkish president has leveraged the strong vein of Anti-American sentiment which is prevalent in the country to increase sympathy for his increasingly nationalist policies.
It is also suspected that Erdoğan is using military operations in an attempt to expand his domestic popularity.
The PKK terror is one of the most dominant issues in Turkey's domestic politics and this issue gives Erdoğan and the AKP the opportunity to rebuild its prestige which has shown signs of diminishing in recent years.
Further, President Erdoğan has made no secret his opposition to the Assad administration and desire to overthrow the regime. Erdoğan has repeatedly claimed that the Syrian government is "murderers of Muslims" and provocatively claimed that one day, "We will pray at the Umayyad mosque at Damascus".
As an Islamic nationalist government, the AKP has repeatedly centered its discourse around "fighting against terrorism" and "fighting for Muslims". The AKP government has long been eager to intervene in Syria.
A hidden agenda?
Some fear that Erdoğan's military offensive masks a "hidden agenda". Claims have been made that the Nationalist President not only wants to destroy YPG forces but also has ambitions of taking over the area they once populated. When we take in to account the recent statements made by Turkish officials, such fears are increased.
Further support of this position is the Turkish government's decision to open government universities and agencies with Turkish and Arabic signs in the Syrian territory.
Erdoğan has stated that Turkey respects the territorial integrity of Syria and will "hand over places under control when a legitimate government is established". This statement effectively means that Turkey does not consider Assad as the legitimate ruler of Syria. Accordingly, Turkish forces will likely remain inside Syria until Assad is removed.
Turkey has long-since maintained an alliance with the armed opposition group known as the Free Syrian Army and has enlisted its support as it launched "Operation Peace Spring". The group is a coalition of largely Arab anti-Assad forces with some jihadi elements.
The Syrian government has vowed resolutely resist Turkish aggression.
Turkey wants to be viewed as a strong "regional actor"
It is becoming clear that though Ankara is increasing tensions with Washington, it has no real desire for an irreversible breakdown in bi-relations. Instead, Turkey is flexing its muscle in the hope that it will be considered a strong "regional actor" and will reap the perceived benefits which the new status brings.
In attempting to position itself as Washington's real ally in the region, Turkey is fanning the flames of instability in order to strengthen its negotiating hand – the age-old political move of attempting to bring order out of chaos.
However, the strategy presents many risks.
The best way for Turkey to achieve its ambitions to be a regional actor is to halt its military activities in Syria, and begin dialogue and diplomacy efforts with President Assad. Turkey should understand that Syria is a very complex and dangerous environment and political power games with the US and Russia could end up backfiring.
Author: Erkin Oncan is a journalist with Sputnik Turkey based in Istanbul, Turkey
Editors: Jamie Leigh Wright, Cai Hairuo
The article represents the views of the author and does not necessarily reflect that of China Focus.
(If you want to contribute and have specific expertise, please contact us at chinafocus@cnfocus.com)