The U.S. Action Against ZTE Corp Will Boost China's Domestic Science and Technology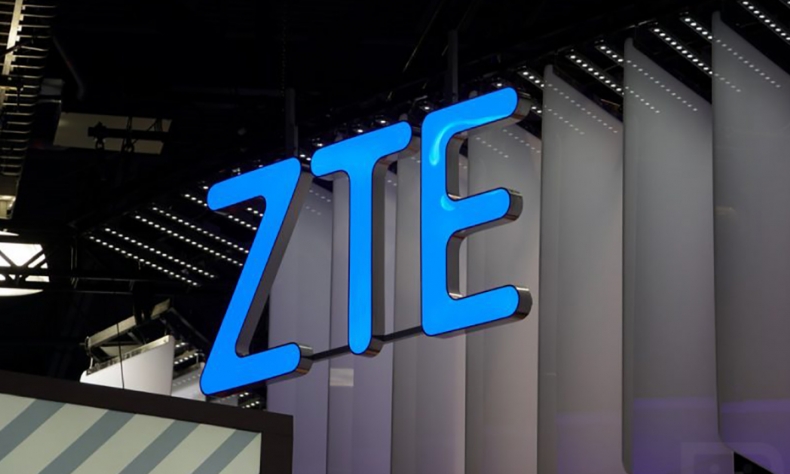 Although America says that this sanction against ZTE has nothing to do with the current Sino-US trade war, it is a fact that the US has been paying close attention to China's developing high-end industry for a long time, and its guard is up.
By Yang Shuiqing
The U.S. government launched an investigation against Chinese telecom equipment maker ZTE in March 2012, accusing the company of shipping American-made products with restricted accessories and software to Iran and North Korea. This case was settled in March 2017.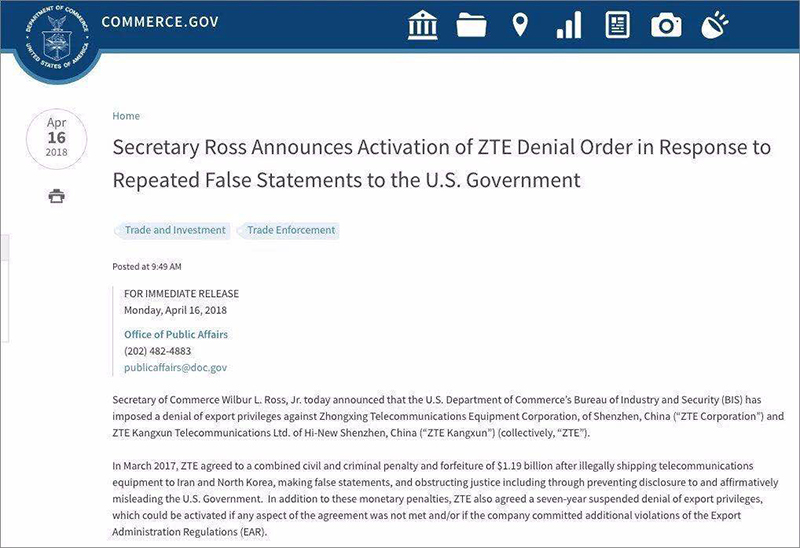 ▲The US Department of Commerce then claimed on April 16 2018, that ZTE has violated its settlement with the US government, and the US government banned US companies from selling components or electronic technology to ZTE for seven years. The ban will expire on March 13, 2025.
The US action against ZTE has won fulsome support from its ever-faithful "ally", the United Kingdom. The National Cyber Security Centre (NCSC) has given out warnings to the British Telecommunication Industry, urging them to avoid ZTE products and services, in order to join with the United States in obstructing the development of China's high-tech industry.
According to Business Insider, a business-news site, following ongoing warnings by the US and the UK, the Australian government has decided to phase out products from Huawei and ZTE, and will no longer use them.
In quick response, China's Ministry of Commerce said it is ready to take the necessary measures to safeguard the legitimate rights and interests of Chinese companies, and it urged the US to create a fair, just and stable legal and policy environment for all players.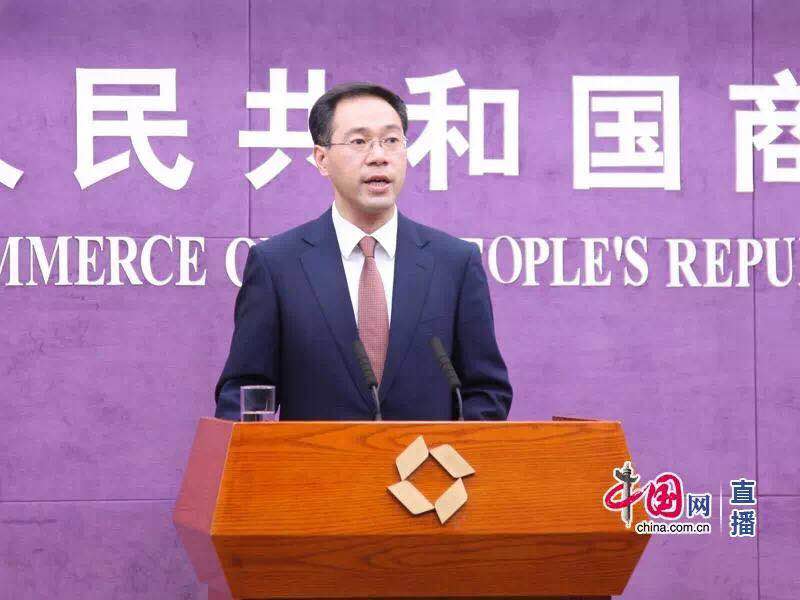 "The US action has caused widespread concern about its trade and investment environment. Although the measure is aimed at China, it will ultimately hurt the US itself, causing tens of thousands of job losses and damaging US companies in related fields. I hope the US will keep a clear head. Do not underestimate China's will to take the necessary countermeasures", stressed MOFCOM spokesman Gao Feng during a regular press conference on April 19.
The US Worries the Rise of China's High-End Industry
According to a report released by the World Intellectual Property Organization (WIPO) on March 21, China has become the second largest source of international patent applications, behind only America. China's Huawei and ZTE file the largest number of international patent applications from individual companies.
Although America says that this sanction against ZTE has nothing to do with the current Sino-US trade war, it is a fact that the US has been paying close attention to China's developing high-end industry for a long time, and its guard is up.
The President's Council of Advisors on Science and Technology (PCAST) released Report to the President Ensuring Long-term U.S. Leadership in Semiconductors in early 2017, saying that China's chip industry now poses a serious threat to American competitors as well as to American national security. The report suggests the US president pay closer attention to China's chip industry.
As chip production carries huge costs in abortive R&D projects and has a long lead-time from development to manufacture, the cost of chip R&D is extremely high. Taking advantage of globalization, Chinese companies tend to buy imported chips, which are cheaper. The problem is that China's chip industry depends too much on imported core technologies at the top of the global industry chain. Once the sanction against ZTE is in place, America will stop its supply to ZTE of high-speed digital-to-analog converters (AD/DA), field programmable gate arrays (FPGA), and memory chips. ZTE will certainly suffer the consequences and could struggle to survive.
it is notable that Washington is losing its former positive attitude to China and is now trying to hedge the risks brought by China's rise. Influential forces are extremely worried about the scale of Chinese companies in global trade. They imagine a future where China's economy is twice the current size, and ask what share will China's state-owned enterprises take on the Fortune 500, and what influence they will exert on the global trade environment.
Peter Navarro, a White House trade consultant, said directly: "What really worries Americans is Made in China 2025. America is determined to maintain its long-term position as a technology great power, from fear of Made in China 2025."
There are various signs showing that the US considers China to be its main competitor and is intensifying the restriction on its high-tech exports to China to maintain its great power status in technology.
The global supply chain is vulnerable when subjected to national politics and interests. The execution of this ban marks a strategic change in America's attitude towards China's emerging industries, reflecting increasing tension in the China-US relationship.
From a micro perspective, this ban means a huge challenge to China's semiconductor industry; from a macro perspective, it has earned the US higher status in China-US trade negotiation.
The Sanction Against ZTE Rings Warning in China's High-Tech R&D and Manufacturing
While the US measures will hit ZTE hard in the short term, in the long run they will force China to up the pace of research in advanced technology and make breakthroughs in areas of weakness. In the telecom industry, China can accelerate developments in 5G technology, high-speed optoelectronic chips, and other fields, to lead the world in technology and replace imported components with made-in-China products.
President Xi Jinping has emphasized the importance of independent innovation in science and technology several times since 18th CPC National Congress. He highlighted development, human capital and innovation when joining a panel discussion with the deputies from Guangdong Province at the first session of the 13th National People's Congress in Beijing .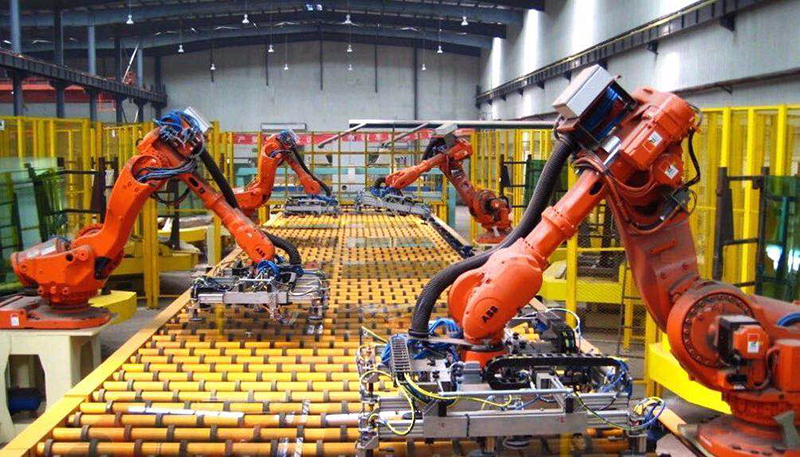 China must prepare for the worst. To do this, China needs to mobilize all the resources to support the development of China's core technologies.
First, China should shift the concept of "exchanging capital and market for technology" to "exchanging technology for new technology then making innovations".
On the one hand, China should insist on core technology R&D. With full awareness of the importance of self-sustainability, the Chinese government should encourage innovation, safeguard intellectual property, and use the huge domestic market properly to support the R&D of China's high-tech companies.
On the other hand, China needs to seek for further cooperation in high-end technology with other major economic powers such as the EU and Japan.
In the face of the global tension in high-tech caused by the US, China can emphasize the openness and inclusiveness of Made in China 2025 to other countries and regions, and continue to use the market to decide resource allocation and to steer industry upgrading. China should make good use of both the domestic and the international market as well as their resources. And China should welcome other countries and regions to join Made in China 2025 based on mutual learning, mutual negotiations, and mutual sharing.
At this crucial moment, China should enhance cooperation with other main economies, such as the EU and Japan. China should call for the current trade friction to be addressed based on WTO rules, carry out priority tasks, and take all possible measures to mobilize other powers which support an open economy and multilateral mechanisms, in order to fight America's unilateral actions and break the trade siege that the US wishes to impose.
Yang Shuiqing, researcher of Institute of American Studies in Chinese Academy of Social Sciences
Editor: Cai Hairuo
Opinion articles reflect the views of their authors, not necessarily those of China Focus