Tibetan Products Going Global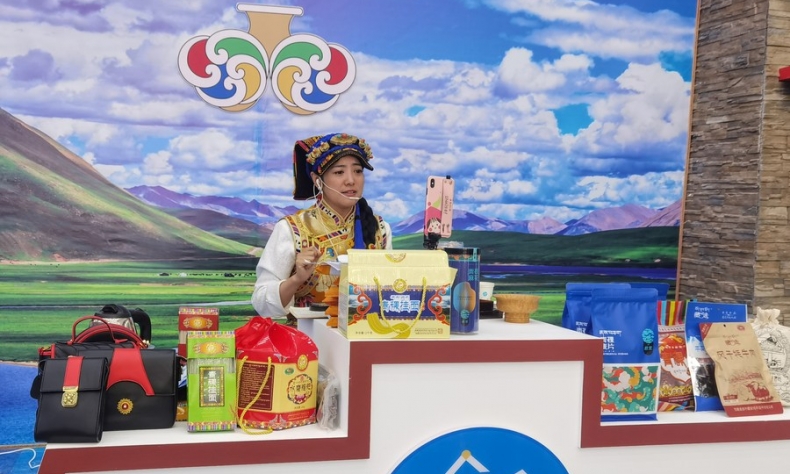 Mechanical and electrical products such as domestically made cars, textile goods including Tibetan tapestry, as well as farm produce are among the most commonly exported goods.
A piece of Tibetan tapestry with images of three angels stood out when Tanzin Chinleh live-streamed to introduce the products in his store on February 11. "It is a tailored handmade product we are going to promote this year," the 32-year-old told viewers.
He founded Jiangzi Zangtan Culture Development Co. Ltd. in Gyangze County, Xigaze, Tibet Autonomous Region, in 2014. Three weeks earlier, his company had become registered as a foreign trade operator and making tailored Tibetan tapestries for the global market is high on his agenda.
Innovation-driven growth
Tibetan tapestries, together with Turkish carpets and Persian rugs, are the three most reputed types of carpet in the world. Gyangze in south Tibet has been famous for its masterful tapestries for centuries and almost every household in the county knows how to hand-weave them.
Tanzin Chinleh's grandfather is a renowned tapestry-weaver in Gyangze and Tanzin Chinleh has long been an enthusiast of the craft, able to see the underlying meanings of most traditional patterns since his childhood.
Despite his early enthusiasm, Tanzin Chinleh's parents never expected him to follow in his grandfather's footsteps. The industry struggled in the early 2000s as a result of low production efficiency, high costs, weak market demand, a lack of product diversity and other difficulties. As a result, many young people flocked to big cities for jobs rather than taking up tapestry at home.
After graduating in architectural design from Tibet University in 2014, Tanzin Chinleh accepted a job offer as a civil servant in the Gyangze local government. However, the young man couldn't resist returning to his passion. "Tibetan tapestry is a good representative of the unique Tibetan culture. My heart hurt when seeing fewer and fewer young people were willing to inherit the traditional craft," Tanzin Chinleh said. So, later that year, he quit his stable, well-paid job after just three months and started a cooperative to develop the craft in Gyangze's Niandui Town.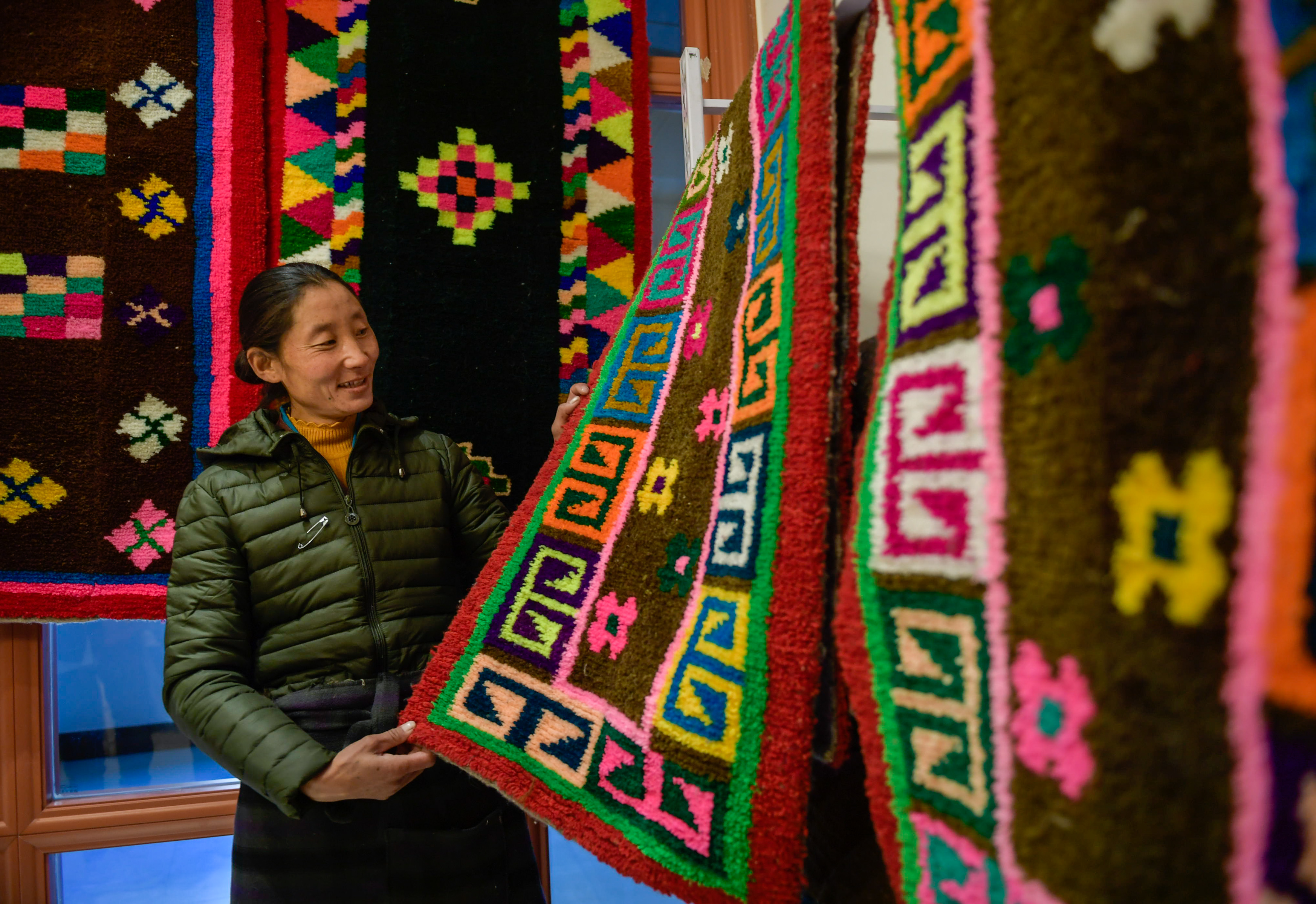 In addition to inviting Tibetan tapestry masters to teach members of his cooperative, he has also taken some innovative steps to reinvigorate the ancient craft. Combining tapestry with thangka—religious imagery of Tibetan Buddhism—and creating 3D patterns with computer-aided design technology are among his innovations.
The trials have not all been plain sailing. Every old tapestry master dismissed Tanzin Chinleh's ideas with a firm shake of their heads. In their eyes, producing handmade tapestries with 3D patterns sounded as unfeasible as hand carving on a steel board.
However, Tanzin Chinleh remained upbeat. He shared with the craftspeople the story of how Thomas Edison invented light bulb after numerous failures and convinced them to make concerted efforts to solve technical difficulties posed by his idea.
In 2016, after two years of trials, Tanzin Chinleh and his team managed to combine computer-aided design with traditional tapestry-making and create tapestries with 3D patterns. Using this method, members of his cooperatives can hand-weave tapestries according to photos or patterns provided by clients, making tailored Tibetan tapestries. Tanzin Chinleh has obtained a patent for the innovation.
In addition, the young man's combination of Tibetan tapestry with thangkas created a new product called tapestry thangkas, which won the International New Product Trend Award at the 2017 China (Qinghai) International Carpet Exhibition.
Thanks to these innovations, the cooperative's products sells like hotcakes both online and offline. The small cooperative has grown into a company with two Tibetan tapestry brands. In 2022, the gross revenue of the company amounted to 6.5 million yuan ($944,613), more than five times of that in 2016, creating 65 jobs for local residents, eight times the number in 2014.
"During the pandemic, many local people preferred to work close to their hometowns," Tanzin Chinleh said. Also, with the surging market demand for Tibetan tapestry in recent years, more people—especially millennials—are now willing to learn the traditional craft.
Penba Ngodru is one of them. The 26-year-old joined the company in early 2018. "I was a builder who used to mix sand and cement in construction sites. I knew nothing about tapestry making," he said. After a year of training, Penba Ngodru has mastered the technique and earns 4,700 yuan ($680) per month. "I am glad to have such a job at my doorstep," he said.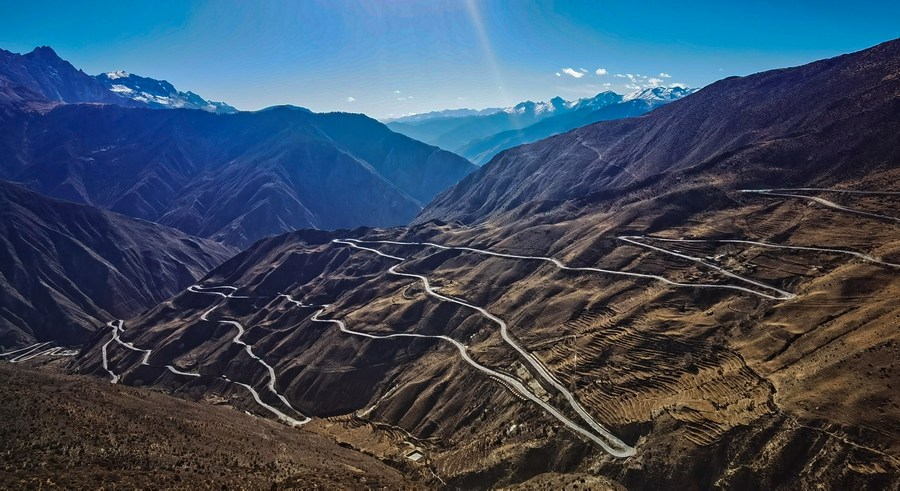 Booming foreign trade
Though Tanzin Chinleh's company has continued growing over the past decade, he's not resting on his laurels. He has bigger dreams. "I hope that new techniques and new designs can rejuvenate the traditional Tibetan tapestry-weaving craft, enabling Tibetan tapestry to go global," he told Beijing Review.
By the end of last year, the company's products had entered markets in Europe, America and Japan by teaming up with other foreign trade operators.
The growth of Tanzin Chinleh's business is a microcosm of Tibet's economic development, especially of the region's foreign trade boom in recent years. According to Lhasa Customs, the total value of foreign trade in the region reached 4.6 billion yuan ($670 million) last year, an increase of 14.6 percent year on year, 6.9 percentage points higher than the national average growth rate.
The region's exports reached 4.3 billion yuan ($620 million) last year, surging 91.4 percent year on year; and its growth rate ranked second in China. Mechanical and electrical products such as domestically made cars, textile goods including Tibetan tapestry, as well as farm produce are among the most commonly exported goods.
Private enterprises played a significant role in the region's foreign trade last year, with the total import and export value reaching over 4.49 billion yuan ($650 million)—more than 97 percent of the region's total foreign trade.
Also, the Belt and Road Initiative and the Regional Comprehensive Economic Partnership (RCEP) have brought huge trade opportunities to Tibet. Last year, the region's foreign trade with countries along the Belt and Road routes reached 2.38 million yuan ($340,000), more than half of its foreign trade volume.
Worth mentioning is that, since the RCEP came into force on January 1, 2022, Tibet's foreign trade with RCEP member countries has surged to 650 million yuan ($94 million), up 5.2 times year on year.
In 2022, the region conducted foreign trade with 95 countries and regions, with Nepal being its biggest trading partner, and the bilateral trade volume exceeding 1.56 billion yuan ($230 million). Indonesia has become a major trading partner of the region.
The region is taking more measures to boost trade. To facilitate the clearance efficiency, Lhasa Customs upgraded five of its trade facilities last year.