Ties Mend Between the World's Two Largest Economies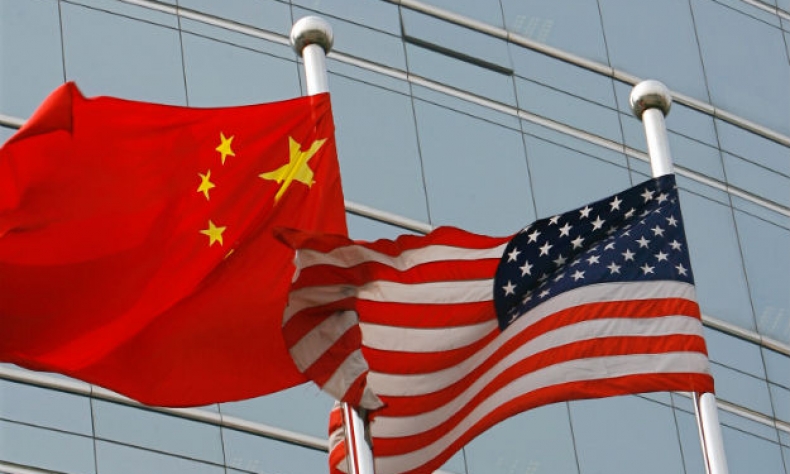 As two major countries in the world, whether China and the U.S. can find a right path of state-to-state interaction bears on world peace and development, and the future of humanity.
China-U.S. relations have shown some new positive signs of stabilization. From October 26 to 28, Wang Yi, member of the Political Bureau of the Communist Party of China (CPC) Central Committee and Foreign Minister, visited the U.S. and was received by President Joe Biden. During the visit, Wang held two rounds of talks with U.S. Secretary of State Antony Blinken, met with U.S. National Security Advisor Jake Sullivan and conversed with representatives of the American strategic and business communities. This was the first visit by a senior Chinese official to the U.S. this year and the second official visit by a Chinese foreign minister after more than seven years since February 2016.
Other China-U.S. interactions also took place in October: On October 24-25, the Economic Working Group and the Financial Working Group between China and the United States, both established in September, held their first online meetings, respectively; on October 29, U.S. military officials attended the 10th Beijing Xiangshan Forum, China's most important annual international security and defense dialogue platform; and California Governor Gavin Newsom visited China from October 23 to 29. Earlier this year, senior U.S. officials, including Blinken, Treasury Secretary Janet Yellen, Special Presidential Envoy for Climate Change John Kerry, and Commerce Secretary Gina Raimondo, as well as Senate Majority Leader Chuck Schumer, had already visited Beijing to engage in dialogue with China.
"After a long period of fractured bilateral relations, it's always good to see high-level exchanges of government officials," Rick Dunham, Co-Director of the Global Business Journalism program at Tsinghua University in Beijing and former White House correspondent for Bloomberg Businessweek, told Beijing Review. "That having been said, any communication is better than none. And photo opportunities are better than no meetings at all. Over time, small steps sometimes lead to increased trust, which eventually can yield major progress."
From Bali to San Francisco
The main purpose of Wang's visit to the U.S., the minister stated, was to communicate with the U.S. to earnestly return to what was agreed upon by Chinese President Xi Jinping and President Biden in their recent meeting.
Back on November 14, 2022, Xi and Biden had a candid and in-depth exchange of views on issues of strategic importance in the China-America relationship as well as major global and regional issues in Bali, Indonesia, prior to the opening of the Group of 20 Bali Summit.
This was the first offline meeting between the two heads of state since the outbreak of the COVID-19 pandemic, and a key event in getting the two countries' relationship back on track after Nancy Pelosi, then Speaker of the U.S. House of Representatives, made a provocative trip to China's Taiwan region in August of that same year—despite China's strong opposition. Pelosi's action seriously violated the U.S. political commitment to the one-China principle and saw bilateral relations plunge to a new low.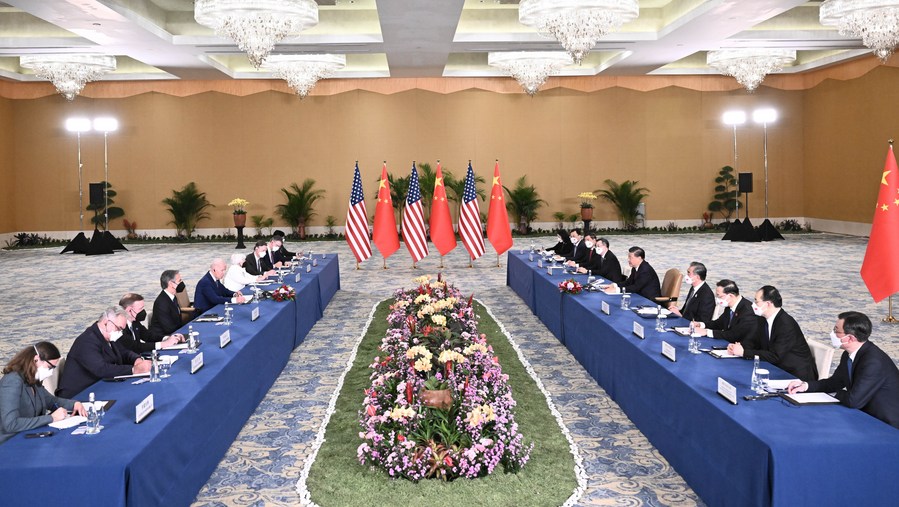 Xi called on both sides to respect one another, coexist in peace, pursue win-win cooperation and work together to ensure that bilateral relations move forward on the right track without losing direction or speed, or colliding.
Biden reiterated the five American "do-nots" in the bilateral relationship, i.e., do not seek a new Cold War; do not seek to change China's system; do not revitalize its alliances against China; do not support "Taiwan independence;" and do not seek conflict with China.
However, China-U.S. relations did not bottom out after the Xi-Biden Bali meeting due to Washington's provocations on issues related to Taiwan and the South China Sea, as well as its intensified efforts to decouple economically and technologically.
As the world's two largest economies strive to prevent competition from turning into conflict, the status quo is clearly not ideal. "In addition to the recent intensive visits to China by senior officials, the U.S. has publicly stated at least twice that it does not support 'Taiwan independence' and is willing to seek cooperation with China," said Yuan Zheng, Deputy Director of the Institute of American Studies at the Chinese Academy of Social Sciences, in an interview with China Report, a monthly news magazine affiliated with China International Communications Group.
"The statements and high-level exchanges suggest the Biden administration has a willingness to stabilize China-U.S. relations, and Wang's visit to the U.S. is also a positive signal to some extent," Yuan added.
During his meeting with Blinken on October 26, Wang pointed out that China has always believed that the common interests of China and the U.S. outweigh their differences and disputes, that their respective success is an opportunity rather than a challenge to each other, and that the way for major countries to get along is through dialogue and cooperation rather than a zero-sum game.
In his talks with U.S. strategists in Washington, D.C., on October 28, Wang said that despite various differences and disputes between China and the U.S., with many issues yet to be resolved, both sides believe it is beneficial and necessary for China and the U.S. to maintain a dialogue as two major countries, and both sides hope to stabilize and improve China-U.S. relations as soon as possible. Both sides agreed to work together toward a San Francisco summit between the two heads of state.
As for the possibility of a meeting between the heads of state of the two countries on the sidelines of the upcoming Asia-Pacific Economic Cooperation (APEC) Economic Leaders' Meeting in San Francisco in mid-November, Wang stressed that the road to San Francisco is not smooth and cannot be traveled "on autopilot."
"To this end, the two sides should earnestly return to what was agreed at the Bali summit, truly implement the common understandings of the two heads of state, eliminate interference, overcome obstacles, strengthen consensus and accumulate results," he added.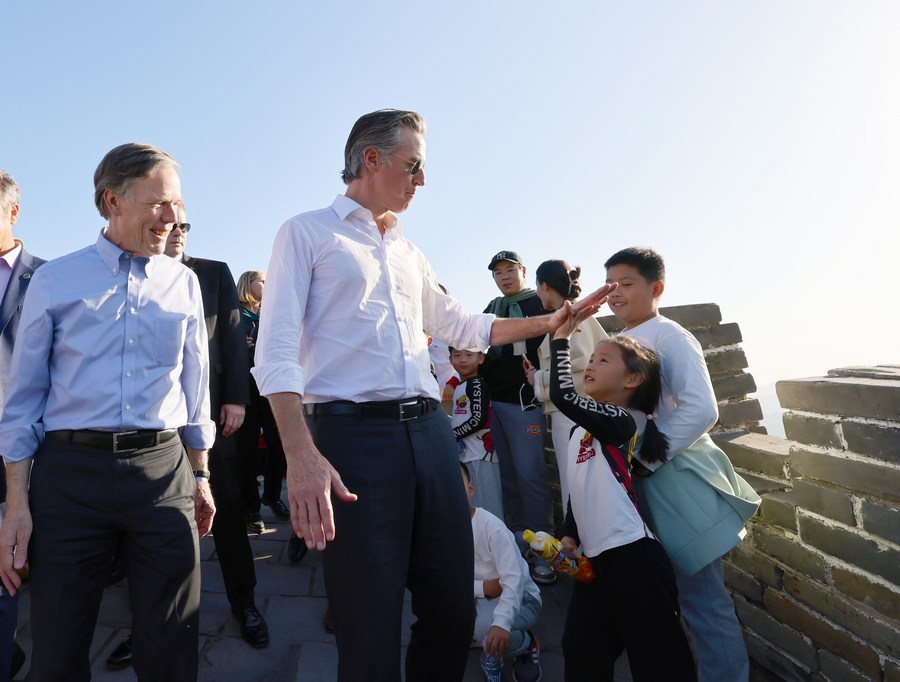 On the other side of the Pacific Ocean, Governor Newsom's high-profile visit attracted international attention. Xi met with Newsom on October 25 and expressed his hopes for Newsom's visit to enhance mutual understanding and play a positive role in expanding cooperation between China and California and promoting the sound and steady development of China-U.S. relations.
"Newsom, while he does not speak for the Biden administration, is one of the most prominent governors in the United States, one of the most popular Democratic leaders and an almost-certain presidential candidate. He is an acknowledged leader on technology and climate issues—both important topics in the bilateral relationship. For the Chinese leadership, it's a good opportunity to size up a possible future president of the United States," Dunham said.
Just talking to talk
Although China and the U.S. have become much more interactive, new rifts have emerged.
On October 17, the Biden administration updated export control regulations for artificial intelligence chips. The main goal was to limit China's development of related technologies.
In terms of economy and trade, the list of sanctions imposed on Chinese entities is still increasing.
More worryingly, Arkansas Governor Sarah Huckabee Sanders announced on October 17 that the state would require China National Chemical Co. (ChemChina) to divest its land holdings for Northrop King Seed Co. in Craighead County, despite the company's argument that China never directed its actions. Northrop King is a subsidiary of Switzerland-based Syngenta Seeds LLC, a global leader in agricultural technology acquired by ChemChina in 2016.
The sanctions against Syngenta set a bad precedent, as Arkansas becomes the first state in the U.S. to expel a Chinese company, and if such violations of market rules are followed by other states, the Biden administration's promise to "not seek to decouple from China" will obviously be empty talk.
Additionally, on October 26, the U.S. Indo-Pacific Command released a video of a J-11 fighter jet of the Chinese People's Liberation Army Air Force intercepting a U.S. Air Force B-52 bomber over the South China Sea, and accused the Chinese pilot of flying in an "unsafe and unprofessional manner."
In response, Mao Ning, spokesperson for the Chinese Foreign Ministry, said at an October 27 press briefing that "the U.S. sent military aircraft halfway around the world to flex its muscle at China's doorstep. This is the root cause of maritime and air security risks."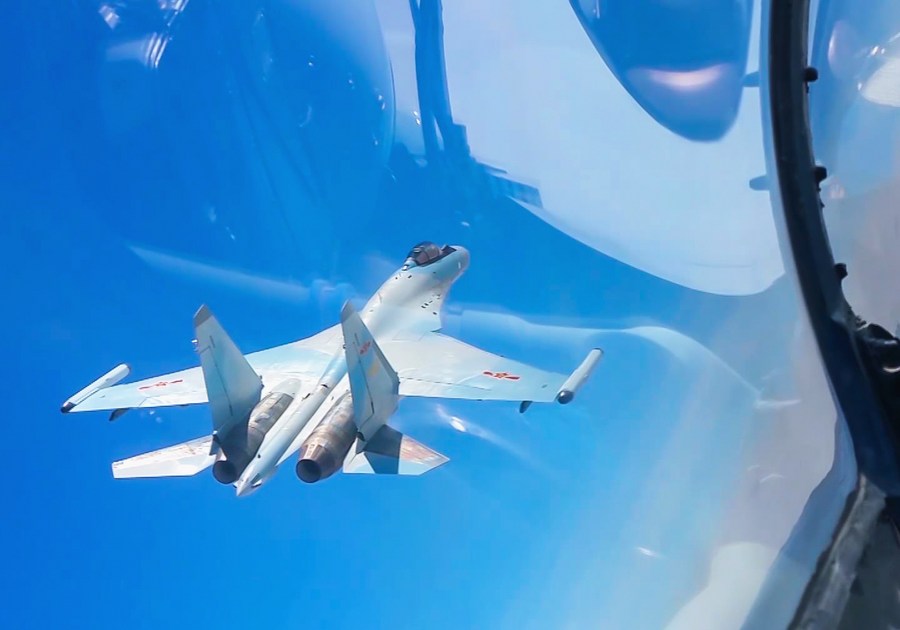 "No sovereign state would condone another country's bombers threatening its national security," Chinese military expert Song Zhongping was quoted as saying by Chinese newspaper Global Times. "China's interception of the U.S. strategic bomber was in full accordance with international law."
"This is a typical American diplomatic style. Whenever there is an important diplomatic activity between China and the U.S., the American side will take some kind of action to show their strength to China," Professor Wu Xinbo, Dean of the Institute of International Studies at Fudan University and Director of the university's Center for American Studies, who attended this year's Xiangshan Forum, said in an interview with Chinese news portal Guancha.
He added that through these aggressive actions, the U.S. wants to gain "a psychological and public opinion advantage, and then use this advantage to force China to make concessions at the negotiating table and put China at a disadvantage."
"For the U.S., whether to make concessions or to flex its muscle depends on the size of its strategic interests," Xiao Junyong, Deputy Director of the Center for Science, Technology and Human Rights at the Beijing Institute of Technology who has long been concerned about China-America relations, told Beijing Review.
Reconstructing mutual trust
"A deep sense of distrust remains on both sides," Dunham said. "I take the Biden administration at its word: I think the United States is seeking a 'floor' for the relationship and regular lines of communication so that an accident or incident will not plunge the two nations—and the world—into a military and economic crisis."
Many Chinese scholars are also cautious about whether China and the U.S. can establish a truly win-win cooperative relationship. Although China-U.S. relations are experiencing a relatively relaxed atmosphere at the government level, can this type of rapport be sustained in the context of the rise of American populism and the elite groups' Cold War mentality?
"In next year's U.S. presidential election, if candidates fail to change their campaign strategy of stigmatizing China and the CPC, and continue to regard China's development as a geopolitical threat, it will be difficult for China-America relations to move forward," Jia Wenshan, a professor at the School of Communication under Chapman University in the U.S. and a distinguished professor at Shandong University, told Beijing Review.
He explained how the common challenges facing China and the U.S. outweigh their differences and called on American political elites to fully realize the key role of maintaining China-U.S. relations for the wellbeing of the two peoples and the world at large.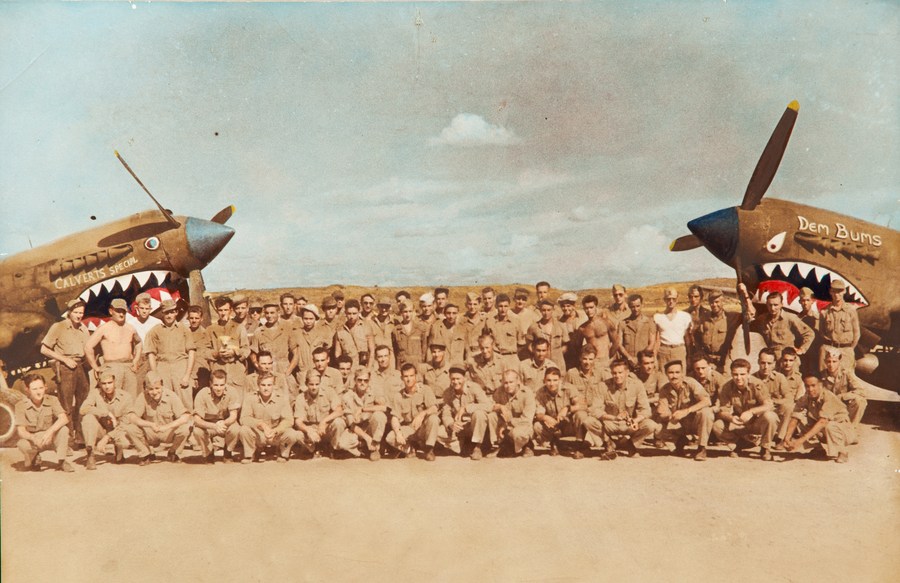 "More than 80 years ago, China and the U.S. fought side by side against fascism, and the history of the Flying Tigers bears the deep friendship forged with the lives and blood of both peoples," Chinese Vice President Han Zheng said during a meeting with a delegation of Flying Tigers veterans and descendants in Beijing on October 30. The Flying Tigers, officially known as the American Volunteer Group of the Chinese Air Force, were formed in 1941 and led by U.S. General Claire Lee Chennault to help China drive out invading Japanese troops.
"Many major challenges in today's world still need to be tackled jointly by China and the United States," Han added.
Former U.S. Secretary of State Dr. Henry Kissinger on October 24, after being honored at the annual Gala Dinner of the National Committee on U.S.-China Relations (NCUSCR) in New York City, delivered a 10-minute speech. "A peaceful relationship, a cooperative relationship between the U.S. and China is essential for peace [in] and progress of the world," Kissinger said, adding he remains convinced that China-America relations depend on "an understanding that the two countries have a unique ability to bring peace and progress to the world, and they also have a unique ability to destroy the world if they're not together."
He further expressed his unwavering belief that the world's two largest economies will find ways to straighten the strained relationship. "I believe now, as I believed 50 years ago, that we can find our way through these difficulties."
Xi wrote in his congratulatory message to the annual NCUSCR event that as two major countries in the world, whether China and the U.S. can find a right path of state-to-state interaction bears on world peace and development, and the future of humanity.
"Based on the three principles of mutual respect, peaceful coexistence and win-win cooperation, China is willing to work with the U.S. side to advance mutually beneficial cooperation, properly manage differences, and make joint efforts to tackle global challenges, contribute to each other's progress, and push for common prosperity so as to deliver benefits to both countries and the world at large," Xi said.