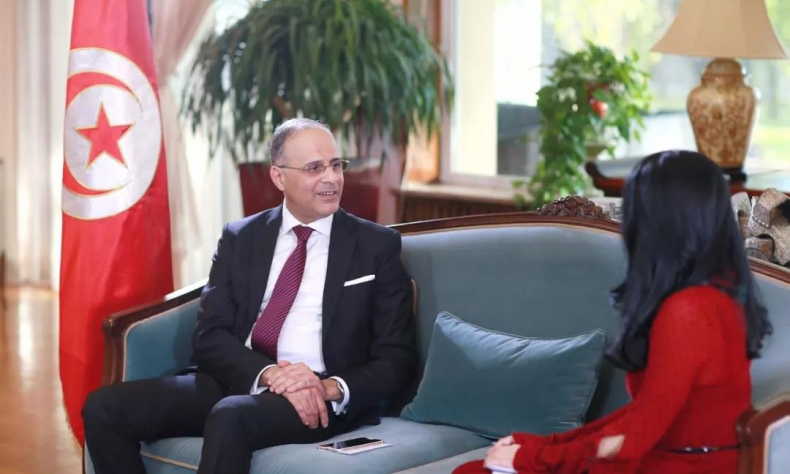 【BRI Ambassador Interview】Tunisian Ambassador to China: Tunisia Expects to Play More Active Role in Belt and Road
"The Chinese government is now encouraging Chinese enterprises to go global and invest abroad. The two countries have great space for cooperation in the EU market, African and Arab markets, and other areas."
The second Belt and Road Forum for International Cooperation in Beijing on April 25-27 marks the most important diplomatic event of the year to be hosted on Chinese soil. Over the course of the last six years, 123 countries and 29 international groups have signed cooperation documents on jointly building the Belt and Road Initiative. But what has the Belt and Road brought to the countries along the route? In cooperation with DRTT (Development Research Think Tank of China) and China Development Observation, China Focus has launched a series of in-depth columns with the title of "Belt and Road Ambassador Interviews" in an effort to explore the thoughts of the ambassadors of Belt and Road countries, as well as leaders of various international organizations or their representatives in China. In this article, we publish an exclusive interview with Dhia Khaled, the Tunisian Ambassador to China.
Tunisia Could Serve as a Reliable Partner for China
Sun Chao: Could you brief us on the current trade situation between the two nations?
Dhia Khaled: I think that Tunisia could serve as a reliable partner for China. Tunisia signed a free trade agreement with the European Union in 1995 and jointly established a free trade zone in 2008. With its unique geographic advantages, Tunisia could provide companies with great opportunities to enter the EU market. We are doing our best to make Chinese investors more familiar with Tunisia.
For example, there are several fields that are very attractive to Chinese investors, including communication technology, manufacturing, textiles, agricultural products processing, services, tourism, infrastructure and renewable energy. The Chinese government is now encouraging Chinese enterprises to go global and invest abroad. The two countries have great space for cooperation in the EU market, African and Arab markets, and other areas.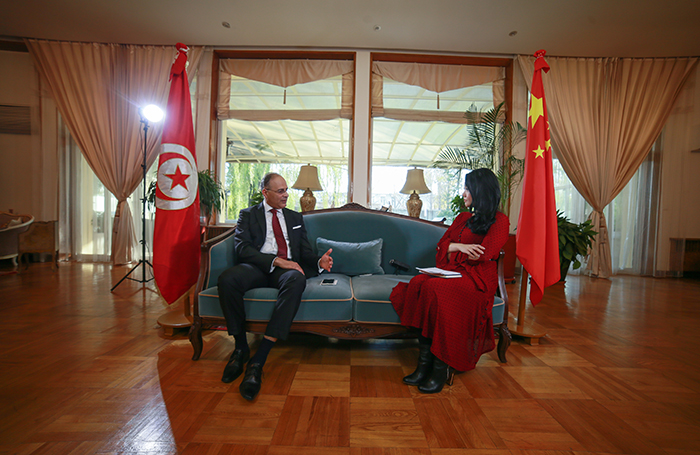 Tunisia Expects to Play More Active Role in Belt and Road
Sun Chao: The Belt and Road Initiative was first proposed by Chinese President Xi Jinping in 2013. I'd like to know more about your understanding on the initiative.
Dhia Khaled: It is a very important Initiative. As a matter of fact, Tunisia was among the first group of countries to support it. In July 2017, the Tunisian Minister of Foreign Affairs made an official visit to China and met with his counterpart Mr. Wang Yi and Mr. Li Yuanchao, who was Vice President of China at the time. On this occasion, he renewed support for the initiative, as well as our willingness to contribute to its success. We have already begun participating in some concrete projects, including the "Digital Belt and Road" program, which was launched recently by the Chinese Academy of Sciences. Hopefully, we will have even more opportunities to join in other programs and projects in the future.
Furthermore, on the occasion of the ministerial conference of the Belt and Road, held in Beijing in May 2017, we signed an agreement on the establishment of cultural centers in both countries.
The Belt and Road Initiative is a relatively new, but promising project. It extends across many fields, including infrastructure, science and technology, culture, trade, tourism, non-governmental exchanges and finance. Under this framework, Tunisia and China have many opportunities for cooperation.
In the beginning of 2018, Tunisia held its national conference and seek a greater number of precious opportunities for bilateral cooperation under the framework of the Belt and Road Initiative.
To conclude, it's a very important Initiative. Tunisia expects to play a more active role, especially in an effort to achieve mutual benefit.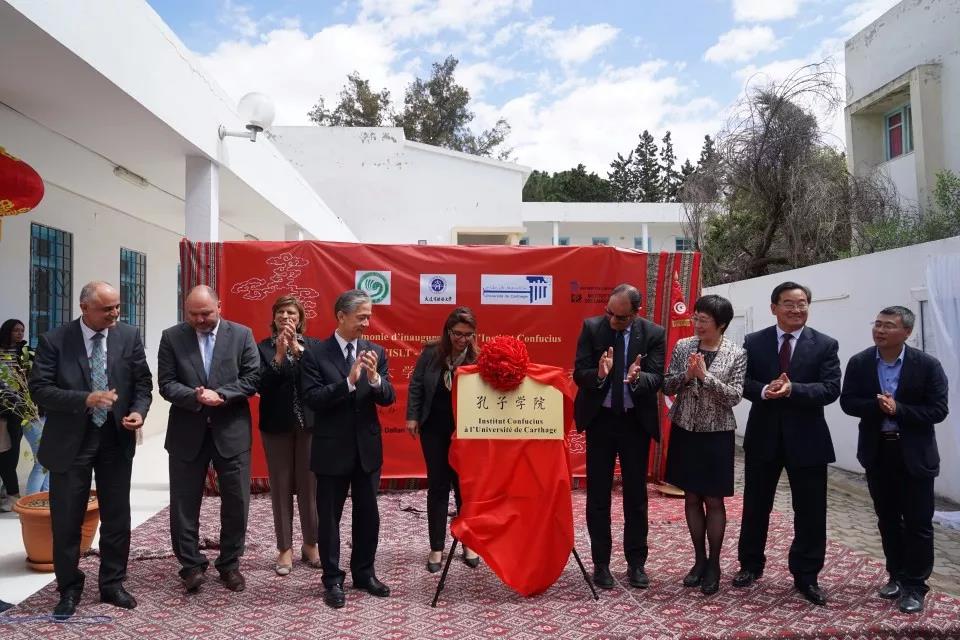 Increasing Chinese Tourists to Tunisia
Sun Chao: How do you view the two countries' potential cooperation opportunities in tourism?
Dhia Khaled: Last November, I met with the leadership of China Southern Airlines, along with the Director General of the Tunisian National Tourism Office, to discuss the proposal of establishing a direct air connection between our two countries. In fact, since February 2017, Tunisia has been a visa-free destination for Chinese tourists, and since the policy was first enacted, the number of Chinese tourists has increased by about 300% compared to 2016. With a direct flight connection, we could do more in terms of tourism, trade, investment and people-to-people contact.
Only when you travel abroad can you get a real opportunity to learn about local culture and civilization. As you keep mentioning, one of the major principles of the Belt and Road Initiative is strengthening contact between countries, especially between their peoples. I think tourism can help us achieve this goal. We are also encouraging Tunisians to visit China.
We are confident that Tunisia will become a prime destination for Chinese tourists within the next two or three years. Tunisia is already one of the most favored tourist destinations in the Mediterranean region and we would like to see more Chinese tourists traveling here.
Sun Chao is a member of the editorial board at China Development Observation, Vice President of DRTT(Development Research Think Tank of China) and author of New Order: Ambassadors' Views on the Belt and Road Initiative.