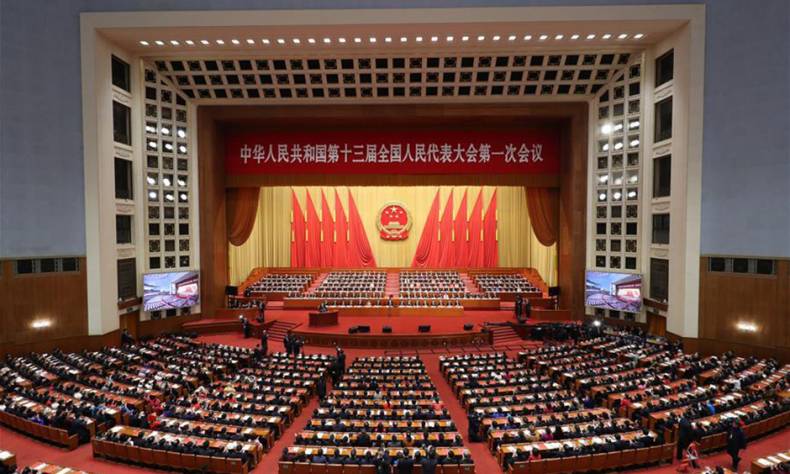 "Two Sessions" Riveting Global Attention
The world is currently watching decisions being made at the "Two Sessions" in Beijing in the hope they will strengthen China's determination and capacity to also be a global leader , especially regarding trade.
By Jean-Guy Carrier
In October 2017, the world heard President Xi Jinping tell deputies at the 19th National Congress of the Communist Party of China (CPC) in Beijing: "It will be an era that sees China moving closer to the world center stage and making greater contributions to mankind." China, he said, was "standing tall and firm in the East."
After the 19th CPC National Congress, there had been an expectation that many of the measures advanced at that time would now become official policy and law in China. The world is currently watching decisions being made at the "Two Sessions" in Beijing in the hope they will strengthen China's determination and capacity to also be a global leader , especially regarding trade. The important measures in that respect are those that affirm China's international leadership to support multilateral institutions, global trade, globalization, and respect for international agreements such as the Paris Agreement on climate change.
President Xi has clearly stated his aspiration for China together with the whole world to build an international community with "a shared future for mankind." This includes decisions that will ensure that "China continues to play its part as a major and responsible country, takes an active part in reforming and developing the global governance system, and keeps contributing Chinese wisdom and strength to global governance."
The current international climate of retreat from multilateralism, with reversions to nationalism and nativism throughout the industrialized world, is raising the importance of China as an essential leader in supporting a world order based on mutual respect and cooperation. This includes putting forward measures such as the Belt and Road Initiative and other policies decided at the
Two Sessions in Beijing, which will not only support but also improve the global system of governance.
The focus of world attention on decisions taken by the "Two Sessions" mainly covers the following aspects:
The Environment – As one of the world's biggest polluters and a signatory and global leader for the Paris Agreement on climate change, the world's attention is fixed on China and it's response to environmental challenges both domestic and abroad. The world will be watching for real measures and investments to reduce pollution of all kinds in China, which must lead by example.
Anti-corruption – This is a disease with worldwide consequences. Here again, China has to lead by example, not only to punish corrupt practices but to also prevent and deter corruption through regulations and the rule of law. The clear implementation of international anti-corruption codes and rules will prove that China is serious in its international leadership against corruption.
Opening up to foreign investment – China has pledged to open the telecom, health care, education, and new-energy vehicle sectors to foreign investment. It will also open up bankcard clearing businesses to foreign competition, remove caps on foreign stakes in banks, securities brokerage houses, and fund management firms. These measures are seen as proof that China is working to build a level playing field for global development.
The revisions to the Constitution, which support China's role in the world, are surely the focus of international attention. China has unique contributions to make based on its history, culture, and economic development. The world must learn how to live with China and benefit from what it has to offer. However, China must also develop a worldview that truly implements the win-win spirit not only on China's terms but also on terms negotiated with other cultures and countries.
Changes to the Constitution of China are ultimately an internal, political matter for the government and people of China. We should stop trying to give China lessons about governance, and accept decisions taken by China's institutions on behalf of the people of China.
The changes to the Constitution are part of the Communist Party of China's long-term plan. As such, they provide other countries with an assurance that the government is proceeding to implement its long-term plans in a manner that respects the rule of law. Ultimately, it will be for the people of China to decide if the government's plans are appropriate and if they are in the best long-term interest of China.
There is a special significance for the international community since Xi Jinping Thought on Socialism with Chinese Characteristics for a New Era is enshrined in the Constitution. Xi's thought links today's China with older Chinese traditions, including Confucianism. President Xi's references to Confucius and other ancient sages, whose teaching are known and respected around the world, stress the continuity of the respect for law and order in China, and that the President and his party recognize that they are the custodians of a 5,000-year old civilization.
Decisions at the Two Sessions on the role and terms of the President and other leadership positions of the government of China are to be viewed from an international perspective that respects the rights of China's national sovereignty. It is a fundamental principle of international governance that the citizens of a country have the final word on such decisions and that their judgment is based on their approval or disapproval of the performance and plans put forward by the national leadership.
Source: China Today
Jean-Guy Carrier is the executive chairman of the Silk Road Chamber of International Commerce and a non-resident senior fellow of the Chongyang Institute for Financial Studies at Renmin University of China.
Opinion articles reflect the views of their authors, not necessarily those of China Focus