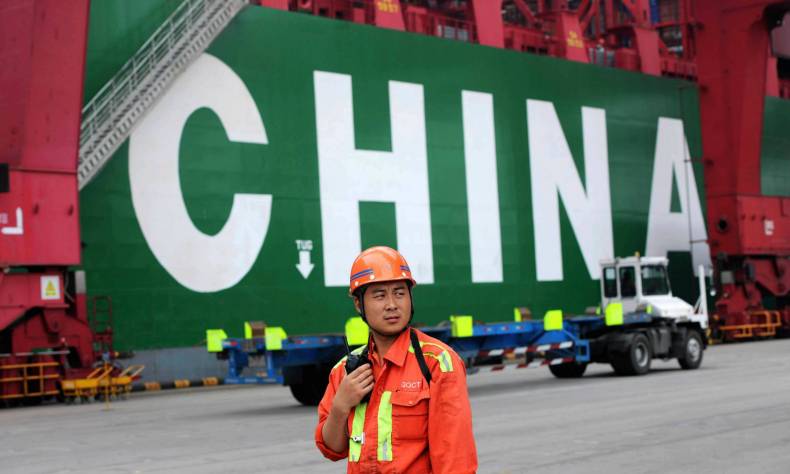 What Changes will Happen to China's Economy in the New Normal?
Since the global financial crisis and the economic crisis in 2008, China's economy has undergone a significant change. How we should perceive these new features and drive these new patterns of development are two vital questions that China now faces.
Since the global financial crisis and the economic crisis in 2008, China's economy has undergone a significant change. How we should perceive these new features and drive these new patterns of development are two vital questions that China now faces.
Since the 18th National Congress of the CPC, the central committee of the party and president Xi Jinping have introduced a series of new concepts, new ways of thinking, and new strategies, which have led China's economy onto a track of stable and healthy development, and laid a solid foundation for completing the process of building a moderately well-off society in all respects.
How should we view the situation?
— Judging China's economic New Normal
On the basis of a comprehensive analysis on the long cycle of the world economy and the periodic features of China's development, and their interactions, Xi presented the concept of "the New Normal of China's economy" and emphasized that in terms of China's future development, a mindset of grasping, adapting to, and guiding the New Normal should be applied.
Adapting to the new normal means that we should adapt ourselves to the changes in the economic development. At the Central Economic Work Conference of 2014, Xi elucidated 9 such trends in China's economy. These manifest that China's economy is entering a new stage which requires a proactive adaptation to the New Normal, and new concepts and strategies to propel economic development.
Grasping the new normal involves 4 basic changes: (a) a shift from high growth rates to medium-high growth rates; (b) a shift from a development model that emphasizes scale and speed to one that pursues quality and efficiency; (c) a structural transition from increment-and-capacity expansion to one with simultaneous stock adjustment and increment optimization; (d) transitioning from input-driven, such as resource and low-cost labor, to innovation-driven.
Guiding the new normal calls for changing the focus of economic work in accordance with "the ten factors that should be emphasized" promoted by the Central Committee of the CPC. Five of these are: propelling economic development, stabilizing economic growth, increasing urbanization, protecting the ecological environment, and securing and improving standards of living.
How to achieve this:
— five development concepts
Faced with the New Normal, many people still do not know how to deal with it.
In dealing with the New Normal, we should bring forth new concepts of development and apply them to guide our actions. The 18th CPC Central Committee accordingly introduced five concepts of development at its 5th plenary session, namely innovation-driven development, coordinated development, green development, development for global progress, and development for the benefit of all.
Innovation-driven development focuses on tackling the problem of drivers of development, which addresses the most critical change — the transition from an input-driven economy which relies on resources and low-cost labor, to one driven by innovation.
Coordinated development aims to address the current imbalances in development, and secure a harmonized development in various sectors and regions.
Green development highlights and preserves the importance of harmony between man and nature.
Development for global progress focuses on creating a new mechanism for interaction between China and the rest of the world.
Development for the benefit of all aims at promoting social equity and justice, which manifests the goal of the CPC – wholehearted service to the people.
These five concepts of development embody the thinking, direction and key points of China's development in the coming five years and beyond. They offer guidelines for tackling the problems we face in the New Normal.
The strategy of supply-side reform
Now that the present stage and the concepts of development are clear, what should we do next?
The Central Economic Work Conference of 2015 emphasized that promoting supply-side reform was a vital pathway that will help adapt to and guide the New Normal. It will enable China to adjust to the new competition in comprehensive national strength dating from the outbreak of the global financial crisis.
Supply-side reform is a key pathway on the basis of China's present development stage and the current major constraints in the economy, which, to a certain extent,  have been the results of periodic and aggregate factors, the root cause is the serious imbalance which appears as both structural surpluses and structural insufficiencies on the supply-side. Hence, it is essential to tackle these problems through supply-side structural reform, striving to improve the quality of supply and realize a new dynamic equilibrium between supply and demand.
New concepts, new ideas and new strategies to promote new economic development
Guided by a series of new concepts, ideas and strategies which aim to promote economic development, the ship of China's economy can continue to crest new waves – to maintain its growth speed within the goal of macro-control while achieving ground-breaking results in areas like structural optimization, driver transition, and better standards of living.
Even though China's economic growth rates have fallen from a high-speed rate of around 10% to a medium-high rate of around 7%, it still leads the world.
From 2013 to 2016, after the opening of the 18th National Congress of the CPC, China's average annual growth rate was 7.2%, which was significantly higher than the world average of 2.5% and the average rate of developing economies, which ran at 4.0% over the corresponding period.
The structural optimization of China's economy has completed its course in several areas and realized the improvements that we have been seeking for years.
New changes have begun to emerge in demand structure, and the driving force of consumption is increasing. In 2016 the contribution of consumption to economic growth reached 64.6% and became the main driver. Optimization of the industrial structure has entered a new stage. The share of tertiary industry in China's GDP surpassed secondary industry for the first time in 2013, and the added value of tertiary industry in GDP was 51.6% in 2016, which was 11.8% more than secondary industry.
The urban and rural structure improved, the gap between rural and urban incomes narrowed, and the relationship between urban and rural areas was better coordinated. The gap between rural and urban incomes fell from a multiple of 3.33 in 2009 to 2.72 in 2016.
The regional balance improved. The gap in per capita GDP between the eastern and central regions fell from a multiple of 1.77 in 2010 to 1.66 in 2015, and between the eastern and western regions from 2.19 in 2010 to 1.91 in 2015.
In transforming the main economic drivers, innovation is making a greater contribution to economic growth with every passing day. The contribution from advances in technology increased from 50.9% in 2010 to 55.3% in 2015. The industrial added value of high and new technology industries was 9.1% of the total of industries above designated size in 2011; by 2016 it had climbed to 12.4%.
The people's living standards steadily improved. Per capita personal disposable income in 2016 was 3598 USD (23,821 RMB), an increase of 1104 USD (7311 RMB) compared with 2012, with a real annual growth of 7.4% – which was higher than the growth rate of GDP. Employment figures continued to improve. Between 2013 and 2016 more than 13 million new jobs were created each year on average. The targeted approach to alleviating poverty also achieved notable results. The impoverished population in rural areas was 43.35 million in 2016, down by 55. 64 million in comparison with 2012, and representing an annual average fall of 14 million.
(Chen Qiqing, professor of Economics Department, Party School of the Central Committee of the CPC)