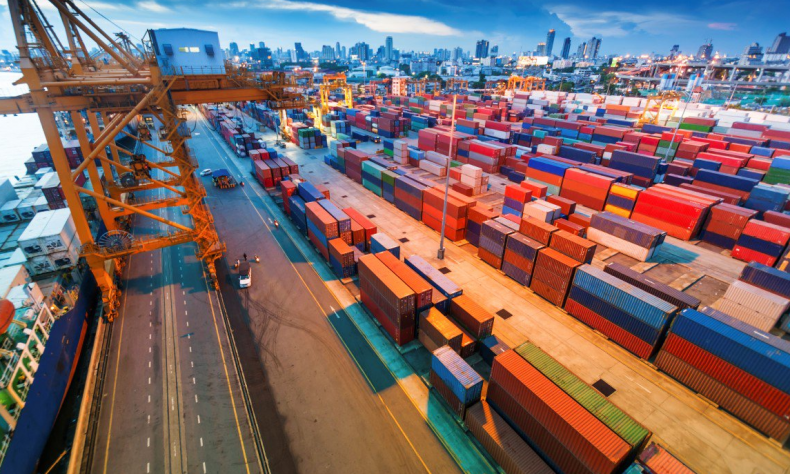 What will be the Global Impact of China's New Phase of Reform and Opening Up?
The 19th CPC National Congress calls for making new ground in putsueing opening up on all fronts. This grand course will significantly change the landscape of the global trade. 
By Liu Bin, Gu Cong
The 19th CPC National Congress calls for making new ground in putsueing opening up on all fronts. This grand course will significantly change the landscape of the global trade.
The trade between China and other countries, and the scale of China's opening up, have constantly increased since it joined the WTO. From products to finance and investment, China has opened up broader fields to the world in more diverse ways. The blossoming trade between China and its partners has created a new interwoven economic framework.
The report of the 19th National Congress of the CPC clearly pointed out that China will expand its foreign trade, develop new forms and models of trade, develop new ways of making outbound investment, promote international cooperation on industrial development, form globally-oriented networks of trade, investment, financing, production, and services, and build up our strength for international economic cooperation and competition.
This sends a message to the world that China will continue to open up to the world, welcome more foreign goods to China, and at the same time supply more Chinese goods into the international market to enrich the options available to consumers.
Trade:
With the increasing scale of opening up, a growing number of transnational companies have moved their manufacturing to China, making China "the World Factory" that carries out an enormous amount of the processing and production of the world's goods. China has become the world second largest economy, the largest exporting country, and the second largest importing country. While the global trade in goods is gaining momentum, trade of services keeps growing fast. In order to catch up with the development of service trade in developed countries, China is now expanding the scale of its service market opening.
Since it joined in 2013, China has opened up its services in fields including commerce, architecture, education and finance, in an effort to overcome the barriers and further promote its development in trade of services through the platform offered by the new Trade in Service Agreement (TISA). In trade of both goods and services, China will welcome trade partners with open doors. This attitude will certainly give a further boost to China's position and world trade.
Finance:
Aggressive reform has been carried out recently to promote the opening up of China's financial sector. On November 10, at a news briefing held by the State Council Information Office of China on the progress and achievements made at the China-U.S. heads meeting in Beijing, Zhu Guangyao, Vice-Minister of Finance, stated that China will raise to 51% the limit on the share of foreign ownership in financial services, including securities and fund management, for single or multiple foreign trade partners, and eliminate the limit after the said measure has been in place for 3 years. Also, China will lift the restriction on the shareholding ratio of foreign investment in Chinese-funded banks and asset management companies. Previously this was no more than 20% by any single foreign investor, and the total foreign investment should not exceed 25%; both Chinese and foreign investors will now be entitled to equal shares. The limit for foreign investment in personal insurance companies will be raised to 51% in three years, and investment will be completely open in 5 years. All these measures highlight China's desire to welcome more international investors into the Chinese financial service.
The insurance industry also continues a more general opening up. An official of the China Insurance Regulatory Commission recently confirmed that in total there are 57 foreign-funded insurance institutions in China, including companies specialized in personal insurance, property insurance, reinsurance, and asset mnagement. Their parent institutions come from 16 countries and regions.
Restrictions on foreign exchange are reducing too. The regulatory commission of foreign exchange is extending reform in the key area of capital account. Of 40 capital and finance accounts, 37 are convertible, basically convertible, or partially convertible in China, and the conversion rate has reached 92.5%.
The bank bond market is getting increasingly active – the number of overseas issuers and investors is increasing, and the range of investments is expanding. Reforms in stock market are underway too – Shanghai-Hong Kong Stock Connect and Shanghai-Shenzhen Stock Connect are operating steadily as two new models in stock trading. The systems of Qualified Foreign Institutional Investors and RMB Qualified Foreign Institutional Investors are maturing, and have attracted foreign investors to China's A-share market – Morgan Stanley Capital International (MSCI) announced in June this year that it will include A-share to MSCI index to gear China's A-share market and the capital market to the international market.
The reform of the RMB is also one of the catalysts promoting trade and investment. Through systems and measures including bilateral currency swap, direct currency transaction, RMB Qualified Foreign Institutional Investors, RMB clearing bank, and the Cross-border Interbank Payment System (CIPS), China has effectively lowered the risk posed by market exchange rates.
In addition, the RMB's accession to Special Drawing Rights and the Basket of Currencies is a milestone for the International Monetary Fund (IMF) and the global financial architecture. It is also a big stride forward for the internationalization of the RMB, indicating that China's economy has integrated with the global financial system.
Investment:
China's outward foreign direct investment has grown rapidly. In 2016 China's investment flow was the world's second largest for the second year in succession.
As two major countries attracting foreign investment, China and U.S. complement each other in foreign direct investment. U.S. relies on its strengths in areas such as high-end and new technology industries to attract investment, while China plays the role of "world factory". At the same time, the U.S. is a leading recipient of China's foreign direct investment. China's foreign direct investment has brought employment to its trade partners; meanwhile, the trade partners provide markets or other resources for China.
The negotiations on a Bilateral Investment Treaty between China and U.S. have significant influences and undercurrents.
On the one hand, the negotiation caters to the interests of both countries. As the two biggest markets in the world, the negotiation not only affects the prospects of the two countries, but will also have a significant impact on other countries. If the Bilateral Investment Treaty comes to fruition, then it will foster a more liberal and open environment for foreign direct investment worldwide, and will create a standard for other trade partners around the world.
On the other hand, the gap in economic development between China and the U.S. is rather large, and this is also where their interests diverge. However, China continues to open up more fields for foreign direct investment. It negotiates with the U.S. actively on this matter, and on other endeavors to promote reform in its economic systems, striving to maximize its opening up to foreign direct investment in the shortest possible time, so as to welcome in more foreign companies, and at the same time allow more Chinese companies to reach out to the world.
China achieved rapid growth after it integrated into the global economy, and it has also shouldered vital responsibility in global economic governance. When dealing with other countries, China always promotes win-win cooperation and benefit for all. Environmental factors including infrastructure construction are major constraints that deter the economic development of Asia. In order to enhance the exchange and cooperation with developing countries along the Belt and Road, Chinese companies have invested in and promoted infrastructure construction in these countries, broken the shackles of traditional restraints which include geographical factors, and created a stable external environment for improved economic exchange and cooperation between countries along the Belt and Road.
Against the backdrop of the rising trend of counter-globalization, China is an unswerving supporter and a powerful implementer of opening up. With Free Trade Zones as its pilot projects and the Belt and Road Initiative as the key driver, China is energetically pursuing its own development, and at the same time, making great contributions to globalization and world economic growth.
By Liu Bin, associate professor of China Institute for WTO Studies, University of International Business and Economics
Gu Cong, doctoral student of China Institute for WTO Studies, University of International Business and Economics 
Opinion articles reflect the views of their authors, not necessarily those of China Matters