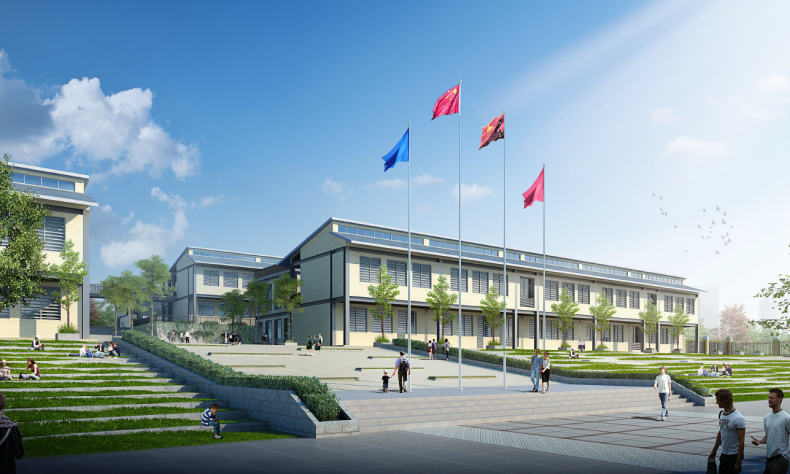 Why Australia Shows Concerns about the China-PNG Growing Relationship?
Papua New Guinea (PNG) and China established official diplomatic relations in 1976, which is reaching its peak in 2018, and likely to continue to grow.
By Shen Yujia
Papua New Guinea (PNG) and China established official diplomatic relations in 1976, which is reaching its peak in 2018, and likely to continue to grow.
On June 21, PNG Prime Minister Peter O'Neill visited China and the Belt and Road Initiative Memorandum of Understanding is signed. Subsequently, the PNG ambassador to China confirmed that the two countries will hold a meeting in the PNG capital, Port Moresby, before the Asia-Pacific Economic Cooperation Summit in November.
China and PNG have strengthened their cooperative stance and pushed forward the process of cooperation. But meanwhile, these cordial relations have attracted attention and concerns from neighboring Australia.

Δ Chinese President Xi Jinping (R) meets with Papua New Guinea's Prime Minister Peter O'Neill at the Diaoyutai State Guesthouse in Beijing, capital of China, June 21, 2018. (Xinhua)
The Signing of the Belt and Road MoU
The potential economic cooperation opportunities between the two nations give a boost to bilateral relations. The South Pacific region is rich in fishery, minerals, forestry and other natural resources. PNG, one of the most important regional players, has also been the most resourceful country in the region. The two countries have been trying to establish a strong political and economic relationship. During the visit by PNG's prime minister, China and PNG signed a Belt and Road Memorandum of Understanding (MoU). In fact, the two countries have been building economic cooperation for a long time. Before the MoU was signed, China had made almost $2.5 billion in direct investments in PNG. Chinese state-owned companies are building roads in the highlands as well as to Lae airport, and redeveloping Lae's port.
Economic Ties
PNG views the growing relationship with China as a way of integrating its economy with the global economy. In an interview with the PNG Post-Courier, O'Neill said, "The rest of the world is doing business with China and we cannot simply sit back and allow these opportunities to go by."
It is worth noting, however, that growing economic ties don't mean that China and PNG relations will grow without challenges. First, the two countries still lack mutual understanding around cultural and social aspects. It has been mostly business people from the southern part of China, especially Guangdong and Fujian provinces that have made connections with PNG. Academic and people-to-people connections have not been as strong.

Δ Papua New Guinea's Prime Minister Peter O'Neill (R) talks with a patient in Chinese naval hospital ship Ark Peace at Port Moresby, Papua New Guinea, on July 14, 2018. Papua New Guinea's Prime Minister Peter O'Neill visited Chinese naval hospital ship Ark Peace on Saturday evening, highly commending the vessel's humanitarian mission to his country and its role in enhancing bilateral friendship and partnership. (Xinhua)
Strong Reaction from Australia
The growing presence of China in the region has generated strong reaction from Australia and the United States. With the increasing presence of China in PNG, Australia is viewing it as threat, which has made it react accordingly.
Since 2015, the Australian government has continued to show its concern about China's presence in the region. On March 15, 2015, the Australia Department of Defense issued a report about China's increasing influence in the South Pacific region. The Australia-U.S. Ministerial Consultations put countering China's "pernicious meddling" in Pacific Island countries on its agenda at this year's meeting on July 23-24.
One of the criticisms launched by Australia and the United States is the rising debt that PNG is accumulating from increased loans from China. The two countries have shown their concern over the rising debt owed to China by the region. Australian Foreign Minister Julie Bishop told Fairfax Media that her country was concerned Pacific Island nations may be entering financial arrangements with China that would be "detrimental to their long-term sovereignty" and wanted to make sure they were "not trapped into unsustainable debt outcomes." However, these comments could be perceived as paternalistic; to some extent, Australia still perceives itself as playing the solely guiding and leading role in the region.
China's aid to South Pacific countries differ from the Organization for Economic Cooperation and Development(OECD) countries. OECD donors tend to focus aid on projects promotes certain agenda such as human rights, civil governance. However, China's aid funds infrastructure projects and public facilities, such as roads, bridges, hospitals, sports stadiums and government buildings. It is, therefore, preferred by the Islands countries such as PNG.
China and PNG relations have a solid foundation to continue to grow and bear fruit. But this ongoing expanding relationship is being closely watched by a jealous neighbor.
Dr. Shen Yujia, research fellow at National Centre for Oceania Studies, School of International Relations, Sun Yat-Sen University
Editor: Cai Hairuo
Intern Editor: Yu Pei
Opinion articles reflect the views of their authors, not necessarily those of China Focus