Why Does China's Diplomacy Work in Saudi-Iran Rapprochement?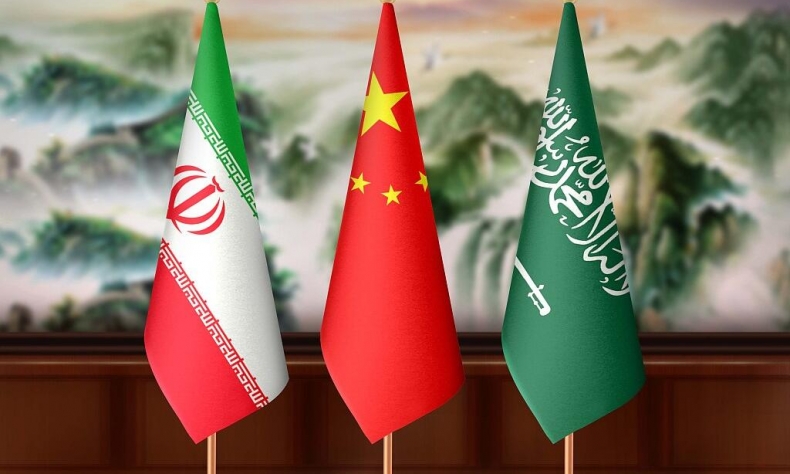 It is China's diplomatic goodwill that finally brought the two Gulf powerhouses together to ink the peace agreement that will lead to security and political stability to the Middle East and beyond.
The announcement of the Saudi-Iranian agreement to restore diplomatic relations took the world by surprise. The two long-time rivals in the Middle East agreed to resume diplomatic relations and reopen embassies and missions within two months in respective countries after a series of talks brokered in Beijing on March 10 with the signing of a "Joint Trilateral Statement" by China, Iran and Saudi Arabia.
The five days of reconciliation talks under the auspices of Chinese President Xi Jinping from March 6 to 10 thawed seven years of frosty diplomatic relations between Saudi Arabia and Iran, which declared their "decisive will" to strengthen regional and international peace and security. And as important, the two countries agreed to renew a security pact signed 22 years ago to cooperate on terrorism, drug smuggling, money laundering, and revive another trade and technology deal signed in 1998.
Needless to say, China facilitated the deal between two powerful neighbors, burying their years of rivalry and tensions and joining together in a spirit of collaboration for a shared future to start a new phase in their relationship which could have a major impact on politics in the Middle East and beyond.
On the diplomatic front, the new China-Saudi-Iran convergence is the latest sign of China's growing presence in world affairs amid waning U.S. influence in the Middle East due to its focus on Ukraine and the Indo-Pacific region.
The whole world saw with amazement that Saudi Arabia, a key U.S. ally and trading partner in the Arab region, has accelerated its strategic tilt toward China amid a deepening rift between Washington and Riyadh. Many western analysts believe that through the Iran-Saudi deal, China has come to play a leading role in Middle East stability. They believe that America's interests will be severely undermined through China's strengthening relations with the Arab world as stated in an editorial published in the New York Times on March 11, "The agreement negotiated in Beijing to restore relations between Saudi Arabia and Iran signaled at least a temporary reordering of the usual alliances and rivalries, with Washington left on the sidelines." However, China never seeks its own gains or sphere of influence in the Middle East, but only hopes for peace and stability in the region.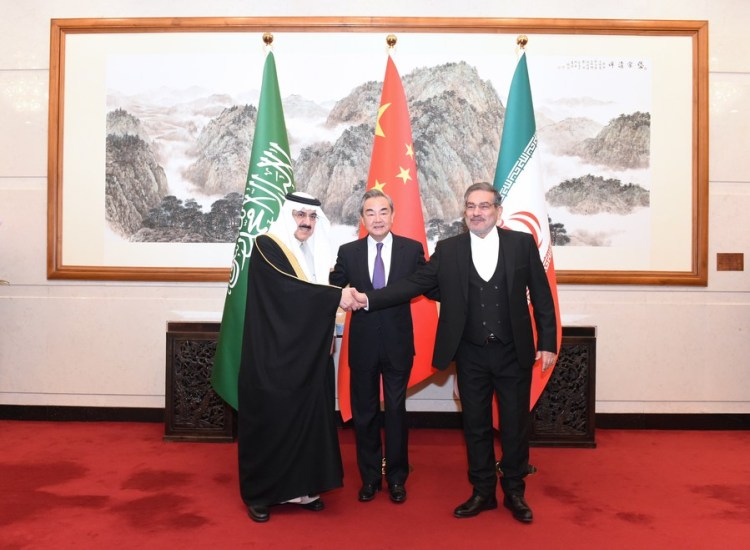 Many countries have warmly hailed the normalization of diplomatic relations between Saudi Arabia and Iran and thanked China for hosting and supporting the talks. Saudi Minister of State and National Security Adviser Musaed bin Mohammed Al-Aiban lauded the role China had played in the rapprochement, "The Kingdom's leadership welcomes the initiative of His Excellency President Xi Jinping."
China's senior diplomat and director of the Office of the Foreign Affairs Commission of the CPC Central Committee, Wang Yi, called the agreement a victory for peace: "I think this is a victory for dialogue, a victory for peace, offering significant good news for today's turbulent world."
Iran-Saudi-China accord: A bold step forward
Iran and Saudi Arabia are the two most influential countries in the Middle East, and there are long-standing political, religious and economic conflicts between them. Prolonged rivalry has raised tensions in regional politics in the Middle East and the Gulf region. Analysts warn that if the world community fails to resolve diplomatic tensions between Saudi Arabia and Iran, their differences will aggravate conflicts in the Middle East. After years of animosity on different sides of geo-political rivalries, the two key regional powers began direct talks in 2021 through mediation by Iraq and Oman to try to contain tensions and restore relations. Two years of backroom talks that began on April 10, 2021 in Baghdad saw its final fruition in the resumption of diplomatic relations in Beijing on March 10.
Both Saudi Arabia and Iran extended their appreciation to the Chinese government for hosting, supporting and contributing to the reconciliation talks as well as Oman and Iraq for the initial five rounds of negotiations. The "negotiations between Mr. Xi Jinping, President of China and our President, paved the way for new and very serious negotiation between Iran and Saudi delegations," Iran's Supreme National Security Council secretary Ali Shamkhani said in an exclusive interview with Nournews of Iran on March 11.
Needless to say, the China-facilitated Beijing deal has brought the fragrance of warm relationship between Saudi Arabia and Iran while setting "an example of settling divergences and differences among countries via dialogue and consultation," as in the words of Wang Yi.
U.S. hegemony exacerbates enmity in the Middle East
It is as clear as daylight that the U.S. administration has been exploiting the decades-old feud between Saudi Arabia and Iran to turn the entire Middle East into a costly gamble for its own geopolitical interests. Israel, the United States' closest strategic partner in the Middle East, is also supporting Saudi Arabia in confronting Iran. The U.S.-led western countries have been using Saudi Arabia as a bulwark against Iran in the Gulf region with Tehran long being accused of providing military aid to the Houthis, also known as Ansar Allah in Yemen. However, the new-found Saudi-Iran détente destabilizes the U.S.-sponsored Abraham Accords which is aimed to coax Saudi Arabia and other Gulf nations to engage with Israel to further isolate Iran.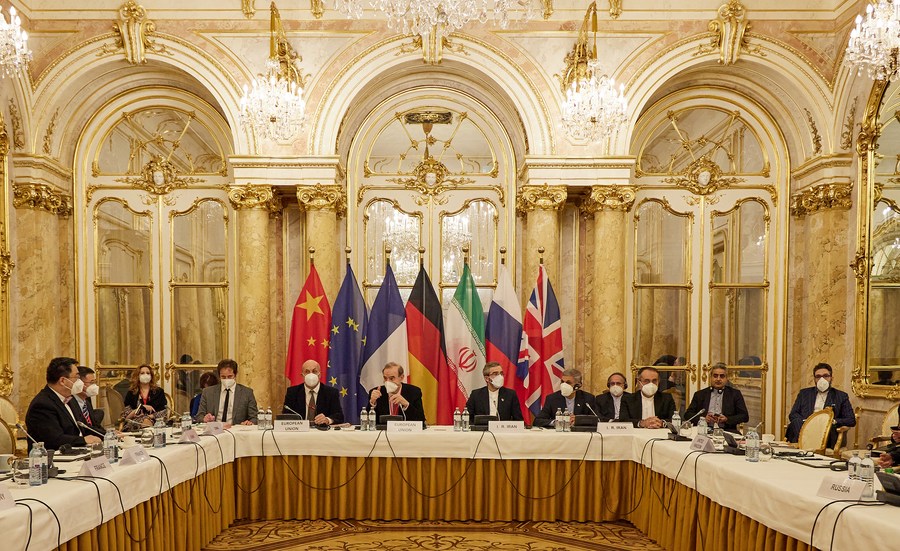 In May 2018, the former Donald Trump administration withdrew from the international nuclear agreement with Iran, known as the Joint Comprehensive Plan of Action (JCPOA) and imposed all kinds of economic sanctions on Tehran that led to poverty and chaos in Iran. Up to now, U.S. President Joe Biden has not re-entered it despite 18 months of negotiations. Rather, the Biden administration has been accelerating its enforcement of sanctions on Iranian oil exports in order to pressure Tehran to return to the 2015 nuclear deal. But the bitter truth is that it was the U.S. that violated the JCPOA nuclear pact by abandoning negotiations despite the International Atomic Energy Agency repeatedly saying Iran's nuclear activities were peaceful.
Ironically, Washington is planning to transfer nuclear submarines and weapons-grade highly enriched uranium to Australia a non-nuclear weapon state through the AUKUS, which will seriously impact the international nuclear non-proliferation regime.
Despite exerting maximum pressure, the U.S. government cannot bring down the Islamic regime of Iran to its knees. As such, the Saudi-Iranian rapprochement was a reminder to the Biden administration that the Arab world has other friends. Iran has found no shortage of buyers – mainly from China willing to buy its oil in the meantime. It is hoped that India will also resume oil purchases from Iran as New Delhi has done with Russian oil "ignoring unilateral" sanctions imposed by the U.S.
China is a trusted friend of Iran and Saudi Arabia
China's independent foreign policy of peace always firmly opposes all forms of hegemonism and power politics, the Cold War mentality, interference in other countries' internal affairs as well as double standards. Being the world's second biggest economy, China has important economic ties with both Iran and Saudi Arabia and other Middle Eastern states. China has remained Iran's largest trading partner for 10 consecutive years as of 2022. Also, it is the biggest customer of both Iranian and Saudi oil. President Xi Jinping's three-day visit to Saudi Arabia and participation in three major meetings – a Saudi-China summit, the first China-Gulf Cooperation Council (GCC) Summit and the first China-Arab States Summit from December 7 to 9, 2022 paved the way to the rapprochement today. During Xi's visit, the leaders of the two countries signed another agreement on achieving the goals of Saudi Vision 2030 and infrastructure projects under the Belt and Road Initiative (BRI) which will bring important opportunities for both sides.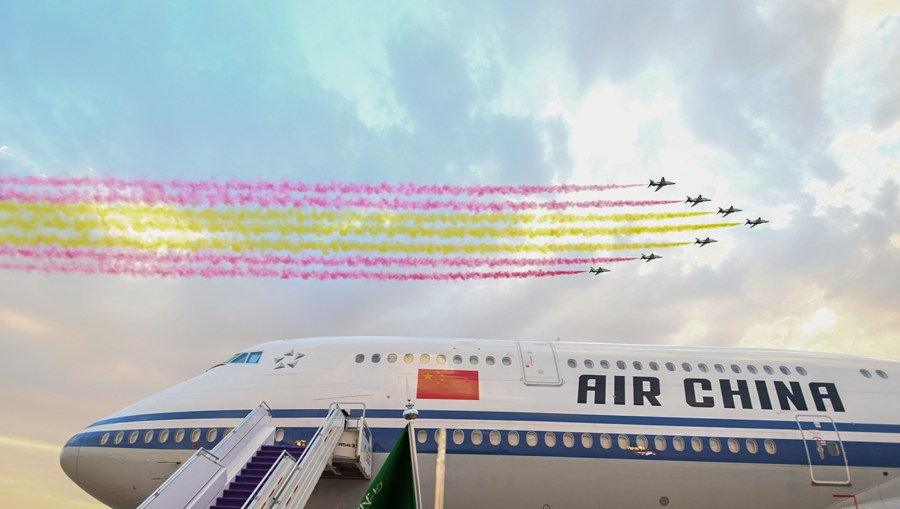 On the other hand, during Iranian President Ebrahim Raisi's landmark visit to China from February 14 to 16, 2023, both sides concluded 20 co-operation agreements in the trade, tourism, agriculture and manufacturing sectors. It's really encouraging that when the U.S.-led western countries' large-scale embargo isolated the Iranian economy from global trade, China has played a bigger role in energy and goods trade with Iran.
Besides joining the BRI and the Shanghai Cooperation Organization (SCO), Iran supports China's Global Development Initiative (GDI) and Global Security Initiative (GSI) for all-round development based on fairness and justice. It is worth noting that in March 2021, China and Iran signed a major 25-year comprehensive cooperation agreement that would see China invest around $400 billion in the country over the next 25 years.
With its close relations with Iran and Saudi Arabia, China is qualified to be an honest and neutral mediator between both countries. Tehran and Riyadh trust China since China respects the status of Middle Eastern countries as the masters of their region and opposes geopolitical competition in the Middle East. "The fact that these two countries chose China in which to reach such an agreement is a sign of trust in China and highlights China's influence in the world," said Wu Sike, China's former special envoy to the Middle East.
China's diplomacy brings peace in the Middle East and the world
In light of the March 10 Beijing agreement, many Arab and African countries now think partnership with China can bring regional development. The Beijing initiative is giving hope to the people of countries like Yemen and Syria. China is also willing to join hands with the international community to make unremitting efforts to maintain peace and stability in the Middle East and the world.
After the Iran-Saudi détente, President Xi Jinping said that China will "actively participate in the reform and development of the global governance system" and " add more stability and positive energy to world peace and development." The restoration of diplomatic ties between Saudi Arabia and Iran is the latest positive development in world politics since China launched the Global Security Initiative on February 21 this year. It is China's diplomatic goodwill that finally brought the two Gulf powerhouses together to ink the peace agreement that will lead to security and political stability to the Middle East and beyond.
The article reflects the author's opinions, and not necessarily the views of China Focus.