Why Does President Xi Jinping Pay His First Visit in 2020 to Myanmar?
President Xi's visit to Myanmar will make a blueprint for China-Myanmar cooperation, help build high-quality Belt and Road, and translate the China-Myanmar Economic Corridor into practice, in a bid to push forward major infrastructure projects for interconnectivity for the favor of the two peoples.
At the invitation of Myanmar President Win Myint, Chinese President Xi Jinping pays a state visit to Myanmar on January 17-18. This year marks the 70th anniversary of the establishment of diplomatic ties. Xi's visit is of great significance to the development of China-Myanmar relations.
This is President Xi's first visit this year and his second visit to Myanmar (the first came in 2009 when he was vice president). It is also the first official visit by the Chinese leader since Jiang Zemin's visit 19 years ago. Why will President Xi pay his first visit in 2020 to Myanmar? It shows the importance China attaches to Myanmar—and to its neighboring diplomacy. Moreover, it once again indicates China takes ASEAN as the priority in its neighboring diplomacy.
The long-standing friendship
China and Myanmar are linked with common mountains and rivers, sharing a border of more than 2,000 kilometers. Their friendship has lasted for thousands of years. Myanmar was one of the first countries to recognize People's Republic of China. Since the establishment of the diplomatic relations in 1950, leaders of the two countries have exchanged visits frequently. Among others, Premier Zhou Enlai's nine visits to Myanmar and Ne Win's 12 visits to China are the best stories in the history of China-Myanmar relations.
Over the past seven decades, the two countries have been developing their ties on the basis of mutual respect and trust, setting an example of harmonious coexistence and win-win cooperation between large and small countries. China and Myanmar have also successfully resolved the border issue through friendly consultations. The Five Principles of Peaceful Coexistence jointly advocated by China, Myanmar and India have been absorbed into international relations norms and international law principles, making international political and economic order more just and reasonable. The two sides also support each other in the United Nations, East Asian cooperation and other occasions, and coordinate closely in China-ASEAN Free Trade Area, Regional Comprehensive Economic Partnership (RCEP), and consultation on the South China Sea Code of Conduct.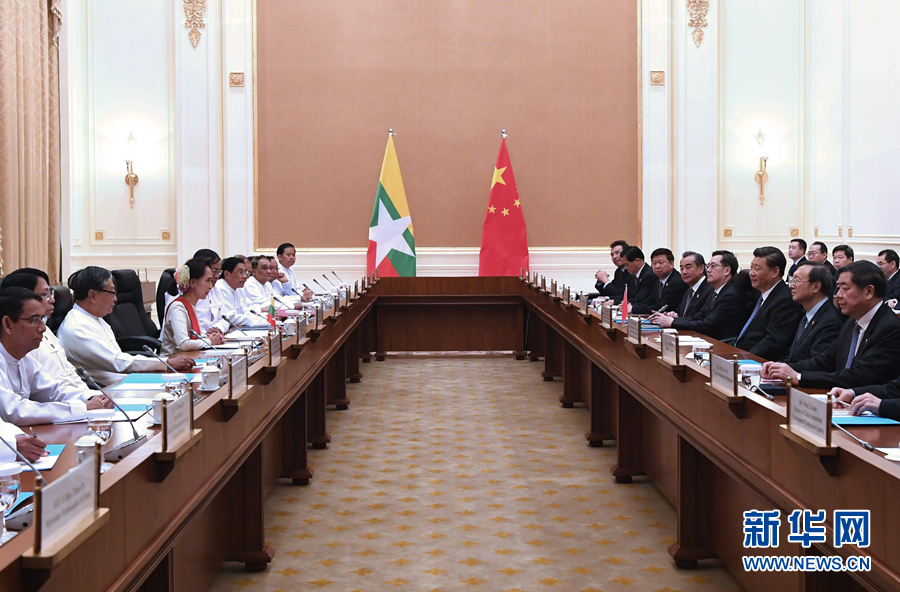 The recent years have seen rapid development of China-Myanmar relations. In May 2011, China and Myanmar established a comprehensive strategic partnership. Since 2013, the two countries have made solid progress in the Belt and Road Initiative (BRI) projects. In April 2019, President Xi said during the meeting with Myanmar's State Counsellor Aung San Suu Kyi in Beijing that China and Myanmar share a common river and enjoy a deep friendship, making them one community with shared future.
BRI gives new impetus to the bilateral relations
China and Myanmar have smooth and frequent high-level policy communication in the Belt and Road cooperation. They have established communication and cooperation mechanisms at different levels. Specifically, the former Myanmar President Thein Sein visited China seven times and attended the Dialogue on Strengthening Connectivity Partnership in China in 2014. Aung San Suu Kyi visited China five times and attended the first and second Belt and Road Forum for International Cooperation, where she was warmly received by President Xi. In 2017, Chinese Foreign Minister Wang Yi met with Aung San Suu Kyi and proposed to build a Y-shaped China-Myanmar Economic Corridor, after which the two governments held many consultations and signed the Memorandum of Understanding on Building the China-Myanmar Economic Corridor.
Myanmar established the Belt and Road steering committee in December 2018, chaired by Aung San Suu Kyi. The two countries have also established BRI-related mechanisms, such as the China-Myanmar Economic Corridor Joint Committee and the China-Myanmar Economic Corridor Forum. President Xi's visit to Myanmar will meet with the Myanmar government, military, parliament and political parties to discuss high-quality cooperation in building the Belt and Road.
Improved connectivity benefits all
The two nations' Belt and Road cooperation have yielded plentiful fruits to date.
Infrastructure connectivity: The China-Myanmar Economic Corridor, as one of the two major bilateral economic corridors initiated by China and ASEAN countries, have seen major infrastructure projects underway, such as China-Myanmar Border Economic Cooperation Zone, Tengchong (Baoshan)-Mandalay economic cooperation zone, China-Myanmar intermodal transport via land and sea, China-Myanmar cross-border railway and highway, Kyaukpyu Special Economic Zone and deep-water port, etc.
Trade connectivity: China and Myanmar have improved trade facilitation by means of facilities and mechanisms. According to the General Administration of Customs of China, from January to November 2019, the trade volume between China and Myanmar reached an all-time high of US$16.77 billion, up 21.6 percent year on year, ranking the second in the bilateral trade growth rate between China and ten ASEAN countries. Among others, the trade between China's Ruili and Myanmar's Muse accounts for roughly half of the total between the two countries.
Financing connectivity: According to the Directorate of Investment and Company Administration of Myanmar, since the inception of BRI, Myanmar has approved more than US$8 billion of investments from China (including China's mainland, Hong Kong and Macau), and the investments since 1988 have exceeded US$30 billion, accounting for more than 30 percent of Myanmar's total foreign investment, which makes China the largest source of foreign investment for Myanmar. Of course, some of the investments have not been implemented successfully, if not failed.
People-to-people connectivity: Thanks to simplified entry and exit procedures for both China and Myanmar, people-to-people exchanges have soared between the two nations. For example, in 2019, a total of 20.63 million trips to Myanmar were checked at the entry and exit checkpoint of Ruili, a border city of China close to Myanmar, accounting for almost half of the entry and exit traffic of Yunnan province. In addition, more than two million Chinese tourists visited Myanmar in 2019, nearly seven times that of 2018. The exchanges of think tanks, schools and NGOs between the two sides are also one the rise. Non-governmental assistance to Myanmar is also increasing.  The two peoples are getting closer and closer.
As China's Ministry of Foreign Affairs briefs, President Xi's visit to Myanmar will make a blueprint for China-Myanmar cooperation, help build high-quality Belt and Road, and translate the China-Myanmar Economic Corridor into practice, in a bid to push forward major infrastructure projects for interconnectivity for the favor of the two peoples. This year is also designated as China-Myanmar Culture and Tourism Year to expand people-to-people exchanges and deepen their friendship. This visit therefore will surely move China-Myanmar relations to a higher level.
As a Chinese saying goes that "Neighbors wish each other well, just like family members do", China and Myanmar enjoy profound friendship. China always pursues friendship and partnership with its neighbors to foster an amicable, secure and prosperous neighborhood. Committed to a neighborhood policy of amity, sincerity, mutual benefit and inclusiveness, China will work to deepen mutually beneficial cooperation with its neighbors, including the Belt and Road cooperation with Myanmar, in an effort to build a closer community with a shared future.
The author is associate researcher at China Institute of Contemporary International Relations
Translated by Liu Xiaomin