Zhejiang Sets an Example of Green Development Benefiting Local People
Green development is a major driving force and also a new hallmark of China's modernization.
"Lucid waters and lush mountains are invaluable assets." This important idea for green development was first put forward by Xi Jinping when he visited Yucun Village in Anji County, Zhejiang Province on August 15, 2005. At that time, Xi was serving as the Secretary of the Communist Party of China (CPC) Zhejiang Provincial Committee.
In 2022, in his report to the 20th National Congress of the CPC, Xi Jinping, General Secretary of the CPC, mentioned the idea again. "We have acted on the idea that lucid waters and lush mountains are invaluable assets. We have persisted with a holistic and systematic approach to conserving and improving mountain, water, forest, farmland, grassland, and desert ecosystems, and we have ensured stronger ecological conservation and environmental protection across the board, in all regions, and at all times."
"This has led to historic, transformative, and comprehensive changes in ecological and environmental protection and has brought us bluer skies, greener mountains, and cleaner waters."
As industrial and urban development continue to expand, the exploitation of natural resources is reaching its end. The destruction inflicted upon nature by humans will harm humanity in turn. In today's world, the pursuit of harmonious coexistence between humanity and nature has become the theme of the times. The idea that "lucid waters and lush mountains are invaluable assets" has debunked the misconception of the GDP-centered development approach and rejected the near-sighted mindset of pursuing material wealth and social capital only.
Lucid waters and lush mountains are certainly invaluable. But how to make the lucid waters and lush mountains benefit local people? In Zhejiang, local governments and people, focusing on green development, have found multiple development paths of bringing economic benefits based on local conditions.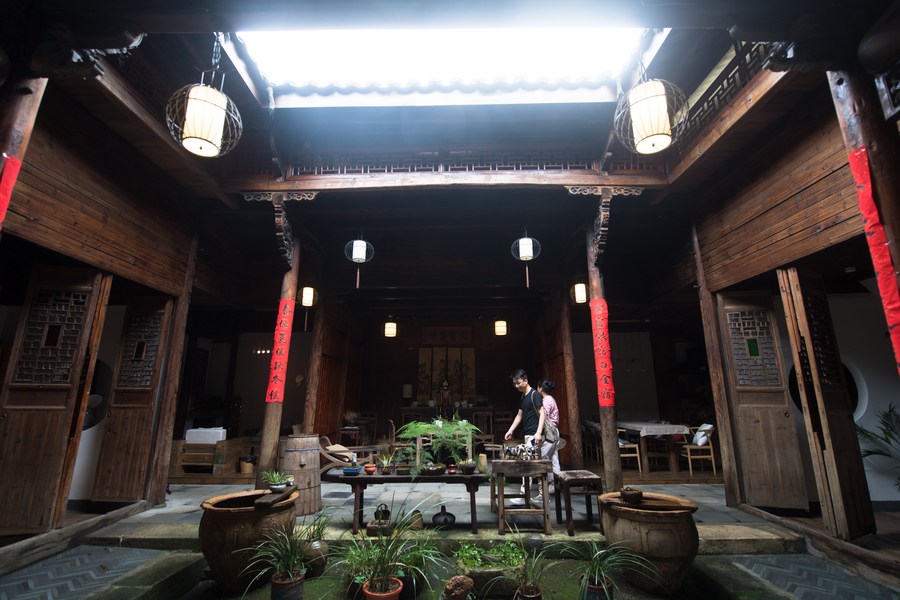 In recent years, family inn business in Zhejiang Province has been widely known across the country. There are more than 19,000 family inns in total in Zhejiang, according to official statistics. Tourism has contributed to 11.5 percent of the income of rural residents. The scale of leisure agriculture and rural tourism has grown to over 100 billion yuan. Rural tourism and ecological tourism have now become an important path for promoting common prosperity of the province. Additionally, the rise of new commercial models such as rural e-commerce has enabled Zhejiang's unique agricultural products to be sold to everywhere of the country.
Fostering new commercial models is the first step for Zhejiang to make green development economically beneficial to local people. The province has also successfully tackled some of the most challenging problems through institutional and mechanism innovations as well as continuous improvement of top-level design.
Protecting the environment does not mean it must sacrifice the interests of local people. The question is how to encourage the local people to actively participate in environmental protection while also ensuring they can benefit from it. Zhejiang is the first province in China to initiate easement reform of collective forest land. As long as villagers, the owners of the collective forest, promise to protect the natural environment, they will get economic compensation from local authorities.
Under this model, the 252-square-kilometer forest land of Qianjiangyuan National Forest Park in Kaihua County, Quzhou City, have been well conserved, and more than 3,100 local families have received compensation. In recent years, more and more tourists have been attracted to Kaihua for its excellent ecological environment, and the county's annual tourism revenue has already exceeded 10 billion yuan.
It is worth mentioning that in October 2020, Zhejiang launched a provincial-level gross ecosystem product (GEP) accounting system, which made Zhejiang the first province of China to do so. Under the quantitative accounting framework, mountains and waters can be "priced" for the first time and have thus become an important indicator for evaluating regional development in a comprehensive way.
In August this year, "The Regulations of Zhejiang Province on Environmental Protection" have been officially issued and implemented. In the regulations, there is specifically a chapter that stipulates the "realization of the market value of ecological goods and services". It offers a basic institutional framework for realizing the market value of ecological conservation.
The Earth is our only home. To better protect the Earth, it is crucial to carefully deal with the relationship between humanity and nature. To achieve this, we must promote the building of a community with a shared future for mankind, and establish international cooperation mechanisms on green development, working together to tackle the common challenges and protect our shared homeland. Green development is a major driving force and also a new hallmark of China's modernization. By following this path, a beautiful China will thrive and prosper with other countries together.
Translated by Zhao Qiang
Copyedited by Jamie Wright
Editor: Bai Shi