Ambassador of Ecuador to China: The Relationship Is at the Best Period in History Today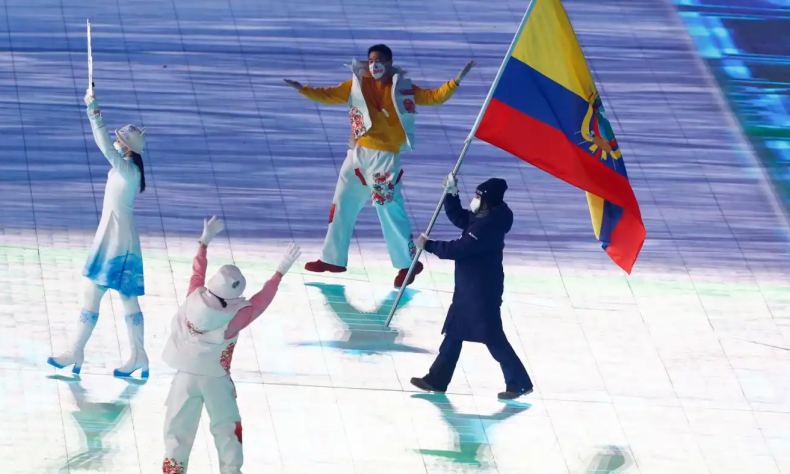 We have established the comprehensive strategic partnership with China, which has facilitated the implementation of those important public infrastructure projects in Ecuador in recent years.
Editor's Note: President of Ecuador Guillermo Lasso made his first state visit to China and attended the opening ceremony of the Beijing 2022 Winter Olympics in February. Based on the solid friendship, China-Ecuador relationship is growing in all aspects in recent years. Carlos Humberto Larrea Dávila, Ambassador of Ecuador to China, shared his insights into the relations in an interview with Ms. Sun Chao, the author of "Global Leaders on the Belt and Road Initiative". Authorized by Sun Chao, the excerpts of the interview are published by China Focus.
The amazing country
Sun Chao: Mr. Ambassador, as we know, Ecuador not only retains the ancient indigenous civilization but is also located at the equator of the earth. When people talk about Ecuador, what do you expect them to remember?
Carlos Humberto Larrea Dávila: Ecuador is an amazing country with profound history, legends and striking contrast. Its name derives from its favorable geographical location—at the center of the world, which has enabled it to develop an impressive and diverse ecosystem with unique landscapes, climates and microclimates. All these directly map onto our country's great ethnic and cultural diversity and make the quality of our local products unrivaled.
In Ecuador, 77.4 percent of the population is mestizo who have inherited indigenous and other cultures. There are 13 recognized indigenous peoples in Ecuador, which are not well known abroad. Besides, we also have Afro-descendants and mountain peoples. In addition, there are other 25 or so ethnic groups living throughout Ecuador, with different cultural traditions, social identities, and geographical locations.
To sum up, Ecuador is a modernized, safe and friendly country with good connectivity and well-established infrastructure, which we have to give thanks to China to a large extent. These characteristics enable the country to satisfy the needs of the most demanding foreigners.
Today, we strategically set our sights on the Pacific, and China has become an important partner and sincere friend. The two sides have carried out many mutually beneficial and win-win projects. I hope Chinese friends know our country in this way.
Sun Chao: Ecuador has rich cultural and geographical features, which attract tourists all over the world. I wonder where your hometown is?
Carlos Humberto Larrea Dávila: Indeed, please allow me to reply to the first part of your question. We have chosen to promote our country's tourist destinations through technology platforms, provide brand-new and diverse services. Besides the country has new strategies and policy support.
Ecuador has participated in the world's major tourism expo and has formulated magnificent strategies for the extremely diversified tourism destinations in our country.
Ecuador covers an area of about 280,000 square kilometers, but it brings together four geographic regions: the Pacific coast, the Andes, the Amazon rainforest and the Galapagos Islands. The Galapagos Islands are world-famous and were listed as a natural heritage of mankind by UNESCO in 1978.
Millions of Chinese tourists long to gain an insight into the new top tourist destinations in Latin America. In order to attract them to Ecuador, we have promulgated a number of public policies. The followings are some: We have canceled the visa requirements. We have trained our guides to learn Chinese. In terms of catering and hotels, we have provided options that meet the preferences and needs of Chinese tourists.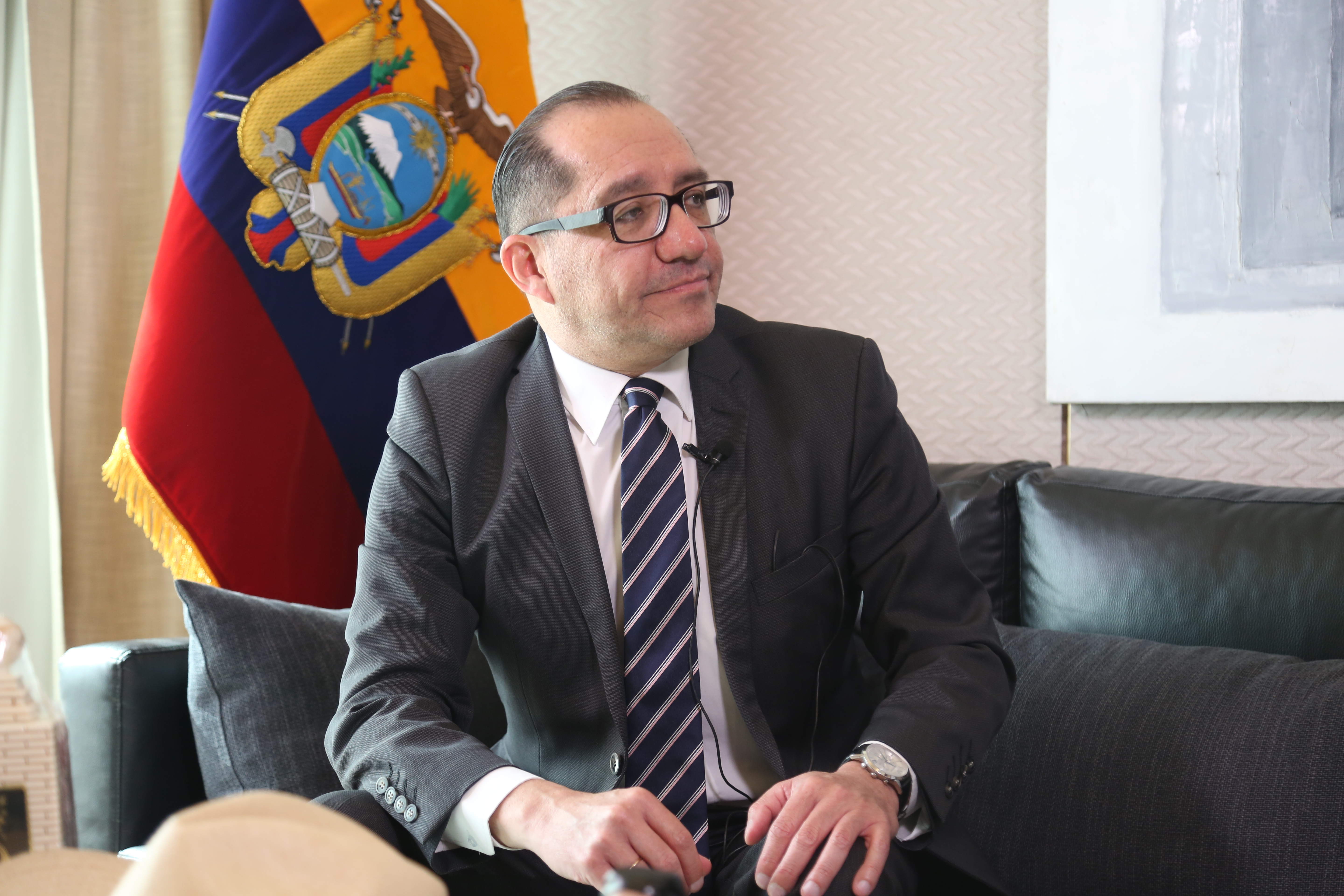 Please let me introduce some interesting specialties of our country. For example, "Panama hat". In fact, the name is not appropriate because it is produced in Ecuador. It is a straw hat made of Ecuadorian Toquela. And it is one of the most exquisite and famous Ecuadorian products in the world. I must entrust you with something very emotional. During the recent official visit made by President Guillermo Lasso to Beijing this February, President Xi Jinping paid special attention to the toquilla straw hats that the Ecuadorian president gave to him and his wife, specially designed for them, and recognized the great heritage value of these magnificent pieces made by Ecuadorian artists.
As Ecuador is located on the equator, the center of the world, an equatorial memorial has been erected in our country. What I hold is a crafted replica of the monument, which contains Ecuador's most famous wine called "The Soul of Ecuador".
Although our country is small in size, it has huge potential in the tourism industry. One factor that promotes tourism is air routes. We are analyzing different alternatives, hoping to include Ecuador's destinations through code sharing with Panama, Mexico, and other international aviation hubs, so as to make our routes more profitable.
Another important issue is that Ecuador has also formulated a transportation policy called "Open Skies". This policy stipulates that aviation right is relaxed to promote the integration of Latin America and strategically promote our country to better integrate into the international aviation environment. Undoubtedly, this will help the government promote domestic tourism, increase inbound tourism, and attract new Chinese investment in this field.
Now come to the last part of your question. I was born in Quito, the capital of Ecuador, one of the most impressive cities in Latin America. Its historical center is one of the best-preserved in the world.
There, Spanish art, Baroque art and indigenous art merge to create a wonderful art symbiosis, which is unique for Ecuador and our neighbor Peru. This is a unique artistic and cultural wealth in the world, and we also hope to share it with everyone. In addition, Quito was listed as a World Cultural Heritage by UNESCO in 1978.
My favorite city is my hometown. I love my country, and I believe that all cities in Ecuador offer unique attractions for foreign friends. We have a beautiful coastal city called Guayaquil, and another is Manta, where international cruise ships come from all over the world.
We also have modernized cities. Quito city itself not only retains the old historical center but also has modernized neighborhoods. We have built our metro system in 2020, which makes Ecuador's public transportation system one of the most modernized in our region.
Thanks to the excellent level of cooperation relations between Ecuador and China, indeed the city of Guayaquil will host the XV Business Summit of China and Latin America and the Caribbean, an important interregional event that will bring together the most important companies and logistics operators, to do business.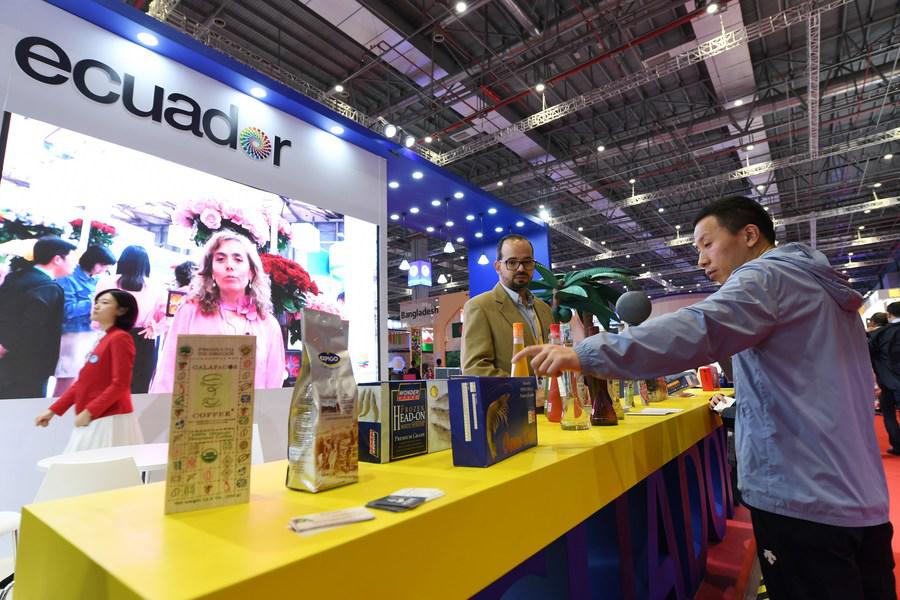 The memorable experience in China
Sun Chao: As the Ambassador to China, you have been in China for a few years. Would you please share with us some memorable experiences?
Carlos Humberto Larrea Dávila: Talking about the most memorable experience in China, I think, my acquaintance with President Xi Jinping was certainly the most impressive one. He is an extremely charismatic leader. He is a great strategist, who will certainly go down in history for his vision of change in China, his contribution to the international community in a peaceful, empathetic, and cooperative world, and the great Belt and Road Initiative.
In terms of the beautiful China itself, what impresses me most is its people. The Chinese people are friendly, making us foreigners feel at home. We could feel a sense of security here, and we really enjoy being in the streets and squares of Chinese cities.
The next point is very important. I have to admit that during the worst period of Covid-19, I was deeply impressed by the strict discipline of Chinese citizens. We must learn from China, that is, to put collectivism and empathy above selfishness and individualism.
I have always said this to my Chinese diplomatic colleagues. Since I came to your country, I was surprised by the modernization and technological applications in the new era every day. Valuable tools such as the Internet, big data, 5G, and e-commerce platforms have become the key factors in controlling the epidemic.
On the other hand, I was honored to have joined working visits organized by China's government, with the diplomats from Latin America in China. I have traveled a lot to almost all the regions and provinces, which has greatly simplified the diplomatic work of expanding relations between citizens of both countries. A place that has left a deep mark on me is Tibet.
The first Latin American state member of AIIB
Sun Chao: In November 2016, President Xi Jinping paid a state visit to Ecuador, which was a milestone in bilateral relations. During the visit, the two sides announced an upgrade from strategic partnership to a comprehensive strategic partnership, opening a new chapter in bilateral economic and trade cooperation. In your opinion, how will the two countries promote development through the Belt and Road Initiative (BRI)?
Carlos Humberto Larrea Dávila: In 2016, President Xi Jinping visited Ecuador. This was the first visit by a top Chinese leader to Ecuador, which was of historical significance.
Ecuador's participation in the Belt and Road Initiative is another important milestone. We believe that the Belt and Road Initiative has provided an open space for comprehensive cooperation principles of international law. It will promote trade, tourism, and investment on the basis of mutual respect and benefit. It is also a valuable contribution to global peace and development. It should be noted that public health cooperation has become a new priority for cooperation in order to jointly fight against the Covid-19, which is currently the most concerned issue of the international community.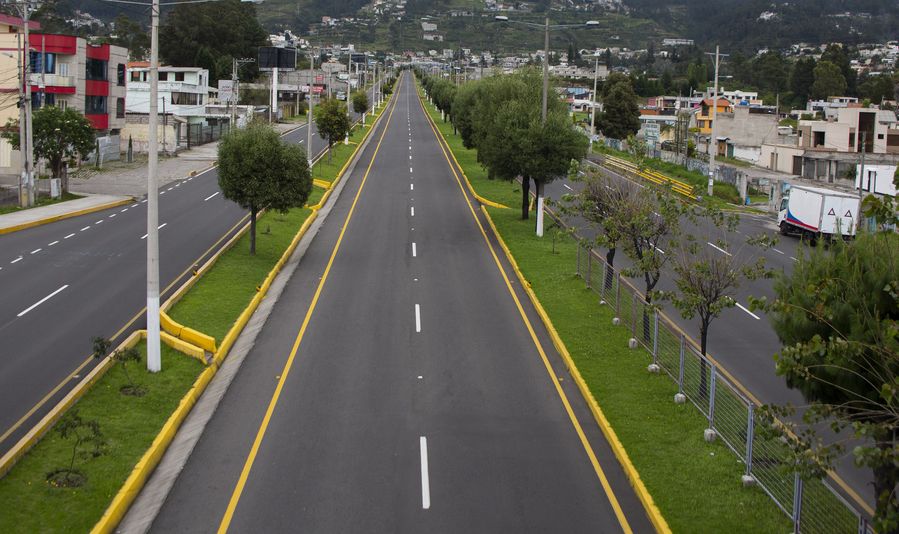 In addition, China promotes the accessibility of vaccines worldwide, making them a global public good. In my opinion, this will become the pinnacle of political efforts to develop global governance around the Belt and Road Initiative.
The BRI will synchronize with organizations committed to regional cooperation and integration, such as the South American Forum for Progress and Development and the Pacific Alliance, which are effective tools to build a more efficient and interconnected Latin America.
After signing the BRI MOU, Ecuador has responded to the initiative from multiple levels. For example, Ecuador is the first Latin American country to join the Asian Infrastructure Investment Bank (AIIB). We have also joined the "Belt and Road" tax collection and management cooperation mechanism.
In 2020, the two foreign ministries jointly formulated a comprehensive plan for the implementation of the MOU on the joint construction of the BRI, which will directly promote our country's cooperation in infrastructure and interconnection with China and other countries that have joined the initiative.
On the occasion of the official visit made by President Guillermo Lasso in February 2022, within the framework of the inauguration of the Winter Olympic Games in Beijing, both countries reached an agreement in the MOU for the signing of a Free Trade Agreement and determined a technical work table to initiate the formal conversation of Ecuador's proposal regarding the bilateral debt. In addition, China has confirmed a donation of 2.5 million vaccines to inoculate the population of 3 to 5 years of age in Ecuador. All these aspects were evidenced in the Joint Declaration on the Deepening of the China-Ecuador Comprehensive Strategic Association.
At the multilateral level, the two countries have also carried out important cooperation on the basis of mutual respect and common values.
Chao Sun: With deepening economic and trade ties, what do you expect from the future economic cooperation between the two countries?
Carlos Humberto Larrea Dávila: We have established a comprehensive strategic partnership with China, which has facilitated the implementation of those important public infrastructure projects in Ecuador in recent years. In addition, the exchange of high-level visits between the two countries is also critically important. This is the gateway to strengthen cooperation between the two countries, which meets the needs and interests of both sides.
We are working hard to export to China new types of agricultural products that meet all Chinese technical standards. Covid-19 has had an adverse impact on global industrial chains and supply chains. However, against this global backdrop, the agricultural trade between China and Latin America has grown against the trend, which shows that it has become a "stabilizer" for trade between China and Latin America.
We have conducted in-depth dialogues with Chinese investors so that they can participate in important investment projects in our country through the bidding process stipulated by Ecuadorian law. Ecuador is a safe and lucrative country. In addition, Ecuador has formulated a complete set of regulations to provide better legal protection for those who wish to and will invest in Ecuador.
The last point is very important, but few people know it. Ecuador's silver and gold reserves are among the highest in the world, and it has the sixth largest copper reserves in the world. Since Ecuador greatly relies on mineral exports, attaches importance to environmental issues occurring in the industrial chain, and regards mineral exports as one of the country's main development opportunities, mining has huge investment potential in Ecuador and is also an important source of state revenue.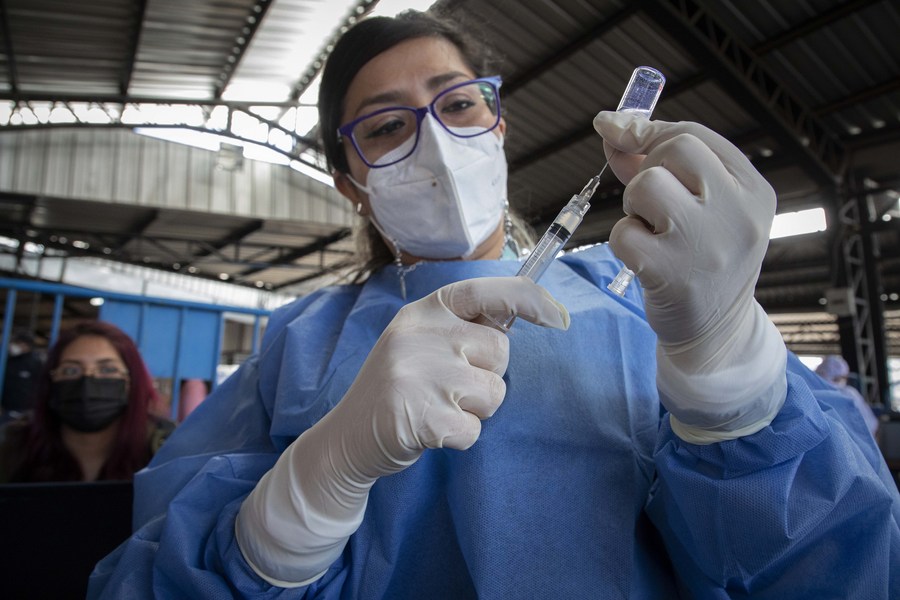 Working together to fight against Covid-19
Sun Chao: Since the Covid-19 pandemic, China and Ecuador have kept communication and cooperation. What do you think of China's fight against the virus? Is that worth learning for other countries?
Carlos Humberto Larrea Dávila: Although Ecuador is one of the first countries in the American continent to take strict measures to curb the spread of Covid-19 in Latin America and the Caribbean, it is regrettable that it is still one of the most severely affected countries today.
Confronted with the limited availability of supplies worldwide, the Ecuadorian government was quick to deploy diplomatic action and seek international cooperation in order to strengthen the country's capacity to respond to the epidemic.
It is within the framework of the comprehensive strategic partnership with China, in cooperation with the Beijing Municipal Government, various local governments, and state-owned enterprises, that Ecuador has received a large donation and supply of biosecurity materials in accordance with all the technical and quality standards set by the Chinese government. A large number of donations from China have arrived in Ecuador. More than 14 tons of equipment and materials have been delivered to Ecuador, which were all obtained under the coordination of the Ecuadorian Embassy in China.
Apart from donations and material purchases, knowledge transfer, especially scientific knowledge, is equally important. For example, academician Li Lanjuan, a world-class expert on the covid-19, SARS and MERS epidemics, taught her experience of fighting against the epidemic in Wuhan to the highest health authorities in Ecuador, with the Ecuadorian participants led by the Ecuadorian Minister of Public Health. This was the first sharing of experience in Latin America in the fight against the epidemic, which was later replicated in other countries. Subsequently, the Ministry of Foreign Affairs of China hosted several similar meetings in other CELAC member countries, inviting Chinese scientists to share their achievements in the fight against the covid-19.
The challenges of global governance in a post-pandemic environment also require global action. The achievement of vaccination against COVID-19 is also a merit of international cooperation, in which China has played a leading role. In the case of Ecuador, in 2022, 62 percent of the total vaccine doses since Guillermo Lasso assumed the Presidency come from China. Lasso has pointed out Ecuador's gratitude for the personal support that President Xi provided for the timely supply of vaccines.
This achievement has been recognized worldwide as a successful management model, with the contribution of the public and private sectors, and will allow us to venture into a prompt economic recovery.
To date, 87 percent of Ecuadorians over five years of age are with the first dose applied, 82 percent of the population has two inoculated doses and 17 percent with the reinforcement, thus making Ecuador the third at the regional level.
Additionally, Ecuador will soon have a Sinovac vaccine plant with a regional scope.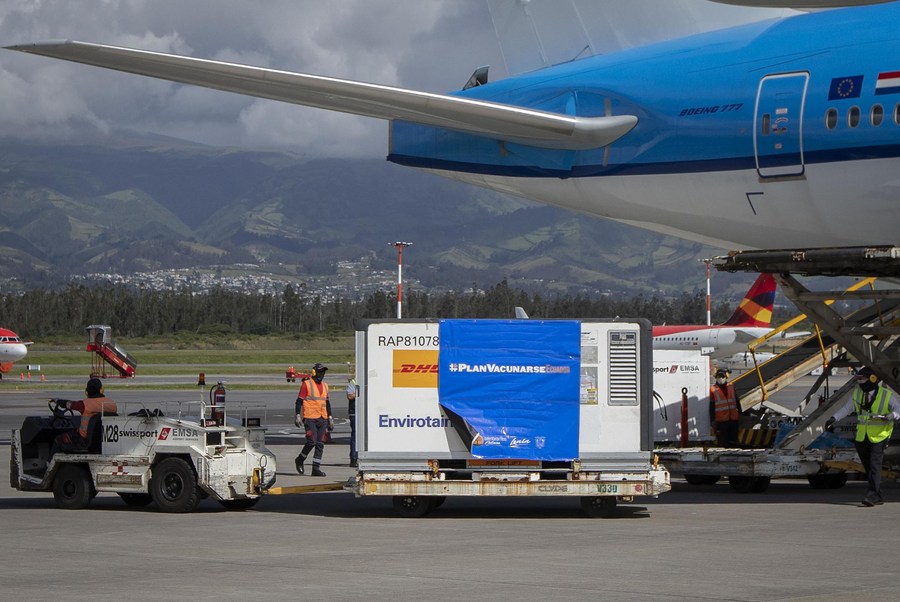 Sun Chao: The people-to-people exchange is always an important part of bilateral relations. From 1965 to 2016, China received a total of 272 Ecuadorian government scholarship students, sent 110 Chinese teachers and 125 volunteers to Ecuador, and offered 159 scholarships to the Confucius Institute. What do you expect in the people-to-people exchanges in the future?
Carlos Humberto Larrea Dávila: There is no doubt that the relationship between our two countries is at the best period in history today. I believe that the diplomacy we need should not only be flexible, dynamic and dedicated to economic and political negotiations, since economic and political negotiations are the key, but also should attach importance to non-governmental diplomacy, that is, to promote cultural and people-to-people exchanges, enhance mutual understanding, and bring each other closer together.
The cooperation between the two countries over the past 42 years will continue to develop steadily in the future. Although the two peoples are far apart geographically, they have been united in history because of the same principles and values.
In this regard, the embassies in Quito and Beijing are actively cooperating in cultural and people-to-people exchanges. Strict restrictions on the Covid-19 have slowed our agenda. For this, we have made full use of telecommunications and the internet, done active work in electronic publications, translated the works of important Ecuadorian writers into Chinese, and hosted a series of lectures offline and online, in place of the very difficult and almost impossible face-to-face activities in special times.
I also want to mention the academic field. We are about to complete the text negotiation of a bilateral cooperation agreement to promote academic exchanges. There is no doubt that this is a key factor in promoting the construction of a community with a shared future for mankind.
Another important milestone is a cooperation agreement signed between the two diplomatic academies of Ecuador and China. This agreement will facilitate personnel training and exchange of teachers.
At the moment, tourists place great importance on biosecurity and personal safety. We want those who are interested in our region, and Ecuador in particular, to be able to travel safely. Ecuador is open to everyone and we look forward to more Chinese visiting Ecuador.
The historic visit
Sun Chao: President Guillermo Lasso recently visited China and attended the opening ceremony of the Beijing Winter Olympics. What does that mean and is there any result of the historic visit? 
Carlos Humberto Larrea Dávila: The Government of Ecuador continues to open markets at a steady pace, strengthening bilateral relations and strengthening ties with commercial partners that allow placing more Ecuador in the world and more world in Ecuador. Thus, President Guillermo Lasso, met with President Xi Jinping, with whom he discussed high-level issues related to financial commitments and the decoupling of oil from debt, the signing of a free trade agreement, vaccination, among other important issues for the relationship between the two countries.
Some of the preliminary results of the meeting with President Xi are an agreement reached in the MOU for the signing of a China Free Trade Agreement, and a workgroup was established between the Ministers of Finance of China and Ecuador to start the formal conversation of Ecuador's proposal regarding the debt.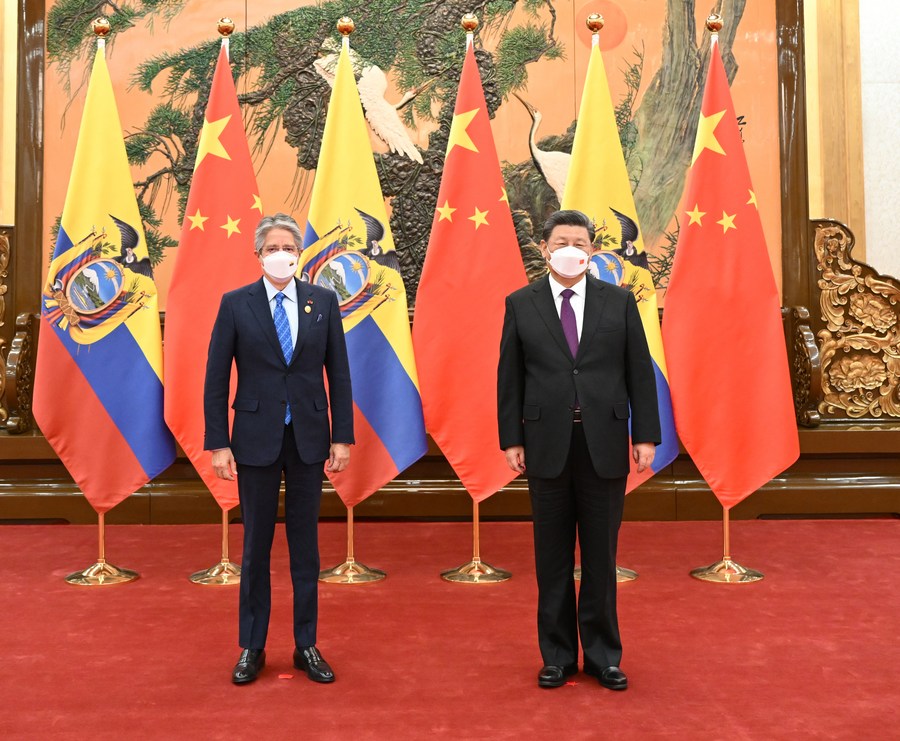 The Ecuadorian president also held a meeting with Premier Li Keqiang, with whom he discussed in detail aspects of the aforementioned bilateral cooperation and emphasized the promotion of trade and foreign direct investment.
China is the main market for Ecuadorian shrimp and the second export destination for non-oil products. Its bilateral relationship with Ecuador covers different sectors, which from January to November 2021 drove Ecuadorian exports to reach $2,810 million. President Lasso held a meeting with more than 20 representatives of the most important Chinese companies, with a view to attracting more investment and presented a broad portfolio of all projects in sectors such as health, energy, infrastructure, among others [more than 40 investment projects totaling approximately $30,000 million]. We want to see in the world and in the Chinese people the great opportunity to develop the Ecuadorian economy.
President Lasso has reiterated Ecuador's "immense gratitude to China" for support from China. "I do not imagine the development of Ecuador without China as an ally" and "Ecuador is a country of 17 million inhabitants but with a big heart, in which 1.4 billion Chinese fit, whom it welcomes with gratitude" have been two phrases coined by the Ecuadorian president during his visit in Beijing, which in themselves reflect the unprecedented success of his official visit to China.
Sun Chao: Mr. Ambassador, have you enjoyed the 2022 Winter Olympics in Beijing?
Carlos Humberto Larrea Dávila: I want to refer to two relevant aspects, which have made a difference on this occasion. The presence of our First Lady Maria de Lourdes Alcívar de Lasso and her meeting with Madame Peng Liyuan allowed deepening aspects of culture and social cooperation between our countries.
The other element, which is almost a paradigm, is the successful handling by China of an event as important on a global level as the Winter Olympics, in which an Ecuadorian athlete participated for the first time: Sarah Escobar. This event took place at a time when the world is going through another wave of contagion from the pandemic, and China was able to guarantee absolute safety to all the sports and government delegations that participated in the face of this great health risk, for which we thank very especially and we again congratulate the Chinese people for this great success.