Ambassador of Luxembourg to China: We Do Need to Adopt a Way to Cooperate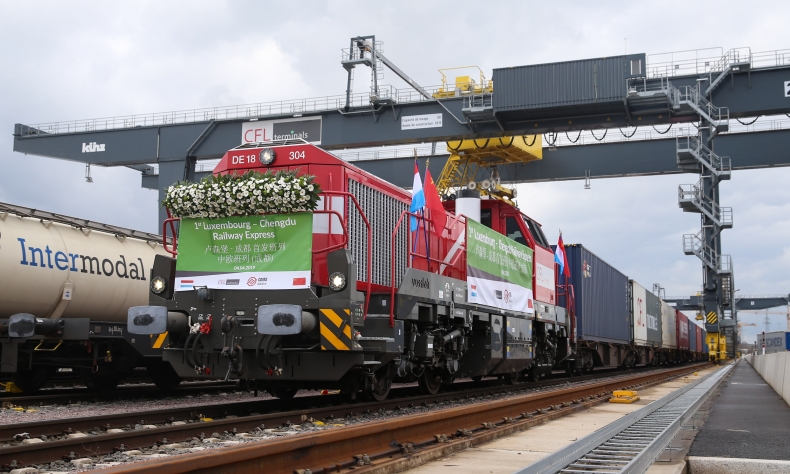 If I would use three words only to describe the links between China and Luxembourg, these would be excellence, friendship and respect.
Editor's Note: This year marks the 50th anniversary of the establishment of diplomatic relations between China and Luxembourg. Mr. Marc Pierre Hübsch, Ambassador of Luxembourg to China shares his experience and insights into the bilateral relations in an interview with Ms. Sun Chao, the author of "Global Leaders on the Belt and Road Initiative". Authorized by Sun Chao, the excerpts of the interview are published by China Focus.
Sun Chao: Mr. Ambassador, is it the first time you came to China? How do you feel about your life in Beijing? 
Marc Pierre Hübsch: First of all, I would like to thank you for the invitation to this very special Belt and Road Ambassador Interview Program. It is indeed a great pleasure to be here and also, of course, a great honor to be invited. Now if you ask me about my first impression when I came to China, I assume you mean that when I arrived as the ambassador of Luxembourg to China. Then my answer is: "overwhelming!". Upon arriving, I sensed the incredible hospitality of the Chinese people, first of all, of the colleagues of the MFA protocol, then throughout my everyday life in Beijing. I could always meet incredible, warm people, who are like my family, treating me as a very special guest. I have to say that they made my stay here, in China and especially in Beijing, a most pleasant one.
Sun Chao: As a very successful diplomat who has an exciting life, are there any unforgettable stories during your diplomat experience?
Marc Pierre Hübsch: Again, I would say that the most unforgettable moment in my diplomatic life so far, or at least in my life as an ambassador happened, unsurprisingly, during my stay here in China.
Of course, there were many challenges, the most pressing one being the pandemic in 2020, when my job as an ambassador changed quite dramatically. Within a few of days, I had to become a procurement manager and we had to make sure that all our people got the necessary protective equipment, ventilators, and whatever our people needed at that time.
It was a very intense moment of my career because our people in Luxembourg had high expectations for me. We knew that as every day, every week passed by, the fast arrival of this equipment meant that we could save more lives in Luxembourg.
That was, in a way, the most intense, so also the most rewarding moment in my diplomatic life because I realized during these times that you could make a difference. And the result of these efforts was tangible. It is not only tangible for myself, but also for my fellow citizens and all the people who waited for us to do something in order to help them. That was perhaps the most unforgettable moment in my diplomatic life.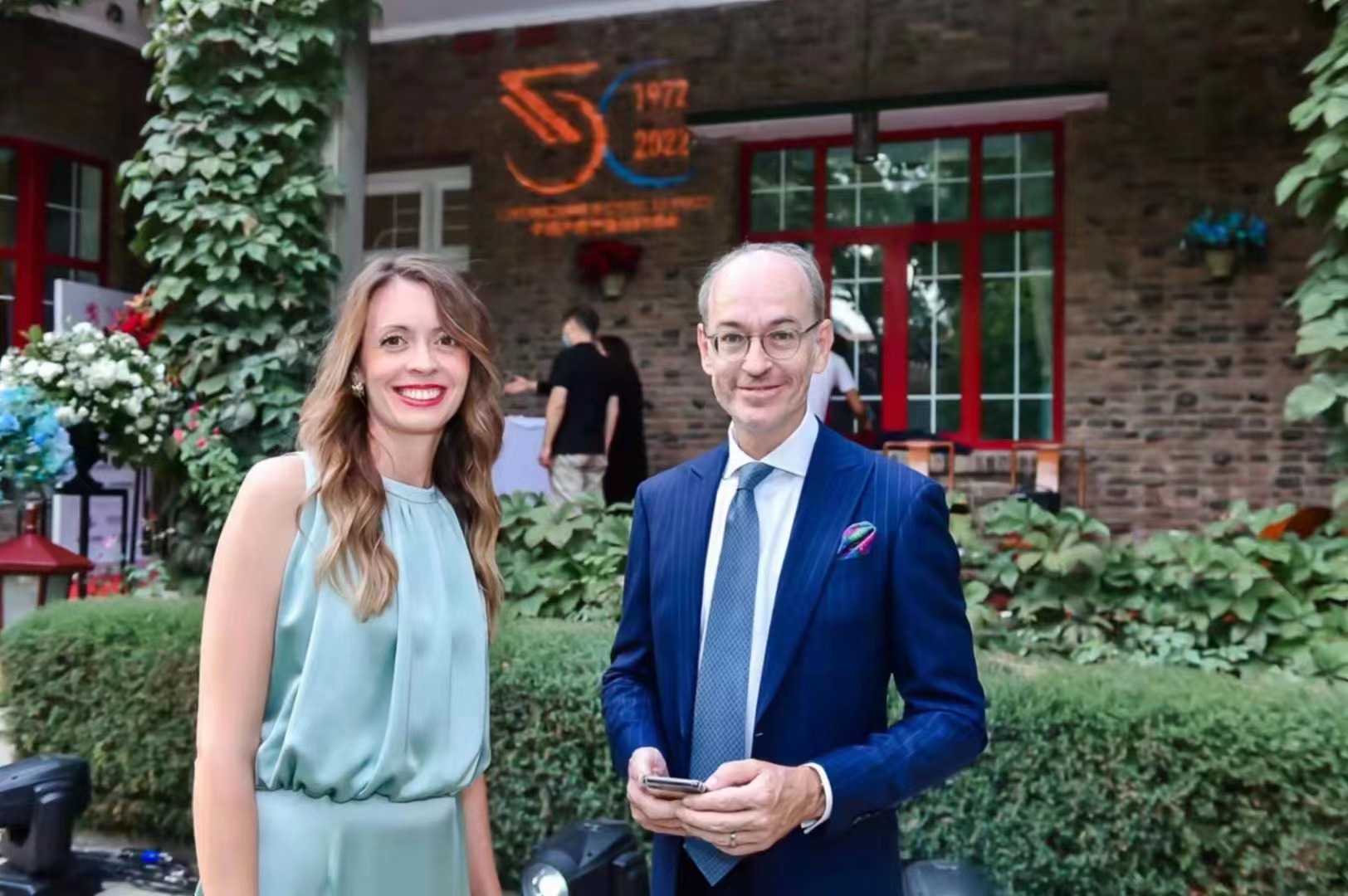 The largest trading partner in Asia
Sun Chao: My next question is related to our bilateral relations. What will be the focus and priority for our future cooperation?
Marc Pierre Hübsch: Firstly, I want to underline that China is Luxembourg's most important and also the largest trading partner in Asia. Secondly, if you take a closer look at the main pillars of our bilateral economic cooperation, then it would first come to logistics because we have a very important airfreight connection between China and Luxembourg, which is called the Silk Road in the air. That's the name proposed by President Xi Jinping and the Prime Minister of Luxembourg during the Prime Minister's visit to Beijing back in 2017. Every week, there are more than 50 flights operated between Luxembourg and China.
We are working on improving this air connection because it is so important. First, it matters to bring everything made in China, mainly electronic products and others with high value, to Europe or to other parts of the world.
This is a very important pillar of our bilateral cooperation. I would even go further and call it cornerstone. That was all the more so during last year's pandemic since we needed to air transport all this equipment I just mentioned, from China to Luxembourg and also from Luxembourg to other parts of Europe. And we never stopped operating these flights from China to Europe!
This air connection is functioning so smoothly because of the fact that we have a Chinese investor who owns a 35 percent stake in our national cargo airline, called Cargolux. If you have such a strategic investor, it makes it easier to develop these relations. Finance is an even more important pillar in our bilateral cooperation. From the volume of trade and the logistics sector, you could see that its potential is still enormous. As the Ambassador to China, I will also focus on further fostering the financial relationship between my country, Luxembourg, and China, as well as with Chinese investors.
We also emphasize people-to-people exchanges. Luxembourg has a very open economy; it is a very open country in the sense that almost half of our population are foreigners, given 636,000 people in total. We welcome people from all over the world to work and, eventually, settle down in Luxembourg. We welcome more Chinese people to Luxembourg. And this is the direction where we will move in the next couple of years.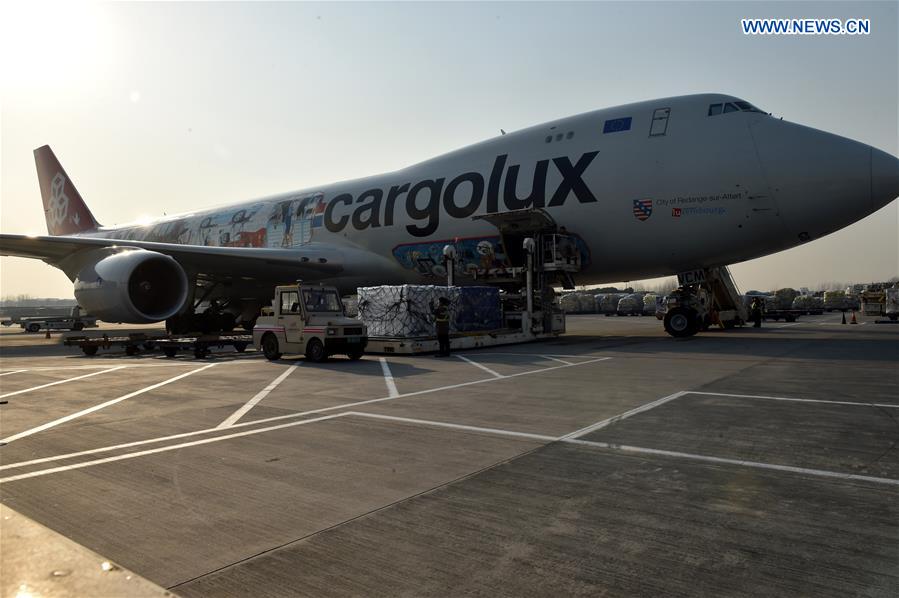 Sun Chao: Luxembourg has developed finance industries. How will you share your experience with the global counterparts?
Marc Pierre Hübsch: First of all, we do have a long history when it comes to cooperation in financial service. Because the first overseas subsidiary of the Bank of China was established in Luxembourg, and that was back in 1979. It was at the very moment when China decided to open up as a country and as an economy. In the following years, many more Chinese banks followed the example of the Bank of China. By now, seven of the largest Chinese banks have established their subsidiaries in Luxembourg. Most of them have their European headquarters in Luxembourg. Some Luxembourg banks even have Chinese shareholders and these banks work, I would say, as a bridge connecting China and Europe or more precisely, China and Luxembourg. Because obviously, these banks, at least in the beginning, served mainly Chinese clients who wanted to invest in Europe and on the other hand, they assisted European companies and European investors who were willing to develop their businesses in China.
As the links between both countries and investors developed, financial services in terms of financial assets developed, too. By now, Luxembourg has become the second most important investment fund center in the world, meaning that 80 percent of European investment funds that invest in mainland China are domiciled in Luxembourg. If you look at it on a global scale, then up to 40 percent of global investment funds investing in China are again domiciled in Luxembourg. So it shows the huge importance of Luxembourg, acting as a bridge for financial services, for China. It goes without saying that China is also a very important investor for the Luxembourg financial sector.
Further engaging in the Belt and Road Initiative
Sun Chao: Mr. Ambassador, how do you see the Belt and Road Initiative (BRI)? BRI is all about connectivity and sharing opportunities in infrastructure, finance, trade, policy and people to people. As a European country, how can Luxembourg better engage in the Belt and Road Initiative?
Marc Pierre Hübsch: Luxembourg is one of the first funding members of the AIIB (Asian Infrastructure Investment Bank). Luxembourg also signed a bilateral MOU of the Belt and Road Initiative.
Before we signed this MOU, we had long-lasting internal discussions, studying for quite some time, like what are the pros and cons and what would be the development perspectives of the Belt and Road Initiative. Finally, I signed it myself in the name of my government. Before the signature, we had already realized one of the pillars for the initiative. We had established the airfreight connection even before we formally signed up for the Belt and Road Initiative.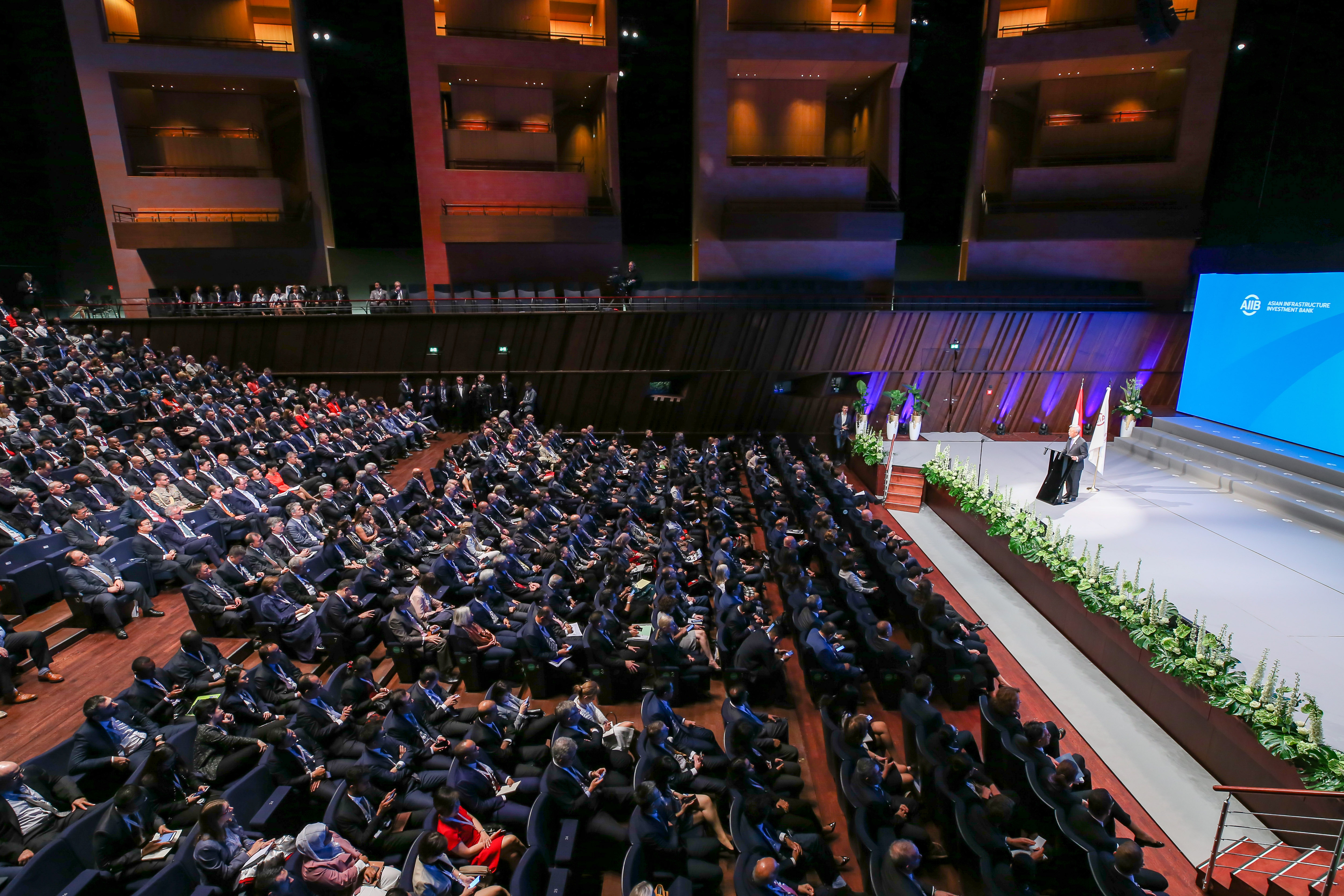 Now, when it comes to the implementation of the Initiative, especially in terms of technical aspects, standards and regulations for infrastructure projects, the overall picture becomes more complex and complicated.
Such large infrastructure projects usually have a life cycle of, let us say, 10, 20, 30 and even more years. Moreover, in the course of that life cycle, even if both sides try their best to avoid disputes, it is possible that at some point of time, commercial differences or even disputes arise with regard to these projects. When it comes to commercial arbitration, then Luxembourg could play a very specific role in cooperation with China. Luxembourg is the judiciary capital of the European Union, and the European Court of Justice has its seat here. Other institutions dealing with cross-border legal disputes are present in Luxembourg and they all have acquired substantive knowledge regarding cross-border investments. We see and understand the Belt and Road Initiative as a multilateral initiative. We should further engage in the common development of this multilateral perspective, in all its aspects, including the one I just mentioned.
Attending the Beijing Winter Olympic Games
Sun Chao: Grand Duke Henri of Luxembourg was the first foreign state leader who arrived in Beijing to attend the opening ceremony of the Beijing Winter Olympic Games and related activities. Would you please shed light on the deep meaning and the fruitful achievements of this historic visit? 
Marc Pierre Hübsch: Luxembourg has always attached great importance to having in-depth exchanges with China. Actually, it is our Grand Duke's seventh visit to China. Beijing is the first city in the world that holds both Summer and Winter Olympic Games. He also attended the Beijing Olympics in 2008. I am very pleased to see frequent exchanges between our two countries.
2022 marks the 50th anniversary of the establishment of diplomatic relations between Luxembourg and China. If I would use three words only to describe the links between China and Luxembourg, these would be excellence, friendship and respect. These are exactly the same values that guide the Winter Olympic Games in Beijing.
The goal of the Olympic Movement is to contribute to building a peaceful and better world by educating youth through sport practiced without discrimination of any kind and in the Olympic spirit, which requires mutual understanding with a spirit of friendship, solidarity and fair play.
Our Grand Duke, as the first head of state to arrive in Beijing, showed great expectations and support to this Winter Games. The Grand Duke himself loves sport so much. We would like to thank China for the enormous effort to host these wonderful games. In addition, all the volunteers should receive a special medal for their incredibly warm hospitality and their enthusiasm, making this Winter Games a unique experience.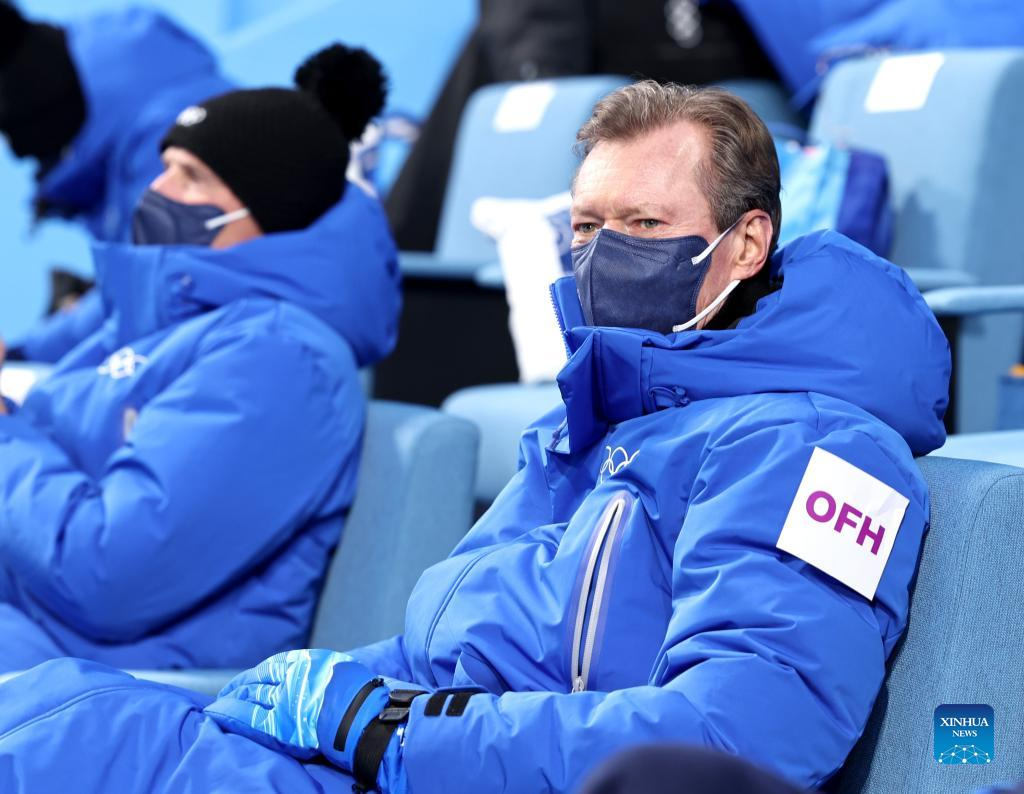 Sun Chao: 2022 marks the 50th anniversary of the establishment of diplomatic ties between China and Luxembourg, how to advance the continuous and stable development of bilateral relations? How to further deepen cooperation?
Marc Pierre Hübsch: In terms of bilateral cooperation, China and Luxembourg do have a solid foundation. Traditionally, there are air transportation and logistics, as well as finance, which I mentioned earlier. Today, we still need to consolidate and innovate in these areas. Earlier in 2021, Luxembourg's Minister of Foreign Affairs Jean Asselborn and Minister Wang Yi discussed the cooperation in logistics and green and sustainable finance. In addition, in many aspects, Luxembourg and China share the same position, which has laid a solid foundation for bilateral cooperation, for example, to jointly handle the COVID-19 epidemic. The whole world needs to cooperate to overcome this epidemic. I am also very grateful to China for its contribution to responding to the epidemic and promoting economic recovery.
In the very moment of rapid changes in this world, we do need to adopt a way to cooperate. We are now facing common challenges and global threats, notably climate change. The more severe the situation, the stronger we should cooperate.
Sun Chao: What is the most valuable experience in China's epidemic prevention that is worth sharing with the world? How to deal with the global challenges in the future?
Marc Pierre Hübsch: One of the most valuable experiences is in my view the use of AI models for predicting the development and spread of the epidemic. It might not be the most visible part of China's overall strategy and contributions to fighting the virus but it is nevertheless a fully integrated element of that strategy and key to the rapid control of local outbreaks. It is certainly a feature that would deserve more attention, also with a view of sharing its experiences with the world. Building common models of prediction and making sure they are operational before the next pandemic breaks out, seem to be one of the more important lessons we should learn from the current challenge that affects us all.
COVID-19 has obviously exposed the need for cross-border collaboration and it should have become clear by now that we cannot develop global solutions without global partnerships. We should keep in mind that it is only by combining our efforts that we are able to tackle threats that require coordinated action among the international community. Our response to the pandemic should bring us together instead of driving us apart.