As COVID-19 Recedes, China Highlights Further Opening Up Again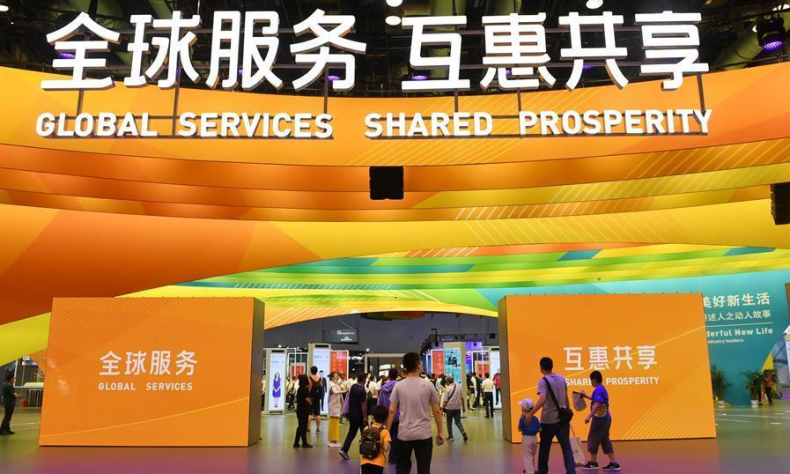 The return of CIFTIS therefore marks an important step in the country's return to normality, allowing both businesses and government officials to return to matters predating COVID-19, continuing to open-up its economy to the rest of the world.
The hustle and bustle of international business returned to Beijing on September 4 as the China International Fair for Trade in Services (CIFTIS) kicked off its six-day exhibition in the heart of the Chinese capital.
For months, international and domestic businesses across the world have stuttered due to the global coronavirus pandemic. But with the situation vastly improved in China, some 18,000 international and domestic companies descended in person and online to the world's largest service expo, and the first such large scale event to be hosted in the country since the pandemic.
CIFTIS further highlights return to normal
It is a feat that few would have imagined back in February, when cities across the country were locked down to help contain the spread of the virus. Business were firmly closed and people remained inside as the central government prioritized a healthy society over a healthy economy. It resulted in the largest contraction to its economy for over four decades, with its GDP falling by 6.8 percent, but it also ensured case numbers were controlled and deaths were kept at a minimal.
It meant that by April the virus had waned dramatically, allowing the tough restrictions placed on businesses and people to be lifted, and resulted in a swift rebound in its economy. Second quarter results showed growth of 3.2 percent, and with no relapse or serious "second wave" as experienced in other countries, China's economic figures have reported growth ever since. Recent PMI data for August showed another strong performance at 55.2, the sixth continuous month of growth, as did the service industry, which rose from 53.1 in July to 54.3 in August.
The return of CIFTIS therefore marks an important step in the country's return to normality, allowing both businesses and government officials to return to matters predating COVID-19, continuing to open-up its economy to the rest of the world.
Next challenge: further opening-up
It's a challenge that despite the coronavirus pandemic, the Chinese government continues to place increasing importance upon, both as a way to stimulate its own economy and the rest of the world's. During its most recent policy and planning meetings in May—known as the Two Sessions—Chinese Premier Li Keqiang reiterated China's commitment to making progress in this endeavor.
"It is impossible for any country to achieve further developments with its door closed. China will keep to its opening up policy, China will not waver in this commitment, nor is it possible for us to shut our door to the outside world," Premier Li said.
So far this year, the government has been proactive in facilitating this, with a reduction in the number of China's negative list, and the promise of more Free Trade Zones (FTZ) offering further opportunities for international businesses, such as the recently announced Hainan Free Trade Port.
But it is the service sector where the government is increasingly looking to lower barriers, an area that accounts for nearly 60 percent of China's GDP. In a speech given during the opening of CIFTIS on September 4, Chinese President Xi Jinping stated China's intention to import more "high-quality services".
"Open cooperation in the services sector will become an increasingly important driver for development," President Xi said. "We will further ease market access for the services sector, and will take greater initiative to increase imports of quality services. To meet the actual needs for growing trade in services, China will promote greater harmonization of rules for the services sector at the multilateral and regional levels, and work for continued improvement in global economic governance and more inclusive growth of the world economy."
The Ministry of Commerce has said that this could be worth as much as $10 trillion over the next 15-years, more than double what the country imported over the previous fifteen. It will open up service areas such as commerce, communication, construction and related engineering, entertainment, culture and sports, tourism, education, environment and finance.
Finance is one area where barriers have been progressively lowered over recent months, with American banking giants profiting greatly as a result. Citi became the first ever foreign bank in China to receive a domestic license from China's securities regulator, allowing it to hold securities and sell custody services to Chinese-based mutual funds and private funds.
Citi's announcement followed news that BlackRock, an American investment management company, had gained approval to set up a wholly-owned asset management business in China, and that American Express' joint venture with Chinese firm LianLian DigiTech was granted license by the People's Bank of China to clear local bank card transactions.
On the right path to further opening up
While the financial service sector has become increasingly open to international investment, other areas such as healthcare, culture, education and telecommunication are not predicted to open as quickly. According to China's Vice Commerce Minister Wang Bingnan, a new negative list is expected to be drawn up to facilitate cross-border trade in services, and help global businesses navigate effectively in the sector.
That might come as a stark reminder that greater market access is a process rather than a sudden and overnight change.
But for the 18,000 companies currently striking deals and showcasing their services at CIFTIS, China's commitment to continue opening its markets to international companies is all welcomed, especially as they steer their businesses through an unpredictable post COVID-19 economic recovery.