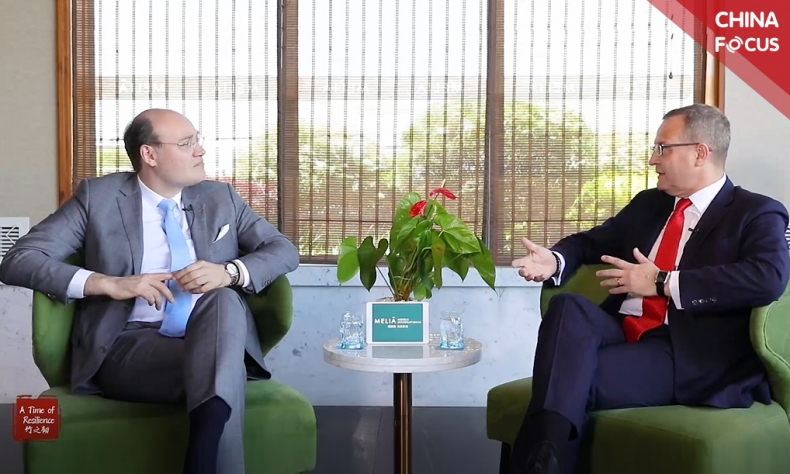 Bernardo Cabot: Hotels must learn fast and adjust to the new reality in the pandemic
China market will maintain or increase its importance in the hospitality industry.
Editor's Note: During the pandemic of Covid-19, tourism and hospitality have been hit most. China and other countries are managing to push resumption of economic activities including the hospitality industry. How to manage the hotel difficulties during the pandemic? How is China doing during the pandemic? And is China safe now for tourists and travelers? David Gosset, the founder of Europe-China Forum, discussed with Bernardo Cabot, Senior Vice President of Melia Hotels International in Asia Pacific. Mr. Cabot shared his insights of Chinese market in the serial interview of A Time of Resilience.
A Time of Resilience, hosted by Mr. Gosset, is a high-level dialogue with international veteran diplomats, business elites and outstanding scholars. The serial interviews are presented by China Focus in association with DG2CI Limited.
David Gosset: What does the pandemic mean from a tourism perspective?
Bernardo Cabot: According to the World Travel and Tourism Council (WTTC), the sector faces a staggering 100 million jobs losses due to the coronavirus pandemic. By the end of April, WTTC analysis also shows a sharp escalation in the economic loss for the world economy, up to US$2.7 trillion of GDP, from US$2.1 trillion just a month ago. The punishing impact of the COVID-19 crisis has led to over one million jobs lost every day.
Travel and tourism contribute 10.3% of global GDP, generates one in four of the world's new jobs, and for nine successive years, has outpaced the growth of the global economy.
The world is going to be different. At least in the coming few years, for our industry, the market will be more domestic. It is hard to say now how it will evolve, because it heavily depends on the evolution of the virus situation around the world, we do hope that with the ease of the pandemic situation, we will be able to travel and the globalization will keep its trend.
Given the current situation of the covid-19, the expectations and focuses from customers have now switched. And we need to proactively change our internal process to ensure that we reach and deliver beyond what our clients need, and share the message of safety with our guests. We do not want to overreact but we do want to send a clear message of: "we care!"
We have been working on the specific protocols to respond to the Covid-19 situation since the outbreak in China four months ago, and with our experience in China, recently our group Meliá Hotels International has developed a program 'Stay Safe with Meliá' for the gradual reopening of our hotels in the post-COVID-19 recovery phase and we are working together with one of the most prestigious certification organizations in the world, Bureau Veritas, to ensure that we comply with the most rigorous health and safety standards.
I would also like to share a bit the specific situation country by country in our Asia Pacific region:
In China, since here the outbreak started earlier, now we are in a better position after 4 months of fighting the pandemic. Our hotels are recovering step by step. Consumers are regaining trust and confidence for traveling and hotels is coming back. Now our five hotels in China have reopened and we expect 25-45% of average occupancy in May of our China hotels – which is not bad after four months of difficult times.
Vietnam manages the situation well and I think it will be the next market on the path to normality. The country is gaining trust as well and Vietnamese are little by little starting to travel again.
We also see other Southeast Asian countries like Thailand, Malaysia, Myanmar, Indonesia that are also improving step by step.
To summarize, our industry and our hotels are heavily impacted but we are recovering now little by little and we do see the light at the end of the tunnel.
David Gosset: We know that Meliá believes in China and there is a long-term strategy for the country. How the Chinese renaissance is impacting, in fact global tourism industry beyond the present crisis?
Bernardo Cabot: After ten years living and working in China, I realize that any industry, but specifically travel industry, is and will be impacted by China in the future.
The market in China is very powerful and the new generation is traveling more frequently than the previous ones. So, in hospitality, we have to take into consideration the role of China, that's why our company started ten years ago to come here and set up our headquarters of Asia Pacific in Shanghai to prepare the future.
The future for travel and hospitality depends a lot on the China market. Domestically it is very important, Chinese families travel a lot and want to experience new and fine experiences. And for international travel destinations, they are expecting Chinese consumers as well.
Thus, my conclusion is that China market will maintain or increase its importance in the hospitality industry because it's a huge market and Chinese travelers are growing very rapidly in number and the market is much more sophisticated now than before.
Under the background of covid-19, when it is still quite dark for the global travel industry, China just brought some light with its results from the May Day holiday which just passed a week ago.
Chinese tourists made a total of 115 million trips during the 5 days' May Day holiday. And domestic tourism revenue generated during the period totaled 47.56 billion yuan (about 6.74 billion U.S. dollars), according to the China's Ministry of Culture and Tourism.
Although this number still cannot compare to last years, it does show the rebound of China's tourism, and it gives hope to the industry in the rest of the world. So when other places start to recover from the pandemic, we have confidence that people will be back to travel and our industry will recover again.
David Gosset: You cannot separate Meliá from Spain and exactly from Mallorca, this beautiful part of Spain. Why would you say that the relations between Spain and China are so special?
Bernardo Cabot: China and Spain have a history of standing by each other, and the friendship between the two countries built on mutual trust and respect continues to flourish. In 2005, the two countries upgraded their ties to a comprehensive strategic partnership, making Spain one of the first European Union nations to share such a high-level relationship with China. During President Xi Jinping's visit to Spain in November 2018, relations between China and Spain received a further boost in the form of a joint statement that acts as a guide for the future relations.
So I would say that the relationship between Spain and China has always been good and China has a strategic role in the world and no one can ignore its relevance and impact on world global economy.
I always say that even China and Spain are far away from each other in geographic location, we share a lot of commonalities actually and we share many similar ways of living. We share the value that family is very important. We both have a strong gastronomy culture. We both like social gathering.
And that is probably why many of our partners in China choose us as their management company. We bring the European service culture with our unique Spanish flair. For Chinese consumers, Spain has a good image and they like it. Spain as a destination and a country is quite popular in China.
We have established our APAC headquarters in Shanghai and we have currently 5 operational hotels in China and many more to come. We have a very organic growth in the country. We are working with strategic Chinese partners here, including state-owned entities and private investors. We work with lots of Chinese staff. We share and exchange the culture. In our corporate office here in Shanghai, we offer free classes for Chinese colleagues to study Spanish and for foreign colleagues to study Chinese and every one shows lots of interest and passion. And we think this kind of exchange helps us bonding and understand better each other as time passes.
As a Spanish company which established its regional headquarter 10 years ago in Shanghai, we also share Chinese culture with Spain and rest of the world. For example, we have implemented the Chinese traveler friendly program 'Pengyou' in our hotels to help better serve Chinese travelers and make them feel like home.
David Gosset: Tourism is also an important element for people and countries to know each other better. So we hope that we can go back to normal from that perspective, because I think we need always to create the conditions to increase the mutual understanding between people and countries.
This conversation comes in a time of a crisis, we were thinking a lot about the notion of resilience, because in fact, when you face such a shock, you need to be resilient enough in order to absorb the shock.
Also, when we discussed this notion of resilience, we asked ourselves, what would be a good metaphor to approach this concept, and we thought about the "bamboo". Metaphors can help us to better apprehend situations.
When one mentions the notion of the bamboo, what comes to your mind?
Bernardo Cabot: I have been practicing martial arts for all my life and all my masters in Judo, Taekwondo, Jujutsu, always guide me with the example of the bamboo. Standing in the wind, even how strong the wind is, the bamboo may bend, but it never breaks. And bamboo tends to use the power of its opponent in its favor. I learn a lot from the martial arts and as a life philosophy.
I know that bamboo is a classic metaphor in Chinese culture, a metaphor for resilience and I think there is true wisdom in this metaphor.
As far as resilience is concerned, I think we can say that it applies to our industry as well. Traveling, among many others, could be temporarily suppressed during this hard time of Covid-19 pandemic, but the spirit of traveling, the willingness of people to step out and to get to know the world will never change. So I believe that people will travel again when the situation allows.
What's important for us is how we adapt to meet the new needs and expectations of our consumers. If we do it right, we will make it through and we will become stronger. For example, all the big hotel groups are launching programs regarding the safety and health, us as well, we have launched "Stay Safe with Meliá" program, as I have mentioned before.
When the wind passes, the bamboo will stand upright again and it will be ever stronger.
David Gosset: Thank you so much. And I can feel that you have indeed interiorized the bamboo and the balance between solidity and flexibility it represents.
You are in the "hospitality business", "hospitality industry", but I would love to remember only the notion of hospitality. And I would like again to thank you for your hospitality.