Can Latest Trade-Talks Calm Down China-US Tensions?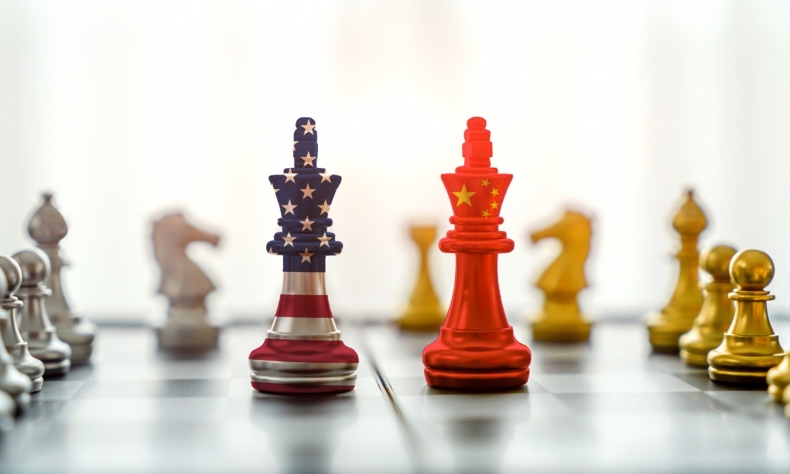 The latest trade phone call between China and the US followed a month of small but significant cooperation between the two sides after months of increased tensions. But will it be help facilitate progress in other areas in their relationship, or will they simply return to form?
It is difficult to think of a more divisive or volatile time in China-US relations. Consulates, tech-firms, politicians, journalists, students, coronavirus; the areas of conflict between the two have grown as comprehensive as they have aggressive, with many claiming them to be at their lowest point in 48 years.
There are even those who would argue that the damage done is already irreparable. Stephen Roach, a senior fellow at Yale University wrote "the die is now cast" on the fading China-US relationship, and with the current US presidential race highlighting the bipartisan support both parties have for tougher action against China, it seems no matter who sits in the Oval Office after the presidential election, China-US relations will be increasingly challenging for years to come.
Given the increasingly ominous situation both sides find themselves in, Tuesday's phone call between Chinese Vice Premier Liu He, US Trade Representative Robert Lighthizer and Treasury Secretary Steven Mnuchin on the first-phase trade deal was a welcomed reminder of the cooperation that can still exist between the two sides.
During the call, both sides set out their determination "to create a favourable condition for implementing the phase-one trade deal", and agreed that they "see progress and are committed to taking the steps necessary to ensure the success of the agreement."
News of their talks in-turn saw markets react positively, with futures tied to the S&P 500 rising by 0.5 percent, MSCI's broadest index of Asia-Pacific shares outside Japan rising 0.32 percent—its highest since early January—and Japan's Nikkei 225 gaining 1.4 percent by the close.
Having witnessed such optimism before, it would be foolish to assume that relations are instantly rosy once more, despite the confident reaction by both markets and trade leaders. They do however point to a period of small but significant cooperation between the two sides that has pulled back from weeks of heightened tensions, and in so raising the possibility that the die might not yet be dry on their convoluted relationship.
So how did we get here?
Such cooperation would have seemed a distant possibility just a month ago, when the closure of the Chinese consulate in Houston and reciprocal closure of the US consulate in Chengdu rocked relations to their very core.
But a tense and reportedly heated 90-minute phone call between Chinese Defence Minister Wei Fenghe and US Defence Secretary Mark Esper in the aftermath of their closures appears to have acted as a catalyst for communication, with their "clear the air" discussion helping facilitate dialogue again between the two sides.
After their frank exchange of views, China's Ambassador to the US, Cui Tiankai, made a speech setting forward the prospect of returning relations to a more secure footing, a clear signal from Beijing that things should no longer be allowed to escalate further.
"Maybe some people believe that China is just waiting for the result of the US presidential election in November." Cui said at the Brooking Institute. "Let me make it very clear here: We are not waiting for anything, and we are never willing to waste time in waiting … We are ready to work with the current administration to search for solutions to existing problems anytime, anywhere, even today or tomorrow."
Cui's speech was followed by a similarly calming move from the US, with US Special Presidential Envoy for Arms Control Marshall Billingslea announcing that the US would no longer be pressuring China to join the New Strategic Arms Reduction Treaty (STAR), having pushed for China to join the US and Russia in ratifying it. This was succeeded by the doubling of flights between China and the US that each country's airlines could operate to one and others countries, a move the US Transportation Department called a "a step in the right direction."
There had also been increasing developments in trade preceding phone call on August 25 that suggest tensions had cooled further. August 18 saw Chinese oil companies announce the purchase of nearly 14 million barrels of US oil, an increase from the 4.2 million barrels bought in May and June respectively, and followed a growing effort by the Chinese side to fulfil its obligations as part of the first phase trade-deal. Chinese businesses have recorded record purchases of US soybeans, sorghum, corn and cotton in 2020, according to data from the American Farm Bureau Federation, despite the difficulties and challenges the coronavirus pandemic has put on logistics.
Still risky acts affecting relations
But whether this call and the improvements over the past few weeks can be used to sustain a prolonged period of cordial relations, remains to be seen. After all, it was only three months ago that markets and politicians were lauding Liu and Lighthizer's last phone call, which saw the Dow Jones soar by 455 points, only to drop days later after negative comments by Trump cooled expectations.
The lack of progress made in addressing the many underlining issues between China and the US will not have helped hopes that their call can offer such change. Statements from both sides show the discussions focused rigidly on trade, meaning while it might have helped steady the ship, the talks are unlikely to have made any decisive impact on long-term relations.
But perhaps a steady ship is what is needed, especially as the US seems hell-bent in leading relations into even stormier waters. The ink was barely dry on both governments press releases when Trump spoke at the Republican National Convention to attack China over a number of issues, and were followed by reports of a US U-2 reconnaissance plane violating Chinese airspace. Both actions follow other instances of provocative action by the Trump administration, such as its continued war on Chinese technology and other issues related to Chinese sovereignty.
Given the past month has seen shoots of cooperation, including the trade phone call, it would be disappointing if they ended because of unnecessary reconnaissance in sensitive waters and politicising issues for electoral gain. These recent trade talks can be a catalyst for an upturn in relations, but they must first shake-off the inevitable Groundhog Day feeling that has blighted talks over the past few months. Only then can the two countries ensure that something more sustainable and substantial can prosper.