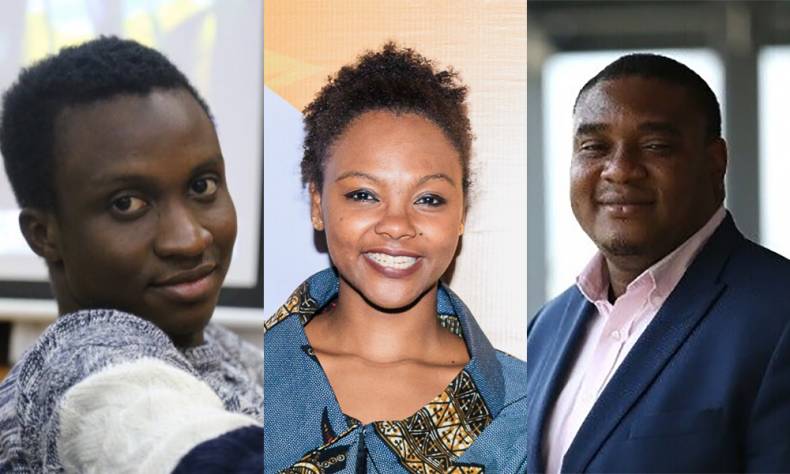 China-Africa Relations: African Voices from China
To understand the benefits of closer ties with African countries I met with and interviewed three African citizens living and working in China to gain their views on the potential for growth that the new scheme holds, and to see how the scheme is currently being put into practice.
We are entering an exciting new phase in the relations between China and the countries of Africa. This new era holds out the prospect of a new mutually beneficial relationship which will see economic, diplomatic and cultural gains for both sides.
To understand the benefits of closer ties with African countries I met with and interviewed three African citizens living and working in China to gain their views on the potential for growth that the new scheme holds, and to see how the scheme is currently being put into practice.
Although new economic relations with African countries has been highlighted by a recent summit and the pledge by the Chinese government to invest $60 billion in the economies of African countries, the subject is still relatively unknown by many Chinese and African citizens.
Economic development in Africa as a whole has mostly been seen through the prism of Africa's colonial past and its often-uneasy ties to Western nations. Economic development has been seen as providing aid to countries to create new infrastructures rather than as an opportunity for mutual growth. This attitude has meant that the economic opportunities for companies investing in this vast continent have been overlooked, particularly in the fields of technology and real estate. The three business men and women I interviewed hope to be part of a new change in how investment in Africa is viewed and to show the benefits to China that can come from this area.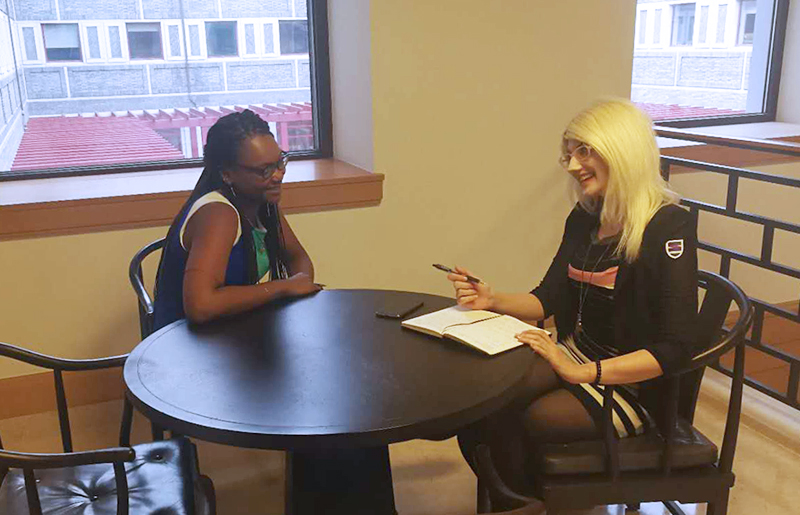 Δ 
Zahra Baitie is being interviewed by a China Focus reporter Ripley Frances.
My first interview was with Zahra Baitie, a Ghanaian citizen who has been living and working in China for one year. Zahra studied Chinese at Yale University before graduating from Tsinghua University in Beijing, she has since founded Kente and Silk, a consulting agency focusing on emerging markets. She also conducts talks and cultural events such as Africa Week and China Africa Stories, events which help to change perceptions of African countries by using cultural connections and promotions to allow people to learn about Africa and engage with African people.
Zahra fell in love with China by learning about its rich history and culture when she studied Chinese, her father also had business contacts in China which allowed her to see the potential in closer links between China and Africa. Zahra is optimistic that the new economic promises by China will allow more young business owners in Africa to benefit.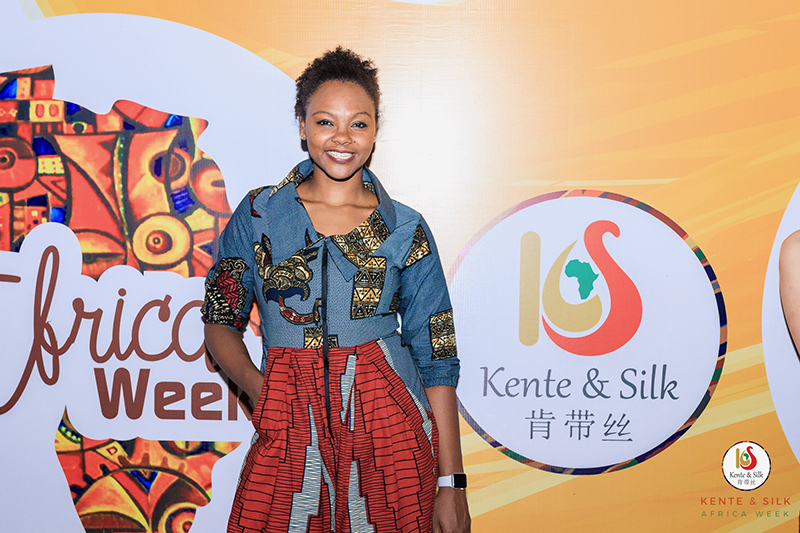 Δ Zahra Baitie has been promoting African culture and businesses through her work in Beijing.
She feels that the first China –Africa investment programmes which started in the 90s were often problematic as China was just beginning to grow on the international stage, but now China is taking a stronger approach and is rejecting projects it does not see as viable. This is increasing the quality of Chinese backed projects, leading to increased economic gains for both sides. She also believes that it is not the size or economy of the country which is the most important feature for success but rather the quality of a countries' leadership which will allow it to benefit from Chinese investment and China to also benefit.
While the public perception of the summit I have witnessed has been mixed, Zahra feels that due to a lack of clarity, many people in Ghana do not understand the details of the deals, resulting in them being met with some scepticism. Increased information in African media would help to counteract this. In Ghana there has traditionally been a greater affinity for the US due to Americas strong soft power and cultural influence, but with the rise of Ghanaian students studying in China this may change. Over recent years, people and leaders have begun to acknowledge a greater preference for China's mode of engagement, especially in regards to the more direct 'no strings attached' approach of Chinese investment.
Zahra's time in China has allowed her to form positive friendships and she hopes that while a strong bond is being formed at government level between China and African countries, this positivity can trickle down from government level to people's daily lives.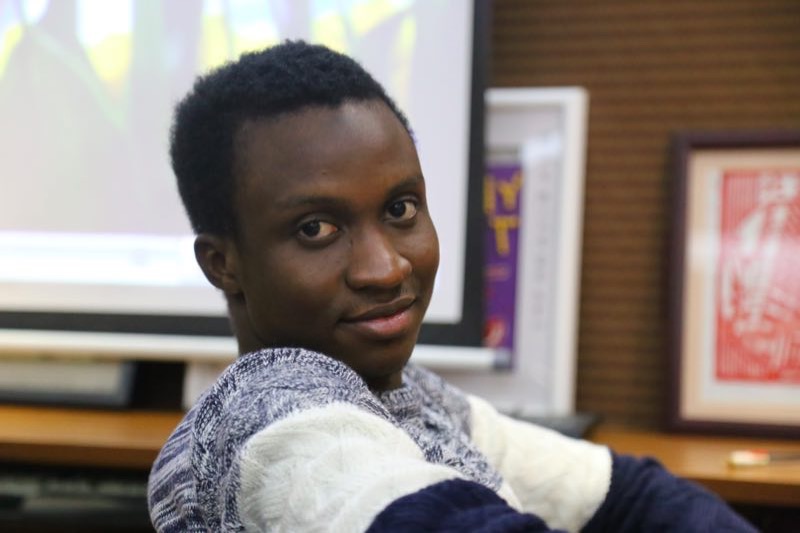 Δ Aminu Ibrahim Hashim has been able to see the benefits of the Belt and Road intiative firsthand.
This hope was also reflected in my second interview with Aminu Ibrahim Hashim, a Nigerian citizen who has been in China for 5 years. It was a visit to the 2008 Olympics which inspired Aminu to study for both his undergraduate and postgraduate degrees in China and he has developed a strong affinity with China.
Aminu is now studying for his MBA in China while working as the African affairs representative for the Zhongguancun belt and road industrial promotion association, he also runs a consulting agency for Nigerian companies looking to increase their ties with China.
Aminu views traditional western aid to Africa as damaging to a nation's independence and sustainability and views Chinese investment as a viable alternative which allows more African involvement and responsibility and is more personal to an individual country.
He also is very positive about the upcoming scheme to train 1,000 elites in Africa; providing 50,000 Chinese government scholarships to Africa, providing 50,000 training and training places for Africa, and inviting 2,000 African youths to China.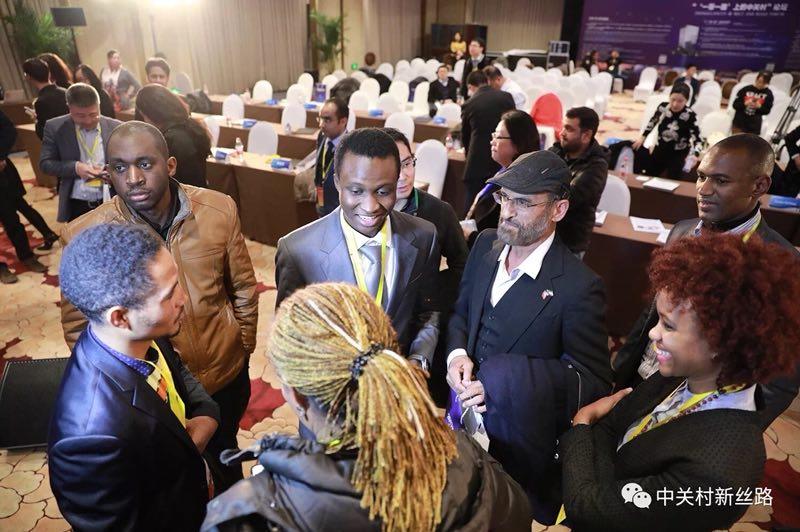 Δ China Africa relations present new opportunities for African businesses.
He believes this initiative will have the most positive long-term impact of the 2018 FOCAC commitments as it will help build personal relationships between citizens as well as encouraging the development and sharing of skills.
Working with the belt and road changed Aminu's perspective on Chinese investment as he saw first-hand how committed the Chinese businesses he works with are to African investment. He also sees the advantages for both China and Africa for increased trade links, with both gaining access to a vast consumer market on either side, and the potential this gives for their domestic products.
As he points out China is among the world's largest market and its only going to grow in the future, for African countries that position themselves well and take part in things such as the belt and road initiative, it puts them in the perfect place to push their own domestic products to Chinese consumers'.
The focus in the 2018 summit on the development of SMEs is also important Aminu believes, as it is not simply government to government loans but rather investment and partnerships with Chinese companies. He feels this could develop even further in the future with more credit or lines of credit from China to African businesses to allow them to grow profitably.
The key to the fifth action plan developed by China is that it encourages African entrepreneurship and helps to develop capacity leading to a more sustainable growth in prosperity for Africa and profitable opportunities for its Chinese business partners.
Overall, he hopes that these proceeding 5 years will go down in history among the glory days of African industrialization as a resultant effect of foreign investment originating from China.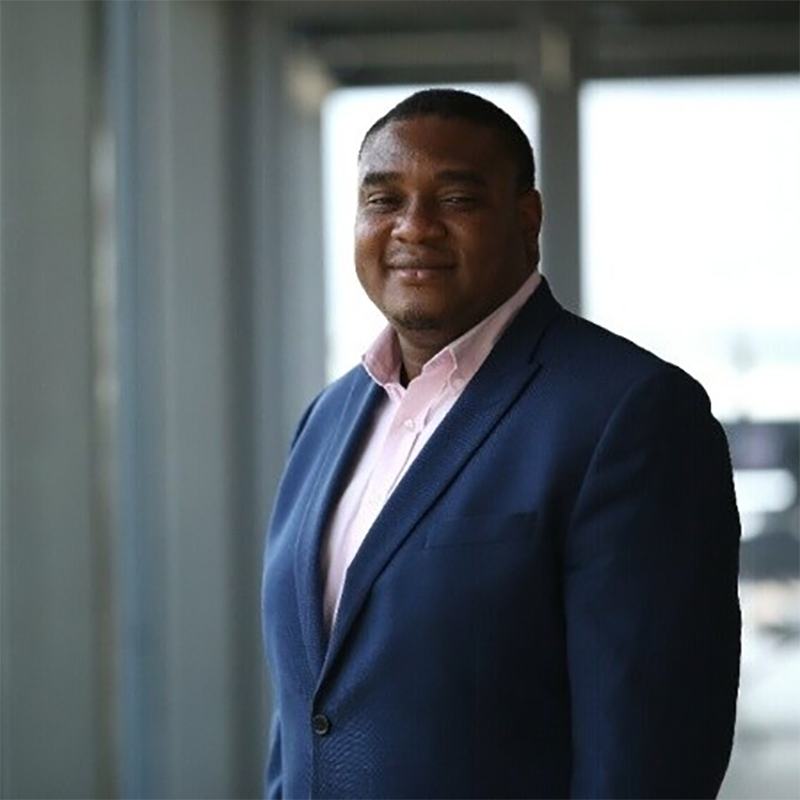 Δ Adebola works with business people from many different African nations in his work on emerging economies.
My final interview was with Adebola Omololu, who has lived in Shanghai for three years and is a Nigerian market researcher focusing on emerging markets. He is also the president of the Nigerians in diaspora organisation in East China. As a Nigerian citizen and as someone working with Africans from all over the continent his opinions on FOCAC are mixed.
Adebola made the point that Africa cannot be viewed as a whole as it is such a large continent with different markets and cultures, so Chinese investment, and the perception of it, will vary massively between countries.
He feels that south –south cooperation has overall been positive for Nigeria, as Nigeria is Africa's largest economy and it is widely recognised there that investment by China offers wide opportunities for emerging markets.
As he sees it, the smaller African countries are mostly warier of foreign investment as past western investment has often come with a lot of strings attached. While they are slightly more positive towards Chinese investment, there is still a level of uncertainty amongst the average population.
It is important to build trust with these countries and show them how their businesses can benefit from increased links with China.
For this the increased access to trade for African markets President Xi mentioned will be essential.
The offer to include Africa in the China international import expo could bring about positive increases of African exports to China, which will be particularly important to smaller economies. His company estimates that trade between China and Africa will reach between 180-200 billion dollars in 2018, in part due to the recent summit and the continuing effects of the 2015 agreements.
This investment is not just a one-way street as African investment in China in 2012 reached a cumulative $14.2 billion dollars while current estimates from Adebola's market research show that African investment in China has now reached $25 billion in 2018. This is a trend that he hopes to see continue, he feels that Africans have begun to understand Chinese people more and that as trade with African counties increases, more Chinese are becoming interested in learning about Africa.
To summarize Adebola feels the recent summit is a 'good indication of where we are with the China Africa relationship' and he hopes to see positive outcomes for all the countries involved.
The picture shown by talking to these African business figures is one of opportunity, for both economic gains by both countries and also hope for a growing understanding on both sides going forth.
By investing in Africa and its people China is seizing an opportunity that the west has been slow to grasp. As the commitments of 2018 are fulfilled we can only wait to see how each country uses these new opportunities to move forward into a global future.
Editors: Elena, Sophie
Related Readings: