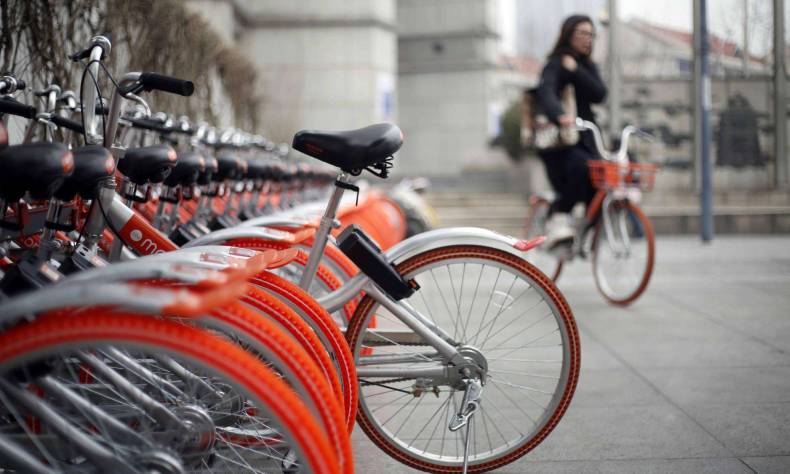 China is Becoming a "Sharing" Country
China's economy has been developing fast for several decades, and the public are always ready to adopt a positive attitude to new things. Hence when a new economy form like the sharing economy appears, the inclusiveness it represents instantly attracts a lot of young people.
China is now experiencing an unprecedented commercial revolution. When you walk along streets in Beijing, you will find groups of bikes of all colors placed nearby the subway stations — yellow, orange, green, blue… You can even find Minions-themed bikes. After a long and tiring day at work, office workers emerge from the subway stations, take out their cellphones, find a bike, open the corresponding app, and scan a QR code to unlock it. When they reach their destination, they just need to lock the bike and the charging service will automatically stop.
All you need to do is download a free app in your smart-phone, then you can enjoy a bike equipped with GPS, built-in lock, and airless puncture-proof tires. It will cost only around 15 cents (US) per hour, which is very cheap and convenient for most people. As a result of all this, since its launch bike-sharing has proliferated all over China at a remarkable rate. Recently, a Chinese bike-share company also expanded into the UK market. Its official launch in Manchester represented the first step for Chinese bike-share companies to expand outside of Asia. In March this year, Chinese bike-sharing began operations in Singapore.
In addition to bikes, other sharing units are emerging as well, such as cars, power banks, basketballs and umbrellas. A growing number of entrepreneurs and venture companies are joining in this new field of the "sharing economy". As distinct from Uber, which launched earlier and is now very familiar to many people, the concept of the "sharing economy" now means not only sharing things that are being used with other people, it also means purchasing large quantities of items for "sharing", with more and more companies investing in the field. The feature that they share in common is that they are all new business models that rely on advanced Internet technology to optimize the allocation of decentralized resources. It is reasonable to make a positive prediction that this commercial revolution will infiltrate every corner of our society and have a real impact on our future.
According to statistics in the 2017 Report of the Development of China's Sharing Economy, the value of China's sharing economy market in 2016 was around 509 billion USD, and investment reached 25 billion USD, with a year-on-year growth rate of 100%. More than 600 million people participated in China's sharing economy, an increase of 100 million compared with the previous year. Among these were nearly 60 million people offering services, and platforms offered around 5.85 million employment opportunities. It is predicted that the growth rate of the sharing economy will remain high at about 40% in the coming years, and it will make up more than 10% of China's GDP in 2020. The sharing economy is undoubtedly a huge economic pie.
The sharing economy began to achieve real development in China in of 2015, and it is staggering that it has reached such a scale in just two years. This rapid development, first of all, stems from the improvement in information technology in China.
With the popularization of China's telecommunication facilities and the improvement of its technology in recent years, Internet industries are growing rapidly in China. A host of companies such as Alibaba, Tencent, Baidu, and Jindong are flourishing, and internet technologies are widely applied in all walks of life. The value of online retailing surpassed 737 billion USD in 2016, making up almost half of the global market in this field.
Progress has also been made in basic internet technology. Based on data from the China Semiconductor Industry Association, sales of China's semiconductor chips in 2016 reached 63.7 billion USD. Sales from design departments exceeded sales from closed-beta test departments for the first time, and became the largest part of the industry. From 2014 to 2016 the number of Integrated circuit design companies in China rose from 681 to 1362. Documents like the Outline of National Integrated Circuit Industry Development and Made in China 2025 emphasize the technological innovation which boosts the development of technology companies such Huawei, Xiaomi and ZTE Corporation.
Internet technology is the basis of the sharing economy. It gives us communication unconstrained by time or geographical boundaries. With the help of technologies like internet of things, real-time location, and cloud technology, we can obtain accurate locations and share real-time information. They also help to make intelligent decisions which will greatly improve production efficiency.
Relying heavily on internet technology, information security is one of the public's greatest concerns in terms of the sharing economy. From 1st June this year, the Network Security Law will regulate information security and protect personal privacy from the level of a national law, so as to create a good social environment for the sharing economy to develop.
Like other internet economies, the reason why the sharing economy has grown so fast in China is closely related to the country's openness to new technologies and new business modes. Government support is also a key success factor.
China's economy has been developing fast for several decades, and the public are always ready to adopt a positive attitude to new things. Hence when a new economy form like the sharing economy appears, the inclusiveness it represents instantly attracts a lot of young people. It offers them convenience and benefit, and also new ways of socializing. The American short-term tenancy platform Airbnb serves as a good example. It has won a lot of public attention since it entered the Chinese market. It has introduced a new way of traveling, the homestay, to the Chinese – one which is very strange to the majority. However, it has won quick acceptance since it is cheaper than hotels and it is a fresh approach. A host of domestic companies that focus on homestay traveling are emerging and developing, such as Xiaozhu Homestay, and homestay has become an acceptable choice for more and more Chinese travelers.
In addition to high public acceptance, the Chinese government has offered consistent support to the development of sharing companies. China's economy is now in a critical phase of transforming and upgrading. The forces of old economic engines like investment and exports are diminishing, thus the government has been strongly supportive of the development of new economic models. The online car-hailing service company Didi Taxi, for instance, faced supervision problems in its early phase of development, and was opposed by the taxi industry. However, the Chinese government did not suppress its development in response – on the contrary, it published Interim Measures for the Administration of Online Taxi Booking Business Operations and Services in 2016 and legalized online car-hailing services. In contrast, many countries and cities like Germany, France, Spain, Japan and Singapore still prohibit the development of online car-hailing. This is another example of the inclusive approach of the Chinese government.
Early in September 2015, a speech delivered by premier Li Keqiang at the Summer Davos Forum pointed out that the sharing economy is a new engine to fuel economic growth. On 3rd July this year, the National Development and Reform Commission (NDRC), along with other 7 departments, published Guiding Opinions on Promoting the Development of the Sharing Economy. This document clarifies the definition and importance of the sharing economy, and provides relevant supporting measures.
It notes that the sharing economy in its current stage is a new economic form that optimizes allocation of decentralized resources by utilizing network information technology through internet platforms. The sharing economy will continue to grow fast and accelerate its integration with the real economy in the future; it will reshape the nature of employment and speed up the internationalization of enterprises. The Guiding Opinions highlights the very positive attitude of the Chinese government towards the prospects and the future of the sharing economy.
China's experience shows that the sharing economy is not only a new driving force for economic growth, but also useful in expanding domestic demand and increasing employment, thereby promoting social inclusiveness and equity. The sharing economy has quickly become a highlight of economic development. It can be expected that China will offer a more amicable social environment and opportunities for the development of the sharing economy, and it is quite possible that it will become the world's leading "sharing" country.
(Bian Yongzu, researcher of Chongyang Institute for Financial Studies, Renmin University of China)