China's Marauding Elephants Highlight the Challenges of Balancing Ecosystems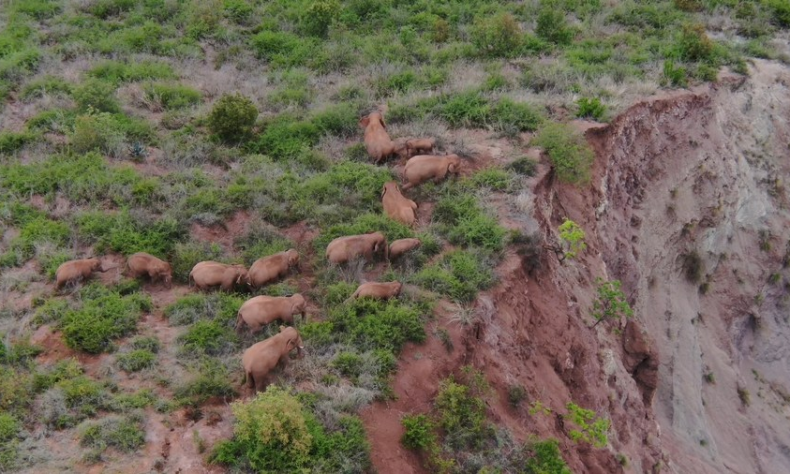 That people have been able to follow these elephants' journey is a testament to investments made by China in protecting and increasing their numbers over the past 50 years.
It's hard to have not been swept up in the excitement caused by China's marauding herd of Asian elephants.
The animals, which have covered over 500km since leaving their home in the tropical forests of Xishuangbanna, Yunnan province, in March last year, have recently become superstars both at home and abroad as their trek has taken them closer to Yunnan's largest city, Kunming.
Millions of fans have been enthralled by their recent movements, tuning in daily to see their mischievous antics in small Chinese villages, and the early life of a new-born elephant calf as it literally finds its feet (and sleeping spot) in the new herd.
Now, 14 of the 17 elephants are continuing to journey north (the other three have absconded from the group) slowly making their way through the small city of Yuxi.
Improvements to elephant protection
That people both in China and the rest of the world have been able to follow their journey is a testament to investments made in protecting and increasing their numbers over the past 50 years.
In the 1970s, China's Asian elephant population was alarmingly low. Although never boasting the same high numbers as India or Myanmar, poaching for the animal's valuable ivory tusks and consistent encroachments on their natural habitat had seen their numbers whittled down to just 170.
But since being listed as endangered on the International Union for Conservation of Nature's Red List of Threatened Species – the highest level of protection in China – those numbers have risen by over 50 percent, with around 300 elephants occupying the tropical forests of Yunnan, according to the leading Chinese English newspaper China Daily.
Part of that protection has come from the establishment of 11 nature reserves in the southwestern province, all of which are protected by strict laws prohibiting logging and poaching. Significant funding has gone into breeding the animals, with over $1 million (7 million RMB) spent on a high-tech breeding base, as well a state-of-the-art elephant monitoring system worth 2.8 million RMB to help track them.
Authorities have also increased care inside the reserves, employing elephant caretakers, known as "elephant dads", to help look after and rescue the animals when they become injured or are abandoned by their herd.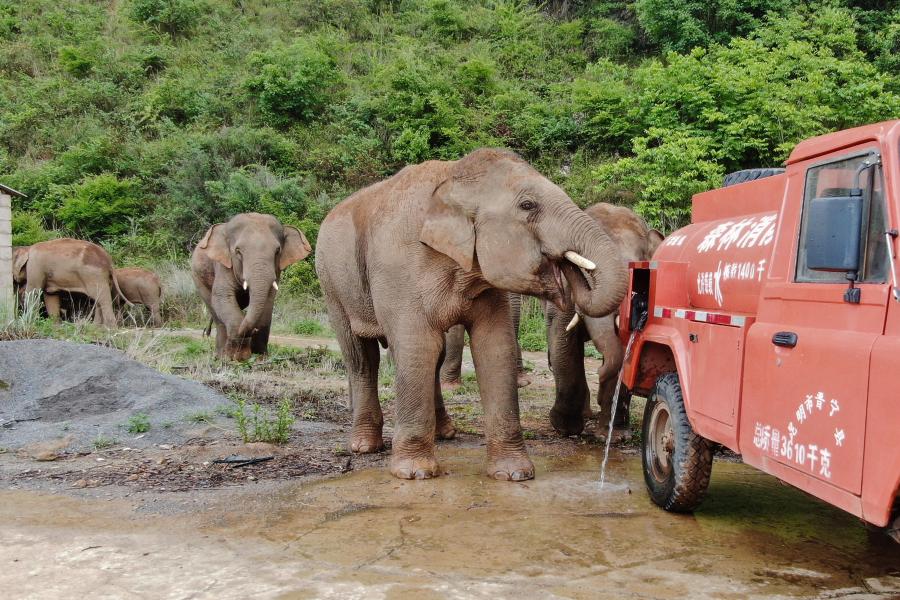 Careful Management of elephants' health
In particular, the elephant monitoring system has been invaluable this year, helping conservationists, local authorities and the general public as they've come together to safeguard the elephants' safe passage north.
To ensure the elephants have not ventured into Kunming, home to 8 million people, local officials have dropped tons of fruits and crops to keep them away from residential areas. On one particular day, when the elephants were in danger of venturing too close to the city, authorities sent 360 emergency response and police personnel, 76 police cars and dump trucks, five excavators and nine drones and fed 16 tonnes of food to the elephants, according to Chinese news outlet Xinhua. Just last Saturday, local authorities also sent 319 personnel, more than 600 vehicles and 18 drones used on June 13 to prevent any human-to-elephant conflict.
And when food and blockades have not worked, residents, not elephants, have been moved along, with over 3,500 residents in and around Yuxi evacuated, allowing the elephants to roam in and search for food – causing almost $1 million (6.8 million RMB) in damage as a result.
Why have they been trekking so far?
As the elephants take a breather in Yuxi, enjoying its hot and humid surroundings, so too are the local authorities pausing for thought and asking themselves just why these elephants have travelled as far north as they have, and why they have yet to show any sign of a return.
Because while careful management and sympathy from residents over the past few weeks has been rightly applauded, having marauding herds of elephants, some weighing as much as 5000 kg each, is not a sustainable situation – not for the humans they come into contact with and especially for the elephants themselves.
While conservationists have yet to agree on a reason for the elephants' recent exploits, one theory suggests a mixture of China's success in increasing their numbers and their habitats, may have in fact contributed to the current situation.
Having grown by over 50 percent, China's elephant population is now much bigger than before, requiring more space for the animals to roam and graze. And yet, while the elephants' habitat has grown in size over the past 50-years – elephants in Yunnan now roam in an area of over 7,000 sq, 4,200 sq km of which is nature reserves – rules and laws that once helped those elephants thrive may now be holding them back.
Many of China's nature reserves are now covered by tall, woody vegetation, which is neither the elephants favoured food, nor a good way of making more space for them. This is a key reason why, according to reports, two-thirds of China's Asian elephant population now live outside the reserves, and why instances of elephants wandering into residential areas have increased in recent years.
Managing ecosystems a constant challenge
Solutions exploring how to manage further instances, such as combining Yunnan's nature reserves into one giant national park, are currently being explored to reduce human-to-elephant contact in southern China.
But while we await to see when and how the elephants return to their home in Xishuangbanna, two things have become increasingly clear from their recent excursion; One, that the coexistence between man and beast is a contestant yet ever-changing challenge, and something that requires greater global attention.
And the second, that China and its general-public have a great deal of love and respect for these wild yet beautiful animals.