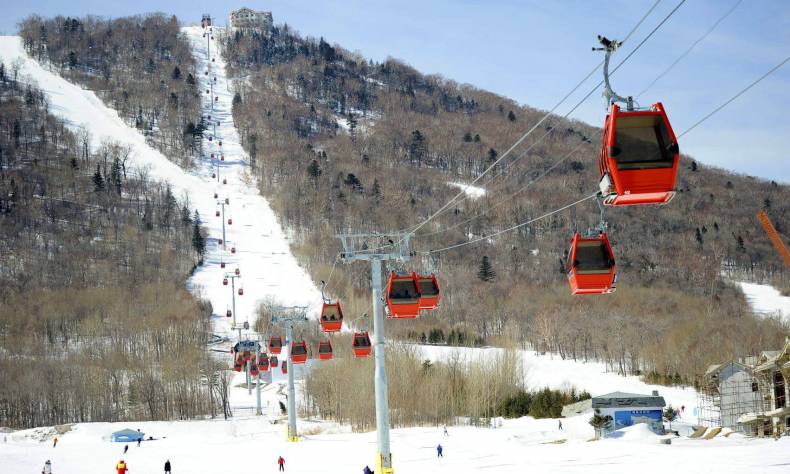 China to Optimize the Business Environment
Improving the business environment for Chinese enterprises should not be a paper exercise; it must be acted upon. The State Council has provided clarity on how to make Chinese entrepreneurs feel more "secure".
——The State Council to Make the Entrepreneurs Feel more "Secure"
Heilongjiang Province, Northeast China, ordered on Thursday a local ski resort management committee to apologize to a private company and announced that it would punish the staff involved for "serious disciplinary violations."
The announcement came as a video clip went viral recently, in which Mao Zhenhua, chairman of the Sun Mountain ski resort at Yabuli, a town in Heilongjiang, complained the local resort management authorities for "abusing its power to edge out private companies", through measures including asset seizures and unreasonable police investigations.
"We have been here for 22 years," Mao said in the video. "Then they (the management committee) come along. They are the government but also a company. They use the cover of their government status to seize our assets."
The video has caused a stir in China and the incident continues to ferment. This case in northeast China has attracted the attention of a much wider range of society to the business environment in China.
On January 3, the first executive meeting of the State Council in 2018, identified two major needs – "improving the business environment and stimulating market vitality and social creativity".
Improving the business environment for Chinese enterprises should not be a paper exercise; it must be acted upon. The State Council has provided clarity on how to make Chinese entrepreneurs feel more "secure".
Optimizing Business Environment will Help Unleash Productivity
At an executive meeting on Jan 3, the State Council defined measures to optimize the business environment and stimulate market vitality and social creativity.
Premier Li Keqiang, who chaired the meeting, said that optimizing the business environment would help productivity and competitiveness. The business environment is the foundation for developing a modern economy and ensuring high-quality development.
How can China's business environment be optimized? The meeting defined the following measures:
First, the government will cut red tapes, reduce taxes and slash fees for enterprises.
Second, properties of various types will receive equal protection, and more efforts will be made to protect intellectual property rights.
Third, a new oversight mechanism will be established and gradually rolled out nationwide.
In terms of cutting red tape, reducing taxes and slashing fees for enterprises, the government will further simplify the procedures for administrative review and speed up approval procedures for business startups, tax payments, applications for construction permits, provision of water, electricity and gas services, and real estate registration. Slashing electricity costs will also be a priority.
In terms of protecting intellectual property rights, enterprises will be treated the same whatever their ownership structure in qualification and approval, government procurement, major projects in science and technology, and setting standards.
The new evaluation mechanism, characterized by integrity, commitment, and information disclosure will be established at a faster pace, and gradually rolled out nationwide. A unified sanction mechanism for breaches will be improved. Special measures by sector will be unveiled to facilitate applications for construction permits and cross-border trade.
The Government Assumes a More Important Role
The government will play a bigger role in optimizing the business environment.
Tu Xinquan, Dean of China Institute for WTO Studies, University of International Business and Economist said that it is urgent for China to establish a sound business environment.
According to the report Doing Business 2018 issued by the World Bank, China's business environment ranking is 78th, with its score 0.4 points higher than last year, but still far below the scores of developed countries and even behind a lot of developing countries.
Taking the recent Mao Zhenhua incident as an example, Tu Xinquan explained that the government must promote genuine reform to establish a law-based, internationalized, and convenient high-quality business environment.
Tu believes that shortcomings in the rule of law and public administration are two of the problems in China's business environment most often subject to criticism. The key element of the solution is deeper reform of government functions.
The first requirement is to streamline the government and delegate authority: Clean up the list of items for inspection and penalty and reduce its scope; set up a charge item list mechanism for companies involved; prohibit charging by local governments beyond their authority and beyond the standardized limits; eliminate double charging; standardize intermediary services and related institutions; slash institutional costs and non-tax revenue; alleviate companies' burdens at source; and increase the transparency of the business environment. At the same time, we should set up an effective management model of pre-establishment national treatment (PENT) with a negative list; transform the market access system for foreign investment from the previous system of examination and approval to a system of application for filing; cancel or simplify pre-approval items; standardize qualification recognition items; and strengthen protection for intellectual property.
The second requirement is to exercise practical control: strictly maintain governmental functions of fair law enforcement and post-supervision;boost the establishment of incentive mechanisms for companies which obey the rule of law; deal promptly with unfair competition and illegal acts in accordance with the law; standardize the activities of law enforcement and the inspection of companies; transform "inspection by rote" to "a single thorough inspection" so as to scientifically and effectively control companies' behavior.
The third requirement is to improve services: combine administration with services; promote convenient and intelligent public services with the help of the Internet; reduce the chronic problems with company matters; increase the government's work efficiency; and transform sequential business processes to parallel processes so as to shorten the time required to meet regulatory requirements.
Interviewee: Tu Xinquan, Dean of China Institute for WTO Studies, University of International Business and Economist 
Editor: Cai Hairuo