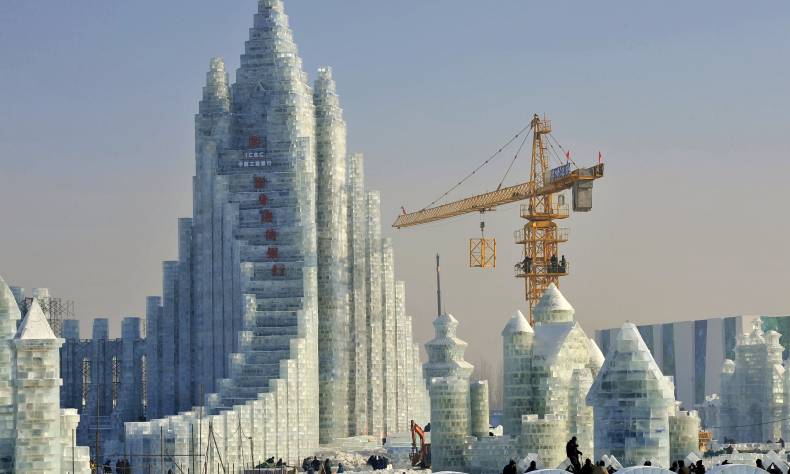 China's Economy in 2017: A Good Driver of the World Economy
On January 18th, the National Bureau of Statistics revealed that in 2017, China's gross domestic product (GDP) totaled 82.7 trillion yuan (about 12 trillion U.S. dollars), surpassing the 80 trillion yuan mark. The country's economy expanded 6.9 percent in 2017, with the pace of growth accelerating for the first time since 2011.
By Zhang Maorong
On January 18th, the National Bureau of Statistics revealed that in 2017, China's gross domestic product (GDP) totaled 82.7 trillion yuan (about 12 trillion U.S. dollars), surpassing the 80 trillion yuan mark. The country's economy expanded 6.9 percent in 2017, with the pace of growth accelerating for the first time since 2011.
Looking around the world, this growth rate is much higher than that of developed economies such as Europe, the United States and Japan, and surpasses the economic growth rate of all the other BRICS countries. In general, China's economy has been running steadily in the right direction, with the growth rate beating expectations, and it is steadily moving towards a stage of high-quality development, injecting powerful momentum into world economic growth.
China continued to optimize and upgrade its economic structure. In 2017, investment in high-tech manufacturing and equipment manufacturing in China increased by 17.0% and 8.6% respectively over the previous year, accelerating 2.8 and 4.2 percentage points respectively. In contrast, investment in high energy-consuming manufacturing fell 1.8% over the previous year. The industrial capacity utilization rate reached 77.0%, the highest in 5 years.
New industries and new products flourished, and there were a number of major scientific and technological achievements in high-tech fields such as aerospace, artificial intelligence, deep-sea exploration and bio-medicine. The added value of industrial strategic emerging industries increased by 11.0% over the previous year, an increase of 4.4 percentage points over the above-scale industries.
Among these, industrial robot output increased by 68.1% over the previous year, and new energy automobiles production by 51.1%. In 2017, the manufacturing price of China's industry was up by 6.3% over the previous year. This ended a five-year decline since 2012, which indicated that industrial production has stabilized again.
In terms of new formats, online retail sales of physical goods increased by 28% and express delivery volume maintained a growth rate of nearly 30%. In terms of the new model, whether the sharing economy, the digital economy, or the platform economy, all are growing rapidly and have become new drivers of economic development.
From the perspective of the quality of economic growth, the quality of micro-products, services and projects are all improving. Employment continues to improve with incomes increasing rapidly, and the income gap between urban and rural residents continues to shrink. In 2017, the average rural residents' per capita disposable income was up 7.4 percent after deducting price rises, while that of urban residents increased 6.5 percent. The real growth rate of rural incomes was 7.3%.
The per capita income multiples difference between urban and rural residents was 2.71, a decrease of 0.01 over the previous year. The quality of economic growth was also reflected in the steady progress of green development and further improvement of the ecological environment. In 2017, the concentration of PM2.5 dropped in 338 prefecture-level cities in China. Energy consumption per unit of GDP dropped by 3.7% over the previous year, which was higher than the initial goal of 3.4%. This shows that economic growth is of good quality.
In economic structure, the contribution rate of tertiary sector in value-add to China's GDP growth in 2017 was 58.8%, an increase of 1.3 percentage points from the previous year; the added value of services sector accounts for 51.6% of GDP, supporting the development of China's economy along with industry. Obsolete industrial capacity exited at an accelerated rate, and the six high energy-consuming industries continued to decline in value-added growth; In 2017, the task of de-capacity coal and steel exceeded that of "coal-topping steel" consumption.
On the demand side of China's economy, the fundamental structural changes have shifted from relying mainly on investment to investment and consumption combined. Currently, consumption is the leading driving force of China's economic growth. Final consumption expenditure in 2017 contributed 58.8% of GDP growth, which was 26.7% higher than total capital formation. The contribution of net exports to economic growth was only 9.1%. In addition, the consumption structure of residents in China continues to be optimized and upgraded, and the proportion of service consumption continues to increase. The Engel's coefficient has dropped below 30% for the first time in 2017, reaching the international standard of well-being.
In the area of international economic cooperation, the structure of foreign trade and two-way investment are more balanced. China's foreign trade has shifted from relying heavily on trade in goods to a mixture of goods and services and two-way investment. From the perspective of trade in goods, the total value of imports and exports in the whole year was 27.8 trillion yuan, up 14.2% from the same period of last year, reversing the decline of the past two years. Annual exports were 15.3 trillion yuan, an increase of 10.8%; imports were 12.5 trillion yuan, an increase of 18.7%; the export surplus of 2.9 trillion yuan was down 14.2% compared with the same period last year, and the scale of surplus further narrowed .
The structure of international investment cooperation is more rational. According to the statistics of the Ministry of Commerce, in 2017, domestic investors in China increased their new non-financial direct investments in 174 countries and regions to US $ 120.08 billion, down by nearly 30% over the same period of the previous year, and unproductive outbound investment has been effectively checked. China actually utilized 875.56 billion yuan of foreign capital, an increase of 7.9% over the same period of previous year, achieving steady growth and setting a new record.
More Balanced International Economic Cooperation
From 2013 to 2017, China's average contribution rate to world economic growth was more than 30%. The "2018 World Economic Situation and Prospects" released recently by the United Nations shows that one third of global economic growth in 2017 depends on China.
It can be seen that China's economy has been growing steadily, becoming the main driver of global economic growth. In the process of full recovery of the world economy, the Chinese economy has been playing the role of "ballast" and "booster." David Lipton, the first deputy president of the International Monetary Fund, said that China is already the center of global supply chains, a huge magnet for the export of goods, and an important source of global demand. China has become an important trading partner of more than 100 countries, whose economies account for 80% of global GDP.
Edwin Basson, director general of the World Steel Association, said that since China's steel industry has solved its problem of surplus production capacity, the fall in crude steel output has surpassed the annual output of the United States and has helped to improve the international steel market. The supply-side structural reform of China's iron and steel industry has played a leading role in the world steel industry.
Yoshino Nobuyuki, director of the Asian Development Bank Institute and honorary professor at Keio University in Japan, said that in 2017 China's economic growth exceeded the expectations of the international economic community, indicating that China's economic development is still in a strong position. China is the beneficiary and promoter of world economic liberalization. As the world economy develops in the future, China should step up international economic cooperation, and increase its all-round economic cooperation with the Asia-Pacific countries in particular.
Looking ahead, China's economy will continue to move on with stability, high quality and sustainable development. Recently, the Organization for Economic Cooperation and Development (OECD) predicted that China's economy will maintain strong growth in 2018 and 2019, but the slowdown in exports and investment will bring the growth rate down to 6.6% and 6.4% respectively.
Stable Economic Growth after the 19th CPC National Congress
Mizuho Securities believes that after the 19th CPC National Congress, with the further strengthening of the leadership of the new government, China will be able to avoid the problems currently faced by the Western countries and maintain its advantage of stable and sustainable development, as the government did in the financial crisis.
Morgan Stanley, an internationally renowned investment bank, said that in the future, China's economy will enter a stage of development characterized by "slower growth and higher quality."
The report of the 19th National Congress of the Communist Party of China pointed out: Socialism with Chinese characteristics has entered a new era. China in the new era will bring more vitality and opportunities to world economic growth. China's economy is about to enter a new round of dividend release cycle which can be seen from the development trend. In November 2018, Shanghai will host the first China International Import Expo to build a new platform for cooperation between countries in opening up the Chinese market. It is estimated that in the next 15 years, China will import 24 trillion U.S. dollars of goods, attracting direct overseas investment valued at 2 trillion U.S. dollars, and its total foreign investment will reach 2 trillion U.S. dollars, which will bring great opportunities to all countries in the world.
Georgia Giabannoff, director of the China Center for Political and Economic Studies at Sofia University in Bulgaria, believes that China's economy is moving steadily forward and will have a more profound impact on the world as China further develops. China's Belt and Road initiative is a win-win strategy that has not only injected vitality into world economic development but will also promote the further integration of world civilization.
Zhang Maorong, Researcher in the International Economy Department of the China Institute of Contemporary International Relations (CICIR)