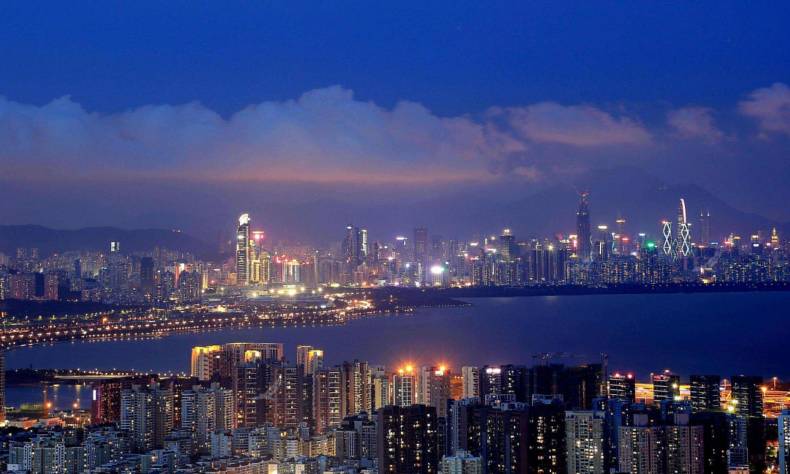 China's Greater Bay Area: the Next Engine of Growth
The Greater Bay Area project aims to integrate major infrastructure and provide greater market access conditions across the region.
By Rachana Gupta
On 19th and 20th May 2018, the Economic and Development Forum of the Greater Bay Area was held in Shenzhen. Approximately 400 Government, Academic and Financial Industry officials and representatives participated in the forum to discuss opportunities available, offer insights, and set the direction for the development of the Greater Bay Area.
Regional Integration Keeps Shenzhen to the Fore
Speaking at the forum, Deputy Mayor of Shenzhen, Gaozhimin emphasized the importance of good coordination in managing the integration of the Hong Kong-Guangdong-Macau Bay Area. Planning should include systems, talent, technology, industry, environment, politics, business, academia and media.  Gaozhimin stated that R&D spending in Shenzhen in 2017 reached over 90 billion yuan, accounting for 4.13% of Shenzhen's GDP. Shenzhen, one of the core cities in the Bay area of the Hong Kong, Guangdong and Macao region, will continue to play an important role in the integration and development of the area through its technological prowess.
The former President of the Chinese University of Hong Kong, Professor Lawrence Lau, proposed in the forum that the nine cities in the Greater Bay Area should be designated as a free trade zone to achieve the free flow of goods, services, personnel, capital and information within the region. The two-day forum also showcased the success of China's economic development, and provided a platform for the overall promotion of the Hong Kong-Guangdong-Macau Bay Area and its role in national economic development, all-round opening-up and innovation in China.
This regional integration initiative will help the area to leverage the strength of its eleven cities, such as Hong Kong's expertise in the financial sector and high-end services, Shenzhen in high-end manufacturing and cutting-edge technological eco-systems, Macau in tourism,  and Dongguan and Guangzhou in manufacturing. Additionally, the completion of the Zhuhai-Hong Kong-Macao Bridge and the Express Rail Link will further improve land connectivity and cooperation among GBA cities. It is worth noting that the GDP of the region was approx. 1.5 trillion US dollars in 2017, and was growing at 7% per annum. Though this region has less than five percent of China's total population, its contribution was roughly 12 percent of the nation's GDP ( China mainland plus Hong Kong and Macao ). Additionally, two out of three China's stock exchanges are located in this area in Shenzhen and Hong Kong. Moreover, four out of top 100 universities in the world are located in the GBA, which improves the region's ability to attract and retain world-class talent.
The importance of constructing a world-class cluster to further boost economic and regional activities can also be gauged by another important event. On 22nd May at the China Economic Development Forum in Shenzhen, Vice-Premier Han Zheng (top state leader and in charge of China's ambitious "Greater Bay Area Project"), urged that the local leaders should set aside their differences and focus on supporting the economic integration of the Greater Bay Area. He further highlighted that the economic integration scheme was personally planned by President Xi Jinping. Additionally, he encouraged them to take bold and innovative steps in order to strengthen cooperation with Hong Kong and Macau and to abandon outdated thinking.
Greater Idea for the Greater Bay
The Greater Bay Area project aims to integrate major infrastructure and provide greater market access conditions across the region. It further proposes that the country should reduce bureaucracy and ease restrictions on investment between the mainland and the two special administrative regions. It also plans to support regional cooperation in sectors like education, tourism, healthcare and environmental protection. This will also create external global linkages and help the region to seize a leading position in the global value chain. By 2030, the region is expected to play an important role in advanced manufacturing, innovation, shipping, trade, and finance. This strategy is also aligned with the initiative to integrate the economies along the Silk Road Economic Belt (Central Asia to Europe) and the Maritime Silk Road (South Asia to Africa and the Middle East together).
It is well-known that China's policymakers want to boost economic growth in the GBA region by migrating from traditional manufacturing to a new tech-driven economy.  Shenzhen, which is already a home to tech giants such as Tencent, Huawei, DaJiang and a number of other innovative tech companies, can help to realize this ambition by facilitating technology and innovation in the area.
The contribution of Shenzhen in the GBA
Shenzhen is widely considered as the Silicon Valley of China and has the highest standard of living in the country. It is also considered as one of the most environmentally friendly and hi-tech cities. However, unlike Beijing and Shanghai, Shenzhen does not have a long history. Its development merely started a few decades back, when it was declared as China's first Special Economic Zone in 1980. It was the first testing ground for the country's reform and opening-up. Before that, the city was a simple fishing and farming area.
High demand for electronic products and the growing purchasing power of Chinese consumers have propelled Shenzhen to integrate manufacturing, technology, and innovation into its manufacturing and service ecosystem. This consists of a network of supply chains, experienced engineers and advanced logistics and infrastructure. Further, tech behemoths such as Huawei, Tencent, DJI, and BYD have also helped in building a start-up friendly ecosystem through mentoring and investment of resources. As a result, new startups have been mushrooming in Shenzhen. A number of regional companies – especially in big data, artificial intelligence, and internet technologies – are doing exceptionally well in Shenzhen.
There are countless names in the list of the start-ups that have benefited from this eco-system. They include UBTech (a new-generation & most valuable consumer Robotic company), Yeefang (a multi-structure car parking manufacturing company), Prynt (a Polaroid-style instant photo printer company), and iCarbonX (first digital health management platform that enables users to create their digital profiles so they can understand, monitor and predict their health condition). With its unparalleled energy, innovative eco-system, and futuristic approach Shenzhen can become increasingly important as a technology and innovation hub – not only for the Greater Bay Area or China, but also for the whole world.
The current trends show that Shenzhen and other cities in China's Greater Bay Area, with the Governments' support, are all set to rise on par with other already developed bay areas such as San Francisco, New York, and Tokyo. This regional integration will improve the free-flow of people and goods, boost regional economic activities, and enhance regional cooperation to effectively tackle issues such as pollution. This will also provide improved educational opportunities and retirement options.
However, there are also certain challenges to be overcome in accomplishing this target, such as separate customs provisions within the GBA for Hong Kong, Macau, and Guangdong, different taxation policies, different Government regulations and policies, and connectivity related issues. In order to overcome these challenges, it is important that the Chinese Central Government provides strong financial and regulatory support and local Governments set aside their regional differences and formulate standard ground rules to operate within the GBA. One possible approach to handling this enormous task of massive regional integration is to bring all the stakeholders such as Central & Regional Government, Academic, and Private Institutions together on a common platform to create a public policy think tank.
Rachana Gupta is a China Focus Columnist, an Expert Author of Ezine articles and an active blogger and poetry writer.
(The article represents the author's personal opinion which does not represent the China Focus' stance.)