Chinese Travellers Face "Golden Week" Conundrum of Travel Rush and COVID-19 Alert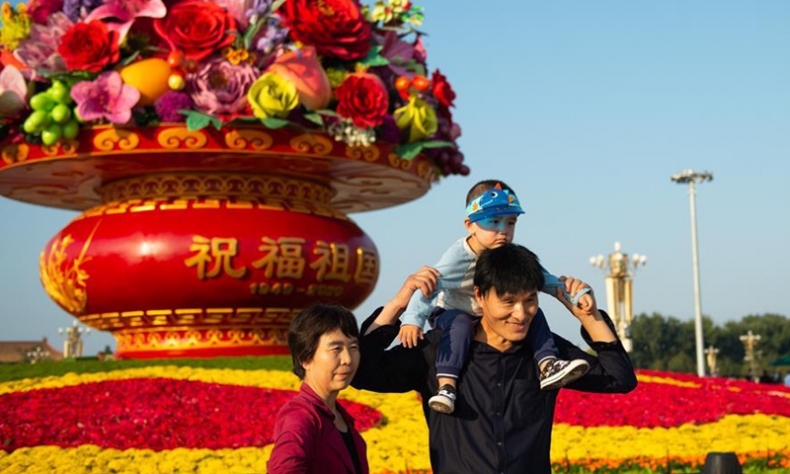 600 million trips are expected to be made during China's "Golden Week" holiday season, with its tourism sector expecting to rebound dramatically. But just what kind of impact will the COVID pandemic have on Chinese travelling habits?
Travel is in the air for many Chinese families as they gear-up to take advantage of a bumper eight-day vacation of mid-August and National Day 2020 – more commonly referred to as "Golden Week".
For many, it will be their first opportunity since the pandemic struck to escape their homes, offering a chance to reunite with family and friends, or to finally realize best-laid travel plans made during those long-drawn-out months spent couped up earlier in the year.
It is this sentiment that local governments, travel agents, hoteliers and restaurants are banking on, one that they hope will help inject fresh momentum into a sector that has been badly affected by the pandemic.
Travel returns to pre-pandemic levels
Early signs of a return to the travel rush of previous holiday seasons has so far been encouraging. Travel booking platform Ctrip is estimating more than 600 million trips will be made during the holiday, while China State Railway Group, who operate and maintain China's vast railway network, are predicting 108 million train trips, the most since the pandemic.
Beijing's two airports – Capital and Daxing – are expecting to facilitate over 3 million passengers during the vacation period, and in China's southernmost province of Hainan – a developing free trade port with a bustling duty-free shopping scene – an extra 1,346 flights have been added in anticipation of the thousands of tourists who've been lured to the tropical island for sun, sea and seafood.
In Wuhan, the centre of the coronavirus outbreak in China, the city is set to welcome hundreds of thousands of tourists, with its popularity increasing dramatically since the pandemic struck in January. Entrance fees for all the cities attractions have been scrapped as a way to stimulate the city's post pandemic tourism, a policy being rolled out in other cities across the country as they look to boost the sector.
The dearth of international travel options as countries outside of China battle a second wave of the virus, has made domestic tourism the only realistic only option for people wishing to go way, and as such has seen demand for luxury hotels skyrocket, with Ctrip reporting bookings increasing by 600 percent in cities such as Shanghai, Sanya and Chengdu.
Road trips over train trips
Confidence from no recorded locally transmitted COVID cases since mid-August has helped reassure locals that it is safe for them to travel once again. But COVID-19 has had a fundamental change in Chinese travelling habits, with many revaluating how far and by what method they will venture out over the coming days.
This year more people are expected to travel closer to home or by private transport as they try to negate any potential safety concerns from mass travel. China's Ministry of Transport has said it is expecting over 51 million road trips to be made per day on the country's vast motorway network, an increase of 1 to 3 percent year-on-year.
The increasing popularity of road trips and smaller group tours of 10 to 20 people is pushing this rise, with China's Ministry of Culture and Tourism expecting more than 60 percent of holiday travel to be conducted via this form of tourism. The northern province Qinghai and autonomous regions Xinjiang and Inner Mongolia, as well as the southwestern areas of Tibet and Yunnan are all expected to make up the bulk of these journeys, as people pursue open spaces over overcrowded cities.
Safety still a concern
But while the numbers show tourism is will rebound significantly over the holiday, not everyone is as enthusiastic to jet off just yet. Ctrip's figure of 600 million trips represent a fifth lower compared to those made last year with many people still choosing to stay at home or travel only within their own city.
Coronavirus, despite the situation in China, is still playing heavy on traveller's minds, with a recent survey conducted by Chinese newspaper China Youth Daily finding over 40 percent of respondents would be staying at home over the current holiday because of fears of COVID.
Recent comments by Zhang Wenhong – who led Shanghai's fight against the virus – that a second wave of coronavirus during winter is "inevitable", as well as recently discovered asymptomatic cases in the port-city of Qingdao, and news that the world has reached the grime milestone of over 1,000,000 global COVID-related deaths, has highlighted a sense in China that the battle against COVID is far from over and that no one can yet relax.
It is a conundrum that local officials are currently trying desperately hard to tackle, having been given the unenvious task of increasing tourism while simultaneously keeping people safe. As such, policies made to promote tourism, such as free tickets, are also being met with counter restrictions.
Many universities have decided to sanction only a 3-day vacation for students in an attempt to dissuade them from traveling, while cultural and tourist sites have been capped at 75 percent capacity, with reservations required to numbers are kept within the limits. Cinema's also continue to operate at limited capacity, while only 53 percent of China's theatres have reopened since February.
The idea of travel may have come too soon for some tourists and local governments alike, but the very fact that they are in a position to choose where and what they do this holiday will be the envy of many outside the country, for whom serious travel and social restrictions have returned.
In this respect, whether staying at home with family or embarking on a far-flung adventure, this year's "Golden Week" will be celebrated, not only for any up-scale in tourism, but as further proof of the country's return to normality.