CIIE Propels British SEO's to Top of the Chinese Market
The CIIE is more than just exposure, we can also cement deals. We have had signings during the event already, and we are very confident that we will secure many more deals as a result of CIIE.
Editor's Note: The 3rd China International Import Expo (CIIE) is currently underway in Shanghai, where thousands of international enterprises are showcasing products at the world's largest import exhibition.
After a successful showing at last year's event, the United Kingdom has returned to CIIE under the theme of "Food is GREAT", exhibiting a number of high-quality food and drink products at their bar-inspired pavilion.
Ray Smith, British Diplomat and the Agriculture, Food and Drink Counsellor for the Department of International Trade at the British Embassy in Beijing, spoke to China Focus about what opportunities China's market offers British companies, the effect of "duel circulation" on British exports to China, and the value of CIIE in helping British enterprises crack the world's largest consumer market.
China Focus: What is the value of coming to CIIE?
Ray Smith: Participating at CIIE helps with raising the profile of not only Britain as a place for quality food and drink, but also the profile of the individual companies.
This event is also a place where we can make excellent contacts with local Chinese officials. Many Chinese provincial officials come to CIIE, making it an excellent focal point for us to reach out to the Chinese market. We have welcomed such great delegations to our pavilion from Hebei province, Heilongjiang, Shanxi and Shanxi province. They all bring buyers, and for us, that brings exposure that we couldn't get elsewhere.
But CIIE is more than just exposure, we can also cement deals. We have had signings during the event already, and we are very confident that we will secure many more deals as a result of CIIE. The organisers at CIIE have been very helpful in promoting our booth and the events we have run here, as well as the China Chamber of Imports and Exports of Foodstuffs, Native Products and Animal By-products (CCCFNA), who have helped connect us with many State-Owned Enterprises.
We have met some great companies here over the past few days and made a lot of exchanges which we hope will lead to something great. This year there are more professional visitors who want to buy products and I think that is a positive point of this year's expo.
Being at CIIE puts British companies at the top of the list for Chinese SOE's doing imports, so, this is why CIIE is brilliant for UK companies.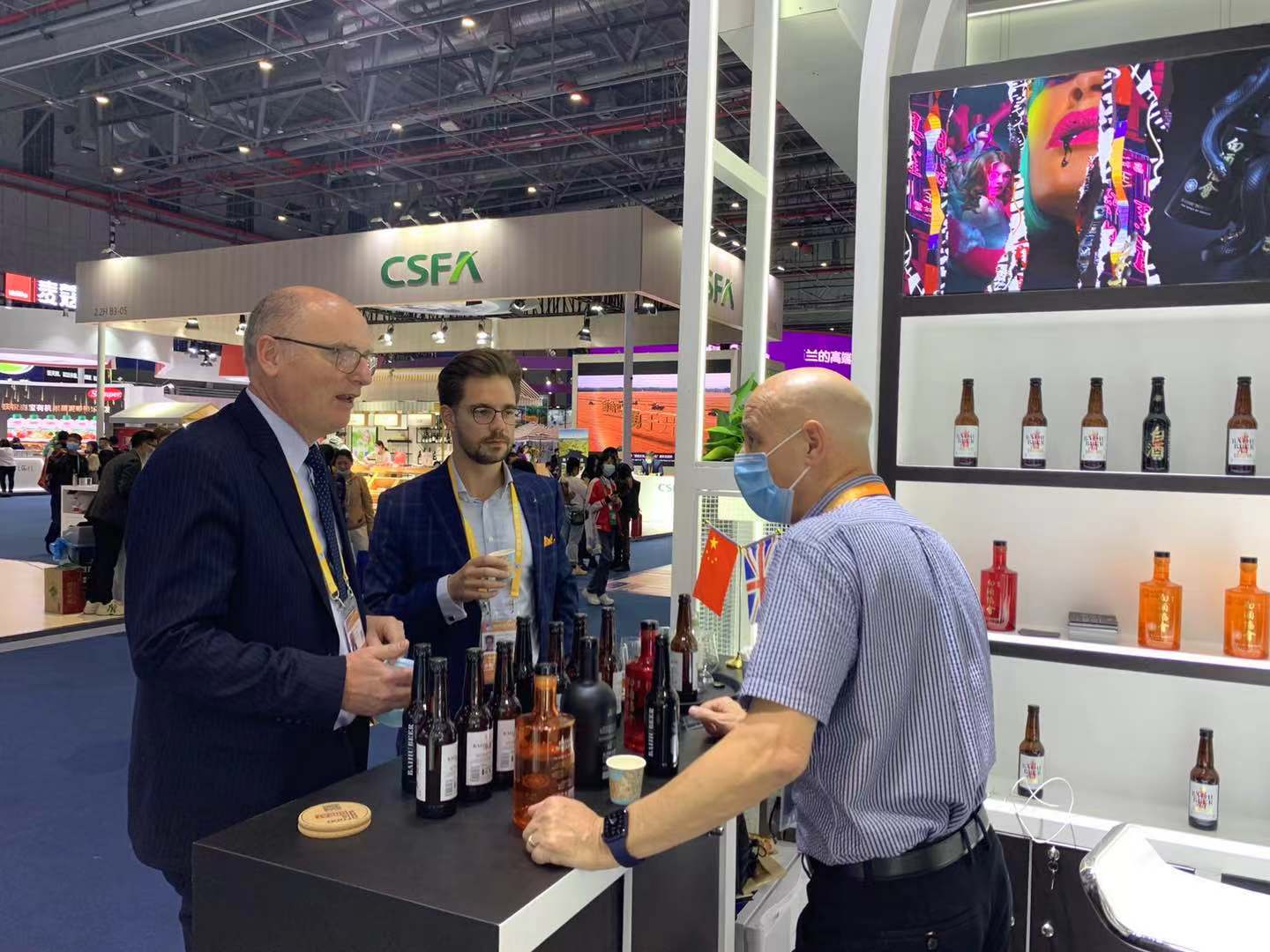 China Focus: As Britain prepares to leave the EU, how important will the Chinese market be for British businesses?
Ray Smith: It will definitely be very important. In terms of livestock, British pork exports to China grew by 197 percent last year and continue to grow, while we are also introducing British beef into the Chinese market as well. This will give us an alternative market to the EU.
For British small and medium sized enterprises (SME's), it is going to be a great opportunity for them as well. The EU will still be relevant, but China will offer these companies a great opportunity, especially for SME's that can export at scale, because there has been a lot of interest from Chinese importers.
There are of course challenges for these companies, especially when it comes to food and drink. China has thousands of regulations regarding food standards that aren't necessarily universal, and that means these companies must focus on the Chinese market.
There are other problems such as the size of China, and the size of its market which means that importers from China who want to buy in bulk may find it challenging, as a lot of British food and agriculture companies are niche, with a small run unit.
Finding the right buyer is therefore very important, but we have found success with independent companies to support them, so while there are definitely challenges to be overcome, this will not stop British companies from recognising that China's market represents a huge opportunity.
China Focus: Prior to the coronavirus outbreak, how had gaining market access changed for British food companies?
Ray Smith: There was certainly more progress. Getting market access in July 2019 for beef was a huge step, and actually in terms of medicines, the Chinese market has adopted some international regulations, helping align Chinese regulations with how other countries test medicine. So, in this regard, there has been a move towards more harmonisation, which is part of China's opening-up policy, and this certainly helps Britain going forward.
There are also moves with animal testing and approving non-animal tested cosmetics into China, and while there has been some movement on that, it is still an ongoing process.
China Focus: The Chinese government recently announced a new economic directive; "duel circulation". What opportunities or challenges does this policy offer British companies?
Ray Smith: China's duel circulation offers an excellent opportunity for British companies. For example, China's quest to become self-sustainable, especially in agriculture, requires greater efficiency and that can't currently be done alone.
China's agriculture will need to become more mechanical and efficient in terms of genetics, nutrition and animal husbandry, which British farmers have a lot of expertise in.
Britain already exports large amounts of pig genetics to China and in the last six-months has exported 700 piglets to boost China's pig supplies. The UK is also looking to support China in equine (horses), and improving their equine stock. The UK has much to offer Chinese companies in relation to precision farming, using Artificial Intelligence to help with this.
There are certainly lots of opportunities in this area, and duel circulation can definitely open doors for British companies.
China Focus: How important are Chinese investors to Britain and Foreign Direct Investment (FDI)?
Ray Smith: In terms of FDI, Britain is always looking for Chinese companies to invest in the UK market, especially in areas like life-science. Chinese investors recently invested £25 million into a life-science campus at Cambridge University, which is very beneficial for the UK, and in terms of medical equipment, the UK welcomes Chinese investment and has a lot of beneficial policies to facilitate this.