Does Britain's China Reset Need a Rethink?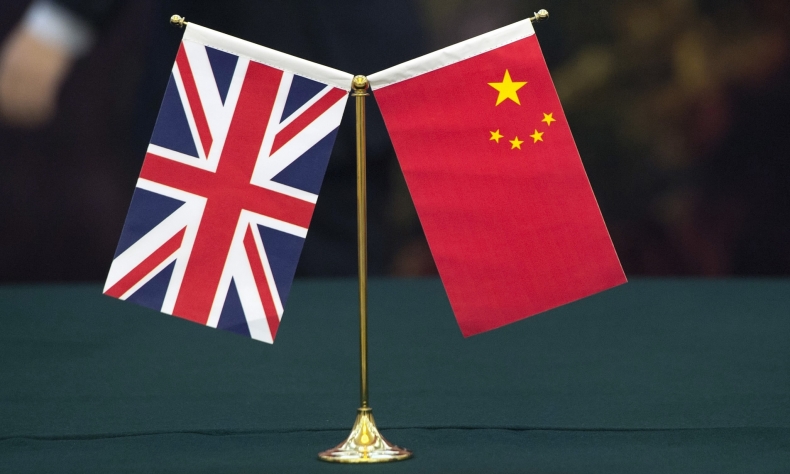 Recent policy changes firmly point to a 'reset' in the UK-China relationship, and an abandonment of the positivity that defined both Cameron and Theresa May's tenures. But the question for Johnson now is whether such a reset is still in Britain's best interests?
When former British Prime Minister David Cameron took Chinese President Xi Jinping to a quaint English pub in 2015, it was in the midst of a "Golden-Age" of Sino-British relations. Power Stations, High-speed rail, property complexes and expansive trade agreements – the scope and breadth for cooperation seemed unlimited.
But the current likelihood of new British Prime Minister Boris Johnson sharing a cold, crisp pint with the Chinese leader seems a world away, and not just because the pubs in Britain are once again closed. Since the turn of the year, Britain's relationship with China has become increasingly fractious.
Led by a cross-section of British parliamentarians, whose stance against China more closely resembles that of their Atlantic cousins, they have swayed Johnson and his cabinet into making expensive U-turns on granting Chinese tech-giant Huawei access to the nation's 5G network, and compelled him into making increasingly outspoken comments about China's own domestic issues.
Such policy changes point firmly to a "reset" in the UK-China relationship, and an abandonment of the positivity that defined both Cameron and Theresa May's tenures. But the question for Johnson now is whether such a reset is still in Britain's best interests, especially as it battles multiple challenges on a number of different fronts.
Coronavirus, Brexit and the economy
For one, Johnson is having to deal with the perfect storm of Brexit and the coronavirus, both of which are playing havoc with the British economy.
According to the Organisation for Economic Co-operation and Development (OECD), the UK has been hit the hardest of any major world economy by the virus, with the country's GPD contracting by a whopping 20.4 percent between April and June this year. While a substantial relaxing of social distancing rules during the summer months had sparked hopes of an economic recovery, those same rules are set to return in the coming days as the UK joins the rest of Europe in battling a second-wave of the virus.
At the same time, Johnson is also starring at a $32 billion Brexit blackhole as a looming No-Deal exit from the EU seems set to be confirmed. The imminent trade barriers and tariffs that will occur on all UK exports to the EU, which made up 46 percent of all UK exports in 2019, is expected to create a "simultaneous impact" across the whole business spectrum, causing "noteworthy economic consequences" to the economy.
Brexvid? Covit? Brovid? Whatever you want to call it, the impact of these problems mean Britain is in need of reaching new markets that can help fill this void, and in particular markets that can have a significant impact on its GDP. Despite recently lauding the success of its Free Trade Agreement (FTA) with Japan – the world's third-largest economy – the deal is only expected to have a "very limited impact" on the UK economy, with some experts predicting it to increase GDP by only 0.07 percent.
It is what makes the British governments move to cool on China all the more unfathomable. China, as the world's largest market for goods and services, is the perfect partner to give the UK economy the lift it so desperately needs. British businesses already operating there such as Jaguar Land Rover, AstraZeneca, drinks producer Diageo, Unilever, BT, Rio Tinto as well as banks, insurance firms and hotel chains have prospered in recent years thanks to China's increasing middle-class and their growing piles of disposable income.
According to the British Chamber of Commerce in China (BCCC) Managing Director Steve Lynch, China's strong, increasingly open markets should be making it Britain's number one choice for an FTA, and it is baffling that it is not.
"China is the UK's second largest non-EU trading partner. We call on the UK to prioritize China in its negotiations for an FTA.  The economic gain for British business will be significant. In a post-Brexit world, an FTA with China will be vital to both realizing the UK's global ambitions and rebuilding our economies after COVID-19," Lynch told CGTN Digital in June this year.
An FTA with China may also, ironically, be less of a political headache for British politicians than say, the US. Despite having been touted as the "gold-standard" for future FTA's, Johnson's decision to unilaterally break part of the Brexit Withdrawal Agreement—a legally binding international treaty between the UK and the EU—has been highly criticized by US politicians from both the Democrat and Republican parties, putting any future deal in doubt.
While China has always stressed the need for every country to uphold international law, Britain's decision to change the agreement and its possible implications on the Belfast Agreement are less controversial for Chinese politicians than American's, some of which represent large Irish-immigrant voters.
Iran, climate change and Britain's position in the world
Besides trade, there is also the question of the UK's standing and influence in the world after it leaves a group of 27 like-minded countries. For the first time in over 50-years, Britain will be increasingly isolated, and will need to establish relations with countries on a similar wavelength to it if it is to exert any serious influence on international problems or implement any real change in the future.
In that respect, China has shown itself to be a more reliable partner than some of the UK's closest allies, with growing agreement among a number of key issues including free-trade and multilateralism. Both countries still support the 2015 Iran Nuclear Deal and are working hard to preserve it, despite increasing opposition from the US, which is committed to reimposing crippling sanctions on the country.
Climate change is another area where both countries are increasingly seeing eye-to-eye on. As host of the United Nations 26th Climate Change Conference (COP26), Britain will be buoyed more than most by China's decision to become carbon-free by 2060, a move announced by President Xi during his speech to the UN on September 22. The decision creates a powerful ally in the absence of the US in the battle against climate change, one that could be influential in helping Britain secure meaningful change at the conference.
But creating ambitious proposals requires trust, and a reset in relations with China does little in that regard. A reversal of this reset going forward therefore seems vital, and could well come in the shape of the newly appointed UK Ambassador to China, Caroline Wilson.
Unlike her colleagues in Westminster, Wilson knows more than most about China-UK relations, having spent four years as the UK's Consul General to Hong Kong and Macau between 2012 and 2016. During her time in the role, she earned praise from both UK and China's leaders for her measured response to the Umbrella Uprising in 2014, and her support for upholding the principle of "One Country, Two Systems". She has already stated her intentions to build an "a mature, positive UK-China relationship", one that works for "ambitious UK-China collaboration, on climate, health [and] trade."
Her appointment looks set to bring balance and stability back to the China-UK relationship, which in the topsy-turvy world of Brexit, COVID and Donald Trump, has somehow gone awry. No one is suggesting China and Britain must agree on everything – countries seldom do. But they must, above all else, do what is in the best interests of the people they represent, and in the case of Britain and China, that means a reset on its recent reset, and a return to mature and positive relations.