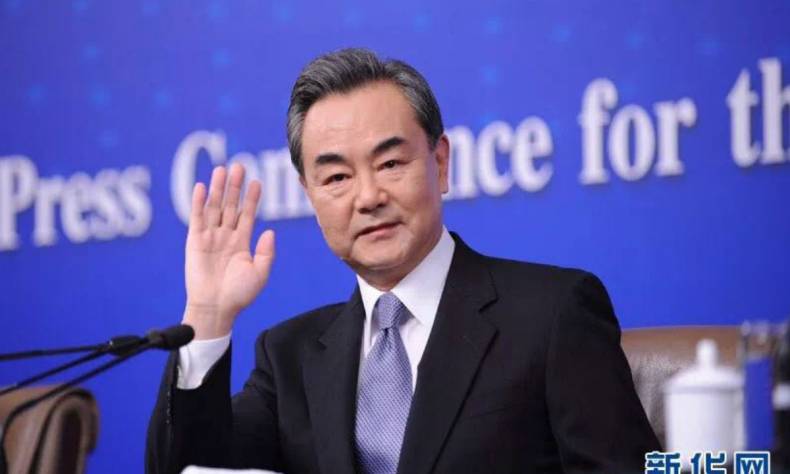 Foreign Minister: It is Time the "China Threat Theory" was Laid to Rest
Chinese Foreign Minister Wang Yi, who answers questions on China's foreign policies and foreign relations at a press conference on the sidelines of the first session of the 13th National People's Congress in Beijing.
"It is time the 'China threat theory' was laid to rest."
"Those who do not have bias or practice double standards will see in China not a threat, but plenty of opportunities."
"As China grows, the 'China collapse theory' has collapsed and become an international laughing stock. Meanwhile, the 'China threat theory' with its various sensational versions is losing market."
Chinese Foreign Minister Wang Yi, who answers questions on China's foreign policies and foreign relations at a press conference on the sidelines of the first session of the 13th National People's Congress in Beijing.
China's Diplomacy
President Xi Jinping, as the chief architect of China's major-country diplomacy, has been personally involved in planning and conducting "brilliant" head-of-state diplomacy, Wang Yi said.
Xi will host the four major diplomatic events in China, and will attend the BRICS Summit in South Africa, the APEC Economic Leaders' Meeting in Papua New Guinea and the G20 Summit in Argentina this year, Wang said.
Highlights China's Four Events this Year
First, Boao Forum for Asia annual conference will take place in Hainan this April, and focus on reform and opening-up.
Second, the Shanghai Cooperation Organization summit will take place in Qingdao this June, and focus on revitalizing the Shanghai Spirit.
Third, the Forum on China-Africa Cooperation summit will take place in Beijing this September, and focus on the Belt and Road Initiative.
Fourth, the First China International Import Expo will take place in Shanghai this November, and focus on further market opening.
China-US: China and the US Don't Have to be Rivals
China-US relations have gone through a lot in recent decades and there can be no alternative to the policies of dialogue and cooperation.
"History teaches that a trade war is never the right solution, particularly in a globalized world" Wang said, saying China will make a justified and necessary response in the event of a trade war.
China-Russia:There is Always Room to Make Ties Even Better
China has great confidence in its relationship with Russia, but there is always room to make ties even better, Wang said.
China-Japan: China is willing to work with Japan
China is willing to work with Japan to restore the relationship to healthy and steady growth, as long as Japan "does not prevaricate, flip-flop or backpedal and instead accepts and welcomes China's development," Wang said at a press conference on the sidelines of the ongoing session of the National People's Congress.
China-Africa: China Will Boost Cooperation with African countries
China will step up mediation in African flashpoints and will boost cooperation with African countries on strategic threats such as terrorism and piracy.
Africa is an integral part of the efforts to build a community with shared future for mankind, he said.
China-ASEAN: China will Continue to Upgrade its Strategic Partnership with the Association of Southeast Asian Nations
Noting this year marks the 15th anniversary of the establishment of the strategic partnership between China and the ASEAN, Wang said China looks to build a closer community with a shared future with the Association of Southeast Asian Nations (ASEAN).
"Over the last 15 years, China-ASEAN cooperation has yielded fruitful results. For nine consecutive years, China has been ASEAN's largest trade partner. Last year, the trade volume between the two reached 500 billion US dollars," Wang said.
China will continue to upgrade its strategic partnership with the ASEAN and broaden cooperation with the bloc in more projects, the foreign minister added.
China-EU: Wang Seeks Stronger Two Sides Relations
"China and EU share the responsibility to safeguard the global free trade system and negotiation needs to be speeded up to conclude a China-EU investment agreement," he said.
"There are some disagreements between China and the EU, but both sides have realized the need to put themselves in the each other's shoes and to be more open, tolerant and understanding of one another," he said.
Belt and Road Initiative is a Global Public Good and Follows International Rules
The initiative is a platform for international cooperation thus follows market principles, Wang said, responding to questions that some Westerners seem to be harboring doubts over the initiative's transparency and its conformity to international rules.
"It's a transparent initiative launched by China. It follows the golden rules of extensive consultation, joint contribution and shared benefits," Wang said, adding that the initiative aims to be equal footed, inclusive and universally beneficial.
"The planning and implementation of the initiative's projects have been discussed by the participants in the open. No country is dominating the process. All parties have an equal say. There is no back room deal. Everything is transparent. There is no winner takes all. Every project delivers win-win results," Wang said.
A large number of projects carried out under the initiative are "adding needed momentum to the economic and social development of the host countries," Wang said.
He cited examples such as more than a dozen power stations being built in Pakistan to address power shortage and that of a Chinese company purchasing a Serbian steel mill, turning it around in less than a year and saving more than 5,000 local jobs.
"We sincerely ask for ideas from all parties so that together we will make a success of the Belt and Road Initiative," Wang said."Our goal is to not only strengthen physical interconnectivity of infrastructure, but also to improve institutional connectivity of policies, rules and standards."
The initiative's projects must be of high standards, high quality as well as results oriented and economic viable that benefit not only China but the world, the foreign minister added.
Korean Peninsula Issues: "Suspension for Suspension" Proposal is the Right Prescription US, DPRK Should Hold Direct Talks Soon
Foreign Minister Wang Yi called on the United States and the Democratic People's Republic of Korea (DPRK) to engage in direct talks soon.
China's "suspension for suspension" proposal on Korean Peninsula issues is "the right prescription" for the problem and has created the basic conditions for the improvement in inter-Korean relations.
The recent easing of tensions on the peninsula after Pyongyang and Seoul engaged in a series of interaction over the Pyeongchang Winter Olympics is welcomed, Wang said, adding that China fully supports the efforts by the DPRK and the Republic of Korea to improve ties.
The fact that during the Winter Games, the DPRK did not conduct any nuclear test, and the US and the ROK suspended their joint exercises prove China's proposal of a suspension-for-suspension was the right prescription for the problem, and created basic conditions for the improvement of inter-Korean relations, the foreign minister said.
"History has reminded us time and again that whenever tension in the peninsula subsided, the situation would be clouded by various interferences," Wang said, urging all parties to demonstrate political courage and make a political decision to carry out all necessary engagement, bilateral and multilateral, to restart dialogue for a peaceful settlement of the Korean Peninsula nuclear issue.
China Committed to Maintain Peace and Stability in the South China Sea
China has strong resolve and deep commitment to maintain peace and stability in the South China Sea, Chinese Foreign Minister Wang Yi said.
"China's position is firm and consistent," China follows a responsible approach to the South China Sea issue, taking into account interests of the Chinese people, historical facts, regional peace and the international rule of law, wang said.
Inciting Bloc Confrontation will Find no Market
Wang Yi said Thursday that stoking a new Cold War is out of sync with the times and inciting bloc confrontation will find no market.
Wang made the remarks in response on the "Indo-Pacific" strategy, which claimed that it was introduced to contain China.
Wang cited the official positions of the United States, Japan, India and Australia as "it targets no one".
"I hope they mean what they say and their actions match their words," said Wang.
China to Promote Xiongan New Area to World
China will promote the Xiongan New Area to the world this year, Wang Yi said.
Elaborating on the goals of the ministry in 2018, he said the office will play an active role in facilitating domestic development, telling China story and protecting China's overseas interest.
The foreign ministry will also contribute its efforts in poverty alleviation and contribute in reform and opening-up policy.
Adhering to One-China Principle in Other Countries Interest
It is a correct choice and an "overriding and unstoppable" trend for countries to sever diplomatic ties with Taiwan and establish relations with the government of the People's Republic of China, the sole legal representative of the whole China.
The move also conforms to the long-term interests of those countries and their people, Wang added.
"There is only one China in the world. Taiwan is an inseparable part of China. This has been the consensus of the international community for decades. Adhering to the one-China principle and not having official ties with Taiwan has become a generally observed norm in international relations," the foreign minister said.
"The key to unlocking the cross-straits stalemate lies in recognizing the 1992 Consensus and acknowledging that the two sides of the Taiwan Straits belong to one and the same China," Wang said urging the Taiwan authorities to return to the consensus as soon as possible.
Editor: Dong Lingyi
Intern: An Di
Source: CGTN, ChinaDaily, Xinhua