Foreign Minister Calls for More Microphones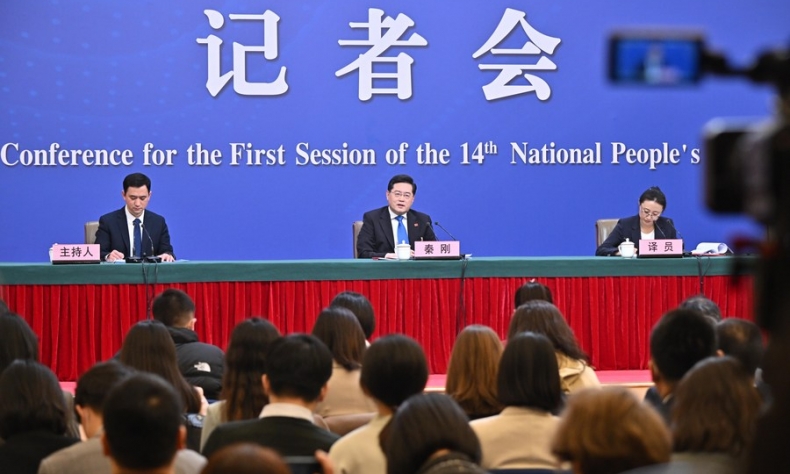 Unless Washington changes direction no amount of guardrails will prevent the China-U.S. relationship from spiraling into conflict.
The March 7 press conference was a nice debut for Qin Gang as foreign minister. It was good to see a return to an in-person press conference during the annual Two Sessions–the full sessions of the National People's Congress and the Chinese People's Political Consultative Conference National Committee–again, compared to the last few COVID-19 years when questions were taken via video link.
It was notable how much Qin liberally employed the use of metaphors. One that stood out was describing China-U.S. relations: "The U.S. has buttoned the first button wrong," which underscored China's concerns about the current trajectory of relations. Also notable was his emphasis on the state of China-U.S. relations, speaking at length about the rift with the U.S. and expressing concern that getting relations between the two nations right is not optional. It was a nice touch by Qin to talk about his time in the U.S. as ambassador and relating it to the need to overcome distortions about China based on a Cold War mentality.
In a statement that should be of concern to those who worry about the increasing deterioration of China-U.S. relations, Qin observed that unless Washington changes direction no amount of guardrails will prevent the China-U.S. relationship from spiraling into conflict. Qin tried to balance this by stating China-U.S. relations should be determined by the common interests and friendship between the two peoples.
Other interesting points brought up by Qin during the press conference included why Chinese modernization offers solutions to global challenges and is distinct from Westernization, Xi Jinping Thought on Diplomacy being put into full practice, the closeness of China-Russia relations, the 10th anniversary of the Belt and Road Initiative (linking it to development), the need for Asia-Pacific and Indo-Pacific regional cooperation, the state of China-Japan relations, China-EU relations, the Global Development Initiative, interdependence, global governance, multipolarity, multilateralism, and giving developing countries a bigger global voice.
One other issue–one obviously anticipated by Qin–was the Taiwan question. Some of Qin's strongest press conference remarks were on the Taiwan question. To drive home his point, Qin read from a copy of the Chinese Constitution and reminded all that Taiwan is a red line in China-U.S. relations that can't be crossed.
Qin wrapped up his first Two Sessions press conference by observing that "China doesn't have enough microphones," referring to China's message in global media, and scolded those abroad who coined the term "wolf warrior" for not understanding Chinese diplomacy.