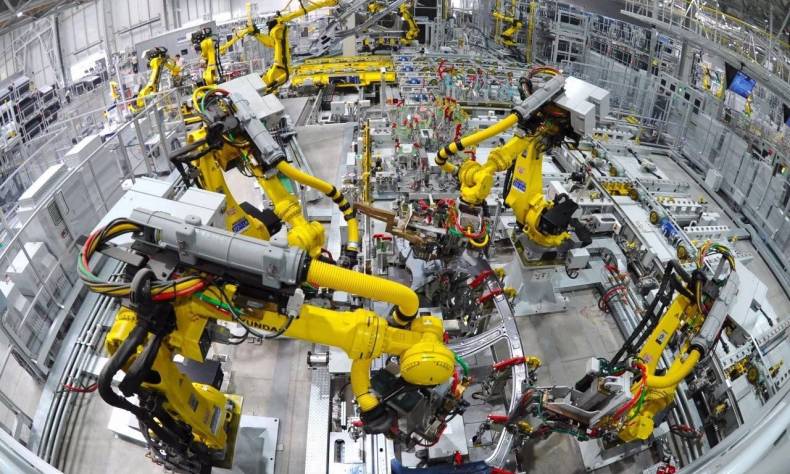 Innovation: the Most Important Driving Force of China's Economy in the Future
What is the new force of China's economic growth? What is the most important feature of innovation?
What is the new force of China's economic growth? What is the most important feature of innovation?
General Secretary Xi Jinping noted in the report of the 19th National Congress that socialism with Chinese characteristics has entered a new era. China will "apply a new vision of development and develop a modernized economy" in the future, and will move faster to "make China a country of innovators."
This is the first time the idea of "developing a modernized economy" has been proposed in the official Work Report. It signals a new direction for China's economy in a new era.
Cao Heping, the vice-president of the Institute of Digital China and the Dean of Department of Development Economics under School of Economics of Peking University, said in an interview that the breadth of Xi's proposals indicate that China is no longer setting modernization as a goal, but has upgraded it to a system of goals. He emphasized that, as part of economic modernization, innovation will be the most important driving force of a new round of China's economic growth in the future.
How has modernization evolved?
Cao explained that the concept of "the four modernizations" was introduced in the 1950s and 1960s. At the first National Congress held in 1954, the task of four modernizations was defined as modernization of industry, agriculture, transportation and national defense. At the 3rd National Congress in 1964, Premier Zhou Enlai declared that China will be built into a socialist power with modern agriculture, industry, national defense and science and technology.
In 1978, Deng Xiaoping reaffirmed the importance of modernization under the implementation of his reform and opening up policy. However, in the context of the changes taking place with regard to China's relationship with the outside world at that time, the Central Committee did not re-emphasize the four modernizations. Instead, it made opening-up the priority and began to seek to acquire advanced science and technology and management expertise from developed economies.
At that time, as development economics began to find a footing in China, modernization was deemed the transition of economic sectors from traditional to modern. During the process of transition, the focus of China's modernization began to concentrate on the development of secondary industry in the form of industrialization.
The concept of modernization was gradually replaced by industrialization, and then industrialization by urbanization. Due to a series of factors such as the direction set by central government policies, this in turn gradually became metropolitanization. This brought in its wake metropolitan ailments like road congestion, environmental destruction, and unidirectional population migration.
After almost four decades of rapid development since the implementation of reform and opening up, China has largely completed its industrialization. The country is now approaching a critical point where its per capita income will transit from middle to high income. Its previous efforts have laid a solid foundation for starting a new round of modernization.
Over the past five years China's economy has accomplished a successful transition from ultra-high to medium high growth, and since the first half of 2016 has shown signs of a new growth pattern evolving from new normal to normal.
On this basis, a series of new concepts, ideas, and strategies of governance are gradually emerging. Such as the overall approach to building socialism with Chinese characteristics is promoting economic, political, cultural, social and ecological progress; the strategy to promote national governance is the Four-pronged Strategy, which calls for completing the process of building a moderately prosperous society in all respects, pursuing comprehensive deepening reform, implementing a comprehensive framework for promoting the rule of law, and launching an all-out effort to enforce strict Party discipline.
Under these conditions, it is natural that the goal of modernization should transit to a more systematic form. Compared with the former model, the modernization system is a more holistic goal, and can provide a macro blueprint for the further development of modernization and the supporting mechanisms it requires.
What is the new engine of China's economic growth?
On the subject of innovation, Cao Heping explained that in the current economic situation, China must find a new engine of economic growth.
Having gone through a phase of industrial structural adjustment in recent years, China's traditional economic sectors are steady and have good prospects for development, but further expansion of industrial scale and the high speed development of the past are no longer realistic goals.
Taking China's iron and steel industry as an example: its crude steel output in 2016 was 800 million tons, while the world output was 1.6 billion. Even if China was able to take the entire world market in iron and steel, this would add only a few percentage points to the industry's growth rate. Therefore there is nothing to be gained in trying to scale-up production any further.
So if China wants to continue its economic development, it must find new drivers to replace the traditional investment-driven plus export-oriented economic growth model. A demand-driven plus innovation-driven growth model is a much more rational option.
The report of the 19th National Congress noted that we should move faster in making China "a country of innovators". Innovation is the primary force driving development; it is the strategic pillar underpinning a modernized economy. Professor Cao is confident that innovation will become the most important driving force of China's new round of economic growth.
Cao pointed out that,innovation can bring unexpected and rapid development to the economy. It is an indispensable new driver for the transformation of China's economic model and for its evolution from new normal to normal.
Creating real innovation calls for an accurate understanding of its nature, a grasp of its essence, and a favorable environment and mechanisms. What kind of environment and mechanisms can be described as favorable? Cao specified several requirements:
 First, a free and equal mechanism and environment for research, where information flow is efficient, should be put in place. Decision-making departments, scientific research institutes, the business community, and media circles should all strive to create favorable conditions for such a mechanism and environment.

 Second, essential departments and influential officials must be fully au fait with the nature and processes of innovation. No-one has the right to reject progress, particularly as a result of complacency or arrogance.

Third, a new spark needs to be added to the established thinking of the manufacturing business. Manufacture is precise and sophisticated, and follows structured and established processes.
But innovation can be compared to a poet creating poetry – they need to find connections between unconnected things; their inspiration comes as a spark. Hence, in addition to accuracy and process, innovators also carry the spirit of the poet.
Cao emphasized that innovation in China should start with the younger generation, and we should place our trust in them. The report of the 19th National Congress makes the point in the clearest of terms: "A nation will prosper only when its young people thrive."