Lest We Forget: China's Forgotten Hero's From World War One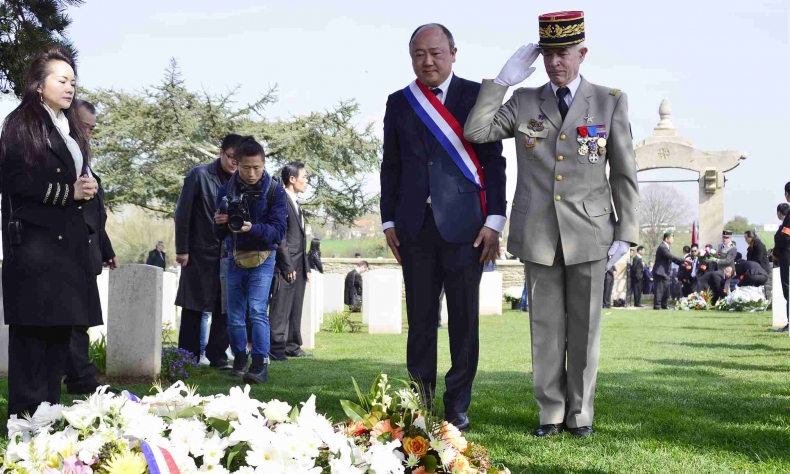 While China is influencing modern Britain now, its wartime contribution is still unrecognised.
[Editor's Note]: On November 11, at eleventh hour every year, people stop to remember those who made the ultimate sacrifice during World War One and World War Two. The truly global conflicts caused great despair and sorrow not only in Europe but also in Africa, Asia and the South Pacific region. Released to mark the 100-year anniversary of the end of that bloody conflict, the article below explores China's vital and untold contribution to the Allied countries victory over Germany in 1918 and why we must never forget their story.
Yesterday marked the 100-year anniversary of the end of The Great War (1914-1918). Service's across the world remembered the fallen heroes who gave their lives in this bloody tragedy.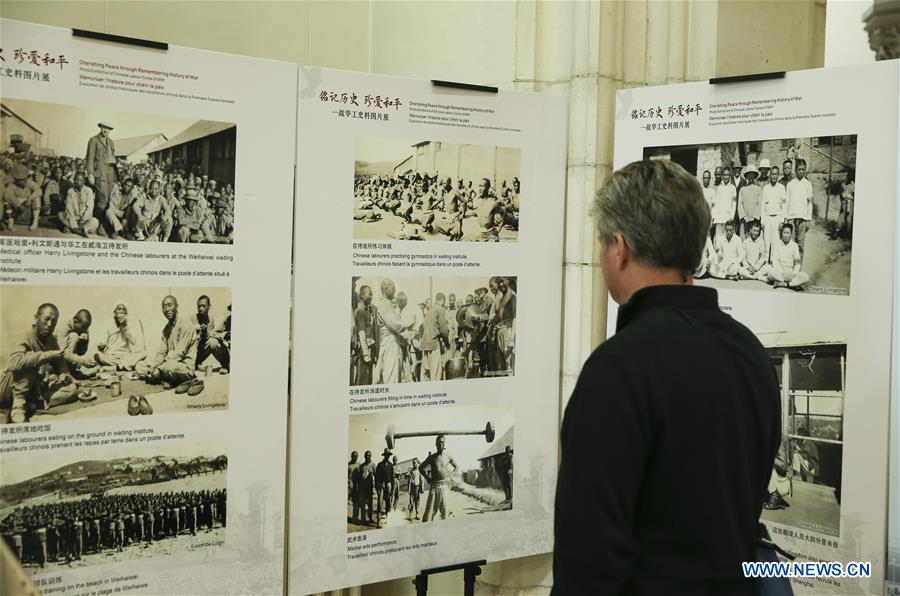 Δ A man visits the photo exhibition "Cherishing Peace through Remembering History of War" in the Belgian city of Bruges on Nov. 9, 2018. Around 140,000 Chinese laborers served the Allies during WWI. Most of them were recruited by Britain and France from May 1916 to early 1918. (Photo/ Xinhua)
In Britain, the commemoration of those men started on the 5th, with Bonfire Night marking the start of the Tower of London's beautiful but harrowing mark of remembrance.
Just like four years ago, when it marked the beginning of the 1st World War, the Tower has transformed itself into London's focal point for paying respect to those who died.
At night, the moat of the old castle was transformed into a sea of some ten thousand candles, all individually lit by those with strong connections to the war. The evening's fog from the river Thames would drift over the flickering candles, creating a perfect ambiance for those who came to pay their respects.
Further down the road in Newham East London, the Royal Albert Dock is busy being renovated by CITIC, the Chinese state-owned contractor. The build is another example of Chinese investment in the city, which stood at £15 billion in 2017.
Whilst this investment is a reminder of the way China is influencing modern Britain now, its wartime contribution is still unrecognised.
Like the sacrifice of those made by men and women from Malta, Egypt, India and countless other smaller nations, China's efforts in helping the Allied nations defeat Germany has yet to be fully remembered.
Chinese Peasants on the Front Line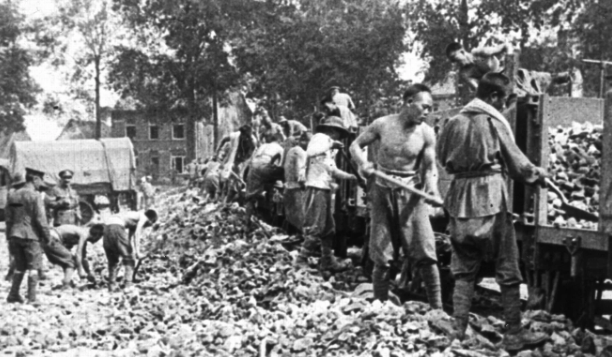 Δ CLC members unload a train near the Western Front.
China in fact played an important role on the front line in some of Europe's bloodiest battles at the end of the war.
At the beginning of the war, China had remained neutral, however the sinking of the French ship Athos in 1917, which killed 543 Chinese people, resulted in them declaring war on Germany.
Whilst they did not provide troops, between April and May of that year, thousands of peasants, mainly from Shandong province, set sail to England and formed the Chinese Labour Corps (CLC).
Their jobs whilst there included building hospitals, growing food and digging trenches, although due to excessive casualties experienced by the French and British soldiers, they were soon catapulted to the frontline and into the bloody horrors of trench warfare.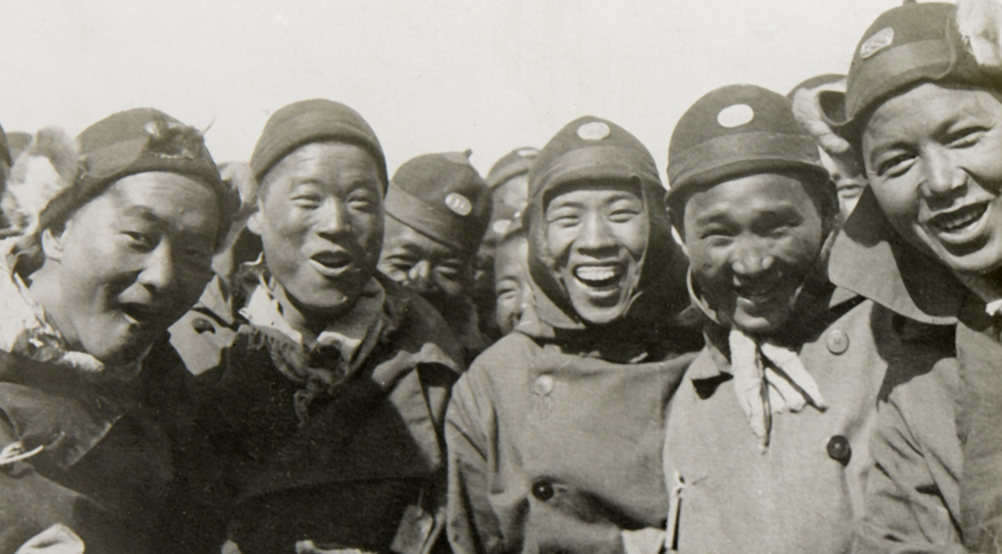 Δ Archive of the CLC members. (Photo / the WJ Hawkings Collection, Courtesy of John De Lucy)
Andrew Dismore, a Labour Assembly Member for Barnet and Camden, spoke at a City Hall Plenary meeting describing the difficult jobs and conditions Chinese labourers had to face in France and England.
"'The workers, mainly aged between 20 and 35, served as labour in the rear echelons or helped build munitions depots. They were tasked with carrying out essential work to support the frontline troops, such as unloading ships, building dugouts, repairing roads and railways, digging trenches and filling sandbags. Some worked in armaments factories, others in naval shipyards, for a pittance of one to three francs a day. At the time they were seen just as cheap labour, not even allowed out of camp to fraternise locally, dismissed as mere coolies. When the war ended some were used for mine clearance, or to recover the bodies of soldiers and fill in miles of trenches. Men fell ill from the poor diet and the intense damp and cold."
Beginning to Remember Their Sacrifice
Now, reflecting on the great deed these young men made, Britain is starting to remember them.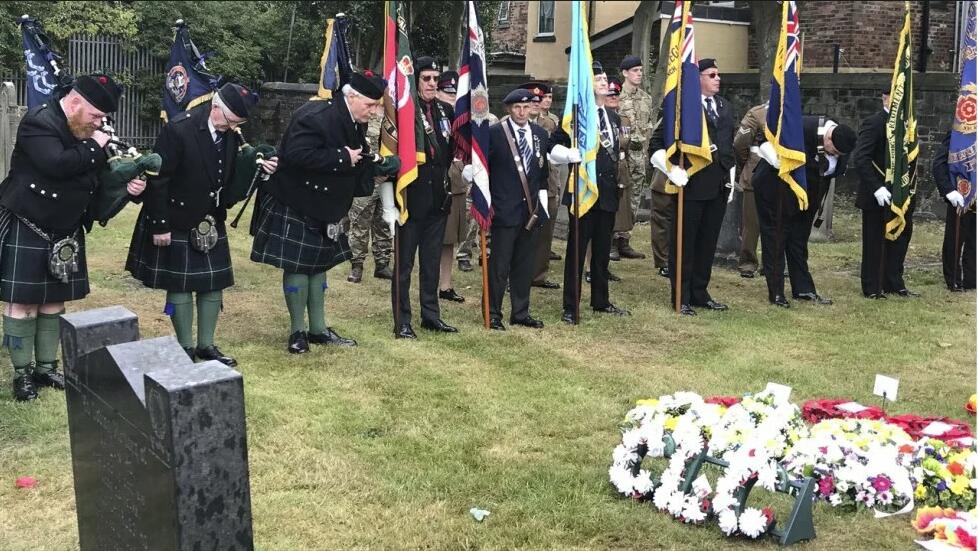 Δ Earlier this year back in Liverpool, five Chinese labourers were finally given the military send-off they deserved. Headstones and plaques for the men were placed in Anfield cemetery, where other gravestones for Chinese residents from Liverpool lie.(Photo/ South China Morning Post)
"The Chinese labourers shall not remain forgotten," said Her Majesty's Lord Lieutenant of Merseyside, Mark Blundell, when speaking at the ceremony. "Theirs was a civilian army which deserves as much respect and recognition as our armies of soldiers."
Construction on a traditional Chinese Huabiao in the heart of the Royal Albert Docks, will act as a memorial to the 96,000 Chinese labourers who helped during the war.
This is in thanks to the efforts of campaign group Ensuring We Remember, who, with the support of the British Prime Minister Theresa May, have fought hard for the recognition of Chinese labourers in World War One.
"After a hundred years it is time for all of us, young, old and from all backgrounds, to remember how these young men volunteered to come from China to assist Britain and her allies," campaign leader Thomas Chan told Xinhua last year.
Making sure this happens is the responsibility of us all, said Dismore, making sure that those listening to him understood that Britain remembers all that had helped her.
"These men deserve better and our nation's promise never to forget should apply to them as to any other. That is why I support the campaign for a national memorial to these men from China who gave so much."
The author is an editorial writer for China Focus.