Trump's Flip-Flopping is Making Everyone Sick, Not Just China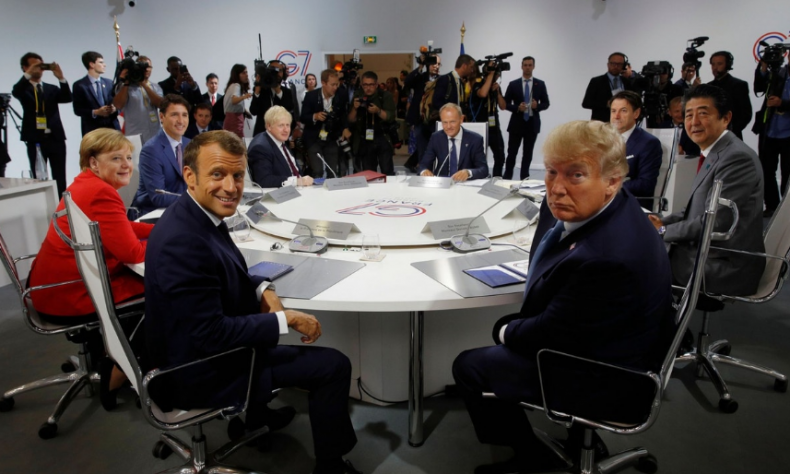 More Calls to End Trade War but Will Trump Listen?
This year's G7 meeting in Biarritz, France, ended with little fan fair. There was no big- statement or communique like previous events, with hosting French President Emmanuel Macron choosing to make sure everyone departed in a positive mood.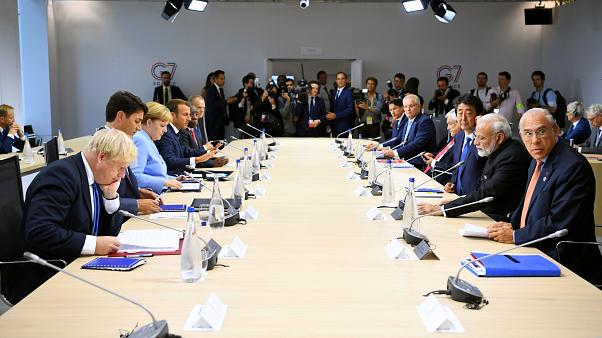 It was particularly important his American counterpart, President Donald Trump, left with a smile, having been given the strongest indication yet that leaders are running out of patience with his trade policy towards China.
Trump spent the week trying to play down their criticism, saying they were supportive and giving him "ideas". But in reality, as Germany and Britain fall further towards a technical recession, no one was supportive.
Macron, German Chancellor Angela Merkel, E.U President Donald Tusk and even new UK Prime Minister Boris Johnson, who is desperate to clinch a trade deal post-Brexit with the U.S., all voiced their unhappiness with the tariffs and called for them to end.
Their angst is not just with the fact that the American President uses tariffs like they are going out of business, but it is also because they simply have no idea what he is going to say or do next.
Biarritz was another classic example of Trump flip-flopping. He spent the entire weekend changing from one policy idea to the next, leaving his fellow leaders and the media, perplexed.
Does he think Chinese President Xi Jinping is an "enemy" or a "great guy"? Did he second guess raising tariffs on China, or did he regret "not being tougher"? Is he still in favour of American companies leaving China or not?
In one instance, he referred to two high-level phone calls between the U.S. trade team and their Chinese counterparts that the Chinese government had no recollection of. On Tuesday, Geng Shuang, spokesperson for the Chinese Foreign Ministry repeated that he knew nothing of the calls mentioned by Trump.
"I'm not aware of the two phone calls over the weekend that the US side talked about", Geng said at his daily press briefing that the U.S. must "remain calm" and look to resolve the dispute "through dialogue and consultation".
Trumps Tariffs and Huawei Policy Confusing
Trump's tariffs in particular have become a great source of confusion for American business' and consumers alike, given how frequently he changes his ideas.
Having recently delayed additional tariffs on certain Chinese imports such as games consoles and computer monitors to December 15, the President tweeted on August 23 threatening to increase tariffs on US$300 billion worth of Chinese imports that will be tariffed from September 1.
Not to mention from October 1 US tariffs again increase on the remaining US$250 billion of Chinese goods from 25 to 30 percent, stoking even more confusion.
All this has become too much for many American companies. On Wednesday, the Americans for Free Trade group, comprising of 160 industry associations, wrote to the President and his trade negotiators asking for a delay to new tariffs, citing cost increases for manufacturers.
"We are writing with an urgent request that you postpone all tariff rate increases on Chinese goods that are scheduled to take effect this year," Americans for Free Trade said in the letter.
"These tariff rate increases – some starting as early as Sunday – come at the worst possible time, right in the middle of the busy holiday shipping period. Action is needed by you to protect American businesses, workers and consumers this holiday season."
On the same day, 200 U.S footwear companies called for cancelling upcoming tariffs, citing how shoes have already been badly affected with tariffs averaging from 11 percent to 67 percent on some items.
"This added 15% tax will cost US footwear consumers an additional $4 billion every year," the letter said, citing an estimate by the Footwear Distributors and Retailers of America (FDRA) trade group, which spearheaded the letter signed by companies including Adidas and Foot Locker.
The President has been just as indecisive with Huawei. The Chinese telecom giant was placed on a blacklist back in May, banning any U.S. company from trading with them. But that ban has since been delayed twice, most recently on August 19, by another 90 days, whilst another 46 Huawei subsidiaries have been added to the blacklist, leaving tech companies just as confused as their retail partners.
U.S. companies can still apply to trade with Huawei if they are granted a special license by the U.S. commerce department but according to Reuters, so far out of 130 requests made by American companies, not a single one has been granted by them.
Trying to play down the problem, a spokesperson for the commerce department said the requests were still "ongoing" but William Reinsch, a former US commerce department official, claims that they are simply too "afraid" to make a decision.
"Nobody in the executive branch knows what Trump wants and they're all afraid to make a decision without knowing that," he told Reuters.
Trump Is "Out of His Depth"
Trump has always said he would never apologise nor change his style of negotiating, claiming most recently in Biarritz that it's served him and America "very well" but it seems that for many American's and world leaders, this haphazard approach is beginning to grate.
Former CIA Director John Brennan told MSNBC that world leaders will have learned not to worry about the President's comments, interpreting them as proof that he is man completely "out of his depth".
"I think a lot of the leaders have written off what he says publicly," Brennan said. "I think they realize that he is way, way out of his depth, that he is incompetent, but also that he is somewhat delusional as far as how he views the world and his inability to grasp the reality of the geo-strategic situation around the globe today."
David Firestein, executive director of the University of Texas' China Public Policy Centre, said Trump's statements were "some of the most preposterous and absurd things that he has said as president of the United States. I think people are getting accustomed to the notion that you can't necessarily take seriously or literally every single thing that he says".
Contrast Trump's style with that of Chinese government officials and you couldn't find anything more different. Chinese officials involved in solving the trade dispute have rarely veered off point, preferring to press the message that dialogue and talks based on mutual respect are welcome but that they won't be taken for a ride.
Chinese vice-premier, Liu He conveyed that message on Monday at the opening ceremony of the 2019 Smart China Expo in Chongqing.
"We resolutely oppose technology blockades and trade protectionism … and are willing to resolve problems through consultation and cooperation with a calm attitude," Liu said.
"We believe that the escalation of the trade war is not beneficial to China, the US nor to the interests of people around the world," he added.
His comments were echoed by Gao Feng, spokesperson for the Ministry of Commerce, at his weekly press conference on Thursday.
"It is of great importance right now to create the necessary conditions for the two sides to continue consultations," MOFCOM spokesperson Gao Feng said at a press conference.
"We hope the United States can meet China halfway and properly solve the economic and trade disputes between the two countries on the basis of equality and mutual respect," Gao said.
With a crucial meeting between the two teams pencilled in for this month, Trump must start listening to the calls of his fellow G7 members' leaders and have his team come to those negotiations with a definitive policy direction that is open to respectful discussion and compromise. If not, he faces spending the rest of his presidency as a President that people listen to but never "take seriously".